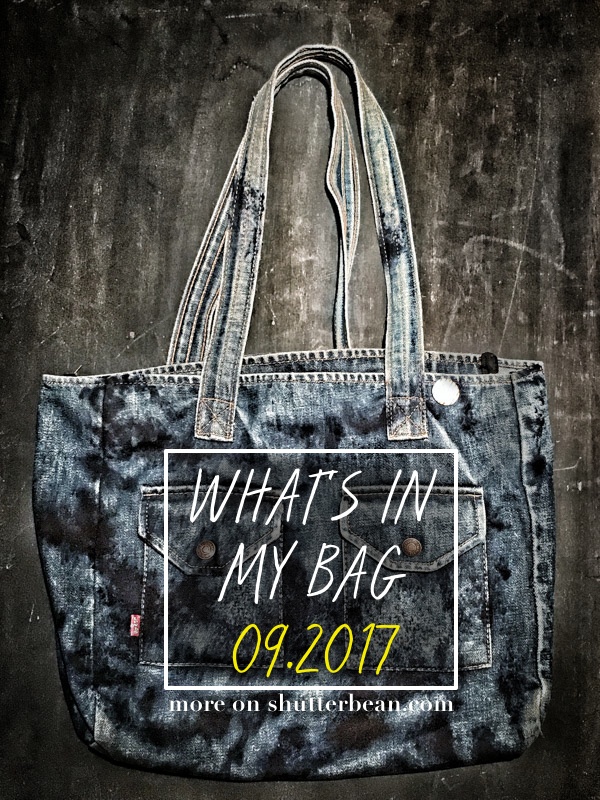 I am 38 years old and I've grown to realize that I like a bag with very few pockets. 3-4 max. You can see what my purse goals were in 2007. My brain was very different back then.
In this stage of my life, tote bags are my preferred bag because sometimes I need to bring my office to go.  Now if you tuned in before, you might think this is peculiar because I used to LOVE  bags with pockets. That's until I realized that too many pockets mean I have a hard time putting things back where they belong because I forget where they belong. I also can forget to zip zippers because I am always in a hurry.  Tote bags are simple, with less pockets and most of them don't have zippers.  Cooper's new backpack this year has at least 15 pockets with three million zippers.
This year should be interesting.
This is the bag that I currently use. It has quite a history. I bought it at Urban Outfitters when I was in college (graduated 2001). It's a Levi's bag so it's been incredibly sturdy after all of these years. I think you can probably find one on ebay if you're looking for one.
It made its way back into the rotation in my Summer capsule wardrobe and I might end up using it year round. I don't feel compelled to jump ship, so that's good!  If it looks like it's been dyed, it's because it has! There was a really bad ink stain at the bottom (hello, my name is Tracy and I am a pen addict).  To mask the effect, I made it look like there were tons of ink stains (using RIT dye
) and this is where we ended up. If you like playing around with fabric too, you might like my bleach dyeing post!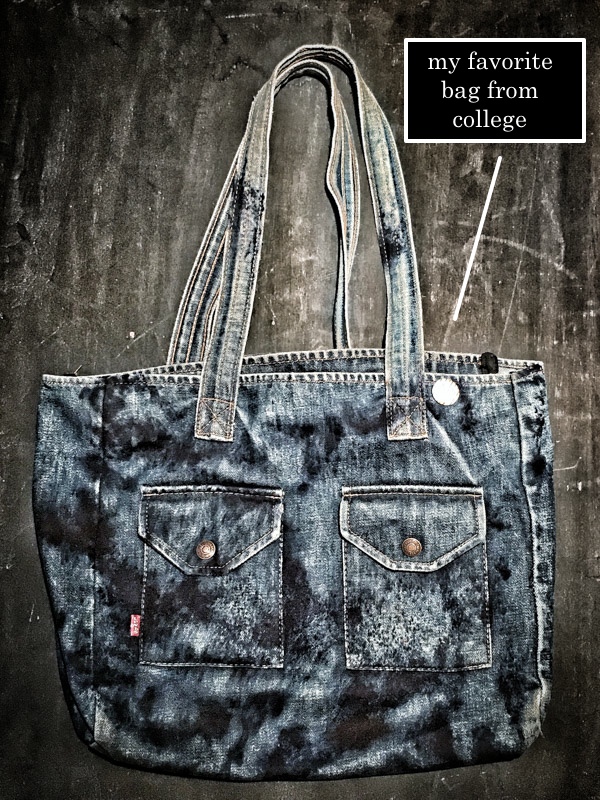 And this is what I carry around!!!!!! And yes, sometimes it gets way too heavy.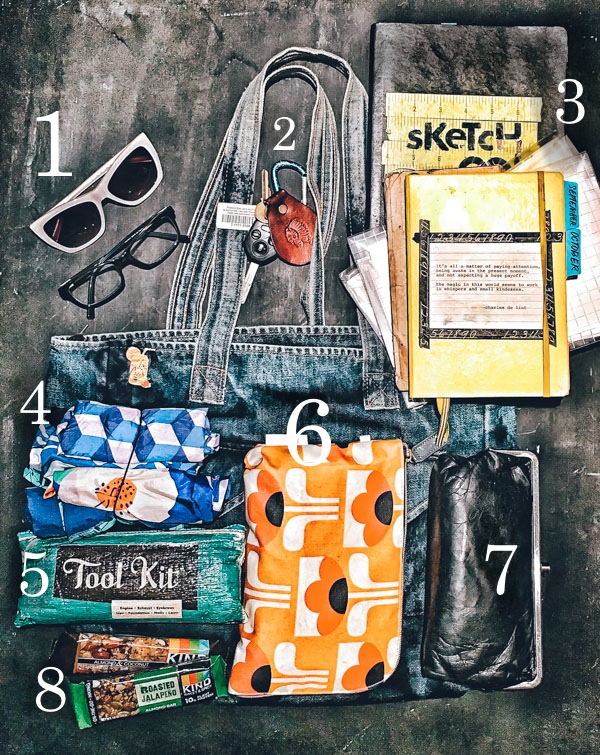 Eye glasses/sunglasses (I usually have sunglasses on my head. I usually forget my glasses). Most of the time I forget my sunglasses case. I am a mess… but if I have both of my glasses, then I feel like I'm keeping my life somewhat together as an adult.
Keys (keychain from neve & hawk) includes my library card! I created a habit of locking it to the strap with my carabiner so they don't get lost at the bottom of my bag. They still get lost at the bottom of the bag. HABITS, Tracy. HABITS.
Sketchbooks/paper- see below!
Reusable grocery bags (baggu is my favorite for reusable bags!) I am not always good about folding them nicely like this. Most of the time they get jammed in my bag. Some of the time I forget them at home and then have to have that awkward conversation where I have to buy bags when I knoooooooowwwww I have like a bunch of them at home.  Sigh. They are always good to have around because you never know if you have to bring something home with you or contain something like dirty wet beach clothes.  Clerks always comment on the patterns I have on my bag. They're a good conversation starter and these hold A TON.
Pen case- I love this little bag. Mostly because I consider my pen case my tool kit. Actually, I consider it my emotional tool kit. But this one fits just enough and an eraser too! 

Toiletries- This bag (from Target!) is not something that I access all the time, but when I DO I am so thankful that I have this little bag of tricks. What I keep in there- lipstick, lip balm, essential oils, tweezers, mini mascara, a compact, and eyeliner.  Sometimes I'm out in the morning without makeup on and I need to fix my face real quick (look like I am alive), so some of these things help! If I am taking a smaller bag to go, I just make sure I have a compact and lip balm.  You can see a little sample of my toiletry bag contents here! 

Wallet-  I have about 2 other wallets in my arsenal, but this hobo international wallet I bought in my 20s has been my favorite as of late. I like that I can slip my phone in it, pull it from my purse and use it as a clutch when I'm out. The leather feels good after all of these years. I find it very comforting. 

Snacks- You just never know what your hunger can turn into. Whenever I reach into my bag and find a snack that I prepped for myself in my bag I want to give myself a hug.  I'm no fun when I'm hangry. I am a fan of a savory bar and a sweet bar because you never know where life will take you.
And then I have to have some paper products with me AT ALL TIMES: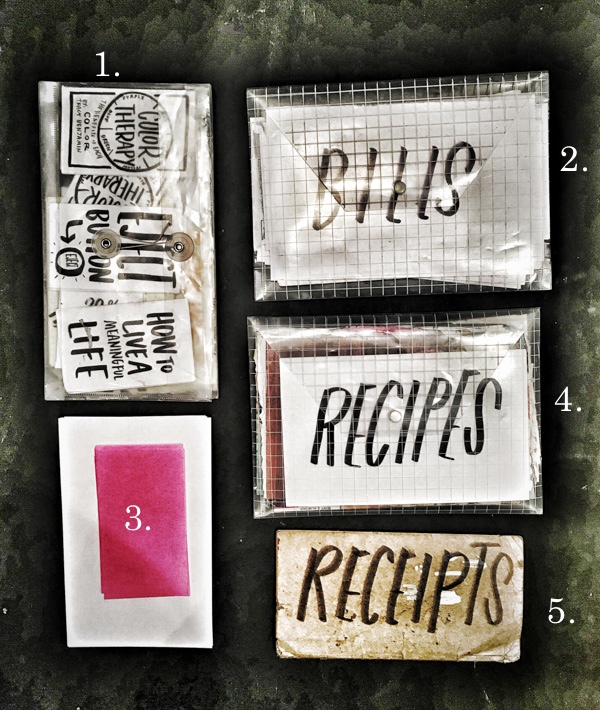 I really like using these plastic folders from the container store to separate my paperwork and HOLY CRAP I WOULD BE LOST WITHOUT THEM.
Paper/zine stuff (This one is my fun folder! we pull it out when we are at restaurants and play around with notebooks and paper. Really great for tic-tac-toe & hangman!
Current bills– Ugggh. If I don't have them with me and organized, I forget about them!
Recipes that I want to work on– this one isn't always in my bag, but if I have a moment and need to do some recipe planning, I pull out all of the recipes that intrigue me from this folder.
Receipts (this one is actually cardstock from another planner) I love that it folds flat and it's easy to access. I slip my receipts in easily when at stores and organize them later.
And into my bullet journal goes a list of what's in my bag, so I'll never forget what I need every week when I clean out my purse and prepare for the new week!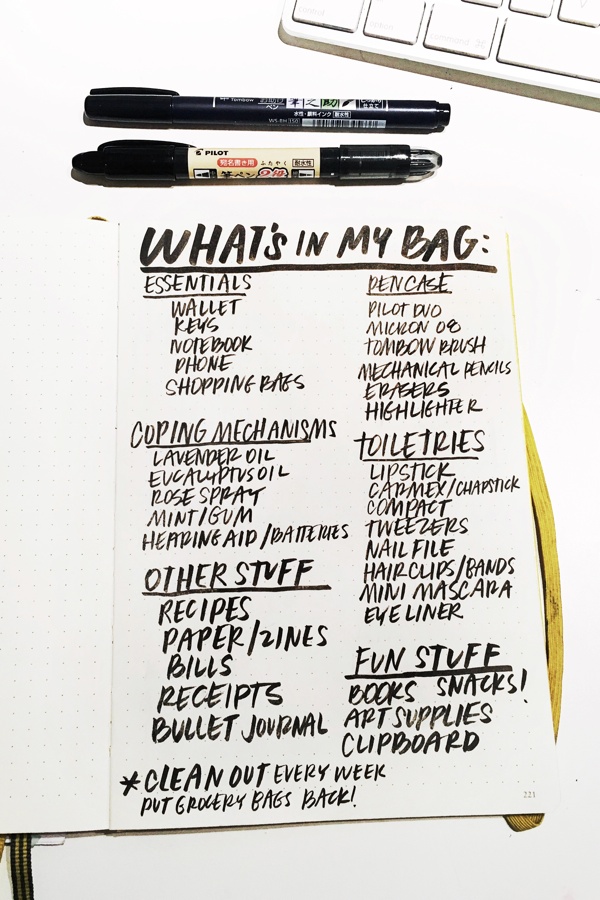 Pens used:
More fun stuff:
I hope this inspires you to clean out your bag every week and maybe make a list of all of the things you need to take with you on the go. When you figure it out, it turns into muscle memory. When you document it, it's fun to see how your needs change over the years.
Happy Organizing!