Oh, December!  I fell hard down an eating rabbit hole.  I blame these cookies & blondies. While I gave most of my goodies away, I ate quite a lot myself. I am not ashamed of it, I totally had fun. It was the holiday season after all! But now I want to set a few intentions for the new year-nothing too major.  I'd like to get back on the path of healthy or at least balance out how I ate the last month of last year. Getting more sleep is on the intention list as well, but I'm not sure that will happen until we finish watching all of Homeland. We're sucked in!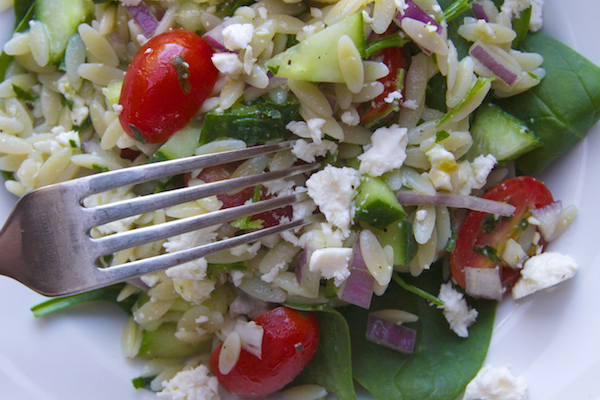 I love healthy food. It's kind of obvious that I do since I have so many salads & healthy things on my blog. It's just that…I forgot what eating healthy tastes like. For some reason I got my brain into thinking that I have to have something sweet after every meal and you can imagine how well that went… It's delightful and yet for some reason my pants are tight. Hmm.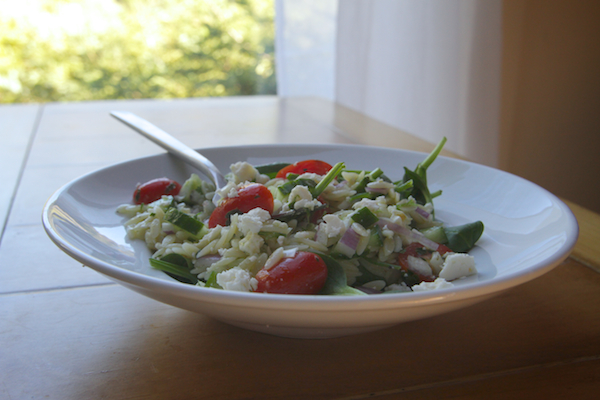 I made this Orzo Salad with the intention of shocking my healthy brain into life and I think it worked. It's a salad that's super lemony, full of parsley, tomatoes, cucumbers & feta; all the good things for you. It's total Homeland binging food. Well…that and popcorn.
And we're off! All of my favorite things put into salad form. A salad with carbs! What's not to love?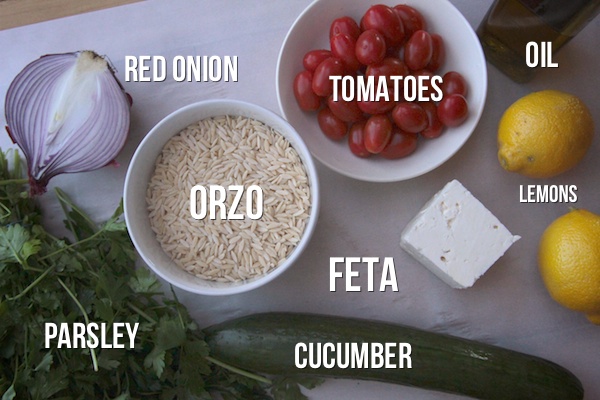 We're going to do a little chopping.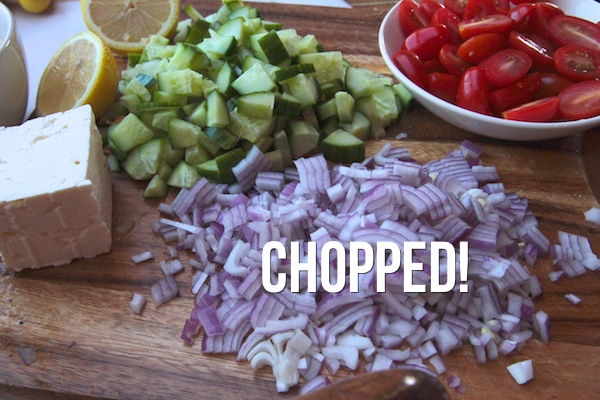 What's unique about this recipe is that we make a parsley/lemon puree. It's tangy and herby!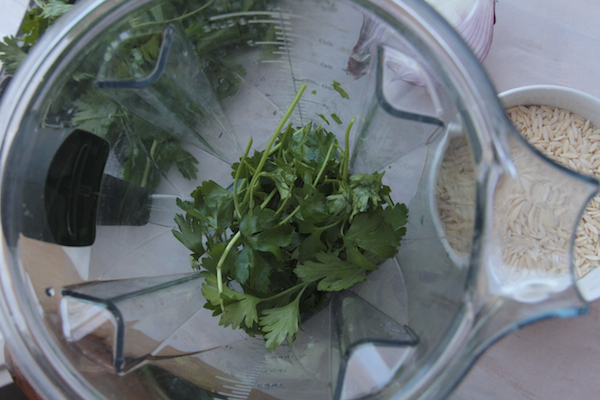 Squeeze a little lemon at the end.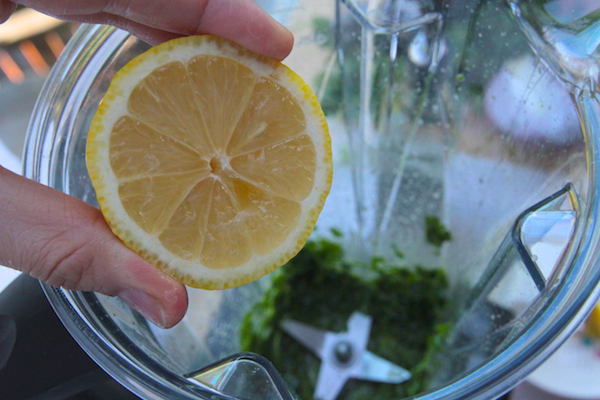 Cook the orzo and then stir parsley puree in.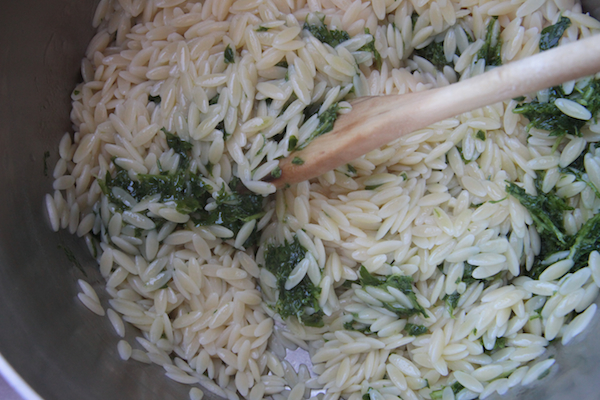 Now we marry the ingredients with the orzo. Add in olive oil & stir in the juice of two lemons.
I told you it was lemony!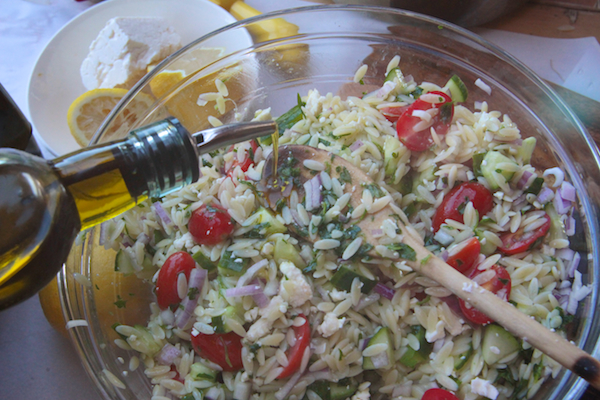 The road to healthy starts here.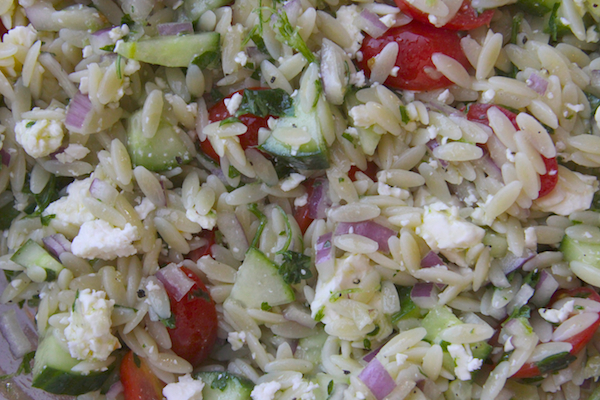 The road to late night TV binging starts with Homeland.

Orzo Salad

serves 4

recipe slightly adapted from This is a Cookbook: Recipes for Real Life

for the vinaigrette:

1/2 cup chopped fresh flat leaf parsley
3 tablespoons extra virgin olive oil
2 tablespoons fresh lemon juice

for the salad:

1 1/2 cups dried orzo
salt & pepper
1 cup cherry tomatoes, halved
1 English cucumber, diced
1 red onion, diced
1 cup crumbled feta cheese
juice of 2 lemons
1/3 cup extra virgin olive oil
salt & fresh ground pepper
4 cups fresh spinach leaves

Bring a large pot of generously salted water to a boil over high heat. Add the orzo and cook until al dente, according to package directions. Rinse in cold water, drain thoroughly and set aside.

To make the vinaigrette, put the parsley in a blender or mini food processor. With the machine running, slowly drizzle in the 3 tablespoons olive oil. Process until a smooth puree forms. Stop machine and scrape down the sides, process again. Just before mixing with the orzo, add the 2 tablespoons lemon juice, salt & pepper to taste and process until emulsified.

Put the orzo in a large serving bowl. Add the vinaigrette and toss until well coated. Add the tomatoes, cucumber, onion, feta, lemon juice and 1/2 cup olive oil and toss gently to mix well. Taste and adjust seasoning. Serve over a bed of spinach. .