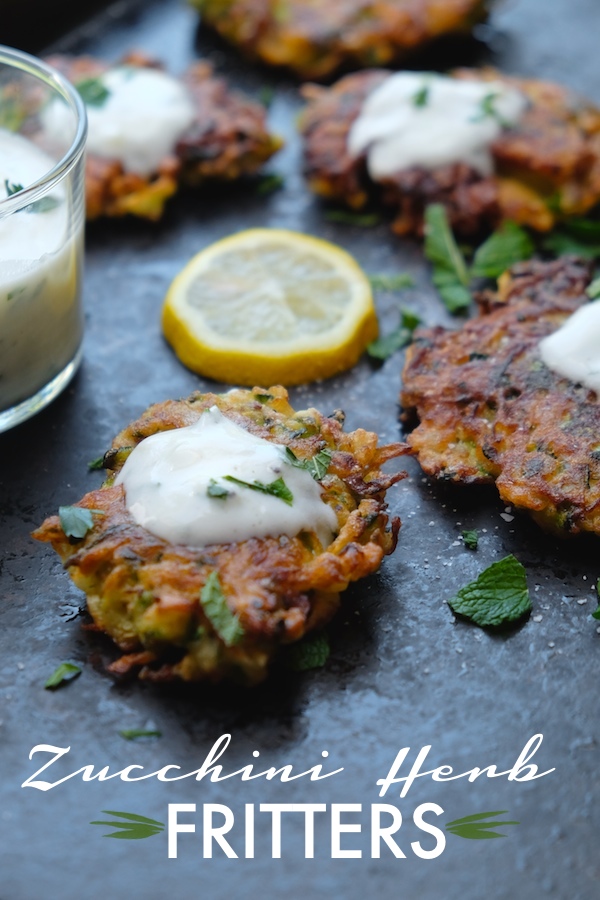 For about six years, we lived next to an older couple with a prolific vegetable garden. Anne would supply us with apples, tomatoes, beets, yellow squash, and zucchini. She'd leave us boxes on our front porch and I delighted in the fact that it forced me to be creative and figure out what to do with an overabundance of produce. I made applesauce and apple cakes and Caprese salads with all she gave us. One time I thanked her by making her a delicious beet juice drink and she told me how gross it was. She kept giving me vegetables though so we were still cool. Some people don't like beet juice.
But honestly…I got a little sick of zucchini after a while.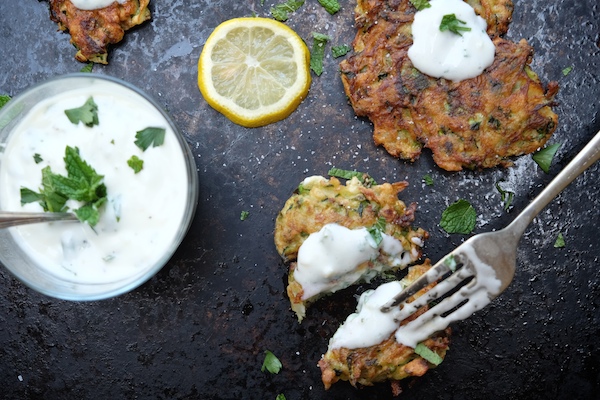 Now…I buy our zucchini. Sigh… I really want to make zucchini noodles (and plan to this week!).
But then I saw this recipe pop up on my Facebook feed late at night and had a major hankering for fritters.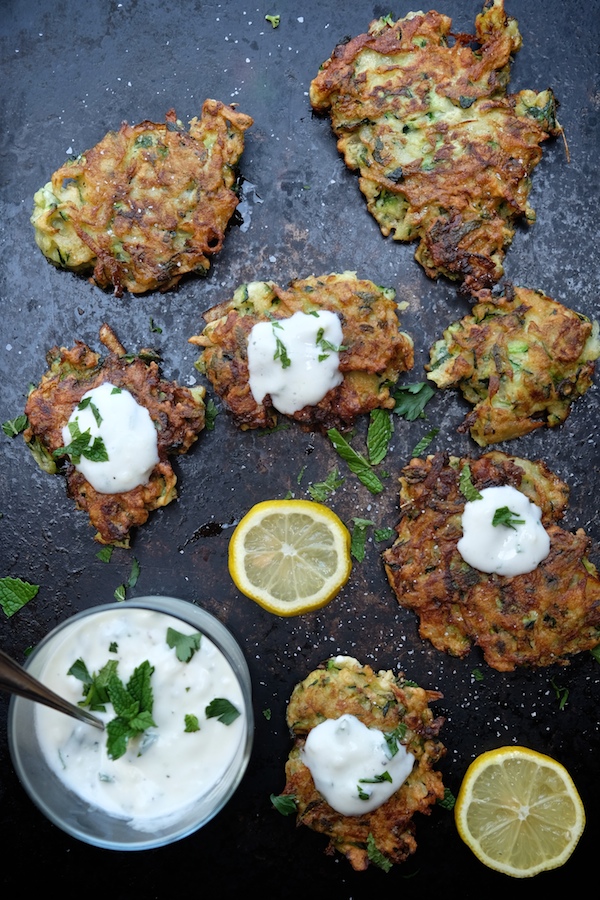 If you've got a surplus of zucchini- well if you have TWO that you want to get rid of, fry them up! These fritters are fortified with shredded potato and onion and have a good dose of herbs throughout. They'd make a great addition to your meal prep this week. I'd love to have some with eggs for breakfast this week.
First we get the garlic yogurt dip ingredients together.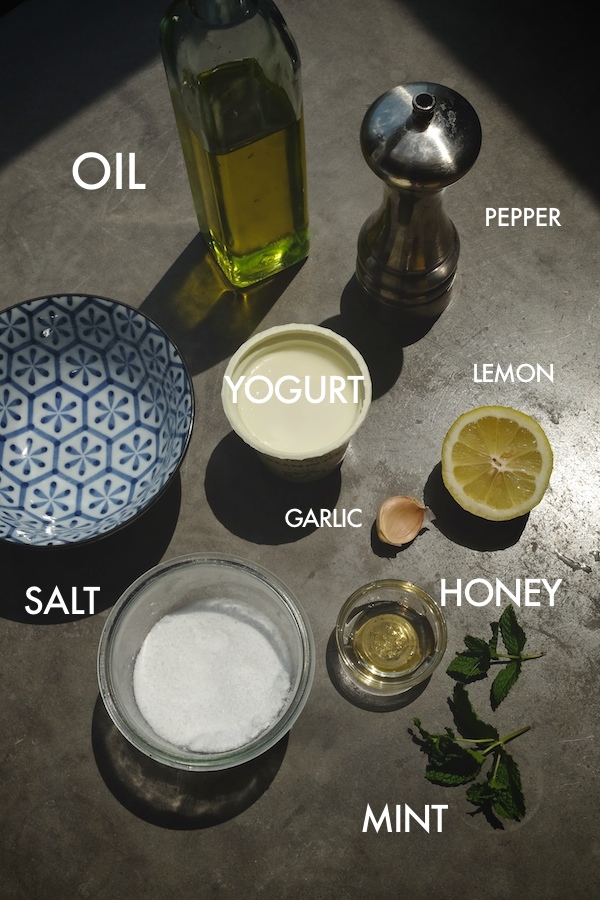 Easy as one two three. Set aside. Keep chilled.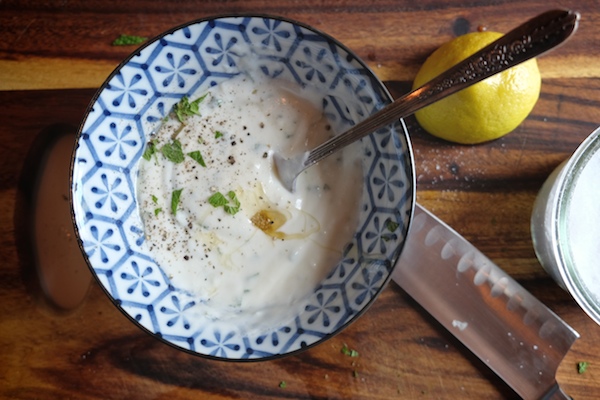 Fritter ingredients!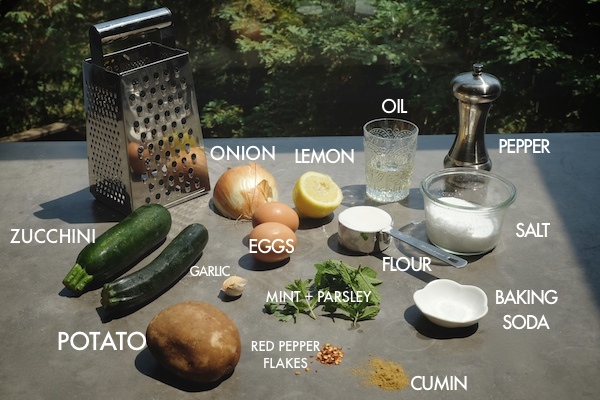 We grate the onion, potato & zucchini together and we let it sit in a colander in a bowl to collect all the liquid.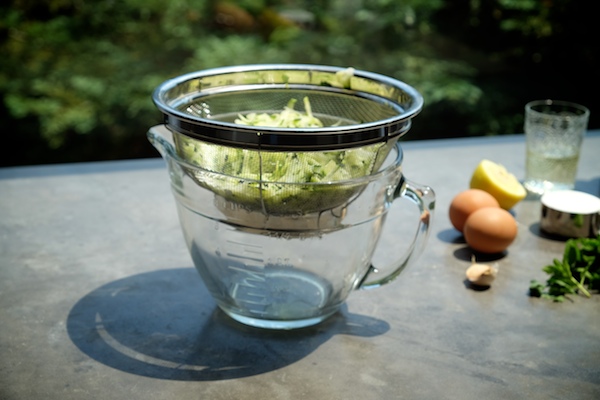 This was after 30 minutes!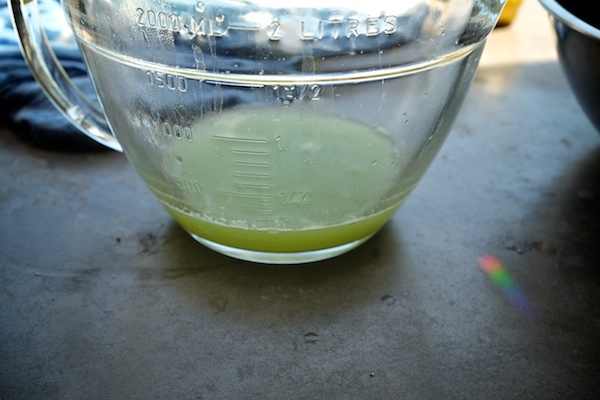 We want to squeeze the excess moisture out of the zucchini potato onion mixture.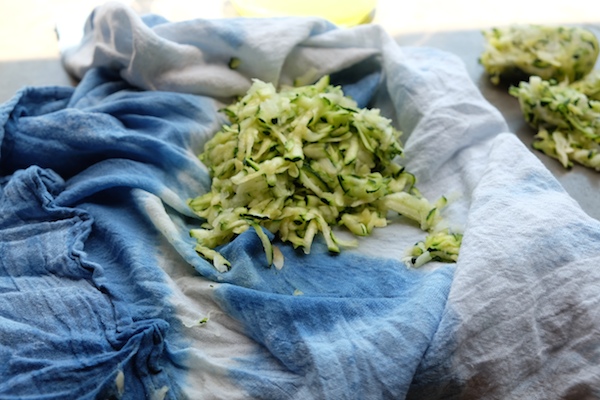 Wrap up in a kitchen towel. SQUEEZE.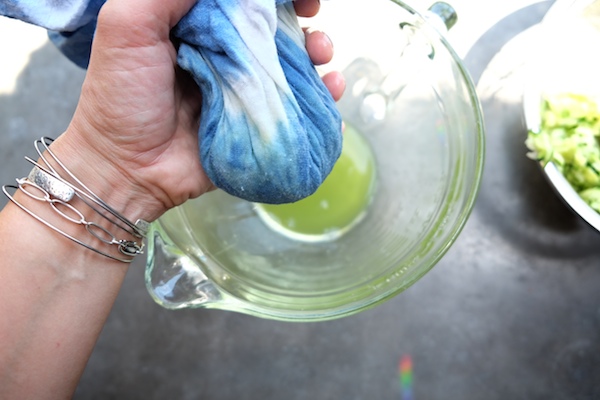 This times two.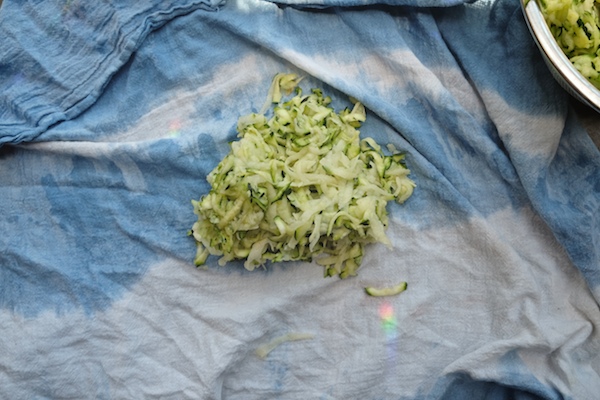 Chop up the fresh herbs.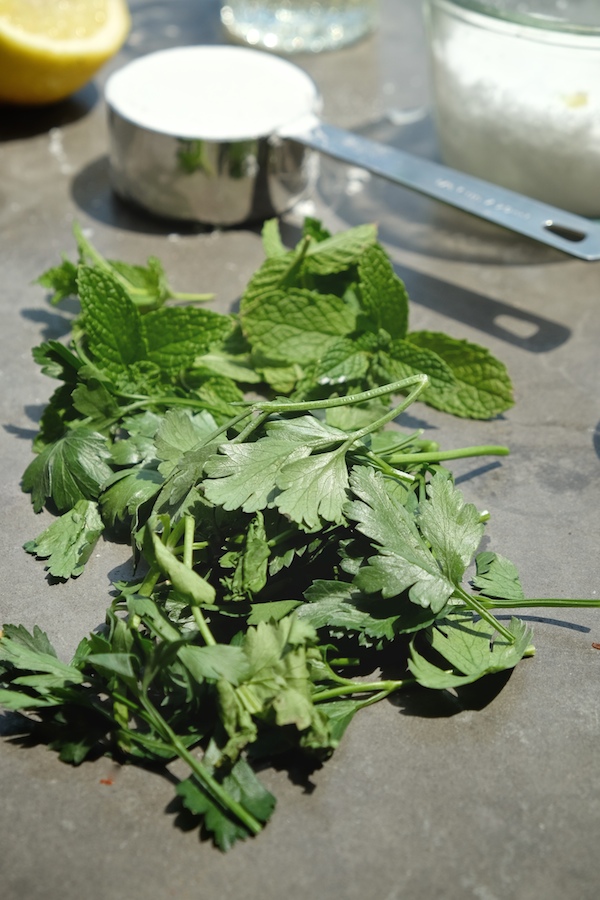 Get the base of the fritters ready with the eggs & such.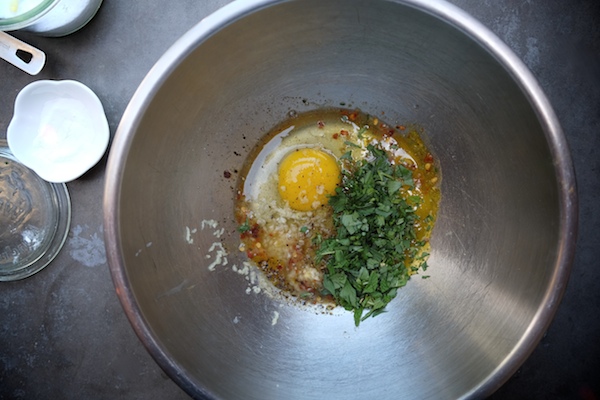 MIX.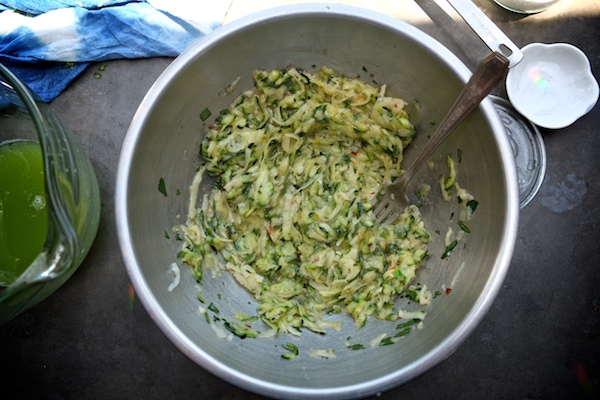 Flour & baking powder goes on top. Salt & Pepper seasoned.
Fry up in the oil.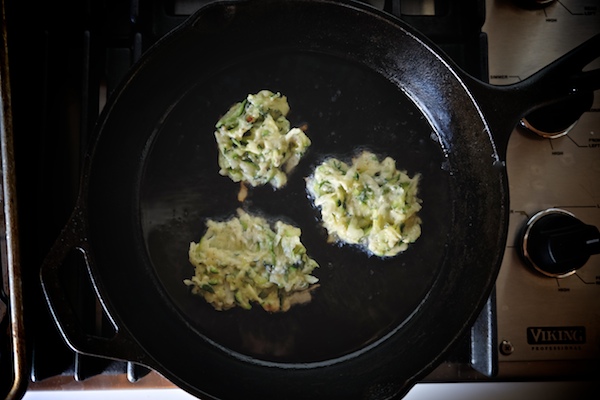 And serve hot!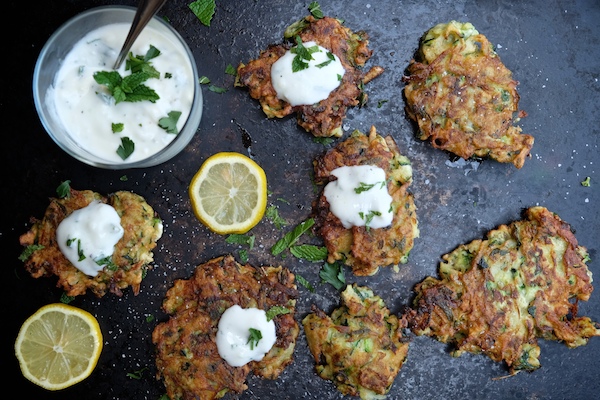 That garlic yogurt sauce is bonkers.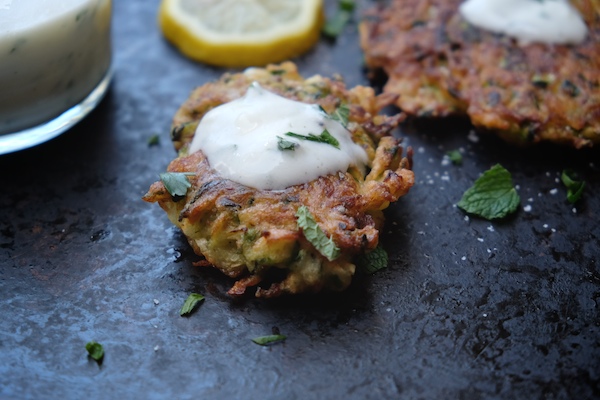 I'm totally going to make this again this week.
Zucchini Herb Fritters

makes 12

recipe slightly adapted from Bon Appetit Magazine

for the garlic yogurt dip:

½ cup plain yogurt (not Greek)
2 tablespoons finely chopped fresh mint
2 tablespoons fresh lemon juice
2 tablespoons olive oil
1 teaspoon honey
1 garlic clove, finely grated
Kosher salt and freshly ground black pepper

for the fritters & assembly

2 small zucchini, ends trimmed
1 small russet potato, peeled
½ medium onion
2 teaspoons kosher salt, plus more
2 large eggs, beaten to blend
1 garlic clove, finely grated
½ teaspoon ground cumin
1/4 teaspoon red pepper flakes
3 tablespoons finely chopped fresh parsley, plus more for serving
2 tablespoons finely chopped fresh mint, plus more for serving
freshly ground black pepper
⅓ cup all-purpose flour
½ teaspoon baking powder
½ cup vegetable oil

For the garlic yogurt dip:

Mix yogurt, mint, lemon juice, oil, honey, and garlic in a small bowl; season with salt and pepper. Cover; chill.

For the fritters & assembly

Grate zucchini, potato, and onion on the large holes of a box grater. Transfer to a mesh sieve set over a bowl and toss with 2 tsp. salt. Let vegetables sit until they release their liquid, 30−40 minutes.

Mix eggs, garlic, cumin, red pepper flakes, 3 Tbsp. parsley, and 2 Tbsp. mint in a medium bowl; season with salt and pepper. Gather up half of zucchini mixture in a kitchen towel; squeeze out excess liquid. Add to bowl with egg mixture and repeat with remaining zucchini mixture. Sprinkle flour and baking powder over; mix gently.

Heat vegetable oil in a large skillet over medium-high. Working in batches, spoon scoops of mixture into skillet, flattening gently with a spatula. Cook until golden brown and crisp, about 3 minutes per side. Transfer to a wire rack; season with salt. Drizzle yogurt sauce with olive oil and top with more herbs; serve alongside warm fritters.