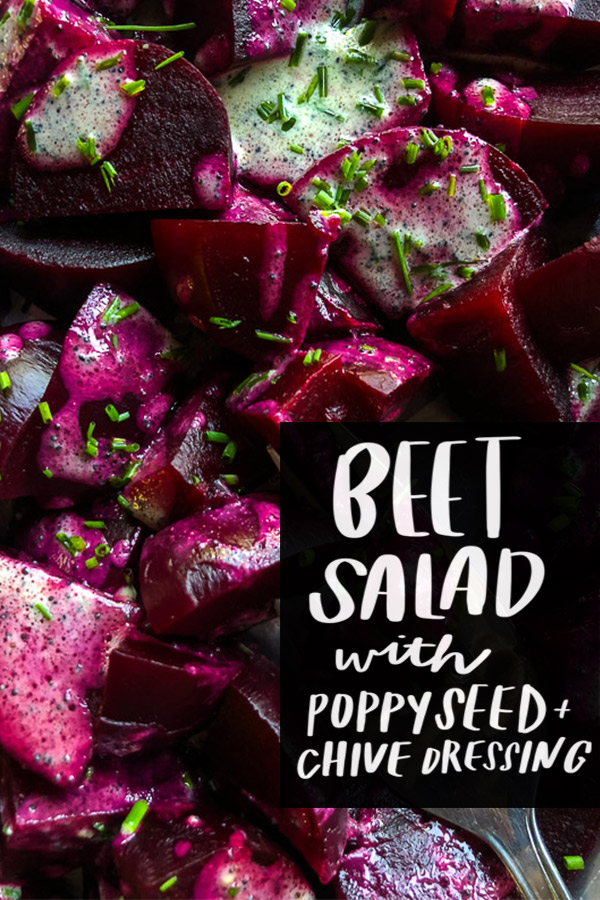 Every time I see beets on a menu, in a cookbook, in person, or anywhere for that matter, I think of my Mom.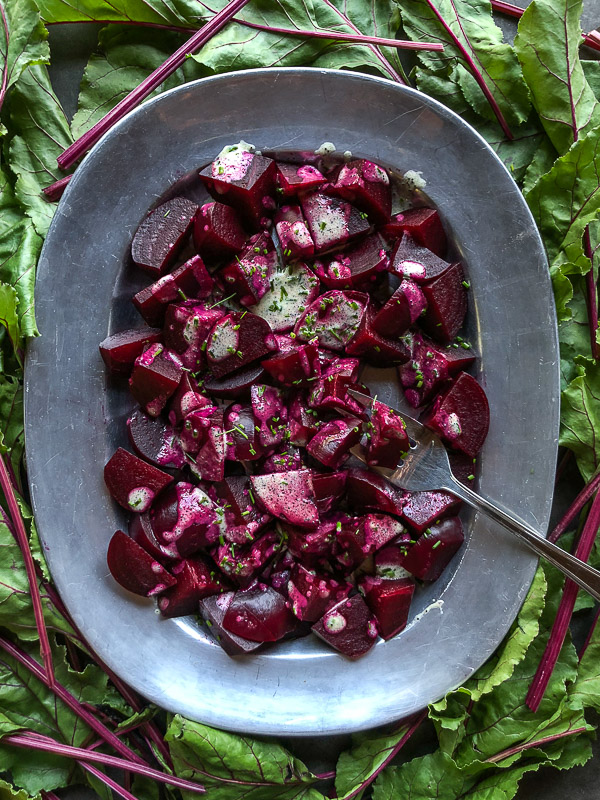 There are always stories swirling around food, huh?  I have SO MANY.
My beet story begins at New York's Balthazar restaurant many years ago when my family went to visit my brother who was living in Manhattan at the time.  During this particular trip, my Dad was trying his hardest to be low-carb.  My Mom was trying to be supportive of another one of my Dad's weight loss endeavors but she saw the Beet Salad on the menu and decided to order it. Bev opted out of low-carb living while on vacation!  (GO BEV!!!)  My Dad made a comment about the sugar content of the beets and started in on a lecture that we all quickly stopped listening to.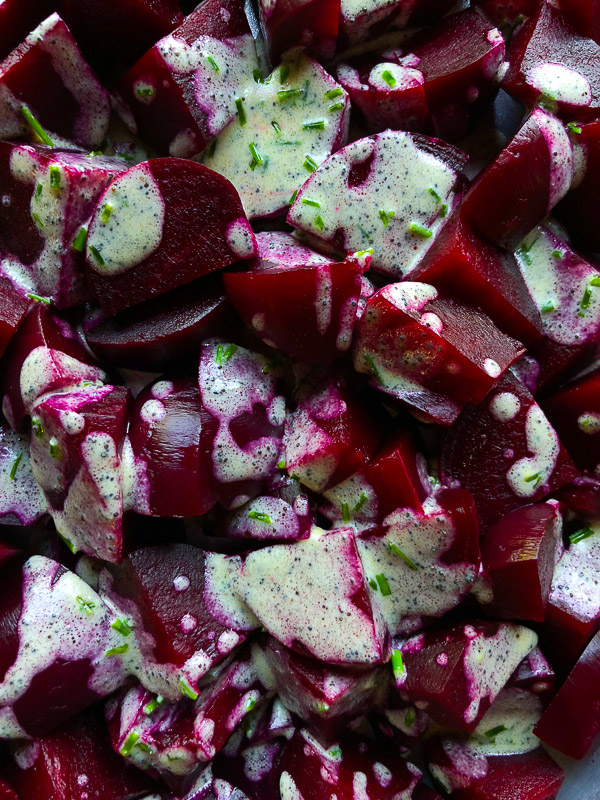 So when her beet salad arrived, we all watched as she slowly savored EVERY. SINGLE. BITE.  She was a pretty slow eater, so this whole process was quite dramatic. My Dad was not amused.
I, on the other hand,  loved every single moment of the situation.
All the years after that incident, whenever we would go out to eat, I'd look for a beet salad on the menu, hoping my Mom would do it again Spoiler alert: SHE DID (many times over!). I still look out for beet salad now that she's gone.
When I was looking for a recipe in Julia Turshen's new cookbook,  Now and Again
,  for her cookbook party, I knew I had to make her Beet Salad with Poppy Seed and Chive Dressing. Part of me was sad knowing my Mom would never get to experience it.  But through the process of making this recipe, I remembered one of the biggest lessons my Mom taught me- I am in charge of my own life and body.  If I'm craving beets, I'm listening to my body and HAVING BEETS.  They're so good for you this time of year! AND LOOK AT THAT DANG COLOR. Honor it!
Let's gather our ingredients: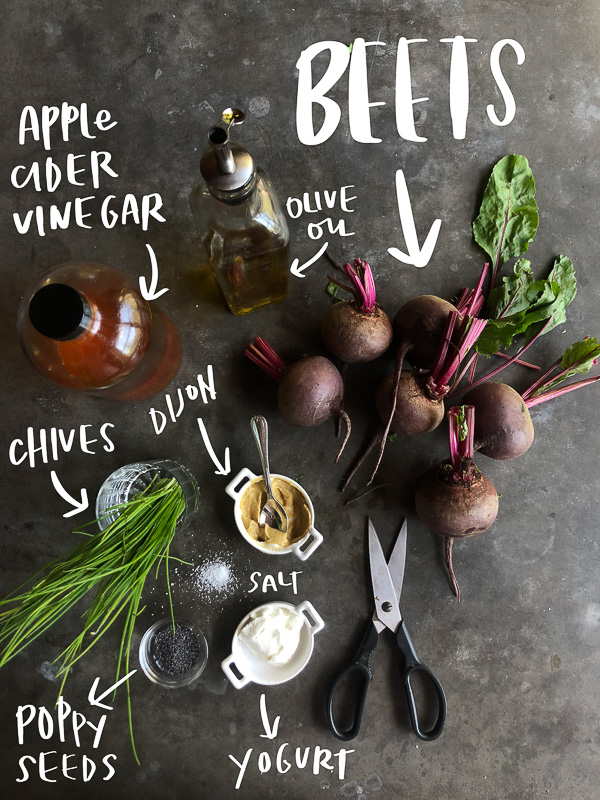 For this recipe, put beets in a pot. Boil them in salted water.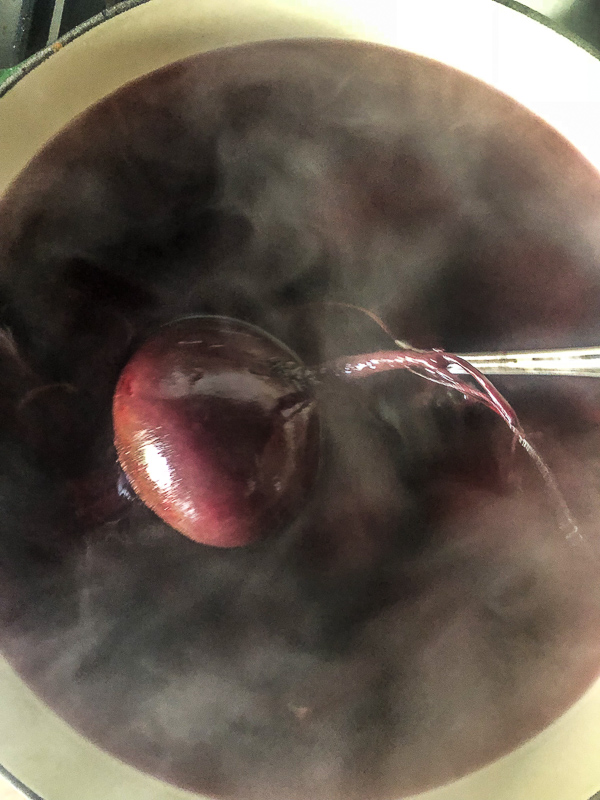 While that's happening, make the dressing.
I opted for yogurt instead of mayo. You already know how I feel about mayo.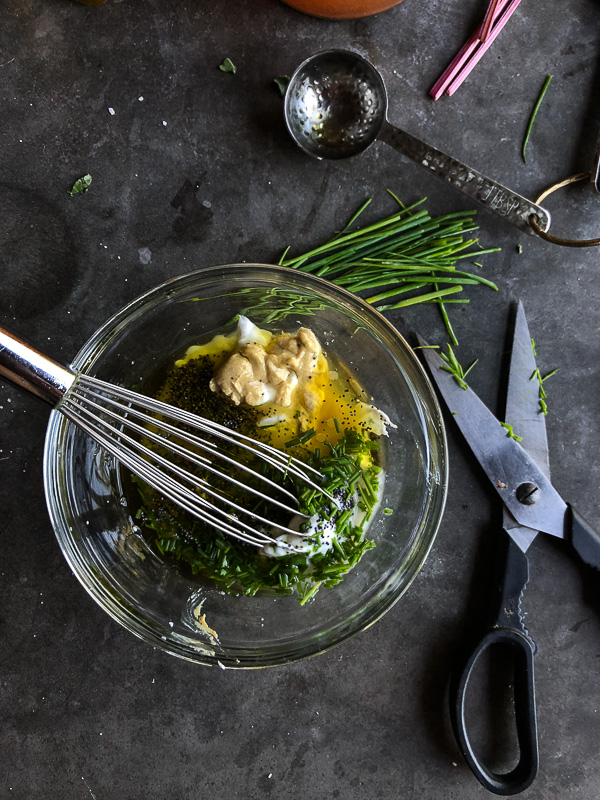 This salad dressing is so simple but there's something about poppy seeds and chives!
Instant elevation!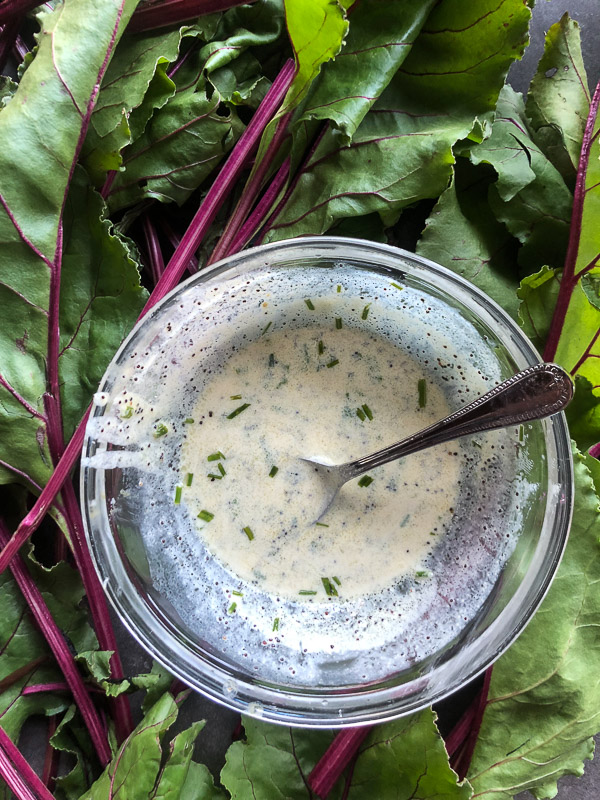 Remove the beet skins. I used a dishcloth I dyed many years ago.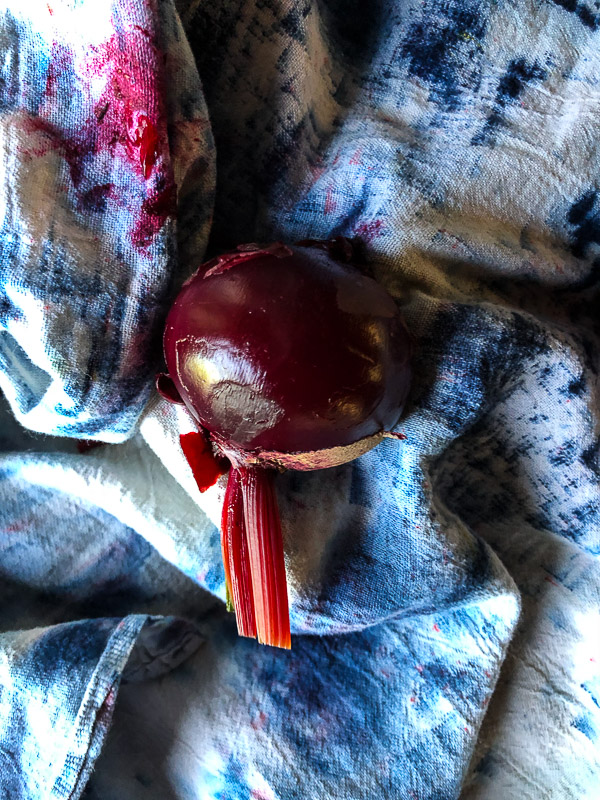 It added magenta splotches to my dish towel making it look like an artist rag.
I FREAKING LOVE IT EVEN MORE NOW.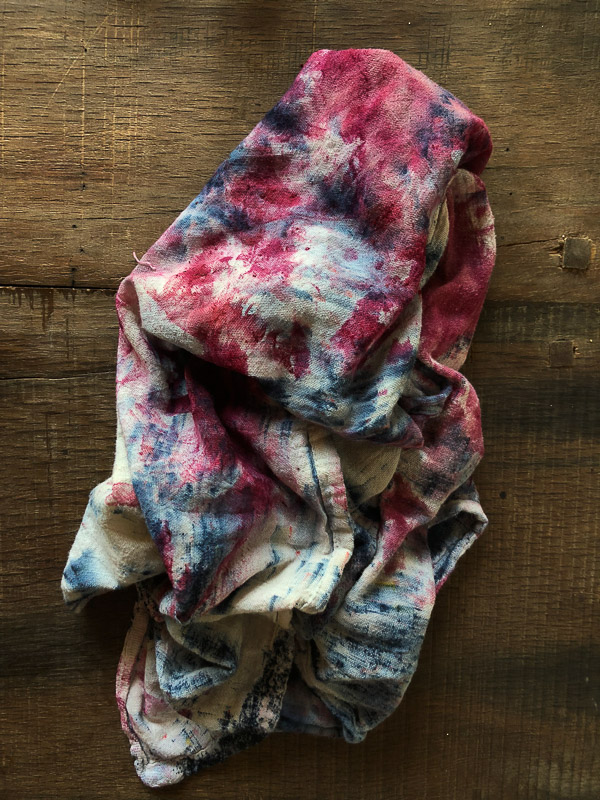 Cut the beets up in wedges, or circle rounds if you'd like.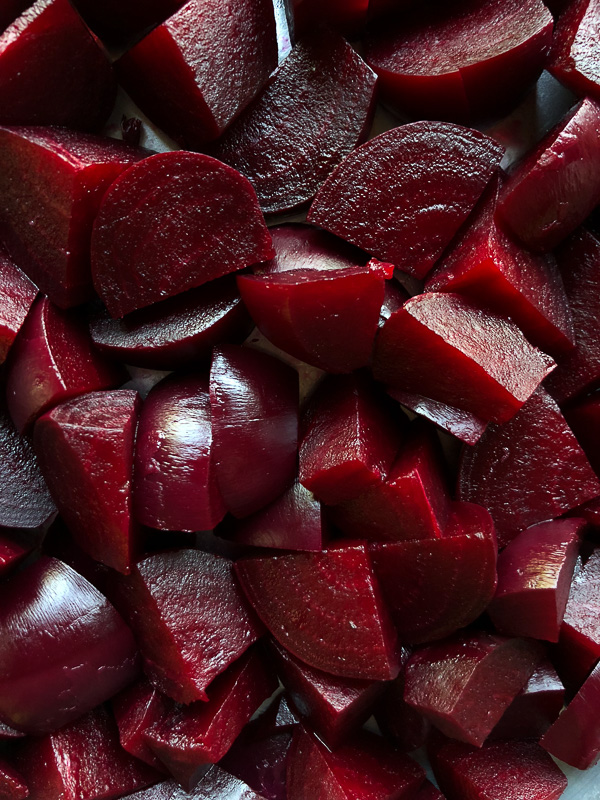 Drizzle the dressing on top!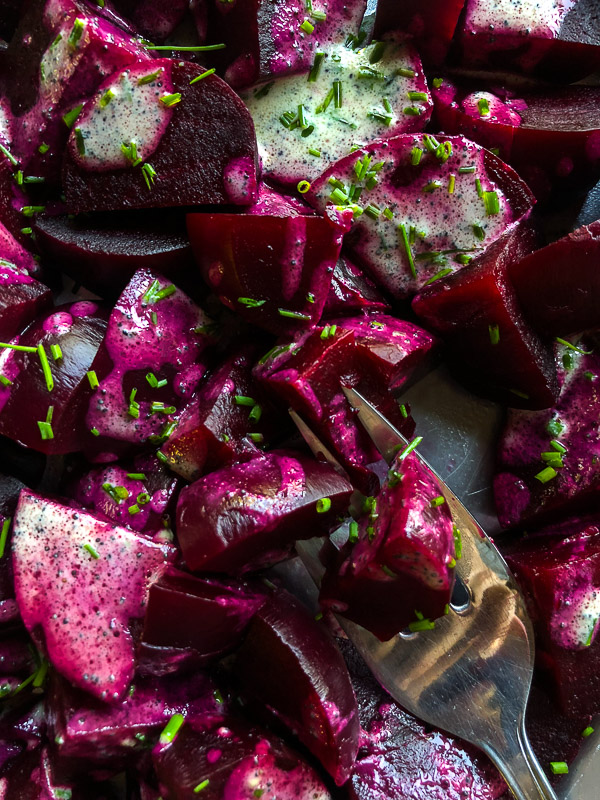 It will turn the most beautiful shade of pink when the beet juice mixes with it.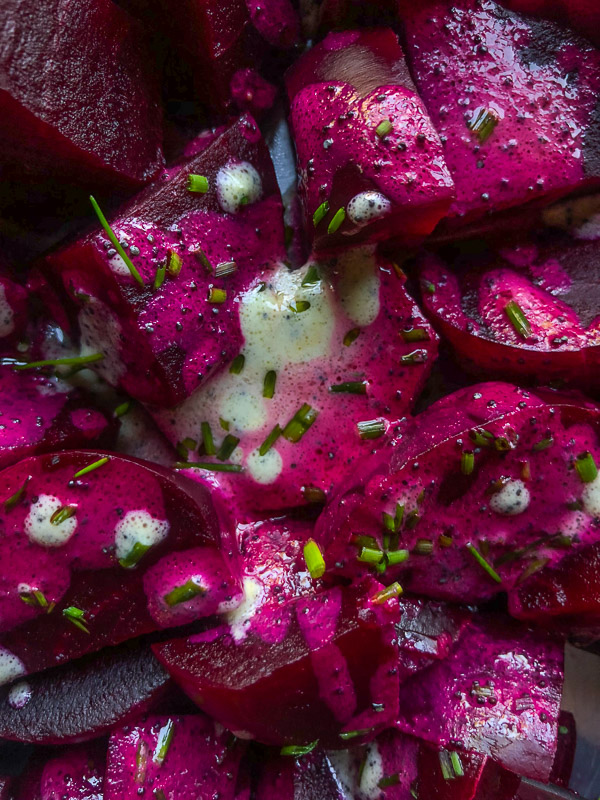 I packed up my salad (in my mom's serving dish!) and brought it to the cookbook party.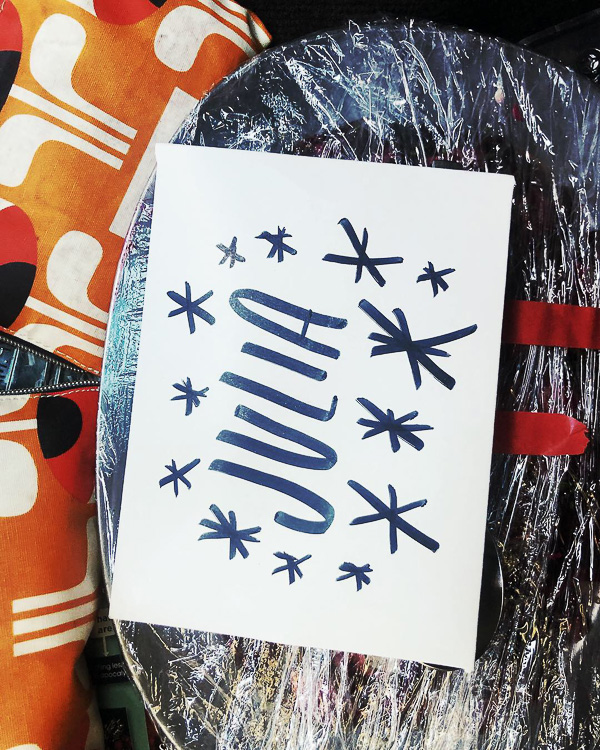 Bottom right-hand corner represent!
I'm so glad I got a chance to try a bunch of the recipes from Now & Again!
The stuffed mushrooms were bonkers and I LOVED the anchovy toasts.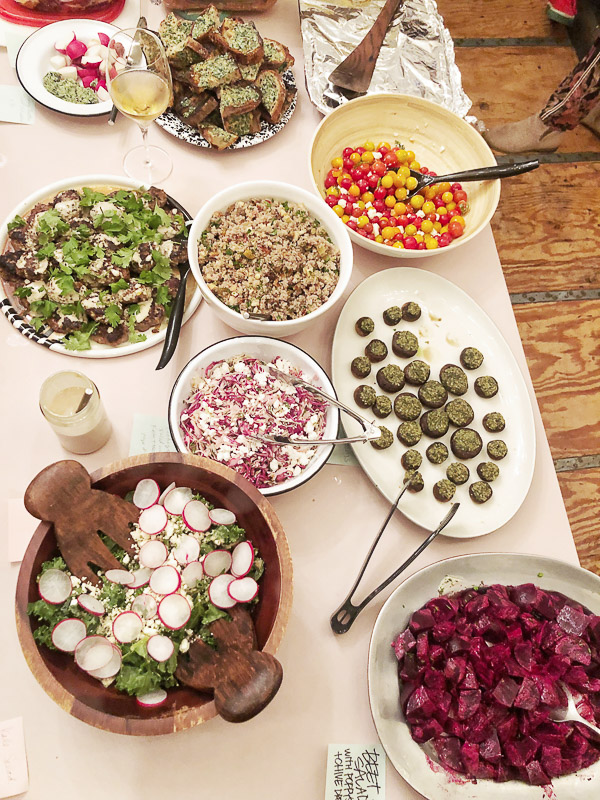 Hope this inspires you to eat some beets, make your dish towels a new color, make a recipe honoring someone in your life, or start a cookbook party!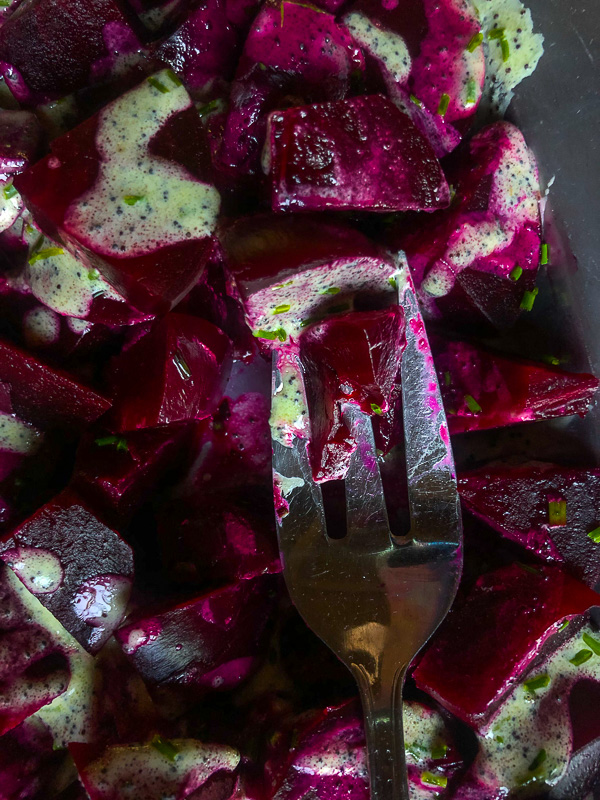 Maybe you can tell your own through this beet salad?  Enjoy!
Beet Salad with Poppy Seed + Chive Dressing

serves 8-10

recipes from Now & Again

kosher salt
2  1/2 lbs. red beets, scrubbed
2 tablespoons plain yogurt (or mayo if you please)
2 tablespoons olive oil
2 teaspoons Dijon mustard
2  1/2 tablespoons apple cider vinegar
1/4 teaspoons freshly ground black pepper
1  1/2 tablespoons poppy seeds
3 tablespoons minced fresh chives

Bring a saucepan of salted water to a boil and add the beets (the water should cover the beets; if it doesn't add more). Cook the beets, turning them every so often, until they are tender (test with a paring knife), about 45  minutes (it may be less or a bit longer depending on the size and the age of the beets, so start testing at 20 minutes).

Drain the beets, transfer to a paper towel-lined cutting board, and use the paper towels to rub off the skins. Trim off and discard the root ends.

Meanwhile, in a small bowl, whisk together the yogurt, olive oil, mustard, vinegar, pepper, poppy seeds, 2 tablespoons of the chives and 1/2 teaspoon salt.

Slice the warm beets into thin bite-sized wedges. Season them lightly with salt and then drizzle the dressing evenly over them. Sprinkle with the remaining 1 tablespoon chives. Serve immediately.