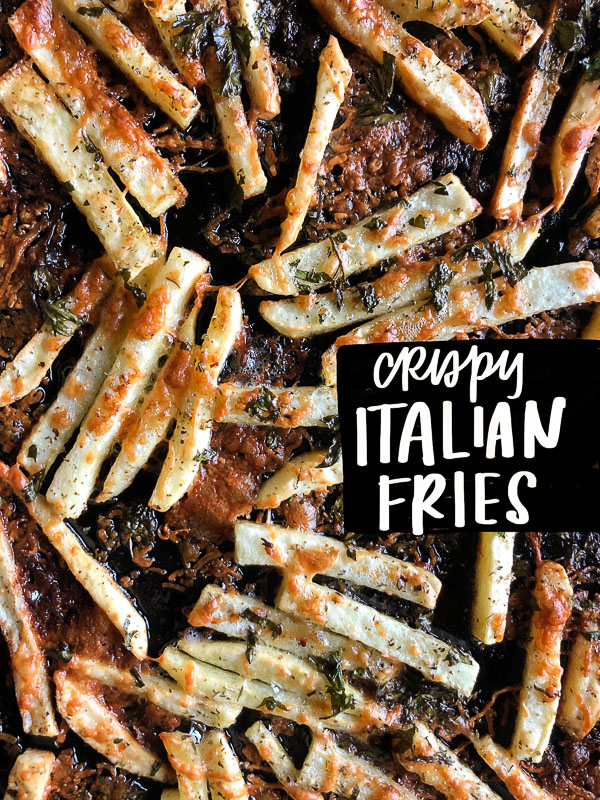 Sometimes I take a look at the Recipes section of my website for meal inspiration and to see how far my photography has come since I started my blog in 2007.  A lot has changed over the years!
I went back into my archives and saw these Crispy Italian Fries.
HOW COULD I FORGET ABOUT THEM??!
I was on such a good streak of making them 9 years ago and then something happened. I forgot about them.  Maybe it was my crispy potatoes or my incessant love for tater tots that made me forget about them? I'm not letting that happen again.
Also, I am a much better photographer 9 years later so here we are.
DOES THIS ENTICE YOU OR WHAT??!
Big shout out to crispy cheese fans!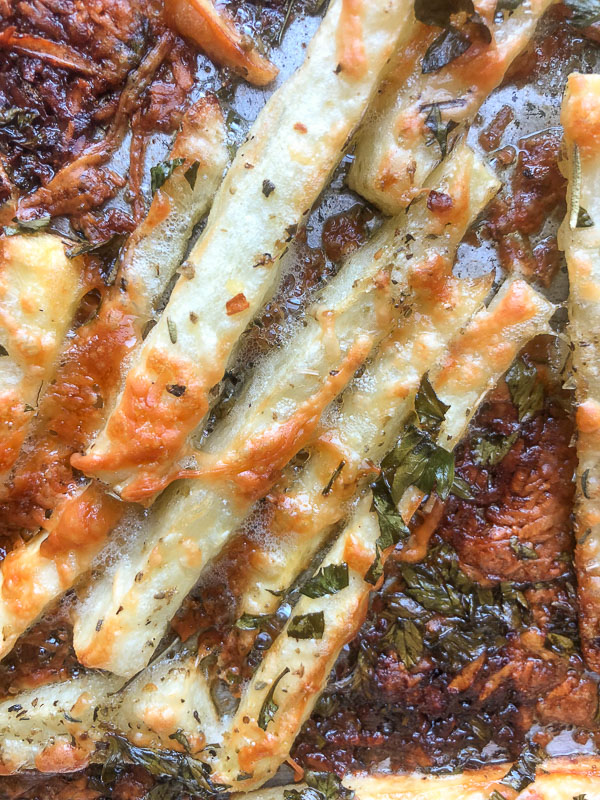 These Italian Fries are something I am going to pull out for company because they are definitely a crowd pleaser.  That and the fact that my child doesn't really like melted cheese (WHO IS HE?!!) or baked fries.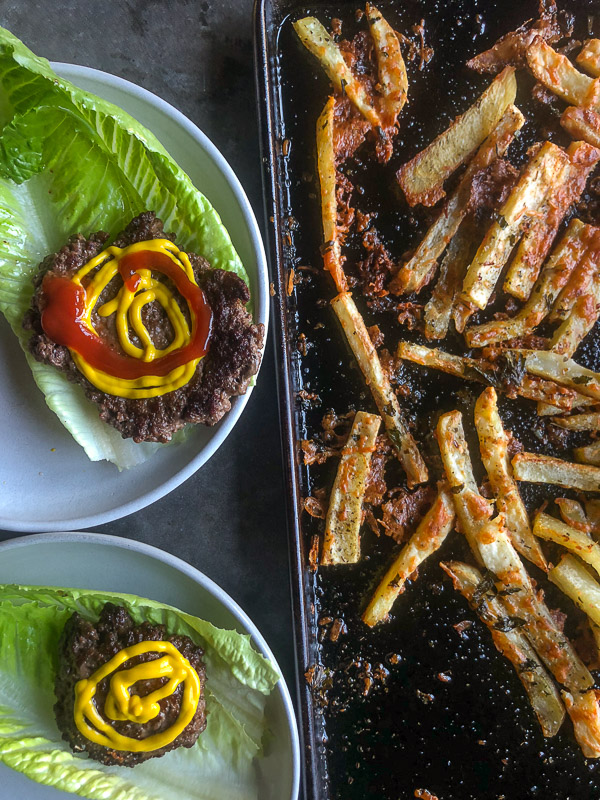 Needless to say, my husband and I snarfed down this whole tray and a half.  I mean, there were leftovers but I ate those too. Bottom line: between two of us, this recipe lasted less than 24 hours at my house.
Make them. You'll see why. They're impressive.
Ingredients involved!
If you're a Trader Joe's fan, the Quatro formaggio cheese blend works well with this if you don't have romano cheese.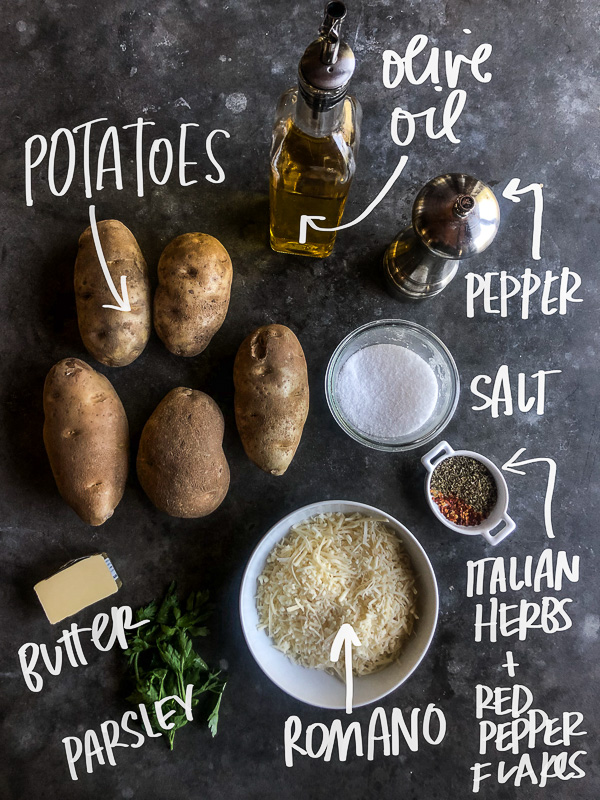 Wash/peel potatoes. Keep them in a bowl of water to prevent browning.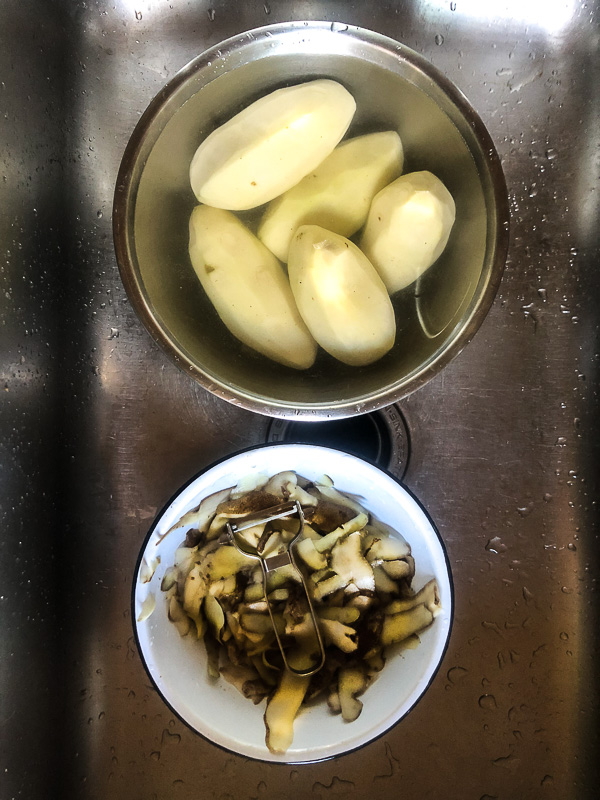 Cut potatoes. Although now that I am looking at this I think next time I am going to try this with the skins on because I LOVE crispy potato skin.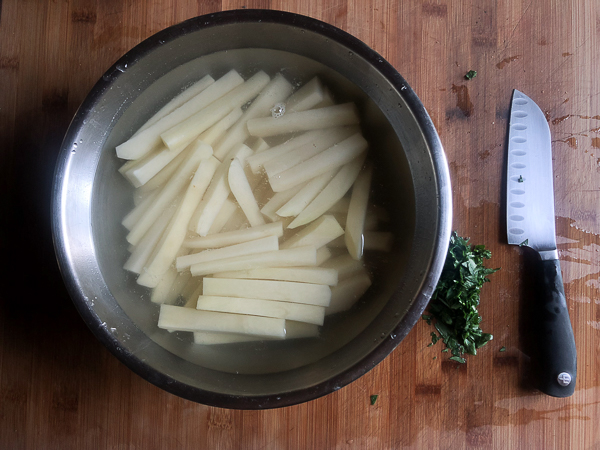 You will need two baking sheets for this recipe. Dry off your potatoes. Add oil to your pans.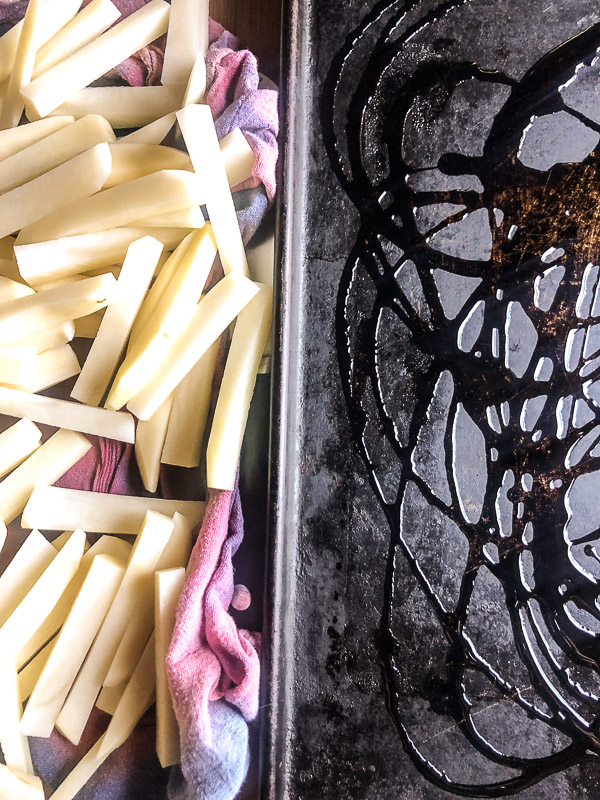 Toss potatoes in oil. Add the Italian seasoning on top.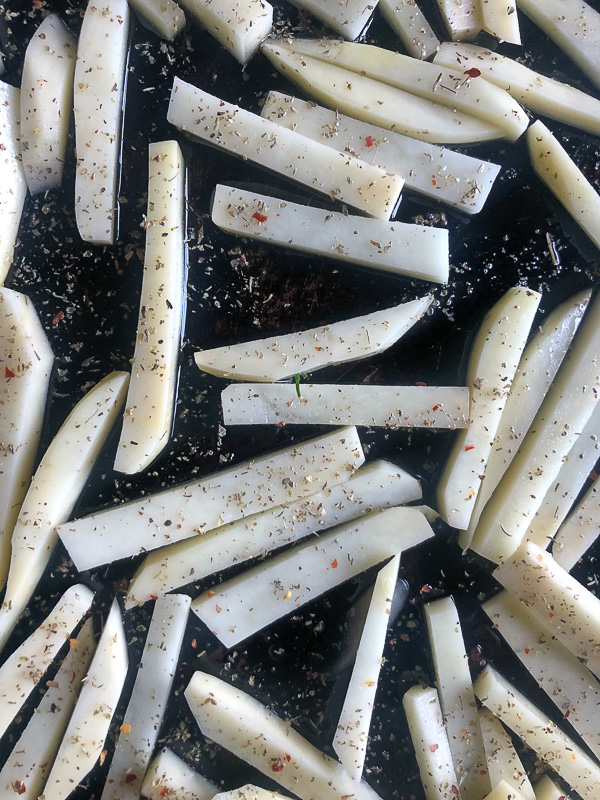 Cheese it up.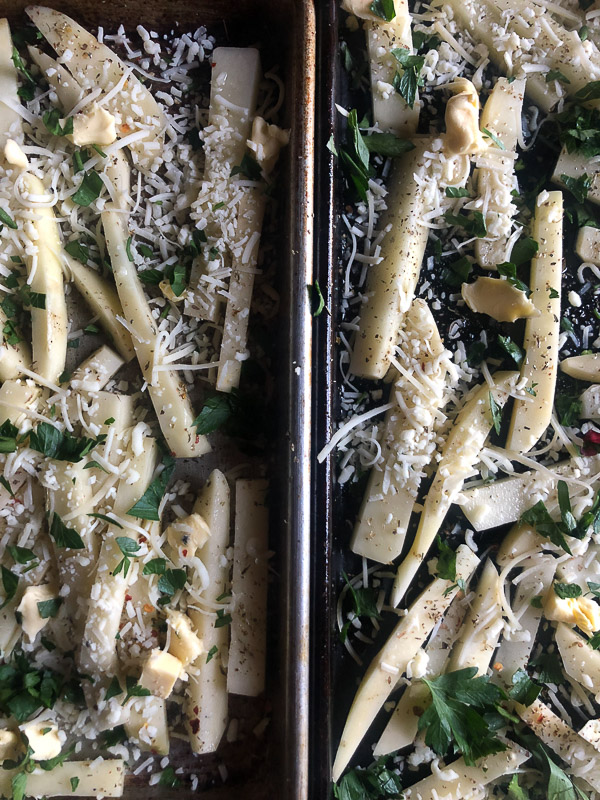 Butter makes everything better.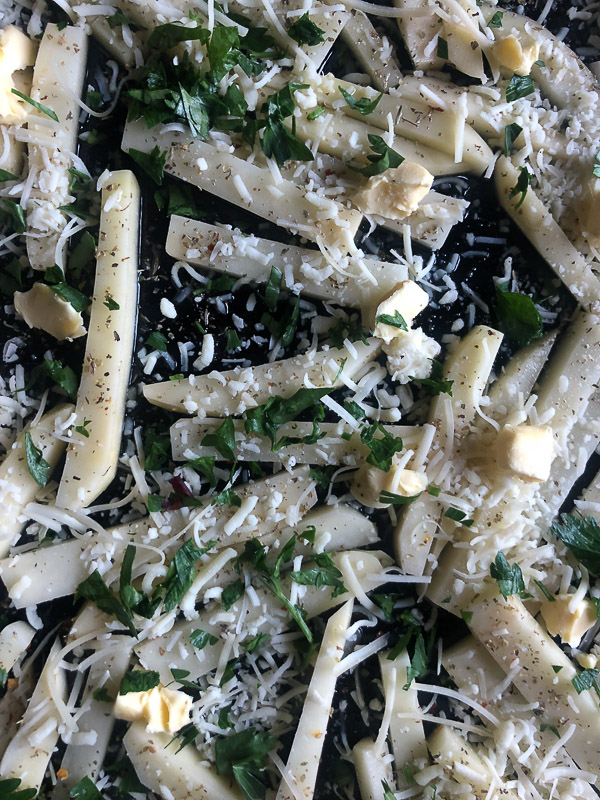 A little trip in the oven and we have THIS.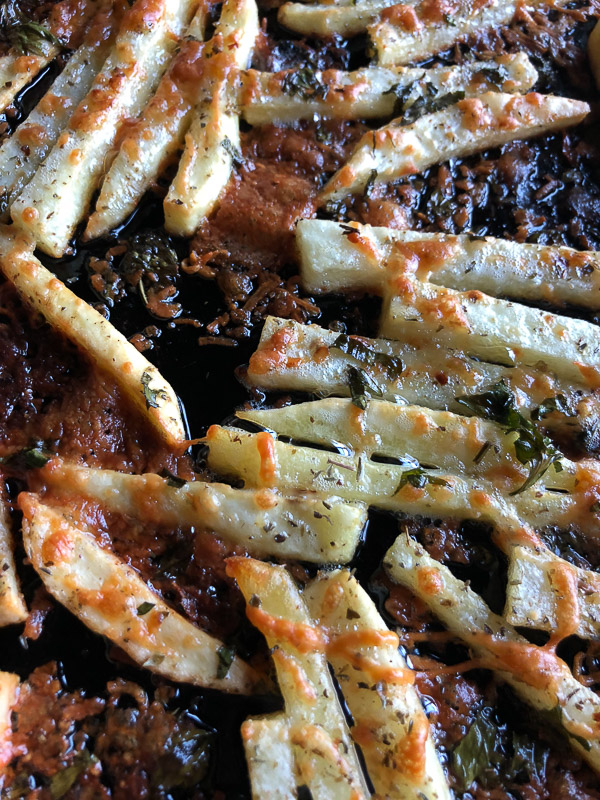 Just to give you an idea of how crispy this is…this is what the bottom of the fries look like.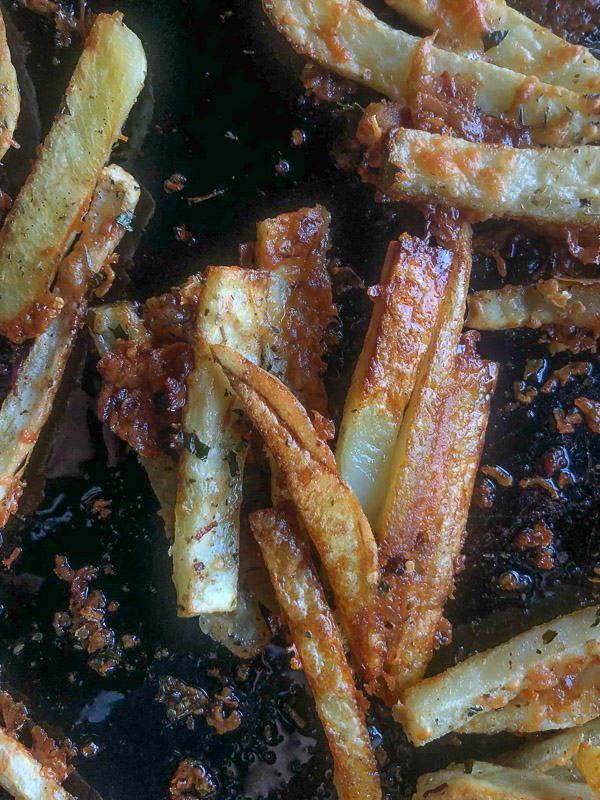 You know you want some.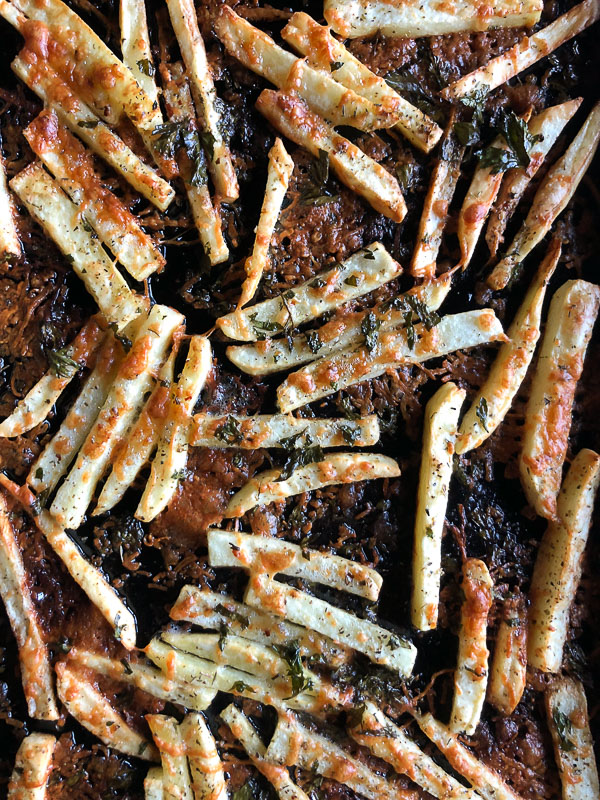 Now I am wondering what it would have been like to dip in marinara… NEXT TIME!
And there WILL be a next time.
[/donotprint]
Italian Fries

serves 4-5

recipe adapted from Mad Hungry

5-6 russet potatoes

3 tablespoons extra virgin olive oil

1 tablespoon dried Italian herbs 

1  3/4 grated cheese blend  (mozarella, romano & parmesan)

¼ cup minced parsley

3 tablespoons butter

Coarse salt, black pepper

Preheat oven to 400F. Peel potatoes and slice into 1/3-inch thick French fry-style strips. Place them in cold, salted water so they don't turn color while you work.

Drain potatoes and pat dry with paper towels. Spread 1 tablespoon of oil on each of two rimmed baking sheets and spread out the potatoes. Overlapping is fine.

Sprinkle the dried herbs evenly over the potatoes. Liberally spread cheese and parsley on top. Drizzle the remaining 2 tablespoons of oil over the cheese. Scatter bits of butter around the pans.

Bake until the potatoes are golden brown, rotating the pans after 30 minutes, for a total baking time of 45-50 minutes. Sprinkle with salt and pepper and serve hot.