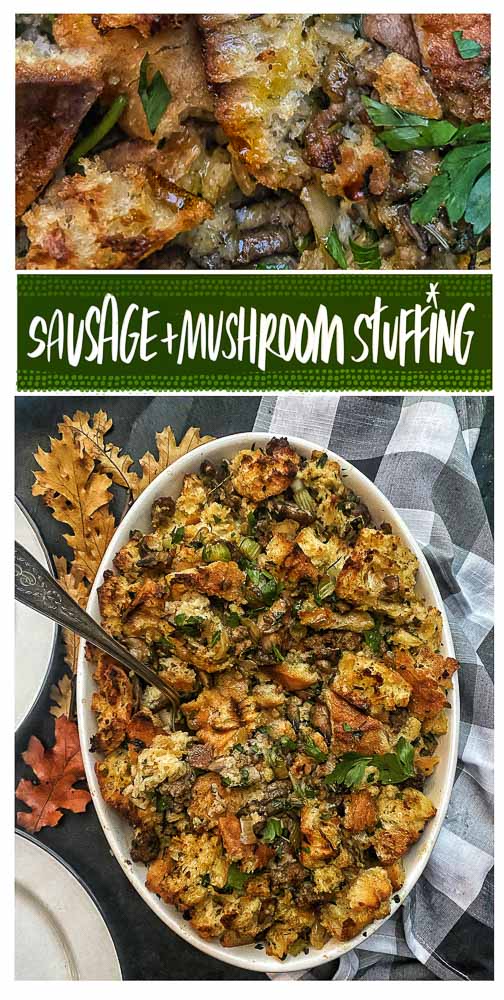 We all have our opinions of stuffing, don't we? My mom always used packages of bread cubes for her stuffing and while I really enjoyed her version, I didn't like how mushy it was. She did serve two options at our Thanksgiving table-one batch of stuffing she stuffed in the turkey and the other batch, she baked in a baking dish that had a crispy crust. I opted for the crispy crust version, fighting my brothers over the crispiest edge pieces. This year, I'm making Sausage Mushroom Stuffing and I'm doing it my own way.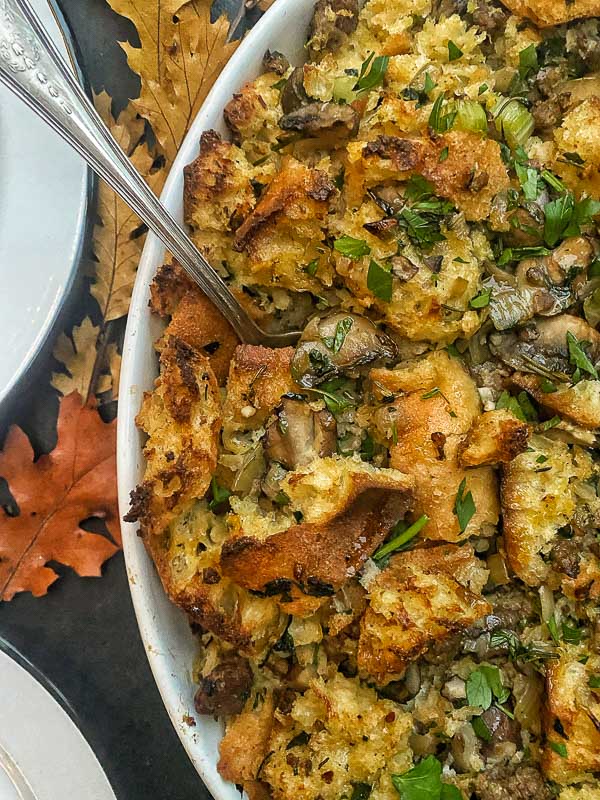 As a lifelong lover of bread, I believe that bread needs a little more reverence in the stuffing. I like a stuffing that has a bread pudding-like vibe with crispy toasted bits on top. Have you ever had the bread salad with the roasted chicken from Zuni in San Francisco? Think THAT.
I want something that will hold up to some gravy and give me a little crunch when I need it. So, in the spirit of borrowing from the past, I used my Mom's secret weapon in her stuffing- breakfast sausage! It provides a nice hit of sage. It's what makes all the men in my family reach for another spoonful. I also added mushrooms because I'm a fan of sausage and mushrooms. I'll add them wherever I can!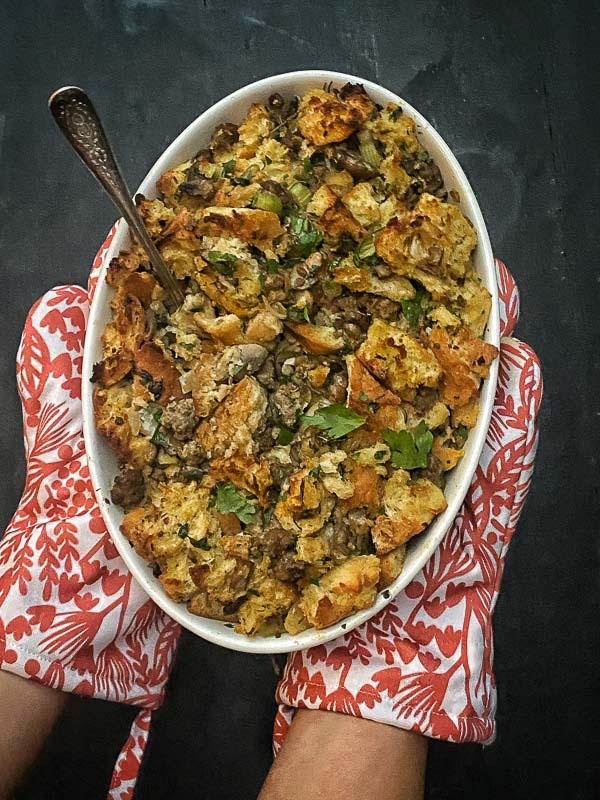 So buy some good bread, dig into one of the edge pieces and save the rest for this Mushroom Sausage Stuffing at your Thanksgiving table. The leftovers the next day with eggs…oh boy!
Ingredients involved: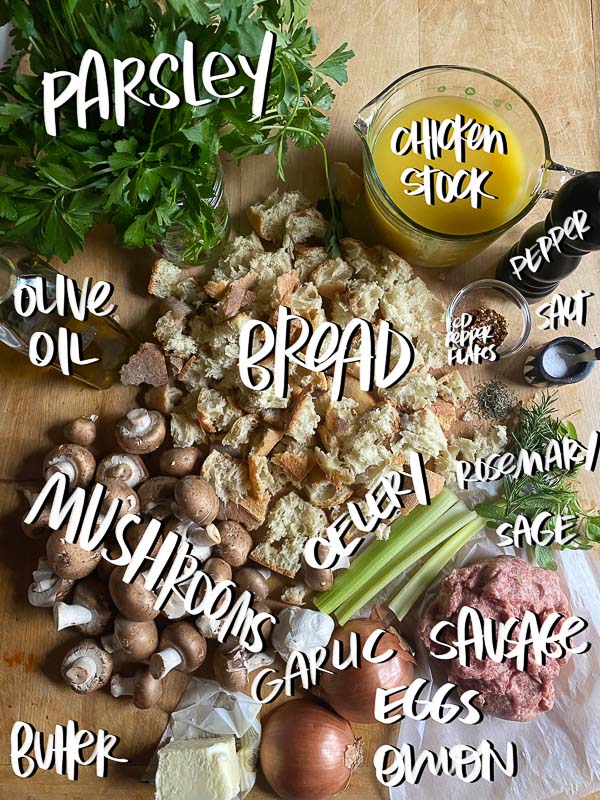 I used the trusted ciabatta for this recipe. I like the crust.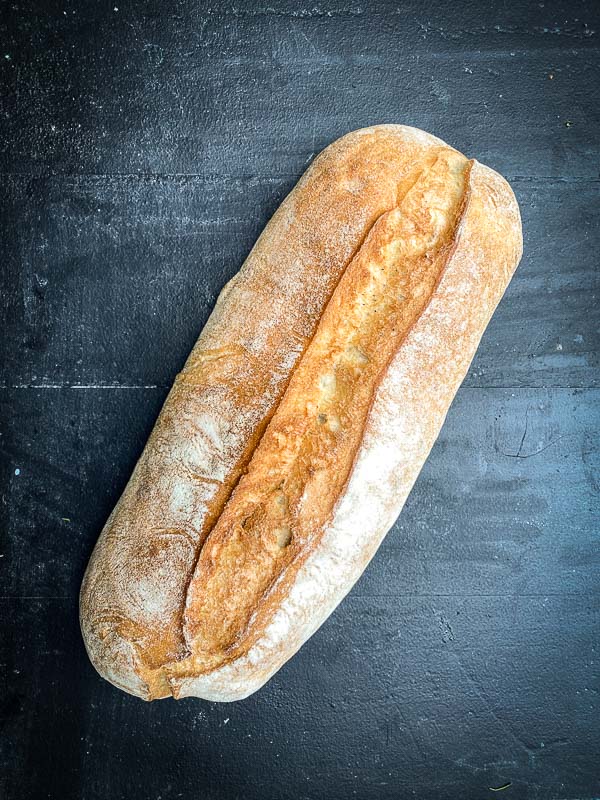 I tore it up into pieces. Since my bread wasn't toooooo stale, I threw it on a pan and toasted it in the oven for 15 minutes at 350F.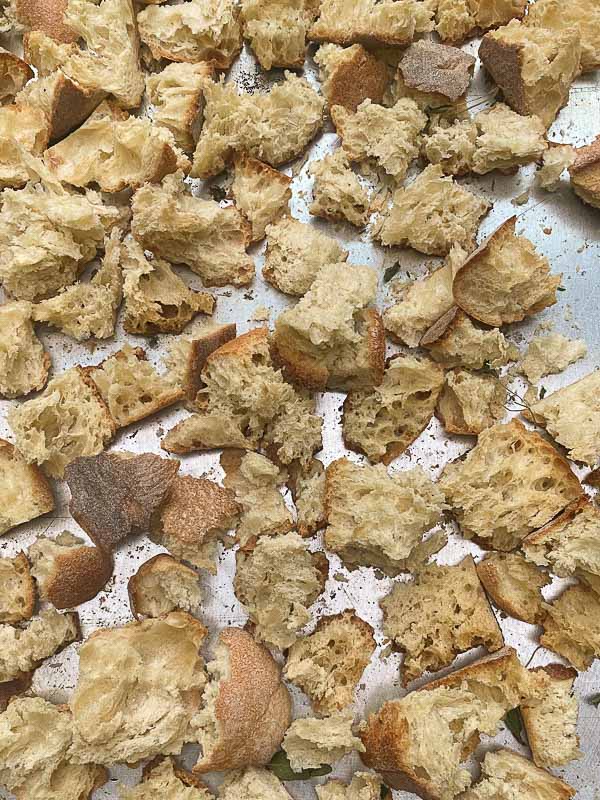 Chop therapy!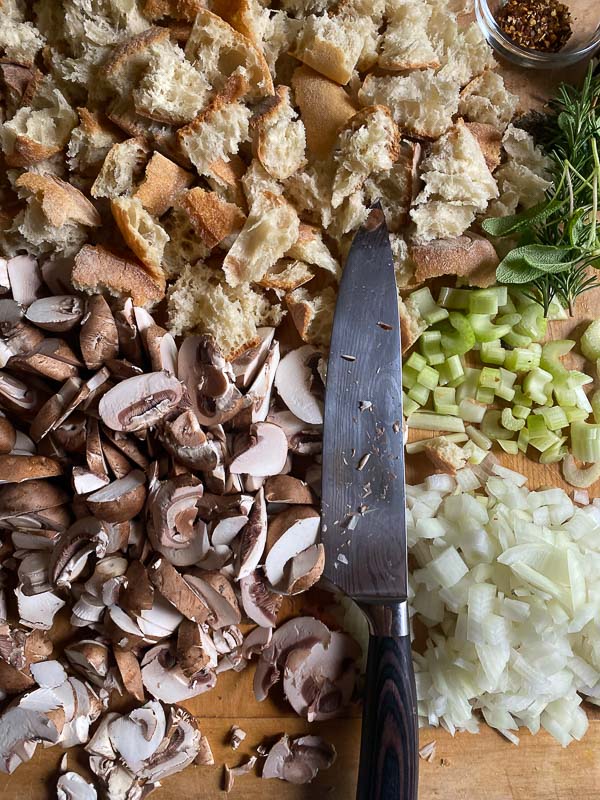 Brown the sausage. Add onions.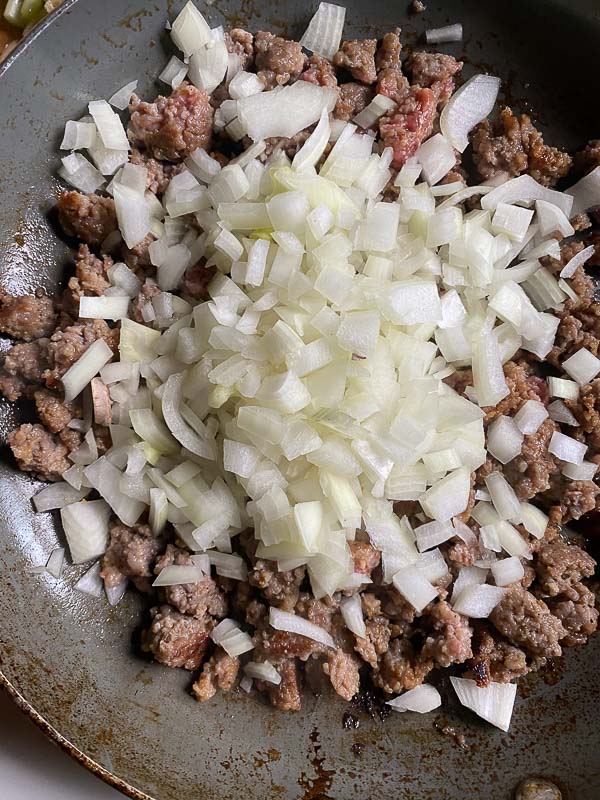 Herb prep!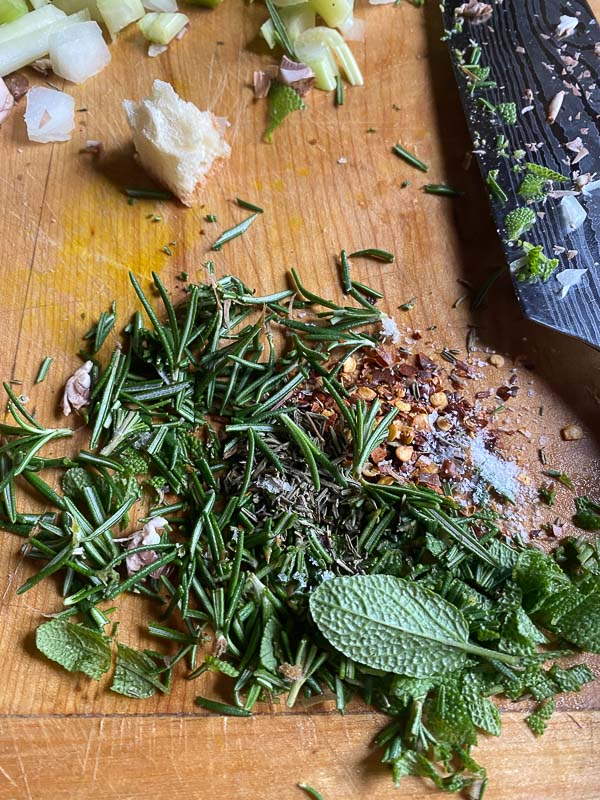 Add mushrooms and celery, cook down. Add garlic, herb & spices.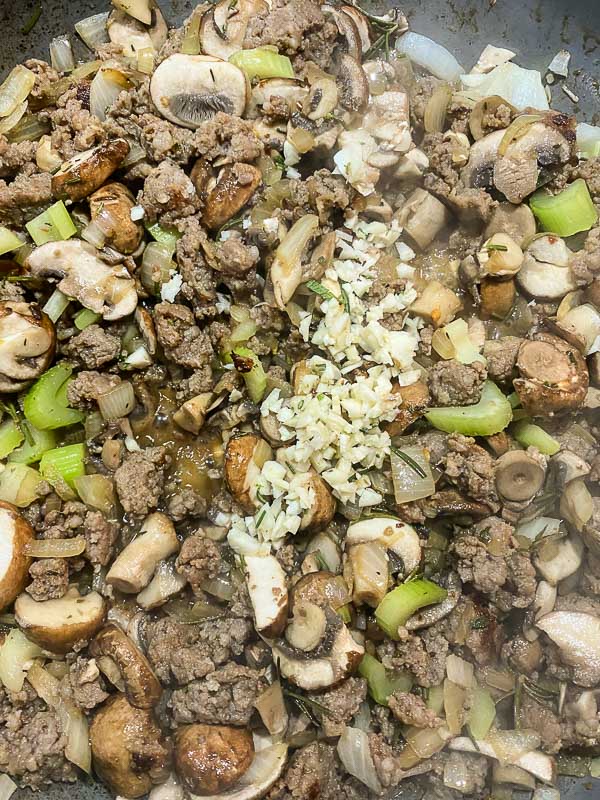 Cook and stir in that parsley.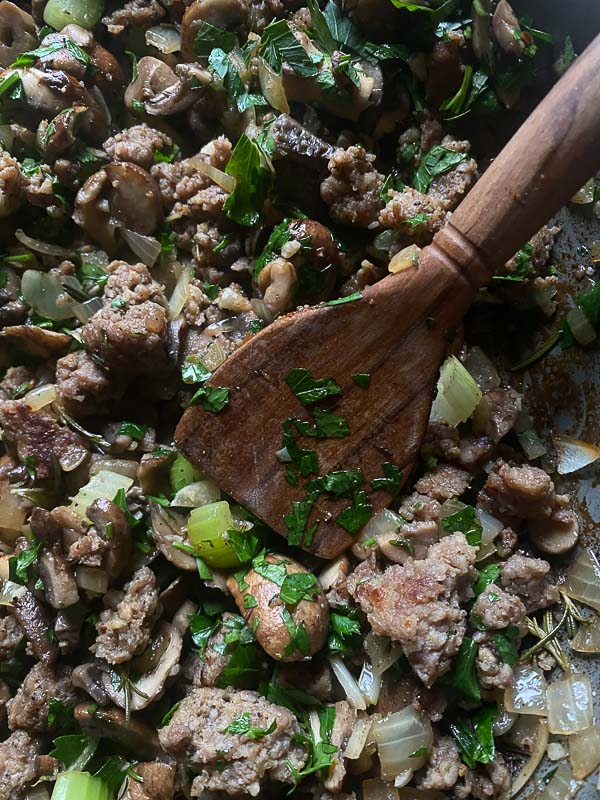 Get that bread. Put it in a bowl.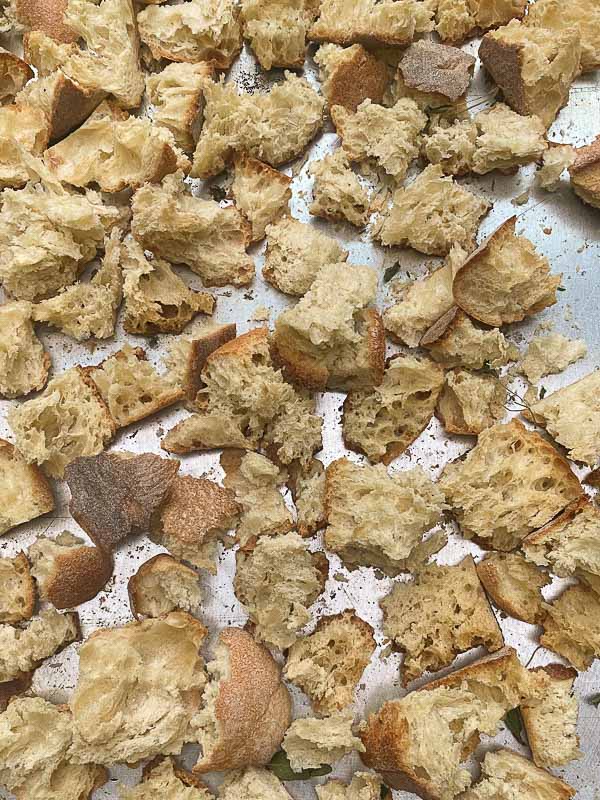 Mix your eggs in with your chicken stock.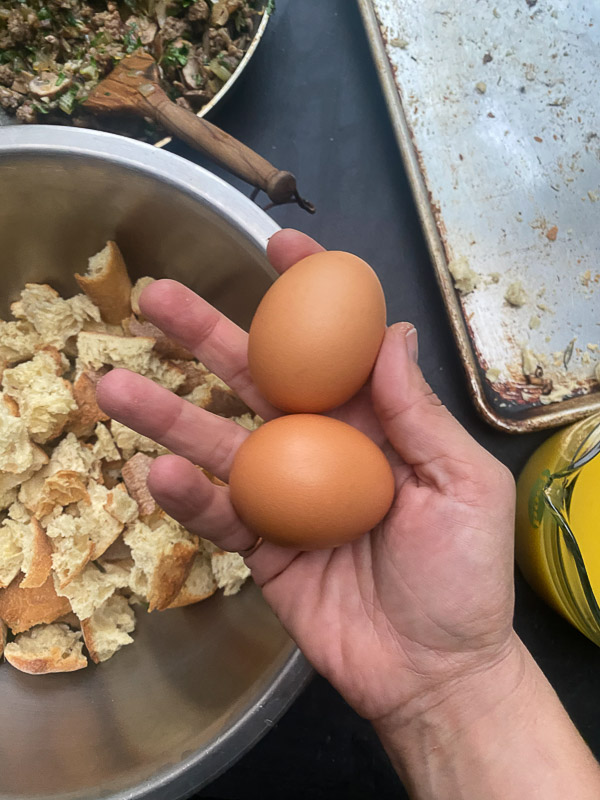 Mix it in with it all. Let it sit and soak.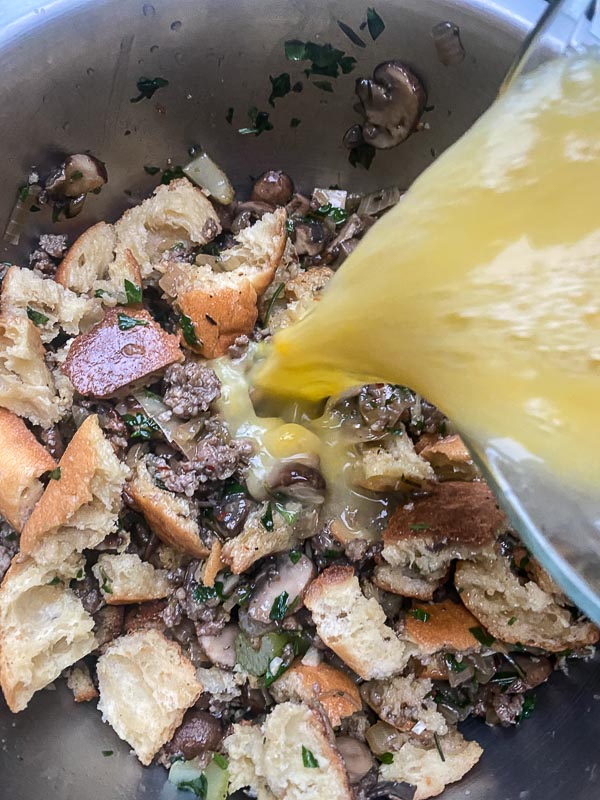 Place in a buttered casserole dish. Top with butter. Cover in foil. Bake. Take off the foil for crispy bits.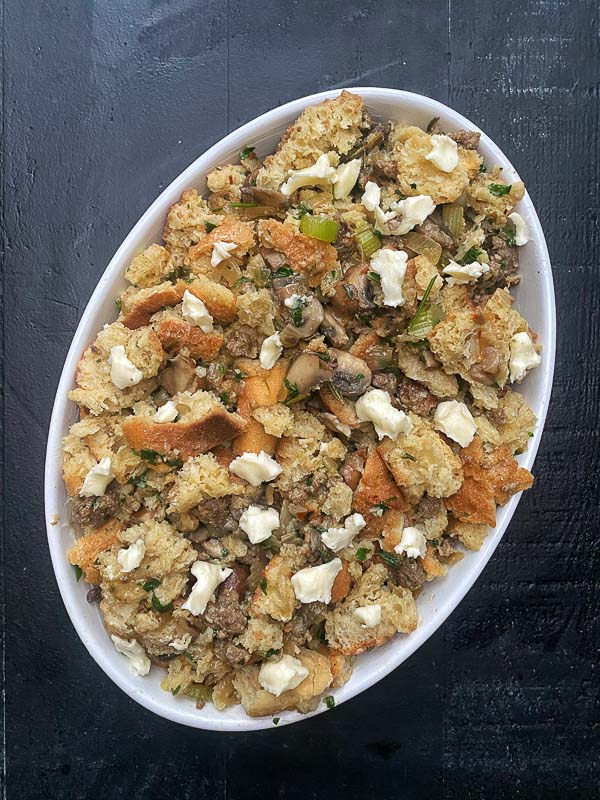 TADA!!!!!!!!!!!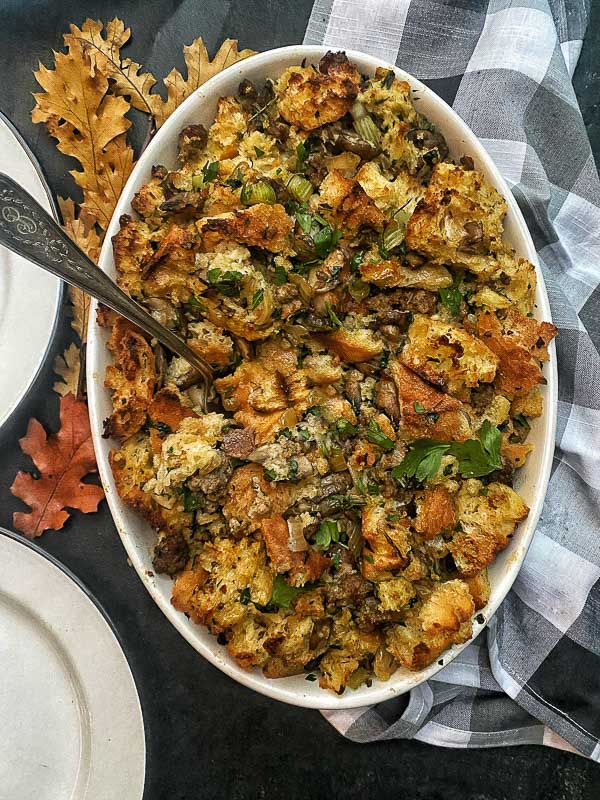 Let's look at a closeup.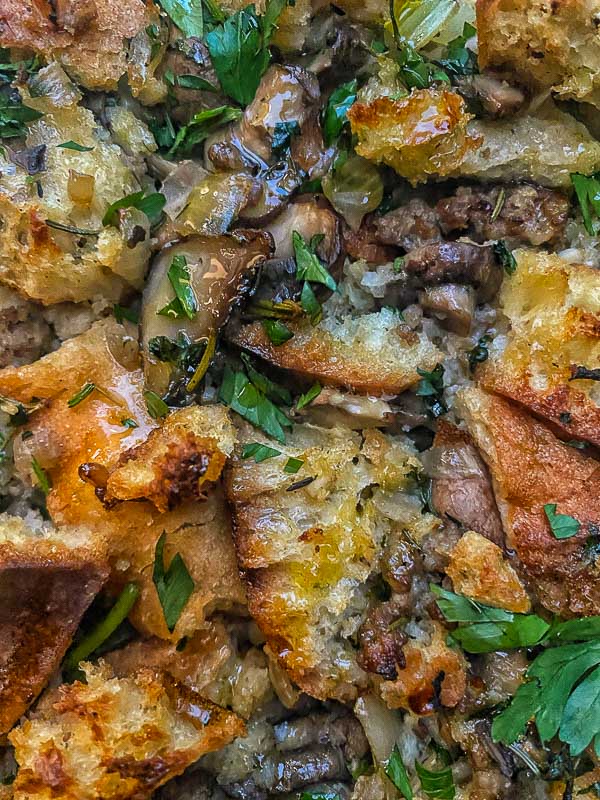 Hungry? I am sorry/not sorry.
If you need some help figuring out what to make for Thanksgiving this year, this post will help!
Sausage Mushroom Stuffing

serves about 8

1lb. ground breakfast sausage (casings removed)

1 large diced onion

1 lb. mixed mushrooms, thinly sliced

3 stalks celery, thinly sliced

3 chopped cloves garlic

1 ½ tablespoons chopped fresh rosemary

1 teaspoon dried thyme

5 -6 sprigs fresh chopped sage

½ cup fresh chopped Italian parsley

heavy pinch red pepper flakes

2 eggs, beaten

3 ½ cups chicken broth

6 cups of stale ciabatta bread, roughly torn

2 tablespoons salted butter, cut into small pieces

salt and pepper to taste

Preheat oven to 350F. Butter casserole dish and set aside.

In a large pan, brown sausage over medium heat, breaking up into smaller pieces as it cooks. Once evenly browned, add onions and cook until softened, about 4-5 minutes. Add mushrooms, celery and cook over medium for 5-7 minutes, stirring occasionally. Stir in rosemary, thyme, sage, parsley, red pepper flakes and garlic. Cook until garlic is softened, about 3 minutes.

In a large bowl, toss the torn bread with the sausage mushroom mixture. Combine the broth and eggs in a measuring cup and slowly pour liquids over the sausage mushroom bread mixture. Stir to coat and let bread soak up the liquid. Season with salt & pepper to taste.

Spread mixture out evenly, in the prepared baking dish. Dot the top evenly with pieces of butter. Cover with aluminum foil and bake for 30 minutes. Pull the cover off the top and cook for an additional 25-30 minutes for perfectly crisped and browned on top.