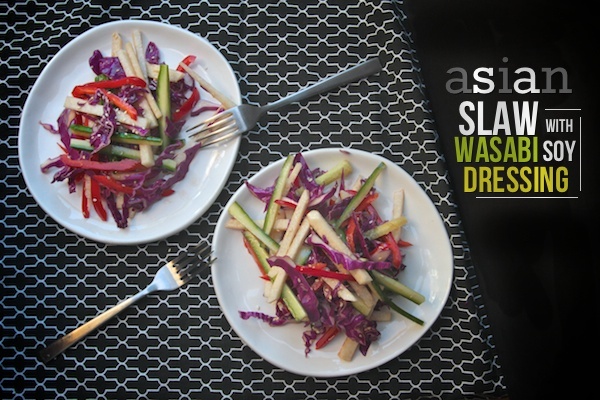 It's SLAAAAAW time. Well….it's balance all the sweets you've been enjoying cuz you need to wear a bathing suit in a few weeks (TRACY), time! If you've been around these parts for awhile, you already know that I'm a BIG fan of slaws. I've made all kinds of slaws! One that's cool, one that's full of kale, one that's rainbow, one with apples & pecans, one with mango, one that's from the carnival of my childhood.  To say that I'm obsessed would be an understatement. I simply cannot pass up a good slaw. Except when it's got mayo in it…
This slaw from Steamy Kitchen's Healthy Asian Favorites caught my eye. Everything in this slaw is julienned (which delights me!) and mixed with a wasabi (spicy!) soy dressing.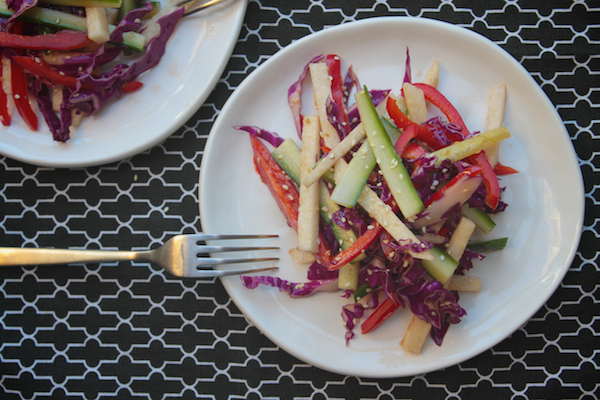 Do you find it therapeutic to cut things into matchsticks & line them up into nice little piles? Do you also love going through your purse and organizing all the pockets? Really?! We're gonna get along just fiiiiine.
And if you're looking to fall in love with jicama again, this slaw is for you. Jicama is going back in the rotation. How could I forget about you, jicama? Your crispy/crunch is a thing of beauty! Especially with that wasabi-soy dressing that you're coated in.
And we're off!
First we make dressing.
All the staples. Grab an extra packet (or 5) of wasabi when you're getting sushi to go.
If anyone catches you, tell them you're into wasabi. Like REALLY into it. Pro-tips!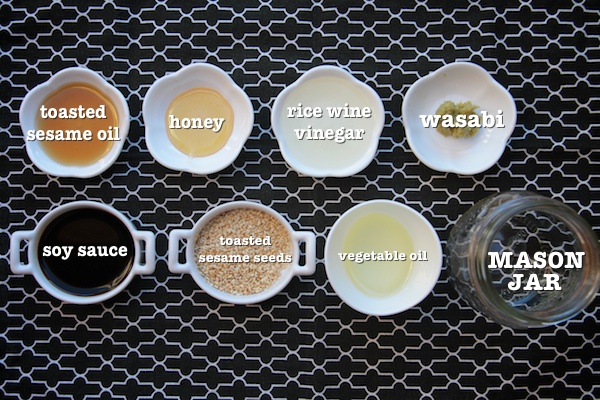 Put all ingredients in a jar. Put the lid on the jar. SHAKE THE JAR.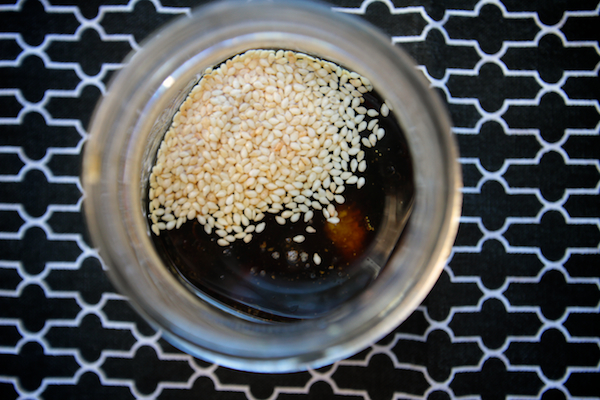 And now we get our our salad ingredients.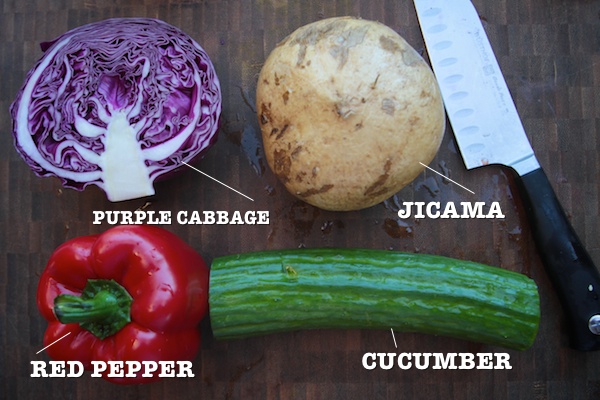 Cutting as therapy. See what I mean?!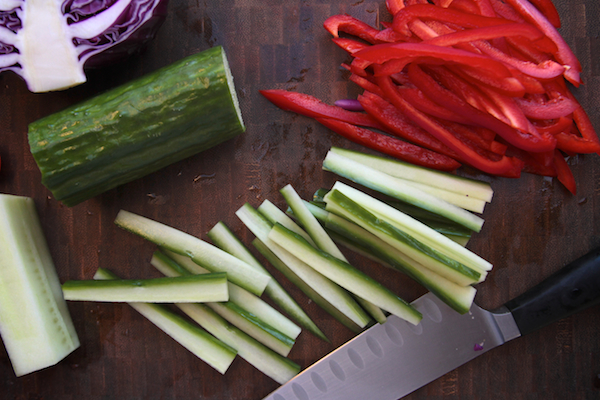 Julienne Moore. (puns)  LOOK AT ALL THAT CHOPPING.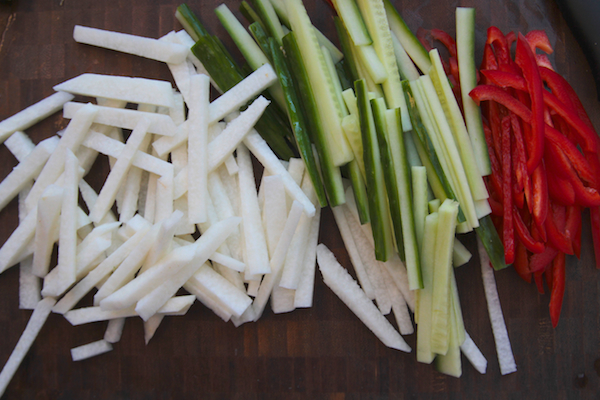 Shred the cabbage.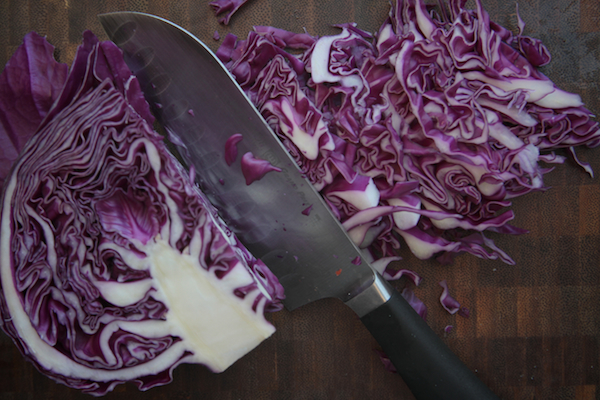 Put it all in a bowl.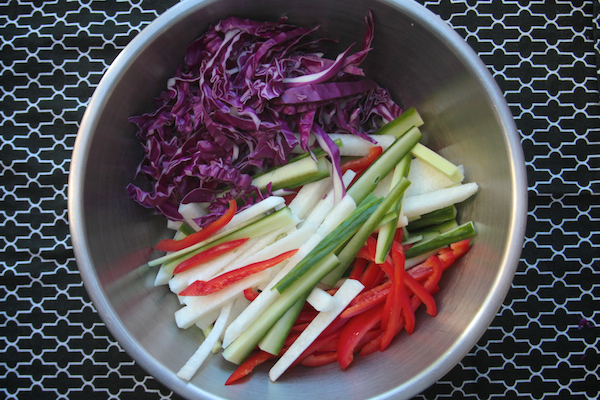 Toss with dressing.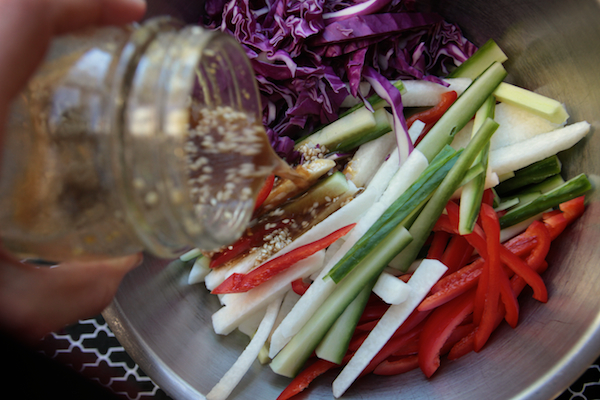 Done did.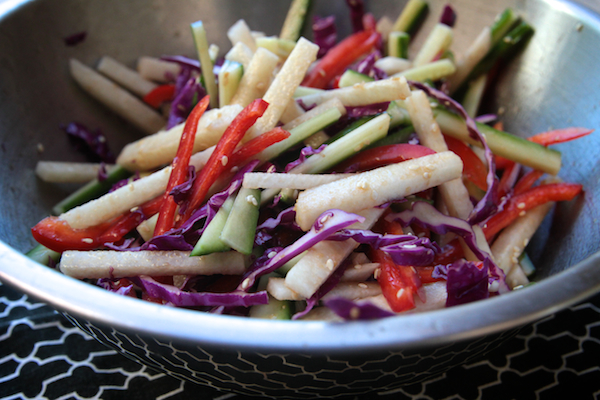 Serve it up. Eat it up!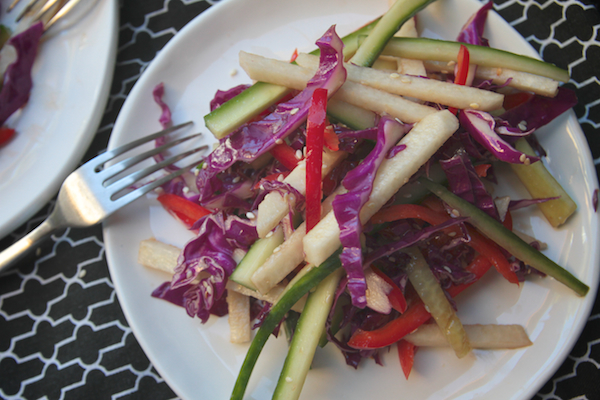 This slaw is pretty good the next day when you're crunching numbers at work (except the cucumber gets a little soft).
Slaw!

Asian Slaw with Wasabi Soy Dressing

serves 4

recipe slightly adapted from Steamy Kitchen's Healthy Asian Favorites

for the dressing:

1 teaspoon prepared wasabi (or more to taste)
2 tablespoons soy sauce
2 tablespoons rice wine vinegar
1 teaspoon honey
1 tablespoon toasted sesame oil
1 tablespoon toasted sesame seeds
3 tablespoons vegetable oil

for the slaw:

1 small jicama, peeled and julienned
1 bell pepper, seeded and julienned
1 cucumber, julienned
1/4 purple cabbage, shredded

to make the dressing: 

Add all ingredients to a mason jar, close lid tightly and shake a few times.

to make the slaw:

Toss the slaw ingredients with the dressing and serve.