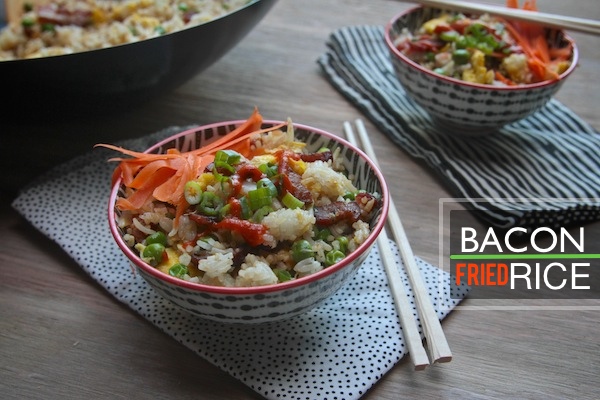 I think I have mentioned once or twice here that my son is a PICKY EATER. That deserves all caps because that's how I say it in my head. It frustrates me. There's a decent sized list of food that he eats but this list is very particular. Like…if I cut one of his beloved red peppers (favorite vegetable) in a different way, he will not eat it. He has a hard time trusting that things will taste the same if they look different. He's SUPER visual (where do you think he gets that from?). More than half the time I do things to appease his picky palate but every now and then I get really annoyed and take a stand. I WILL BE MAKING MAC & CHEESE AND YOU WILL LIKE IT, THANK YOU VERY MUCH. I try…and then he still doesn't like it! Whoever said it takes at least 15 tries for a kid to decide if they like something was full of crap.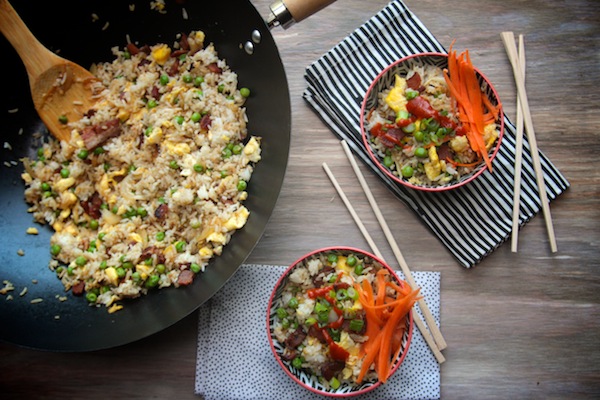 And then sometimes I take two things that I know he likes…like bacon & fried rice and I combine them because HOW COULD ANYONE NOT LIKE BACON FRIED RICE?!!  Seems logical, right? Part of me knew he would be apprehensive about the sliced onions. I know he still won't go near eggs, but when we order Chinese Fried Rice at restaurants, he will totally eat the egg unbeknownst to him. So how did it go?
I should have trusted my gut…Kid Fail. What a crazy kid!
This Bacon Fried Rice is SERIOUSLY AMAZING. I've never really liked the pork in Pork Fried Rice but now that it's replaced with bacon??! Praise the Lard! Bacon adds a delightful crispy bite that I can't get over. Cooper, who LOOOOVES bacon didn't appreciate that it was cut up in small pieces. He also was not down with the green onions. KIDS!  Casey and I happily ate countless bowls of Bacon Fried Rice. Maybe it was a good thing we didn't have to share.
This is going in the rotation and I will scoop out a bowl for my picky eater that doesn't include bacon, green onions, regular onions and fun.
And we're off!
Ingredient gathering.
This is one of those recipes that you'll get to know like the back of your hand.
I'm pretty sure it would be easy to improvise!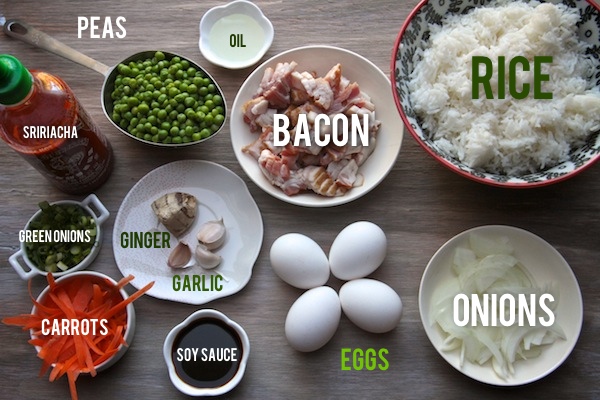 First we grate our ginger, mince the garlic and beat the eggs.
When you're cooking in a wok, it's important to get everything organized.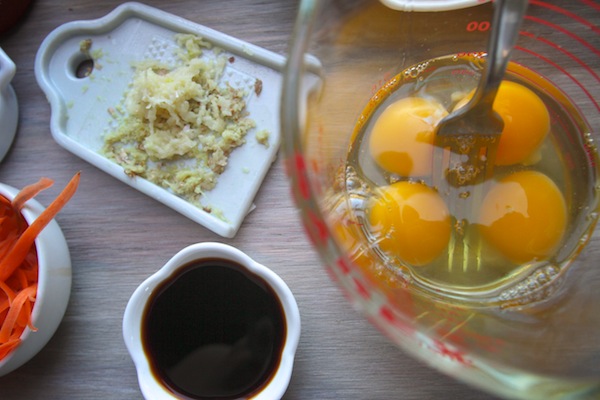 First we render the bacon in the wok. Cook for about 10 minutes, drain the fat.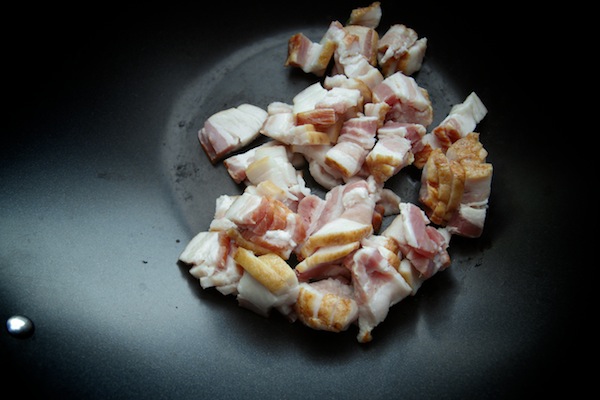 Bacon & Onions. Winning combo.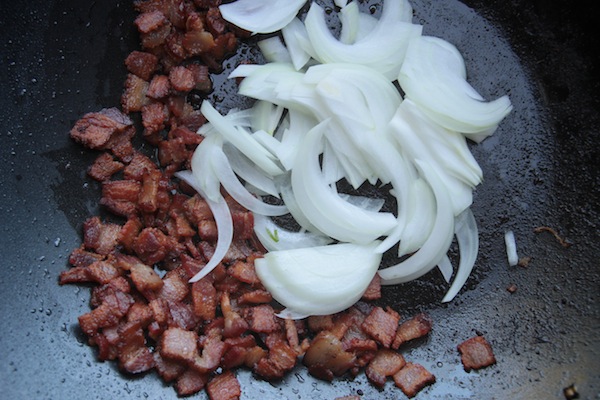 After the onions are soft, add the garlic, ginger & green onions. Stir quickly being careful not to burn garlic.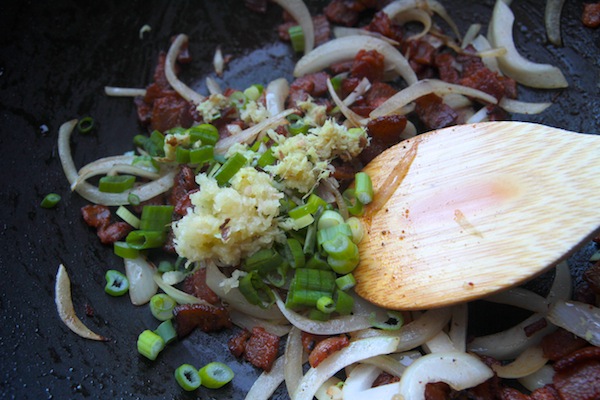 Then the peas go in. Warm them up.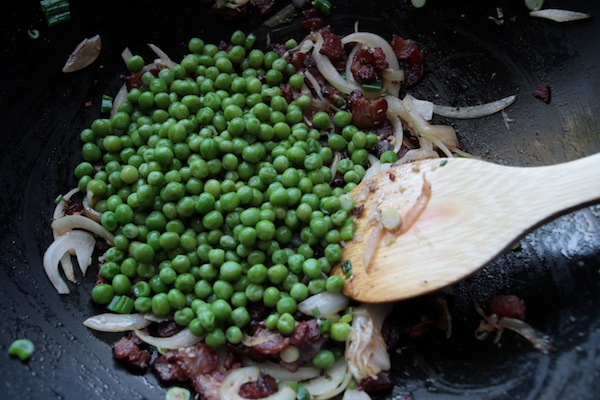 The bacon & pea mixture gets set aside in a small bowl. Time to clean your wok!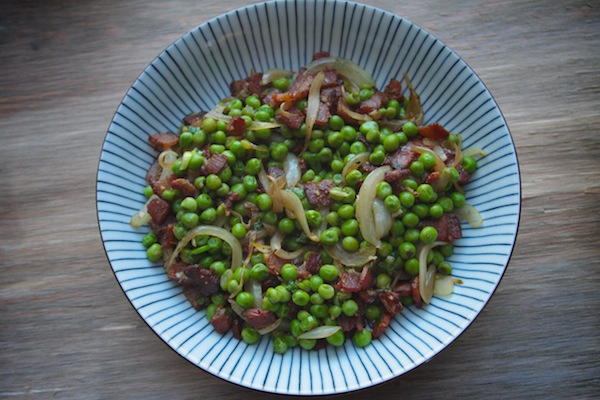 I used a little bit of cookings spray in the wok before I put the egg in.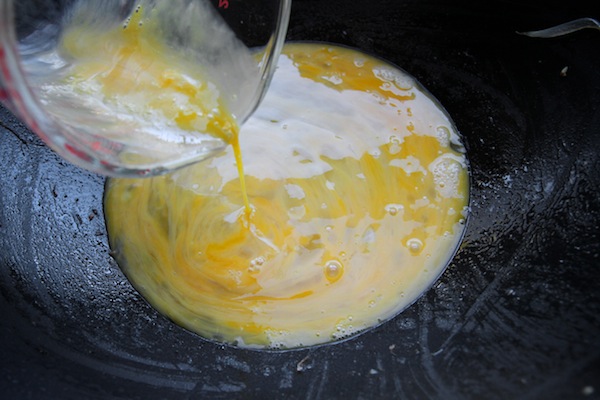 Egg gets cooked! Put it aside with the bacon pea mixture. Get the wok fired up again with the oil.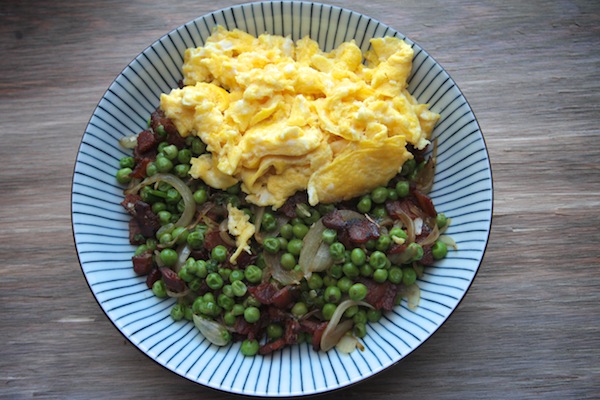 Place the rice in. Fry it up!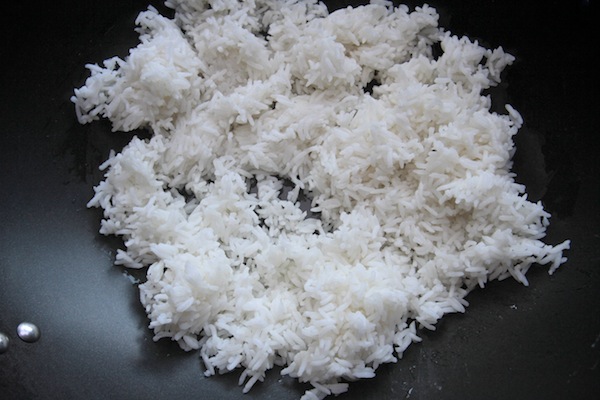 Now add soy sauce and the bacon mixture!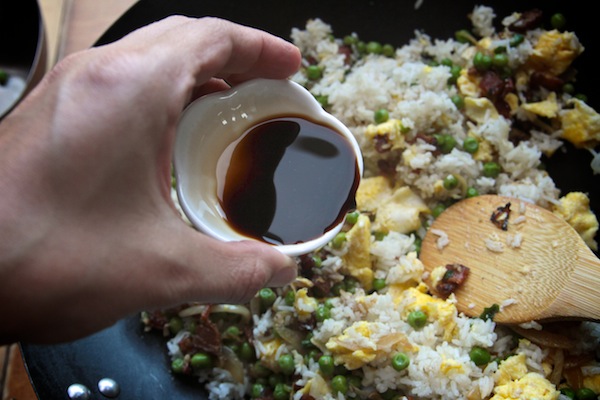 Oh HELLO.
Serve some up in a bowl. Add extra green onions on top. Serve a little carrot shreds on the side.
AND DON'T FORGET THE SIRIACHA!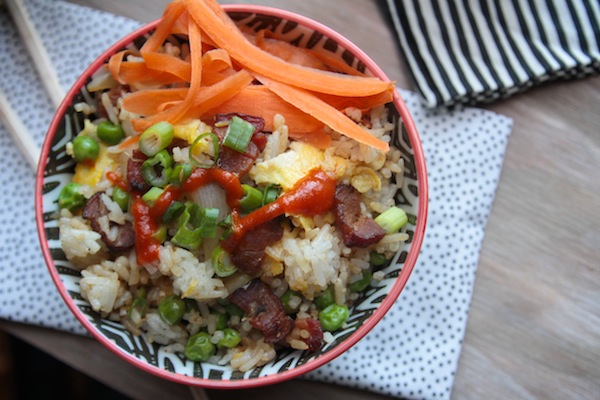 I still can't believe I can't get my 4 year old to eat this.

Bacon Fried Rice

makes 4-6 servings

recipe slightly adapted from Breakfast for Dinner Cookbook

4 cups cooked jasmine rice
6 slices bacon, diced
1/2 large yellow onion, thinly sliced
4 green onions, thinly sliced plus more for topping
3 cloves minced garlic
1 tablespoon finely grated ginger (from about a 1-inch piece)
1 cup frozen peas
4 large eggs, beaten
2 tablespoons vegetable oil
3 tablespoons soy sauce
1/2 teaspoon sriracha (optional)
1 carrot, thinly sliced or ribboned using a vegetable peeler, for topping

In a large non-stick skillet or wok over medium-high heat, cook bacon until it is browned and fat is rendered, about 10 minutes. Drain any excess fat from pan (you still want a thin layer coating the bottom) and push bacon to sides of pan. In the center, add onions and cook until softened, about 2 minutes. Stir in green onions, garlic, and ginger and cook for 3 minutes, taking care not to let the garlic brown. Stir in peas and cook for 2 minutes, or until warm. Transfer the mixture to a medium bowl.

Lower heat to medium, add eggs and scramble for 2-3 minutes or until fully cooked. Add eggs to bacon mixture. Wipe out skillet (careful as it may be hot), add vegetable oil, and return to medium-high heat. When oil is hot but not smoking, add cooked rice and spread in an even layer. Cook, stirring occasionally, for 5 minutes, or until rice is heated through and slightly crispy. Stir in bacon-egg mixture. Season to taste with soy sauce and siriacha. Top with green onions and carrots and serve hot.

Shutterbean Notes: 

I pre-cooked jasmine recipe for this recipe a day in advance in

my rice cooker

. It's always best to make fried rice with leftover rice because fresh rice gets gummy & sticky. Two cups of uncooked rice yields about 4-4 1/2 cups cooked rice.