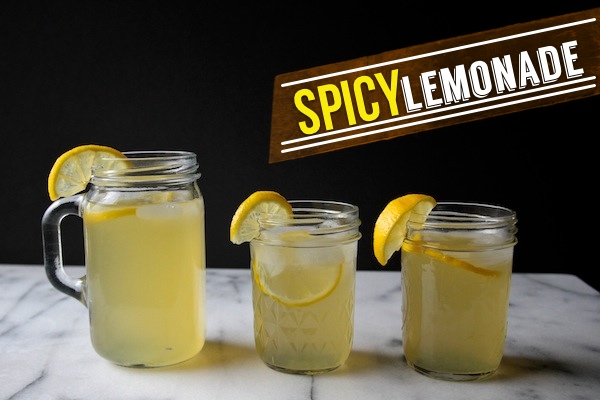 My husband almost always stops at Lemonade stands when we're out driving. He will also buy magazines or chocolate from anyone who comes to our door. Although I'm kind of bah-humbug about buying stuff when I'm no in no mood to be interrupted, I find this quality in him to be so endearing.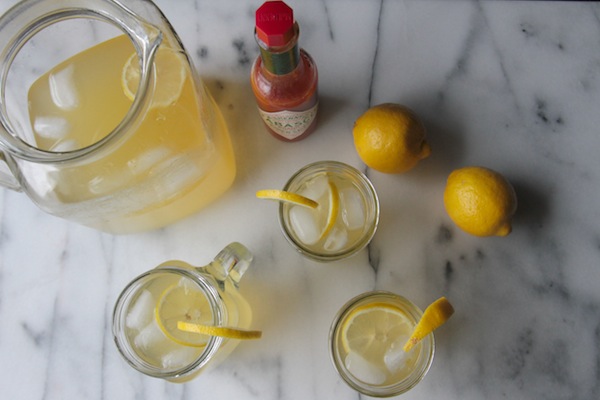 He's like a magnet to a kid who is eager to make a dollar. He's been there. I've been there. I don't want to talk about how I was traumatized selling frozen pizzas to the creepy neighbors on my block as a kid. I get a mild panic attack when I think about walking up to the doors of some of the houses…I should remember how it feels to be on the other end when I'm passing by a lemonade stand…Ok. I just worked out my own lesson there.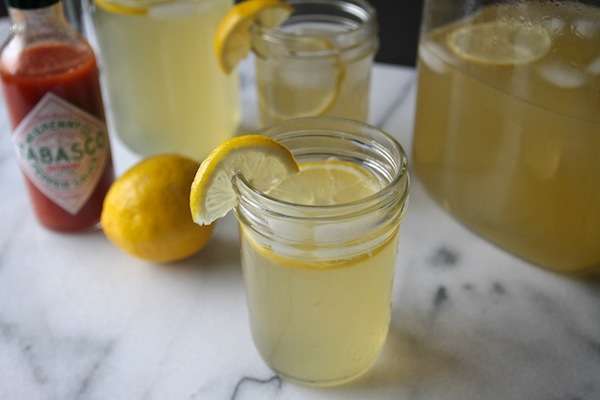 Today we have some grown-up lemonade. It's got a kick — thanks to a few dashes of Tabasco.  At first you don't taste the spice…just sweet, refreshing lemonade and then it hits the back of your throat. Hello, spicy kick!  It's just as exhilarating as seeing a customer walk up to your lemonade stand with a $5 bill!
And we're off!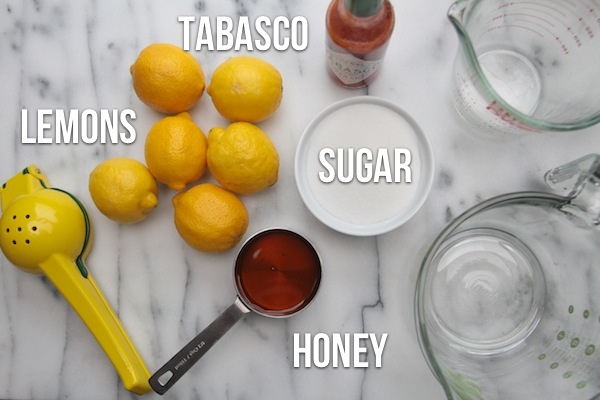 Hello Tabasco!!  This is the first of 4 recipes I'm developing for the good people at Tabasco. Stay tuned for more!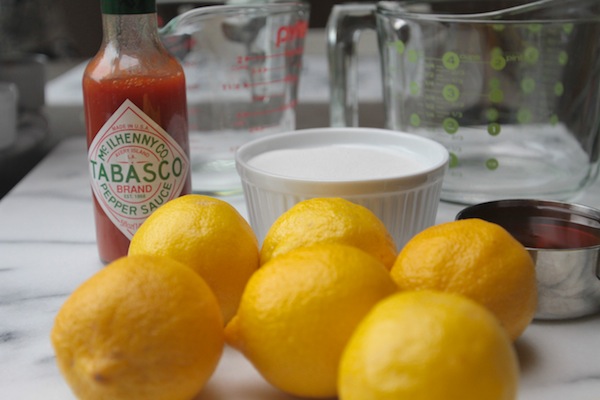 First we make our "simple" syrup. I'm making it super simple by pouring boiling hot water into a measuring cup with honey & sugar. Let it dissolve.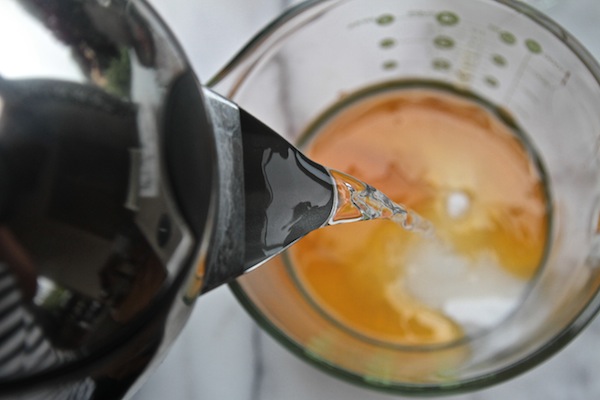 Instant simple syrup. I didn't even have to turn the stove on. I just used an Electric Tea Kettle to boil water.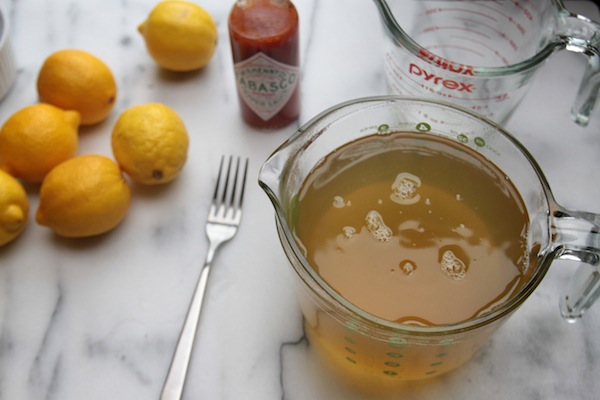 Now it's time to get our lemons juiced. I used a lemon squeezer. It makes the job SUPER easy.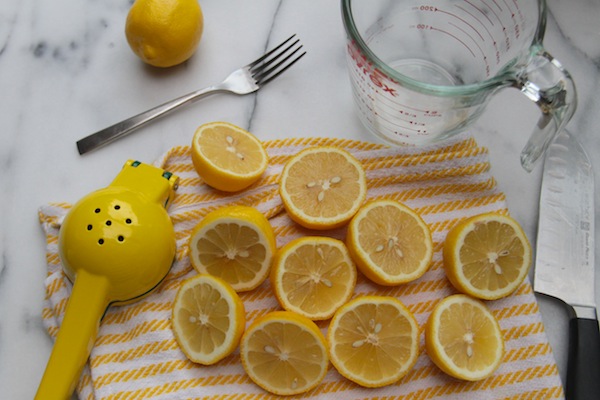 Lemons are juiced!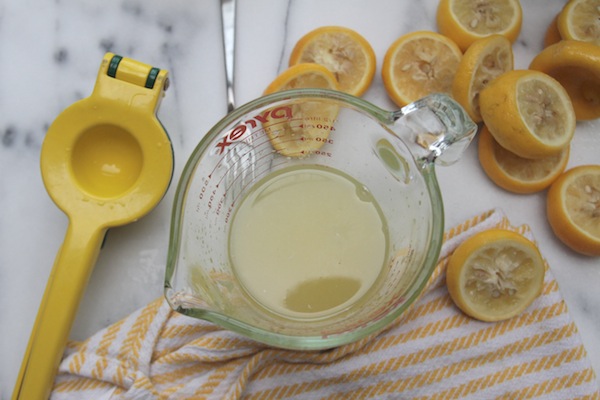 Now we put everything into a pitcher. Simple syrup & lemon juice. Lemonade!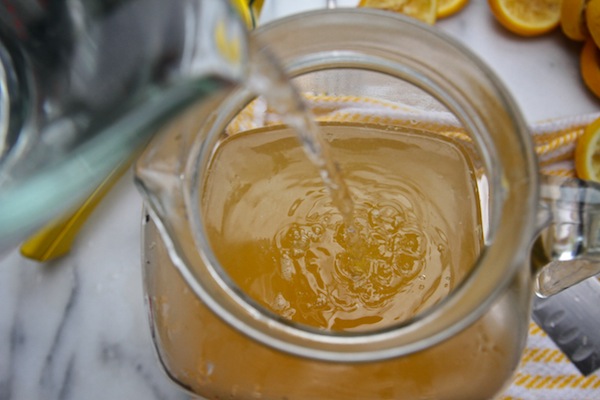 I added about 8 dashes of Tabasco in this lemonade. Do 10 if you like spicy. Do more than 10 if you dare!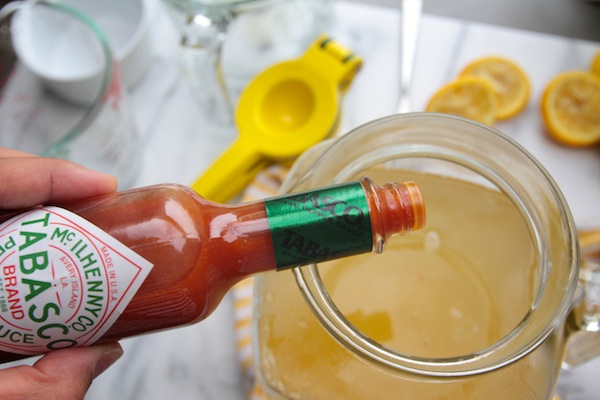 Top with ice cubes & lemon slices. Give it a good stir.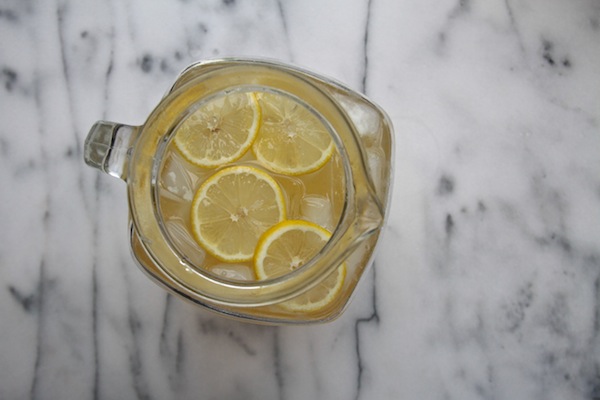 Serve it up! If you like a less sweet lemonade, just add more water!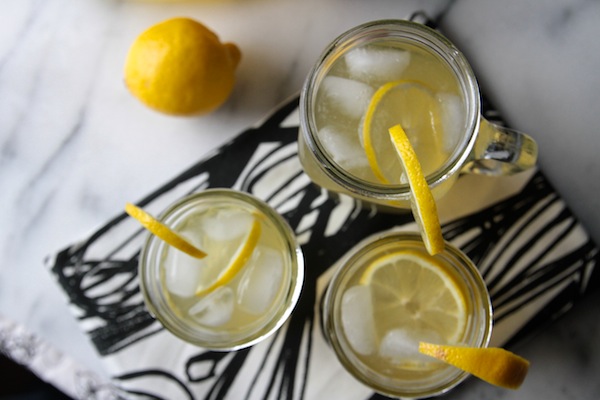 How much would you charge for a glass if you had a lemonade stand? I'm thinking of setting one up…
Spicy Lemonade

makes 8 cups

1 cup sugar

1/2 cup honey
juice from 6 lemons
8-10 dashes Tabasco Original Pepper Sauce
3 cups ice
lemon slices for garnish

In a large bowl, mix sugar and honey with 5 cups boiling water. Stir until sugar is completely dissolved. Set aside to cool.

In a large pitcher, combine the lemon juice with the simple syrup, 8-10 dashes of Tabasco, and 3 cups cold water,  and stir to combine. Adjust according to taste. If too sweet, add more water. If you're looking for more spice, add more Tabasco. Stir and place ice cubes & lemon slices into the pitcher and serve!