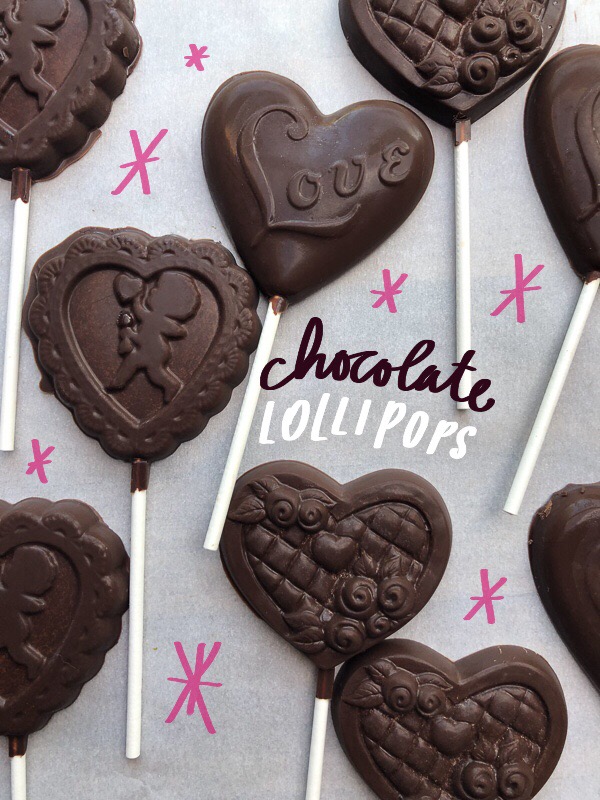 There were so many times my mom rushed me off the phone because she was having a chocolate making date with her friend Sandy and she needed to get her house ready. It was something they did together every year (I think?) during Valentine's Day.  My mom was known as the "Candy Lady" to my old high school, the Godmother's Club she belonged to and many friends and family who were the lucky recipients of her chocolate lollipops.  She spent her time and money spreading happiness throughout the year with chocolates.  She was always amazed at how much people appreciated her gesture.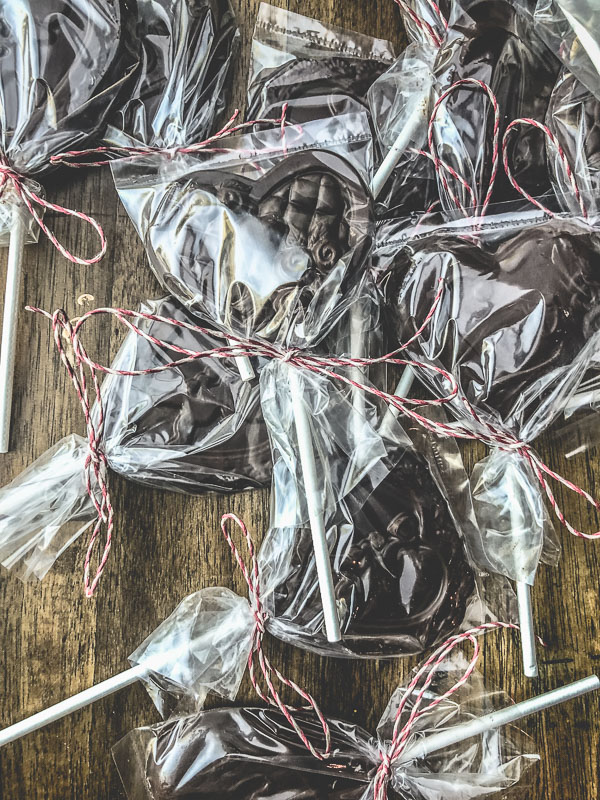 After my Mom's funeral, her neighbor told me how he always looked forward to finding a chocolate lollipop in his mailbox during Valentine's Day. I know what he meant because we'd get chocolate suckers in the mail every year from my Mom. COOPER WAS ALWAYS SO EXCITED. She'd include a card and send them off in a bubble mailer.
This is the first year we won't get one 🙁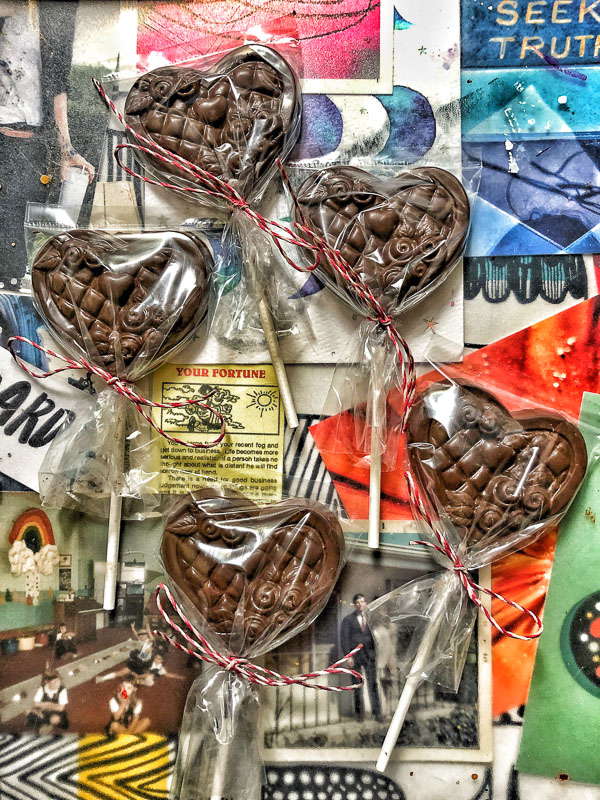 I brought my mom's candy making supplies home with me because I wanted to add a few in the first care package I send my niece in college. She already got the package and told me it reminded her of Nana!
I love that I can carry her magic with me by taking over some of her traditions.
There are so many little questions during the process that would have made it easier for me if I had my Mom to talk to. I'm pretty sure she would have complained how messy I was. There's definitely a finesse to filling up a chocolate mold. But what I know most from my time in the kitchen this week is that candy making is therapy.
No wonder my Mom spent her free time doing it. When you get into a zone, things go smoothly and it's absolutely gratifying creating a hoard of chocolate lollipops to gift people.  Not to mention that having a double boiler on the stove melting chocolate alllllll day long feels luxurious.
My mom's house always smelled of chocolate during this time of year and now mine does.
It's bittersweet.

Let's gather our supplies: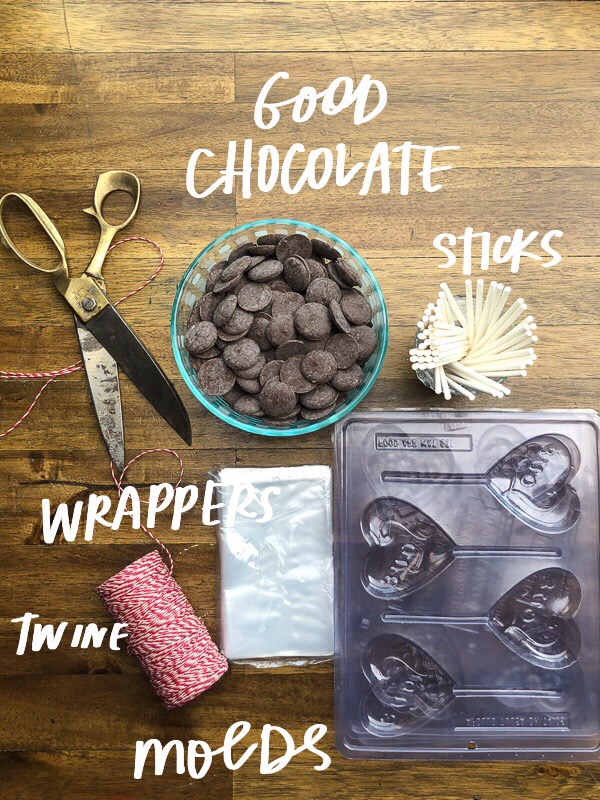 These are her candy molds!
 She had three different heart-shaped molds in her arsenal.
She also has so many others! Palm trees/baby buggies/seashells/animals etc.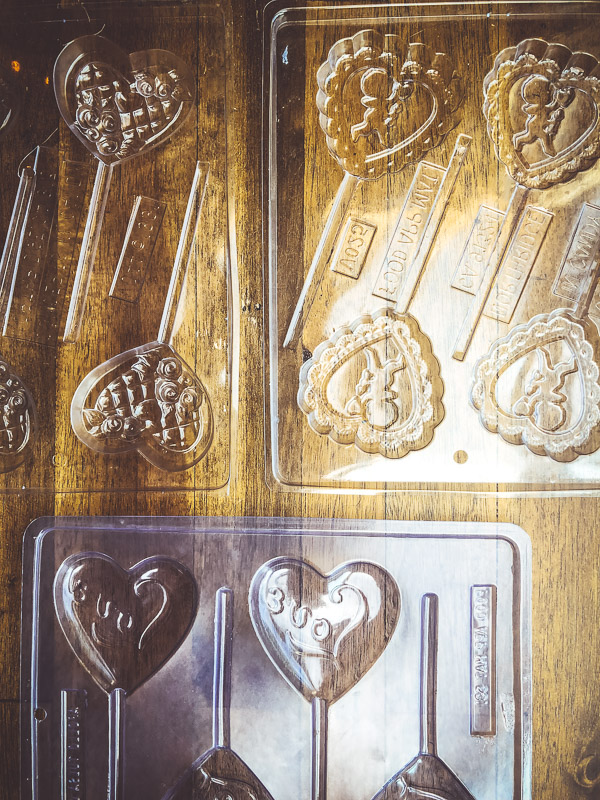 I like to use a glass bowl over a pot of simmering water. If you do this, make sure your bowl can handle the heat.
Always be careful when you move the pot if you need to add more water.
Use oven mitts. It gets hot!
Look at me, mothering you….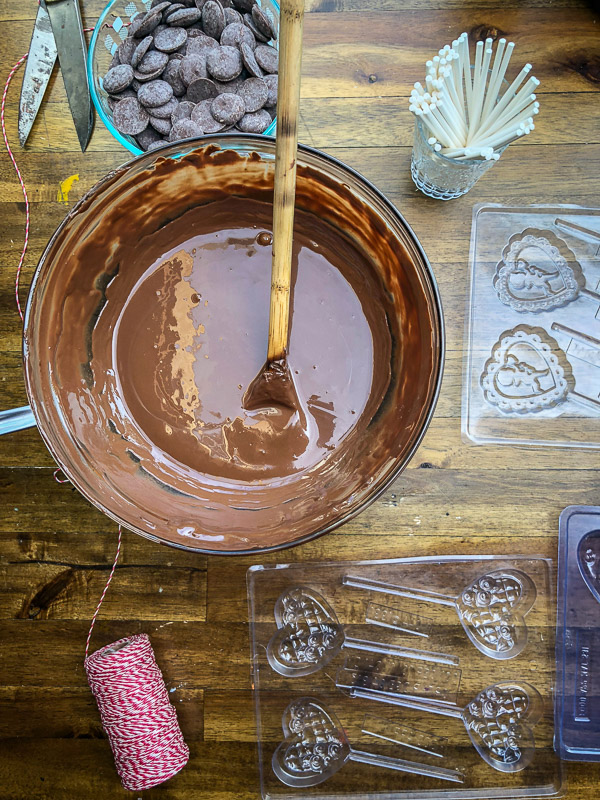 My mom experimented with a few chocolates. I think only because one of her favorite brands shut down?
(If you're local to the Bay Area, she used to go to Cake Art to get her supplies. She loved it there!)
I'll have to do some experimenting (I used her chocolate supply). But I am sure a search on Amazon can help.
The chocolate has to be tempered.
If you're looking for a video on how to do it, YouTube has sooooo many options!
Spoon the chocolate into the molds. Add a stick. Cover the stick with a little more chocolate.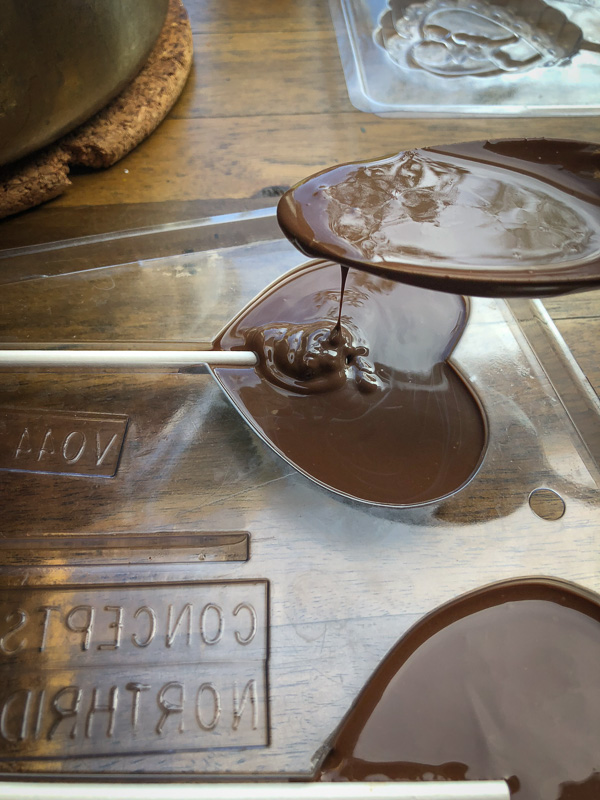 Give it a little tap.  Get out the air bubbles!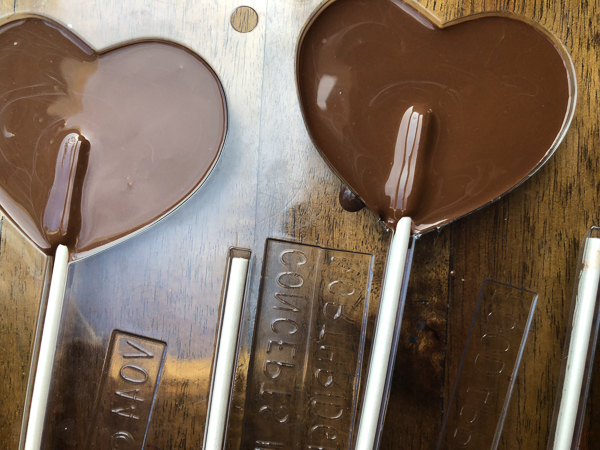 Make some space in your freezer and give them a chill to set.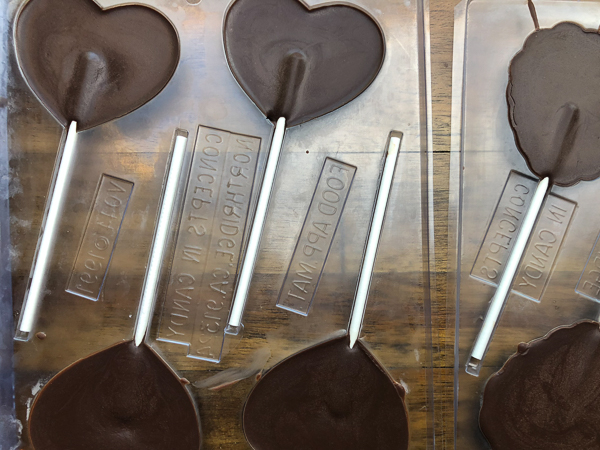 Pop them out of the molds!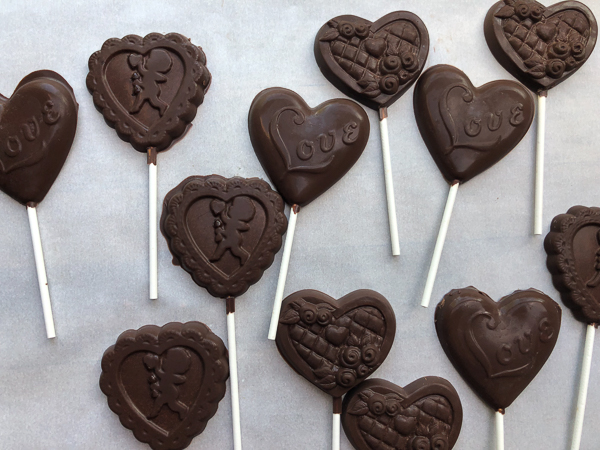 You'll want to wait a little bit to wrap them up. They need to warm up or else you'll get condensation on your wrapper.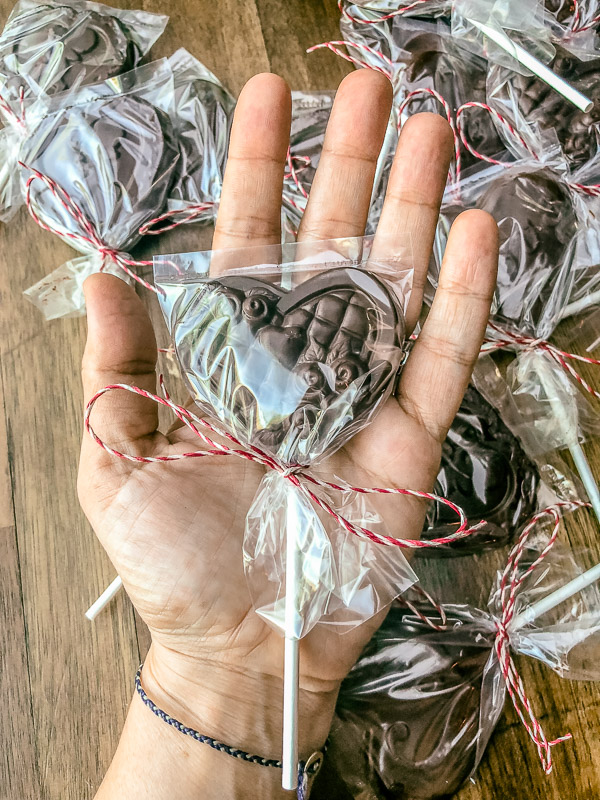 My mom used curling ribbon
with hers.  I used twine!
High five, Mom!

What you'll need:
I hope this inspires you to bring some sunshine into people's lives with a sweet treat! And if you are missing something in your life, maybe it's a sign that you need to bring it back??? Maybe YOU'RE the one to do it!
Oh and if you're looking for simple ways to celebrate your boo on Valentine's Day check out: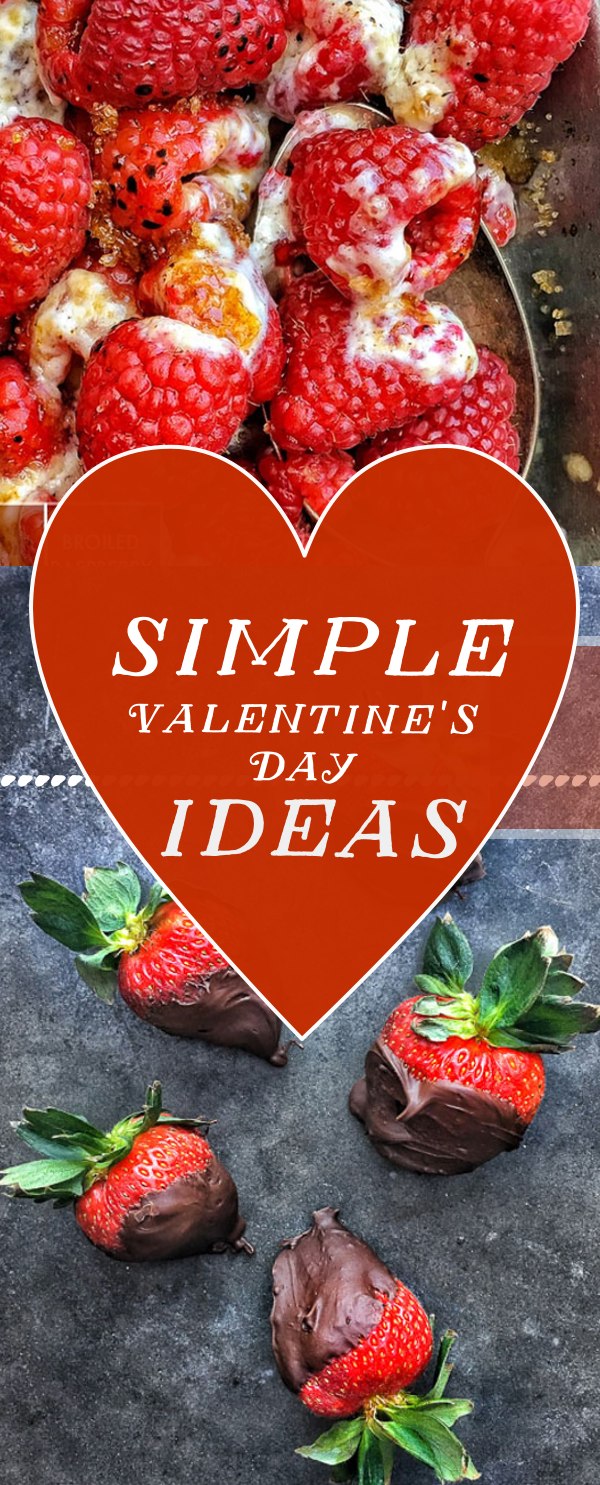 Simple Valentine's Day Ideas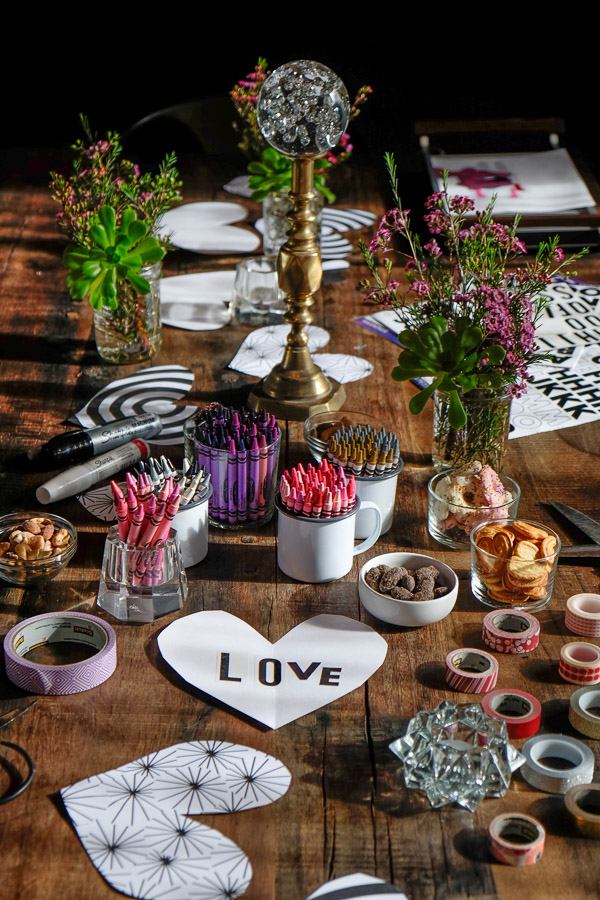 LOVE IS IN THE AIR.