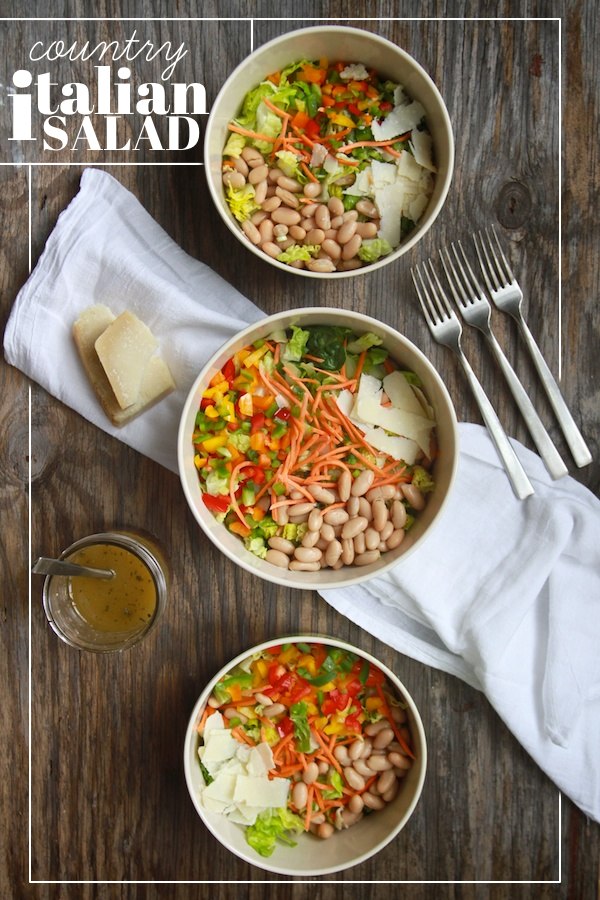 Let's make another one of my favorite Trader Joe's salads. This Country Italian Salad is one of my go-to salads when I'm grabbing a quick lunch at work.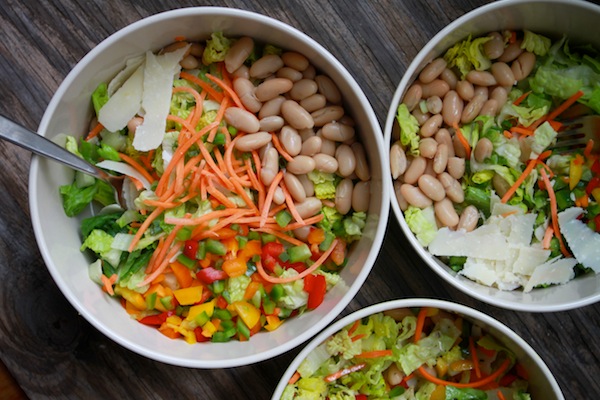 I usually pair it with a cup of Trader Joe's Red Pepper Tomato Soup (which I add a little cheese & hot sauce up in).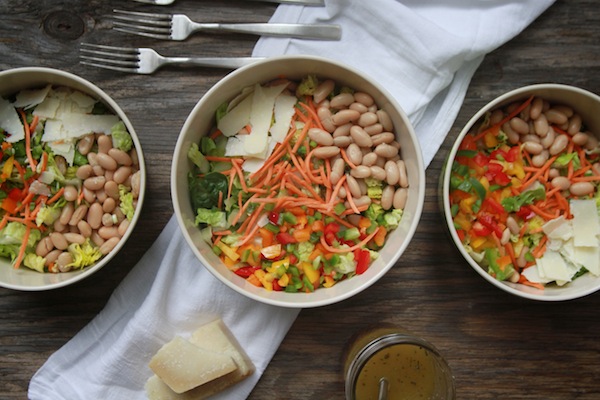 Now I have meals for work the rest of the week. What I love about this salad is the crunch, the protein from the beans, the tangy dressing and the sweet peppers. It's definitely good on its own, although you could add some tuna, chopped chicken or go wild and add avocado in there. You could also pair it with grilled sausage & grilled flatbread. That sounds good, right??! The garlicy parmesan dressing (that get's even better on day two) is where it's at. I want to put it on everything.
Other Trader Joe's Salad I've Shutterbean-ified (totally a word) include:
And we're off! This is a dream for a person with a vegetable chopping compulsion. Ahem, me.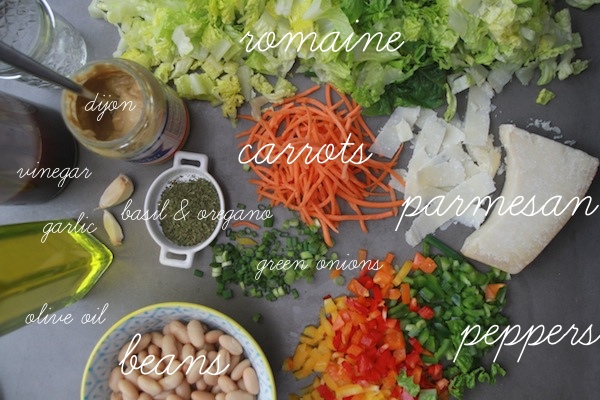 Dressing…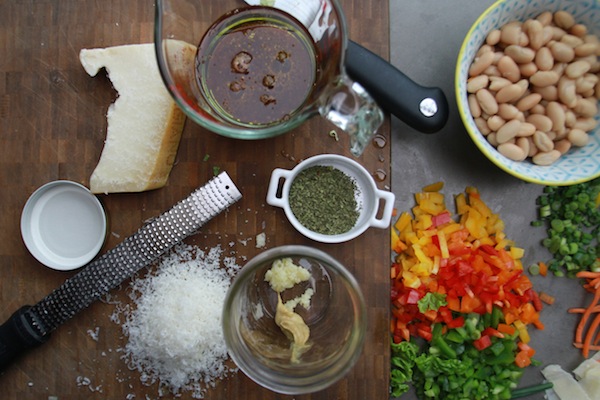 Comes together!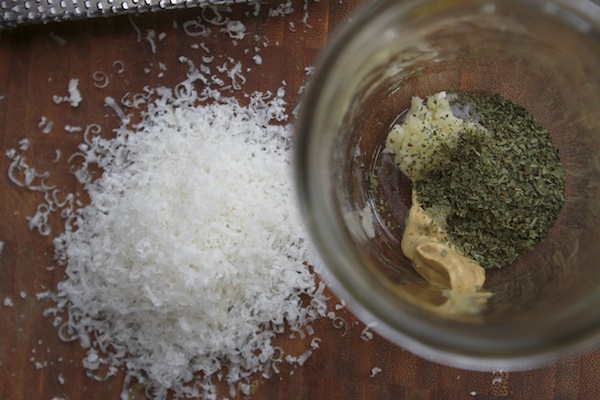 Put a lid on it. SHAKE.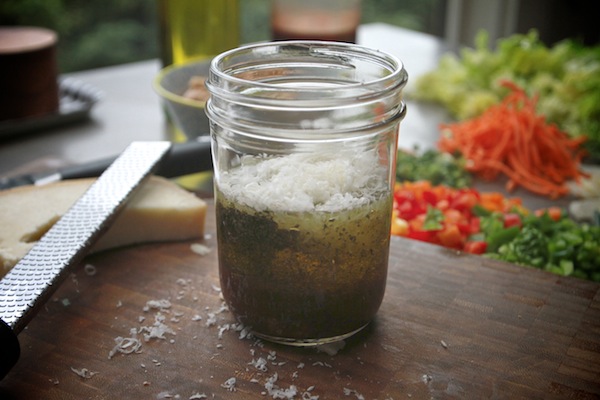 You could toss this whole salad together or you could put it in TO-GO containers for the week.
Bring the jar of dressing with you. It's already in a jar. PORTABLE!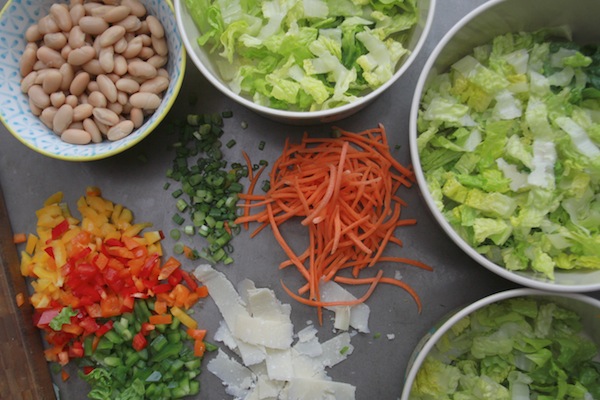 And we dress…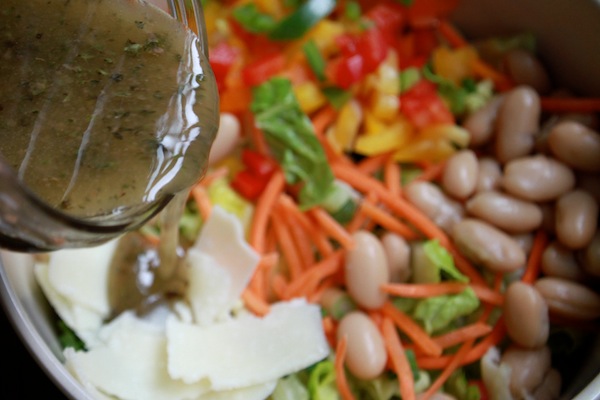 Look at all that color.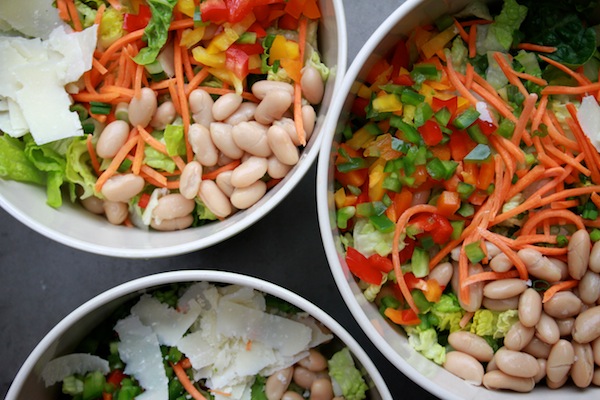 I just got the cutest TO GO containers from Cost Plus. Do you say Cost Plus or World Market?
Are you one of those people that says Cost Plus World Market? Discuss.
They make eating salad so much easier cuz it's like an actual bowl…with a lid!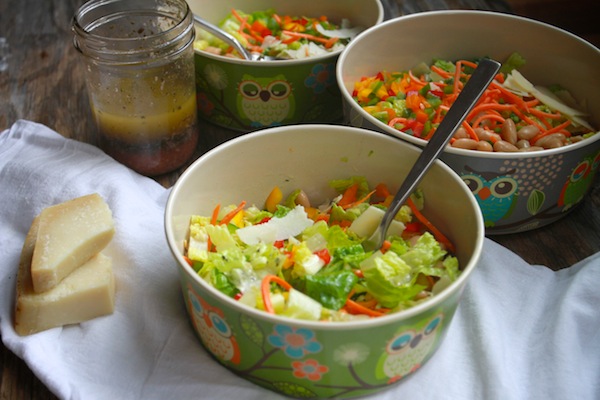 Country Italian Salad

makes 3-4 servings

for the dressing:

1/4 cup red wine vinegar
1/2 cup extra virgin olive oil
2 cloves garlic, minced
1 teaspoon dijon mustard
1 teaspoon dried basil
2 teaspoons dried oregano
1/3 cup grated Parmesan
kosher salt & fresh ground pepper

for the salad:

2 heads romaine lettuce, roughly chopped
1/2 green pepper, finely diced
1-2 red peppers, finely diced (I used a combo of red, orange & yellow)
1 cup shredded carrots
2 green onions, finely diced
1 14.5 oz can cannelini beans, drained & rinsed
3/4 cup shaved Parmesan cheese

In a small jar mix the vinegar, oil, garlic, mustard, basil, oregano & parmesan together. Season with salt & pepper. Put lid on jar and shake until dressing is well incorporated. Set aside.

In a large bowl, toss the lettuce, peppers, carrots, green onions with the cannelini beans. Drizzle dressing on top of salad and toss to coat. Serve the salad with shaved Parmesan cheese on top.