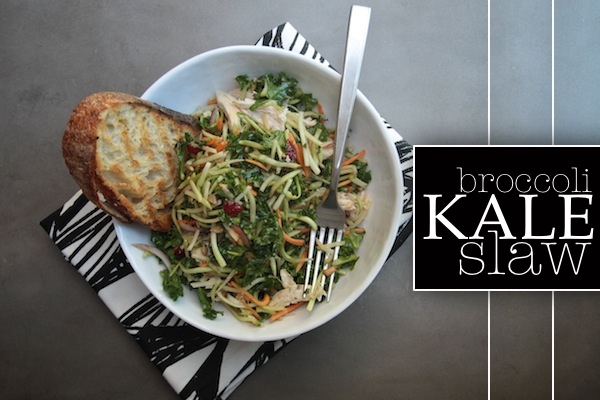 Remember when I was straight up obsessed with the Trader Joe's Super Spinach Salad and decided to recreate it at home?  I have a new obsession— their Broccoli Kale Slaw.  It's found a special place in my heart but the only problem is…well, I have some serious issues with it.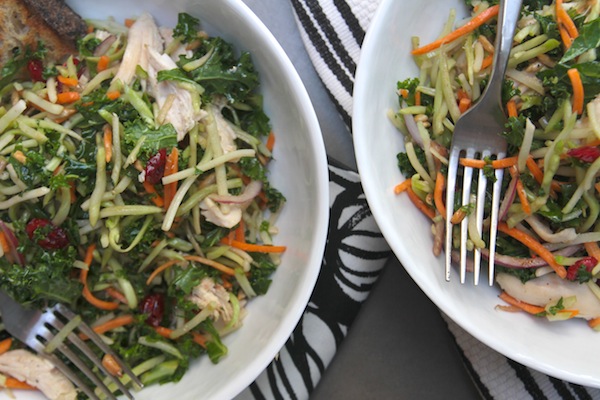 First things first! I don't like the creamy mayo based dressing it comes with (I haven't even tried it and I don't want to. Nope.) And sometimes when I bite into a piece of the chicken in the pre-packaged salad, it doesn't taste fresh. Have you ever had a old piece of lunch meat? Yeah. That's the taste I'm talking about. BUZZKILL. I also know it's not organic chicken and that bugs me. Yeah, I said it.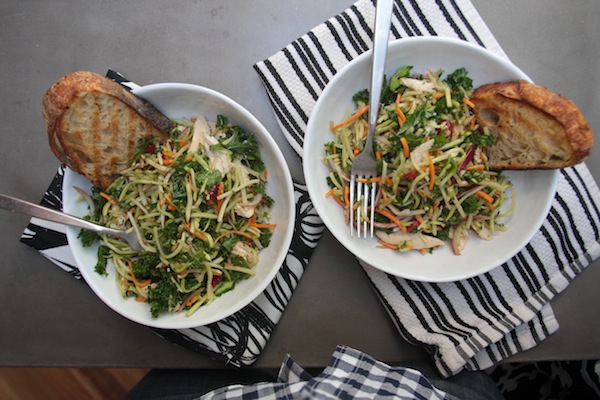 But now I've made those issues non-issues. I made my own catered-to-me version of this slaw and I think you'll love too. It's a colorful salad full of texture, sweetness, tang & crunchy. It's a salad with substance….one that fills you up and leaves you satisfied. A salad that does a good job keeping my cookie cravings at bay….At least for a little while…
And we're off! Let's do some ingredient gathering.
You can grab a bag of broccoli slaw in your grocery store (most likely). You can also use an organic rotisserie chicken and shred it up for this salad. If you don't like chicken, or you want to make it vegan, omit it! It's totally cool without it.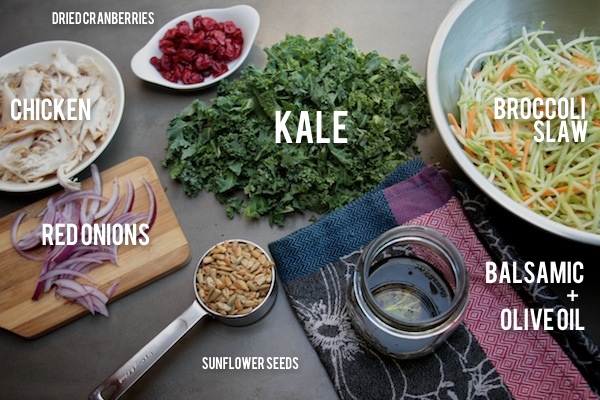 The dressing I use is super simple. Just balsamic vinegar & olive oil. This is what I keep on top of my filing cabinet at work. This combo is a lifesaver and it adds such a nice/sweet tang to this salad. It really makes the dried cranberries POP with sweetness.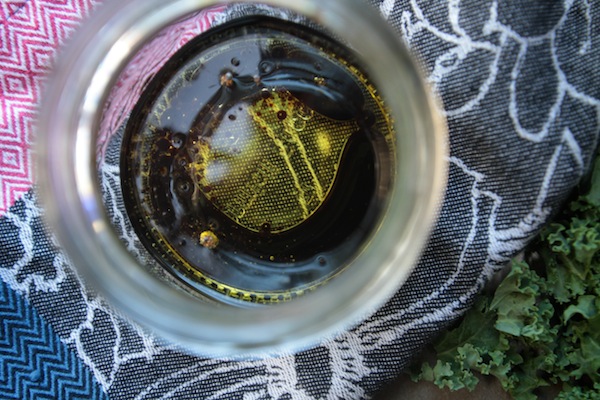 Put all of your ingredients in a bowl. We're gonna save chicken for last.
Chicken tends to soak up the dressing…which is cool but then the greens are left without. Not cool.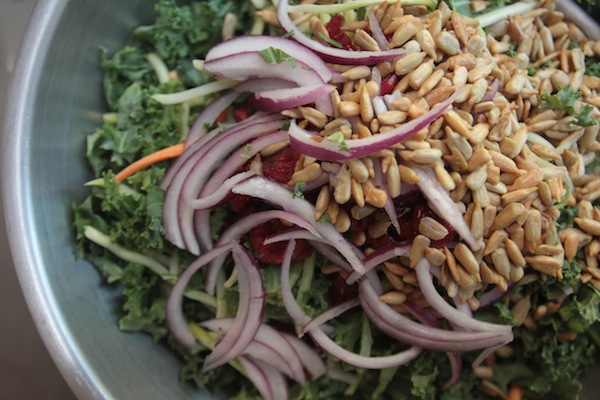 Pour the dressing on top. Mix! It's really helpful if you get your hands in there and massage the dressing into the kale.
Don't look at me like I'm crazy. Kale likes massages. Kale thrives on massages. No massage table required.
Happy ending? I know you're thinking that. Don't look at me that way.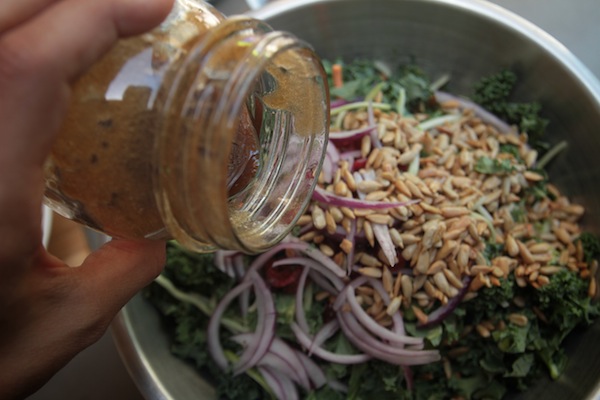 Now add your chicken on top and mix it in!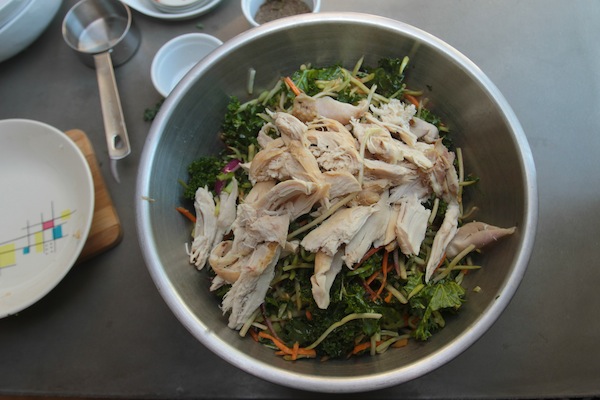 Serve the salad in large bowls.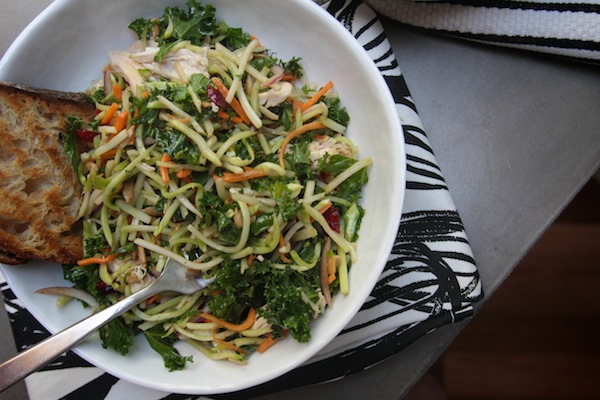 Add a crusty piece of bread with it (I suggest you smear that toast with mashed avocado if you've got one).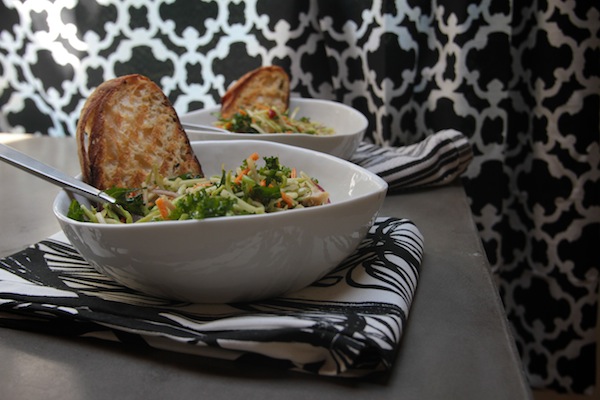 And prepare to be obsessed. Trader Joe's, I GOT YOU!
If you're super into slaws like me, you'll love:
 Asian Slaw w/ Wasabi Soy Dressing
Cabbage Apple Slaw with Maple Pecans
Kale Slaw with Red Cabbage & Carrots
Shredded Rainbow Salad – Shutterbean
Broccoli Kale Slaw

serves 4

6 tablespoons extra virgin olive oil
4 tablespoons balsamic vinegar
salt & pepper

1 12 oz. bag broccoli slaw

4 cups chopped kale
1/4 red onion, thinly sliced
1/3 cup dried cranberries
1/3 cup roasted sunflower seeds
1 1/3 cup rotisserie chicken, shredded

In a small jar, mix olive oil with balsamic vinegar. Add salt & pepper to taste, seal jar and shake until dressing is well incorporated.

In a large bowl, toss the broccoli slaw, kale, red onions,dried cranberries, sunflower seeds with entire jar of dressing until well combined. Add shredded chicken, toss and serve immediately.