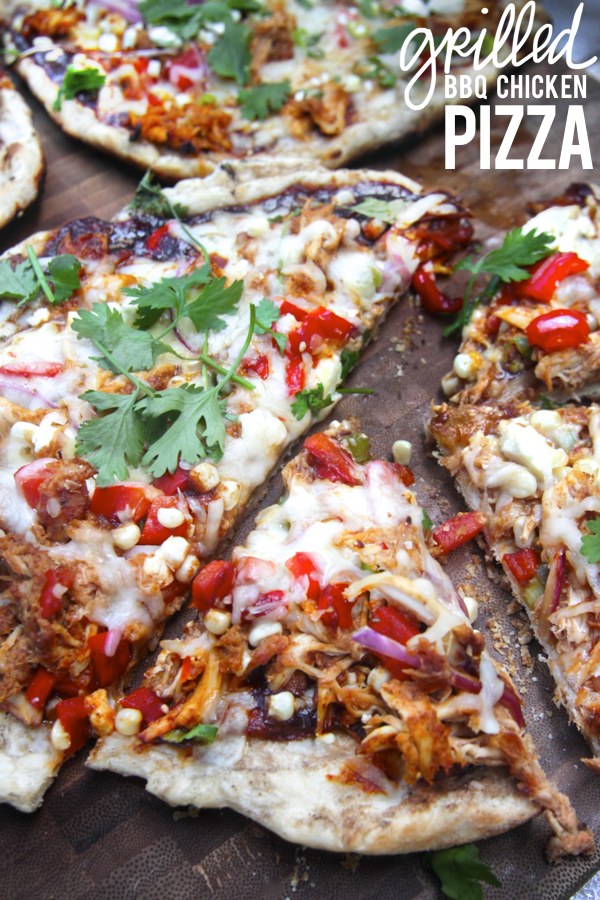 New recipe! Grilled BBQ Chicken Pizza
You know how much I love the no-knead pizza dough recipe, right? I've been wanting to try it grilled because WHO WANTS TO PUT THEIR OVEN AT 500F in the summer??! Also, I've relied too heavily on the make-it on a cookie sheet and get rectangular pizza method. This lady wants a round pizza. Once and for all. But then again, this lady loves the no-knead recipe because it's such a good set it and forget it situation. This lady thrives on a set it & forget it situation.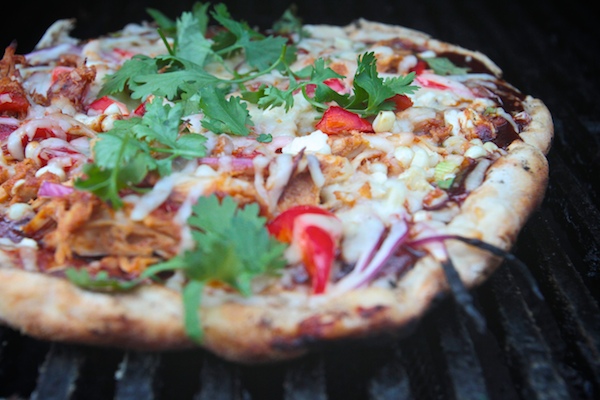 About an hour into the dough-making process (it was just sitting covered in the window) I decided to invite new friends over for dinner. WHAT?! Try a new recipe on new friends?! Blasphemous. My point to all of this is to tell you that if I can take pictures while grilling pizza AND entertaining people ON A WEEKNIGHT, then there's no doubt in my mind that you can pull this off in a snap.
BBQ sauce as a base, chicken, red onions, red pepper, cilantro, PEPPER JACK CHEESE and corn combine for an amazing combination. It makes an amazing summer meal. It also solidifies new friendships….just sayin'!
And we're off!
The first item of business is DOUGH. It takes about 2 hours to make the no-knead pizza dough.
There's a step-by-step photo instruction post here.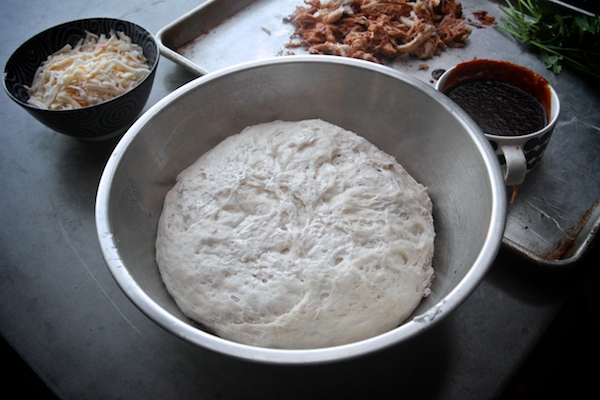 We divide the dough into 4 rounds. The toppings for this recipe make TWO BBQ Chicken pizzas.
I made four pizzas total. One plain cheese (for the kids) A corn, tomato basil number and two bbq chicken pizzas. Four adults, three kids and about 2-3 slices leftover 🙂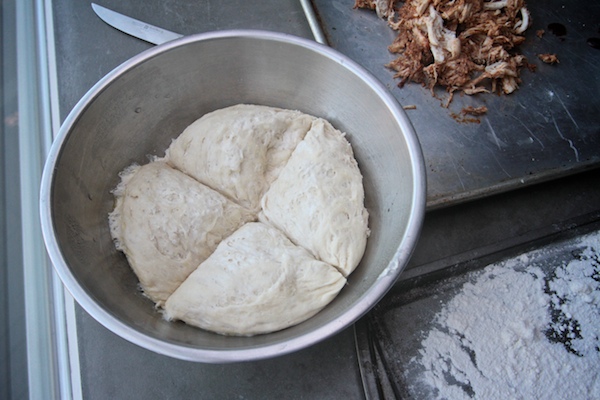 I got all my ingredients together, covered them and put the toppings in the fridge and let the dough sit out covered.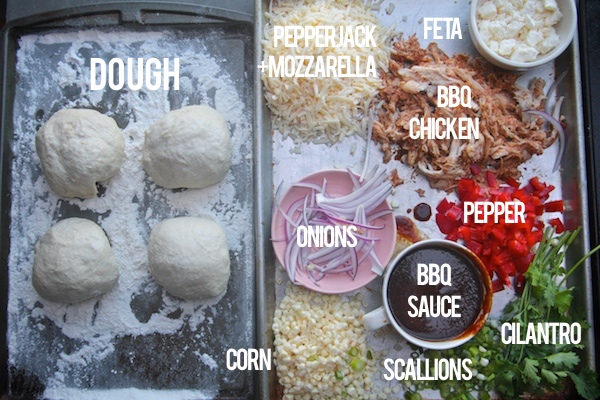 I had leftover rotisserie chicken from the night before. I shredded it up and mixed bbq sauce up in.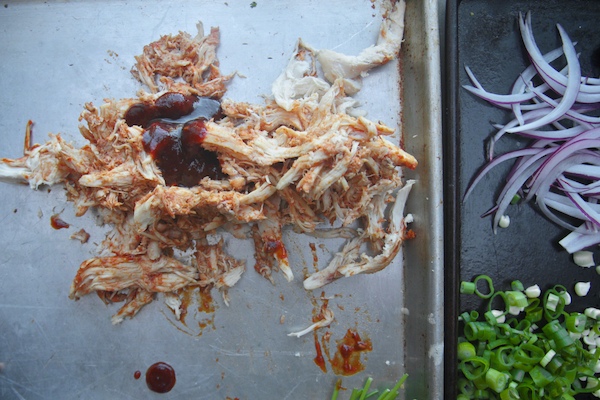 Are you ready to grill some pizza??!
One side of your grill will be the HOT ZONE. The other side will be the WARM ZONE.
Shape a pizza into a circle. If I didn't have an audience and if I wasn't trying to snap a million pictures without being rude, I would have a better shot. But you know…
The pizza will go onto the grill. Grill for about 3-4 minutes. Flip over and top your pizza with the toppings.
Yes I did throw some meatballs on the grill!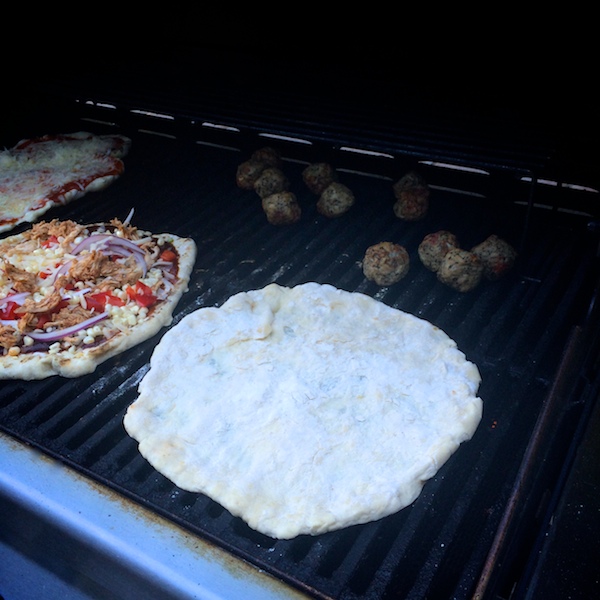 Move pizza to the Warm Zone and cook until cheese has melted and the edges are nice and golden.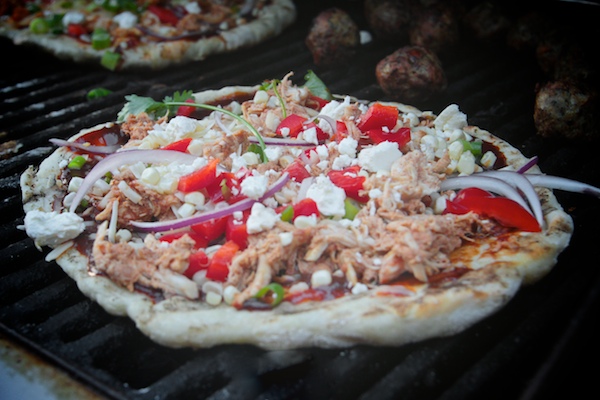 It takes about 5-7 minutes. I actually like mine a little charred, so I went to about 9.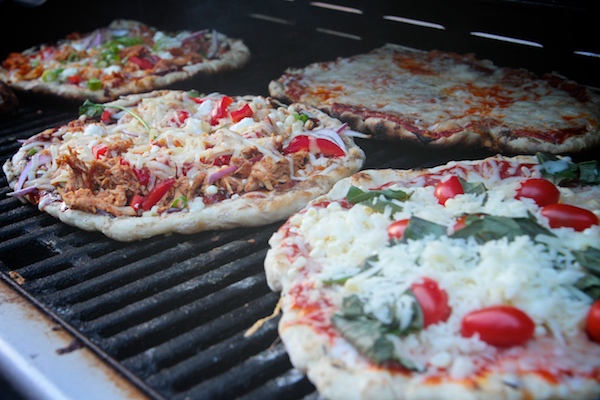 Top the pizza with cilantro and cut it up.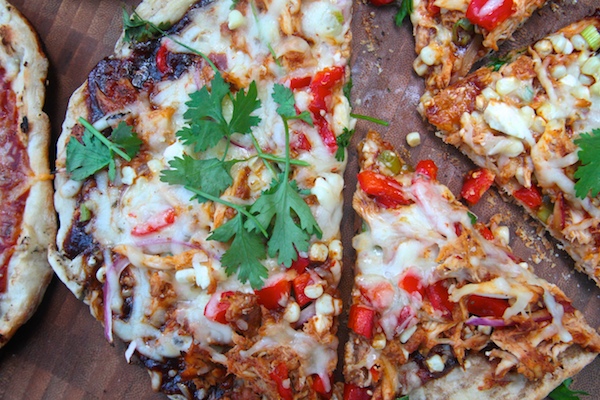 Enjoy a meal OUTSIDE!!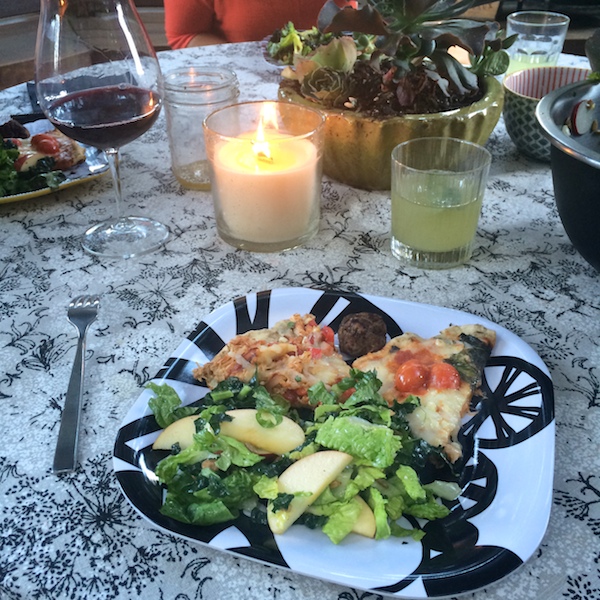 And feel proud of your work. You didn't even have to turn the oven on!
Grilled BBQ Chicken Pizza

makes 2–10 inch pizzas

no knead pizza dough (use half to make 2 pizzas)
1 1/2 cups barbecue sauce
2 cups cooked chicken, shredded
1/2 medium red onion, thinly sliced
1 1/2 cups pepper jack cheese, shredded
1 cup mozzarella cheese, shredded
2 ears corn
1/2 red bell pepper, diced
1/4 cup feta cheese
handful fresh cilantro, for garnish

Preheat grill, making sure one section is on high and the other is at medium heat. In a medium bowl, mix chicken with 1/2 cup barbecue sauce until well combined. Set aside.

Shape each pizza into a 10 inch round and place on the hot section of the grill. Cook pizzas for 3-4 minutes (dough should not stick) and flip pizza over. Move pizzas over to cooler side of the grill and lay down about 1/2 cup barbecue sauce onto each pizza, making sure to leave about a 1 inch edge for the crust. Top each pizza with half the chicken, red onion, pepper jack, mozzarella, corn, red pepper and feta. Cover grill and cook pizzas for 5-7 minutes, or until crust is browned and cheese has melted. Take pizza off of the grill, top with cilantro and serve.