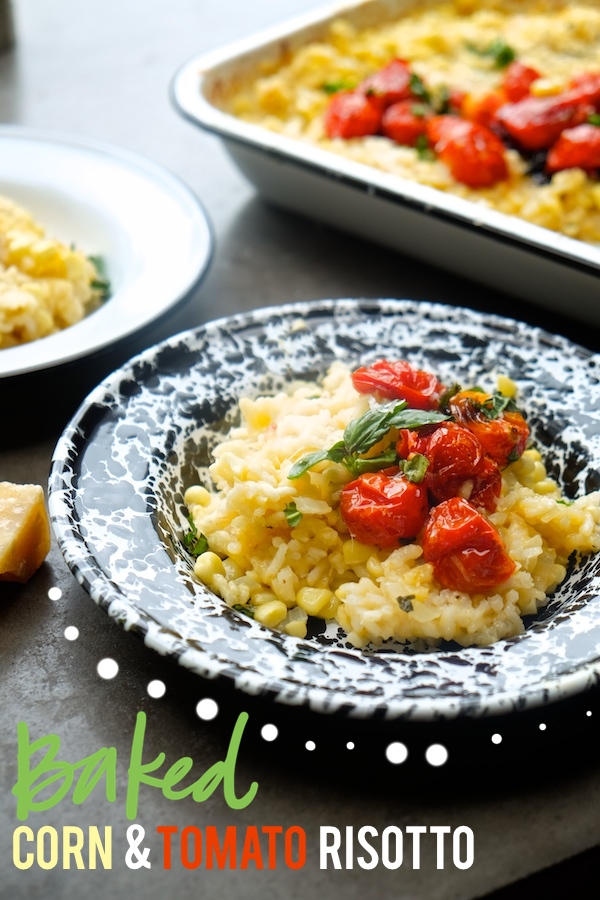 I love to let my oven do all the hard lifting when it comes to weeknight dinners. It's especially nice when I make something that makes a ton of leftovers that we can eat throughout the week. I had some corn and tomatoes leftover from a Farmer's market haul last week and put them to good use with this Baked Corn & Tomato Risotto dish.  I wanted to bake the risotto because I didn't want to stand in front of the stove stirring….I just wanted to sit down on the couch and watch my newest guilty pleasure- Botched. REAL TALK.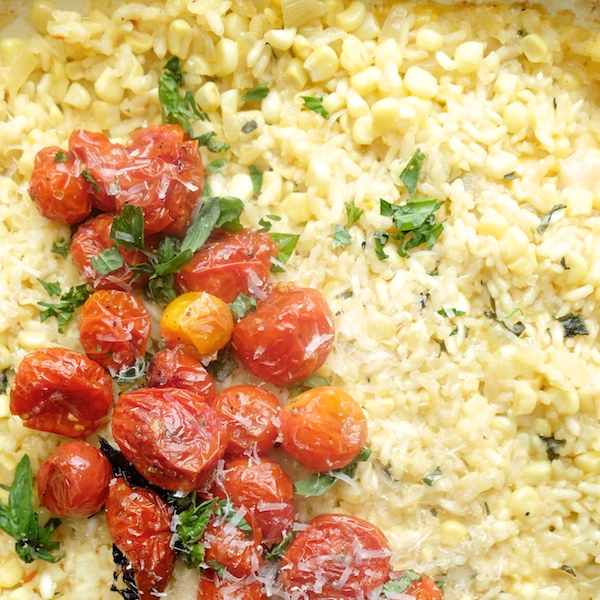 The risotto is creamy, al dente and studded with chopped basil and Parmesan cheese.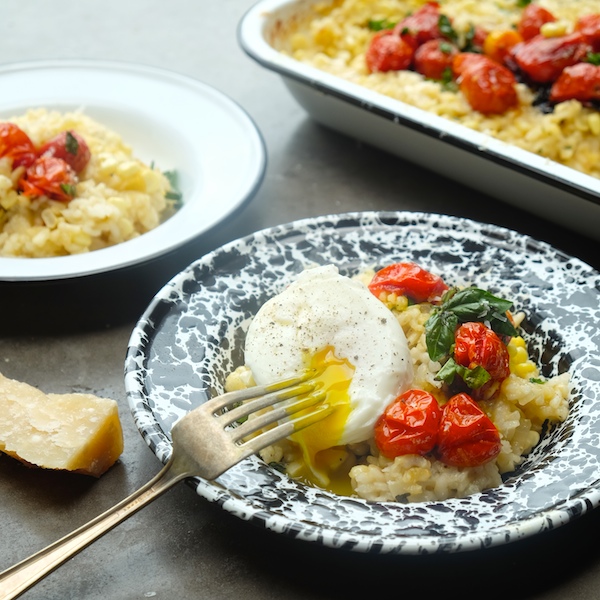 We roast tomatoes in the oven while the risotto is baking and if you're feeling frisky, add a poached egg on top. Dinner is served and you barely had to do anything. Win win.
And we're off. All good things.
First we are going to get our tomatoes ready for roasting. Drizzle oil, salt & pepper on a parchment lined baking sheet.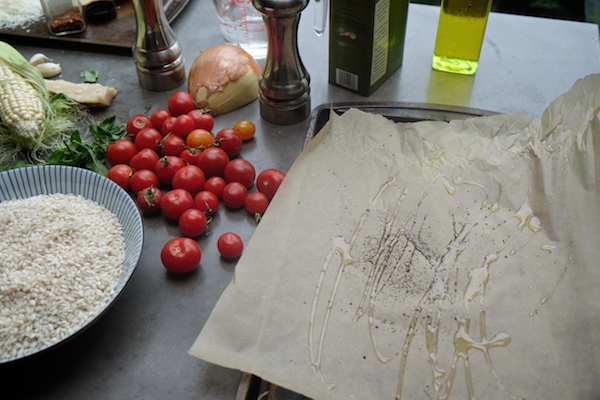 Mix the tomatoes in. Pop them in the oven. We're gonna get the risotto going.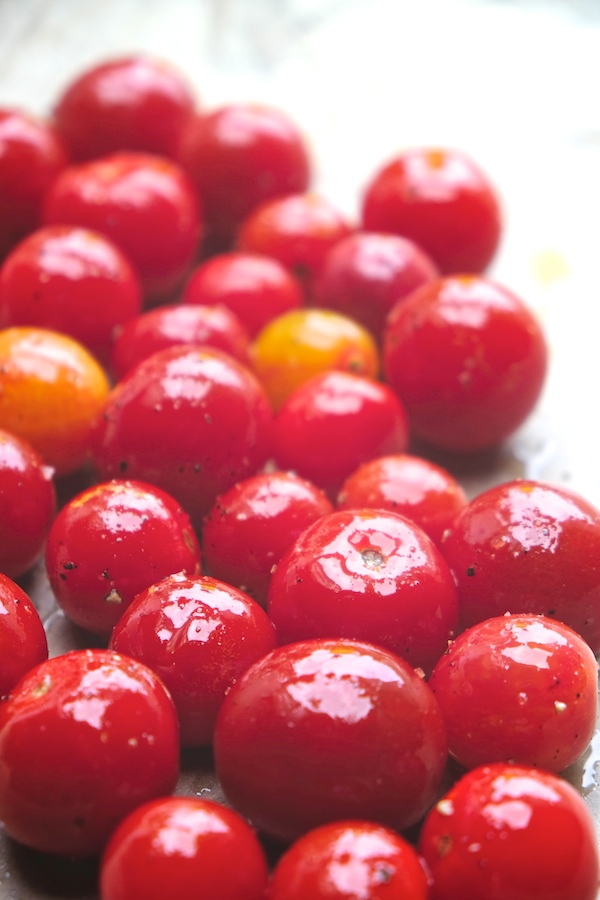 Onions and garlic sweat. We add in the herbs, salt pepper & red pepper flakes.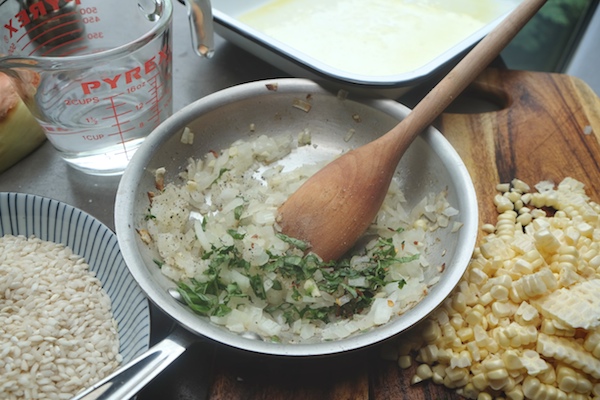 We mix the rice with the onion mixture, parmesan & corn.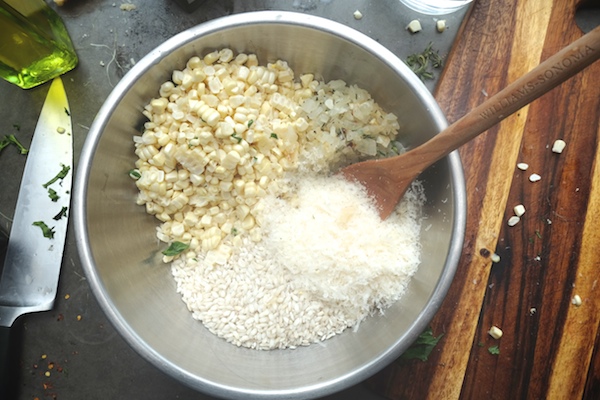 We put the rice in a baking sheet. We add the vegetable stock and water.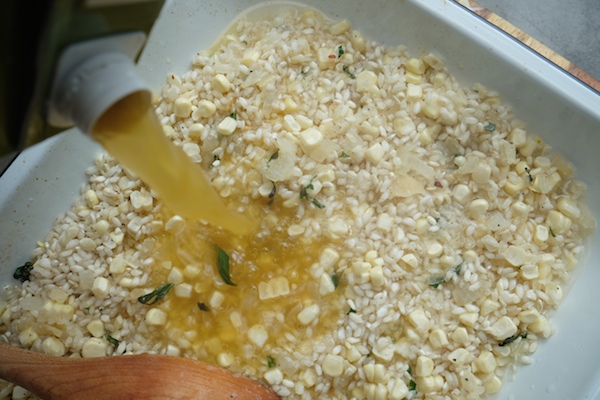 Stir! And then off to the oven…uncovered.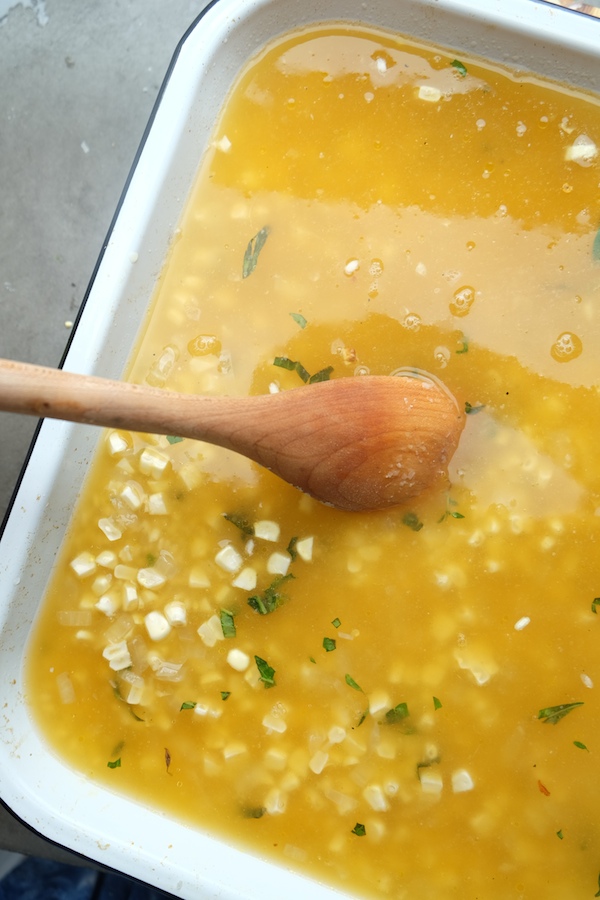 At the half way mark we add a little butter. Because BUTTER!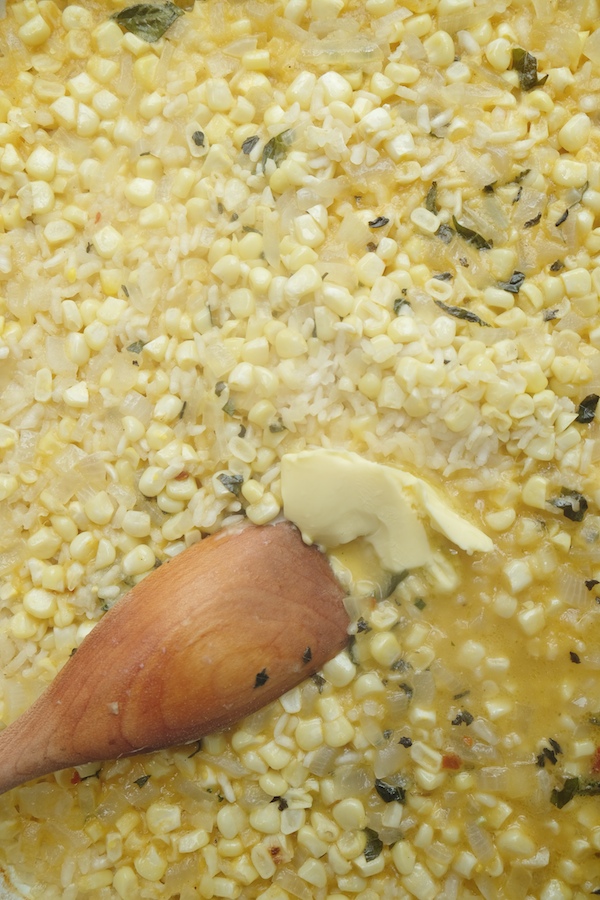 Tomatoes are roasted.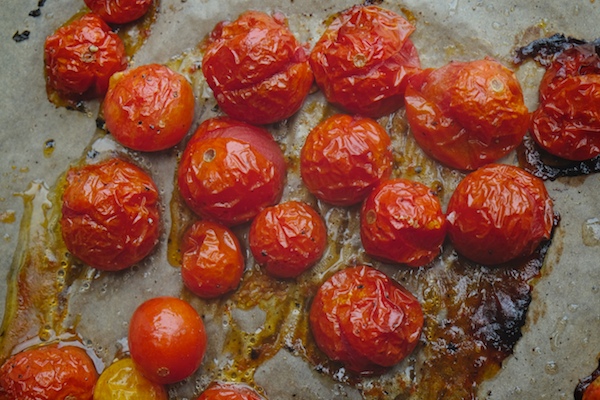 We chop some fresh basil…. Add more Parmesan to the top…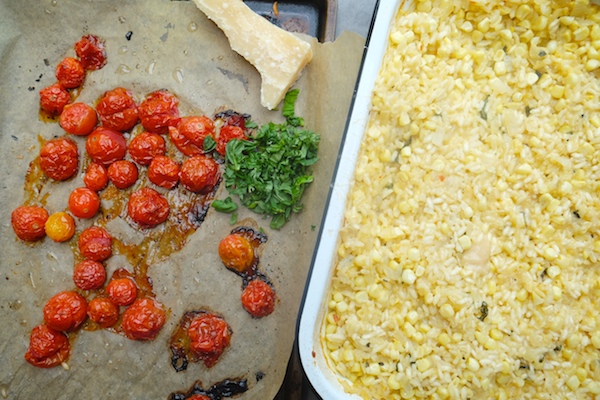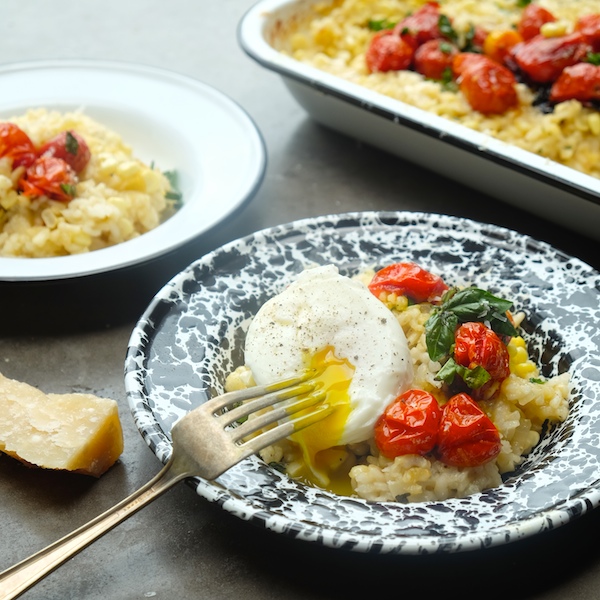 Yaasssss.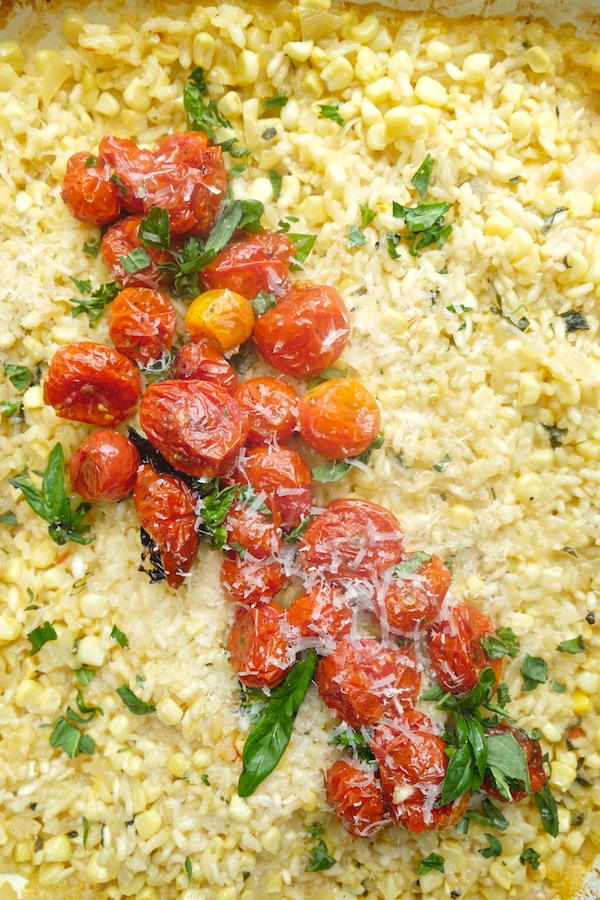 Dig in…serve it up.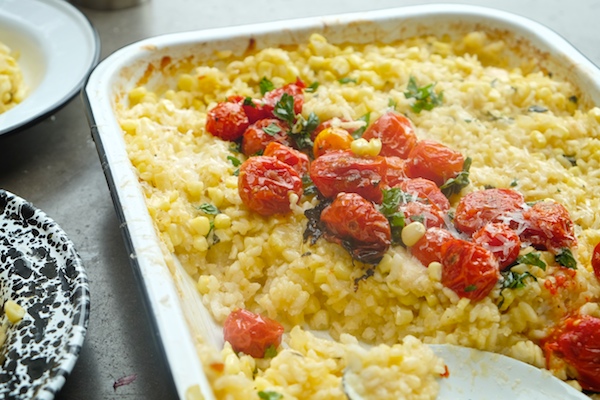 Add an egg on it…
It makes great leftovers!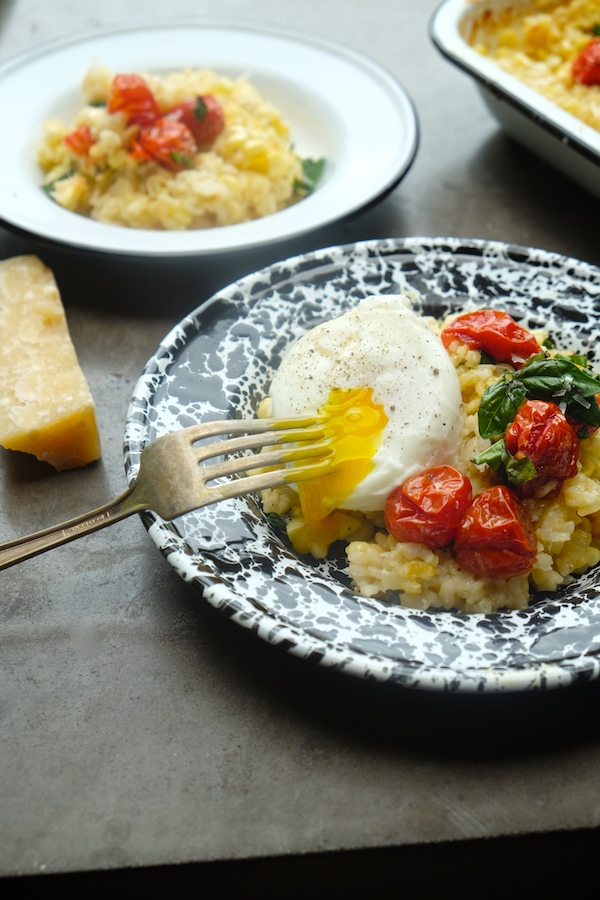 Corn, basil, parmesan, risotto deliciousness.
Baked Corn & Tomato Risotto

recipe serves 4-6

adapted from Joy the Baker

2 cups cherry tomatoes
2 tablespoon olive oil, divided
salt & pepper
1 small onion, chopped
2 cloves garlic, minced
2 tablespoons fresh chopped basil leaves, plus more for serving
1 1/2 teaspoons dried basil
1/2 teaspoon red pepper flakes
1 tablespoon fresh thyme leaves
1 tablespoon unsalted butter, plus more for coating dish
2 cups Arborio rice
2 cups fresh corn (about 2 cobs)
32 ounces low-sodium vegetable stock
1 1/4 cups water
1 cup grated Parmesan cheese, plus more for serving

Preheat oven to 350 degrees F.  Butter a 9×13-inch baking pan and set aside.

Line a baking sheet with parchment paper. Drizzle with 1 tablespoons olive oil, salt & pepper. Toss tomatoes onto the parchment and give them a good coat of the olive oil. Put them in the bottom rack of the oven to roast while you prepare the risotto.

In a medium skillet, heat 1 tablespoon olive oil over medium heat.  Add the onions and cook until translucent, about 5 minutes.  Just as the onions are done cooking, stir in garlic and cook for another minute. Add fresh and dried basil, red pepper flakes, thyme and season with salt & pepper.  Toss to heat through and set aside.

In a medium bowl, toss together uncooked rice, corn, cheese, and the onion mixture.  Place in the prepared baking pan.  Pour vegetable stock and water over the rice mixture.  Stir gently to ensure even cooking.

Place in the oven and allow to cook, uncovered,  for 37-40 minutes, stirring after 20 minutes. At the halfway mark, stir in a tablespoon of butter.  Rice is done when liquid is absorbed and mixture is cooked through and creamy.  If rice mixture is still crunchy, add more hot water or hot chicken stock about 1/3 cup at a time.

When cooked through, remove both the tomatoes and risotto  from the oven and allow to cool for 15 minutes before tasting.  Add salt to taste.  Serve topped with roasted tomatoes, fresh basil leaves, black pepper, and additional Parmesan cheese.  Rice will last, in an airtight container in the fridge, for up to 5 days.