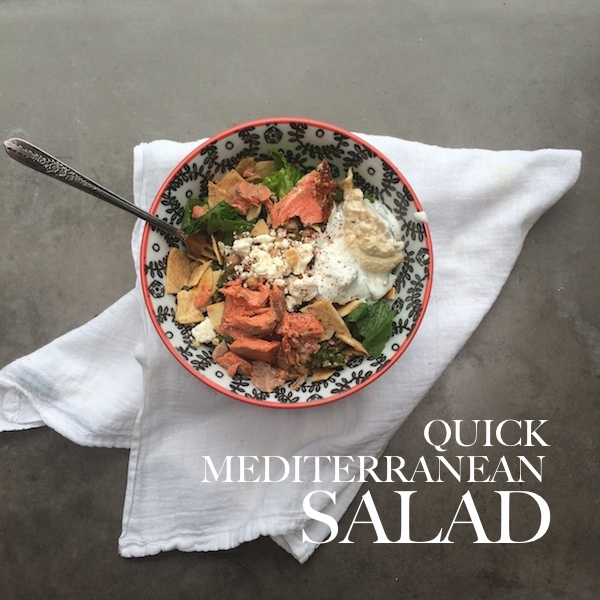 About a month ago Cooper and I were invited to a last minute playdate at our friend's house on a Friday night. I offered to pick something up for dinner on the way over to their house and I inadvertenly created a salad that has become my new obsession.  All it took was one very quick trip to Trader Joe's.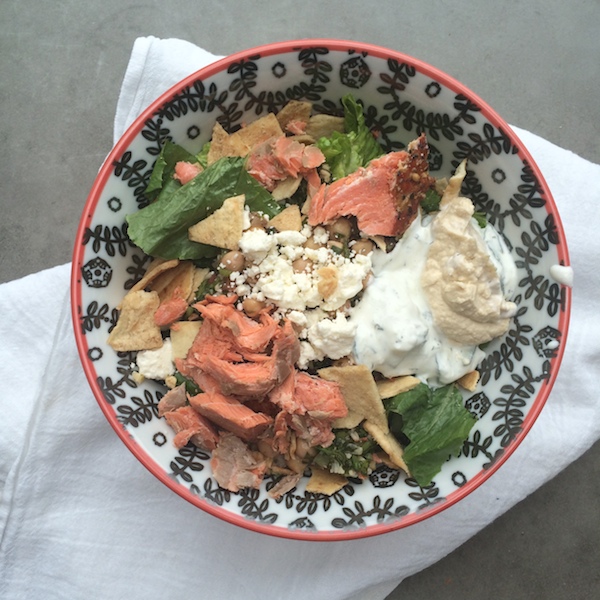 If you don't have a Trader Joe's where you live, my apologies. Hopefully you'll be able to find some of the ingredients/make some of them on your own or just use this idea as a template for a good meal at home or to take to work.  Everything can be assembled super last minute. Just grab a few bowls and silverware and you're good to go. There's a variety of flavors and textures. So many good things in one bowl.
And we're off. Here's the spread:
You're gonna need lettuce (I like romaine in this application but spinach would be great too), Trader Joe's tabbouleh, balela, feta, hummus, tzatziki and a protein. I picked salmon for this one and I also made one without. If you're vegetarian, add more of the balela (which is a lovely black bean/chickpea salad).
I've been on a Hot Smoked Sockeye Salmon kick. It's kinda pricy so I use it sparingly (I have another quick recipe for you next week using it- Salmon Ramen!) It's thick, smokey and it has a good flavor with the lemon, peppercorns & mustard seed. It's really good on crackers with cream cheese. My cat harasses me whenever I take it out of the fridge. I totally understand why. Irresistible.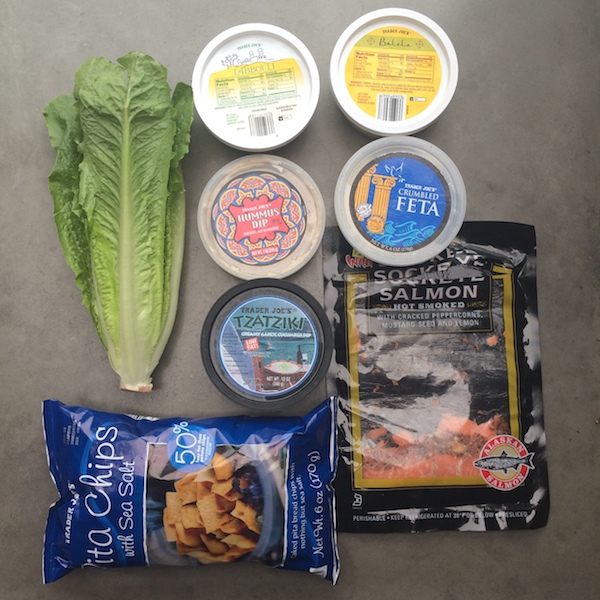 In this salad we're using the flavor bases of the tabbouleh & the balela. The tabbouleh has a nice dose of herbs and the balela is just tangy goodness. They both add a lovely addition to salads in general. Sometimes I chop up avocados and mix it in with these salads.
I like to make a dressing from a heaping tablespoon of hummus and a few scoops of tzatziki. I will squeeze a little lemon on top to add a little tang and thin out the dressing.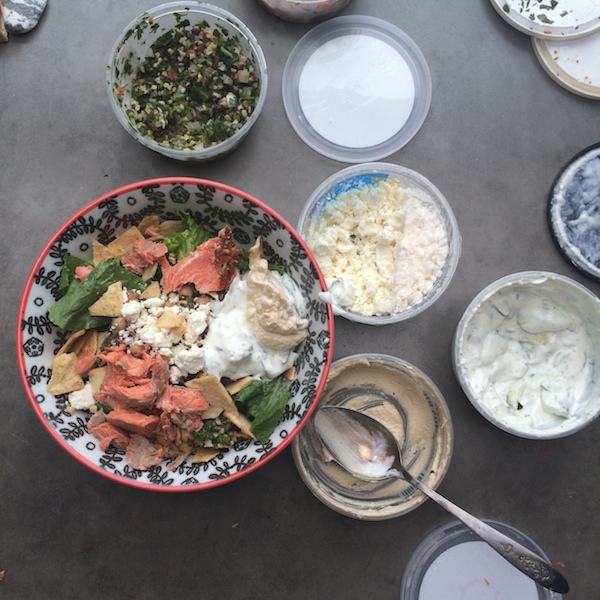 My secret weapon is a little pinch of sumac on top. It adds extra lemony tang.
Also. LEMON!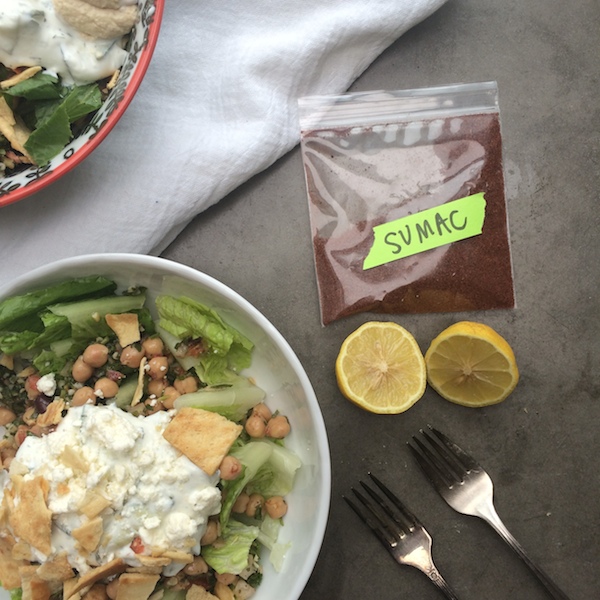 Here we have a version with the salmon. Add tomatoes if you want!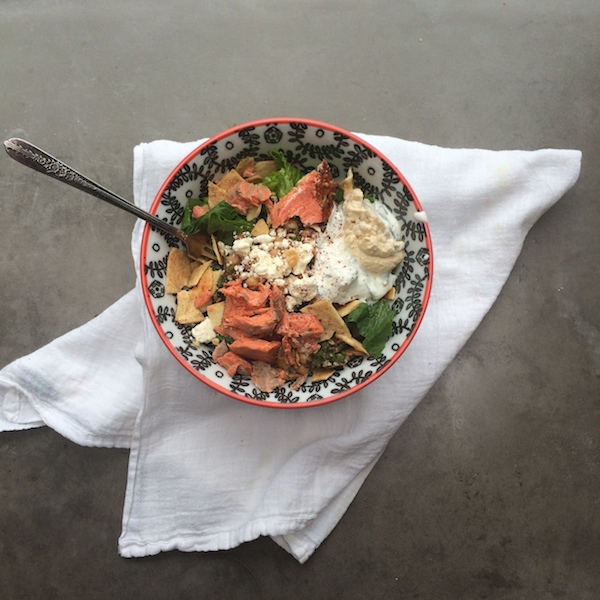 And a version sans salmon.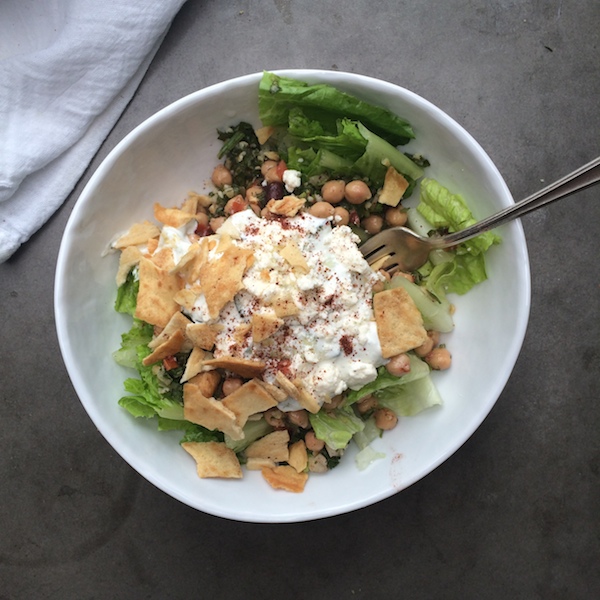 Maybe one of my favorites will become yours?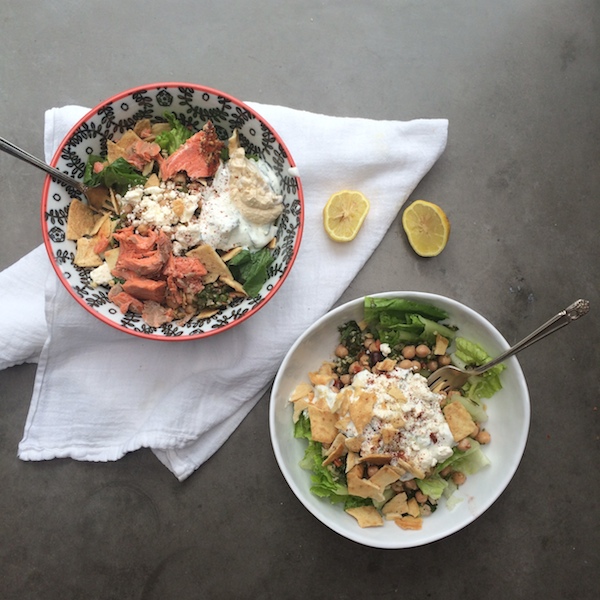 Everyday Eats!  You could always grill some pita and make this salad into wraps.
Quick Mediterranean Salad

serves 2

1 head romaine lettuce, chopped
1/2 cup balela
1/2 cup tabbouleh
1/4 cup crumbled feta
1/2 cup crumbled hot smoked salmon
1 heaping tablespoon hummus
2 heaping tablespoons tzazitki sauce
freshly squeezed lemon juice
pinch ground sumac
1/2 cup crushed pita chips

In a large bowl toss the lettuce with the balela, tabbouleh, feta, and salmon. Drizzle the hummus and tzazitki on top of the mixed salad. Toss to combine. Add a pinch of ground sumac and squeeze of fresh lemon on top to taste. Divide salad between two bowls and garnish with crushed pita chips.