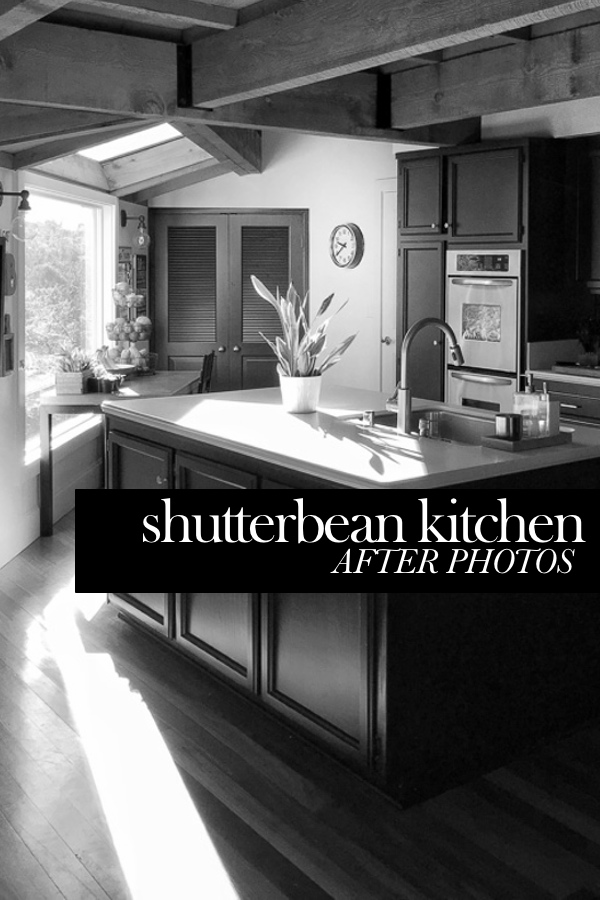 Let's look at where we started from: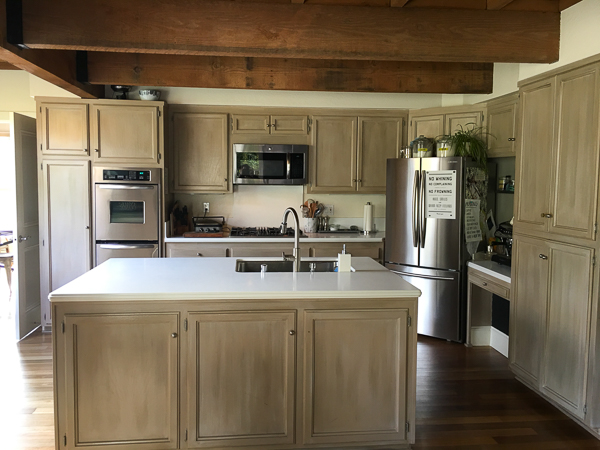 And this is where we are now. What a difference, right?!
It definitely feels like a Shutterbean Kitchen.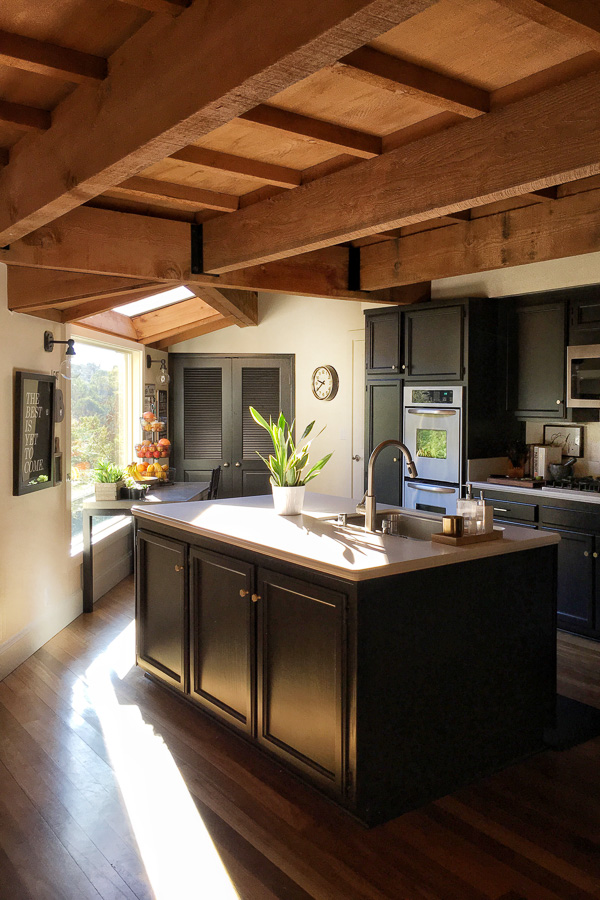 Let's look at the process.  Doors were taken off.  Insides were painted white because I wanted a clean slate. I may paint them a color or put a fun pattern in there one day but for now, WHITE!
Took about 3 coats to make the plywood interior totally white.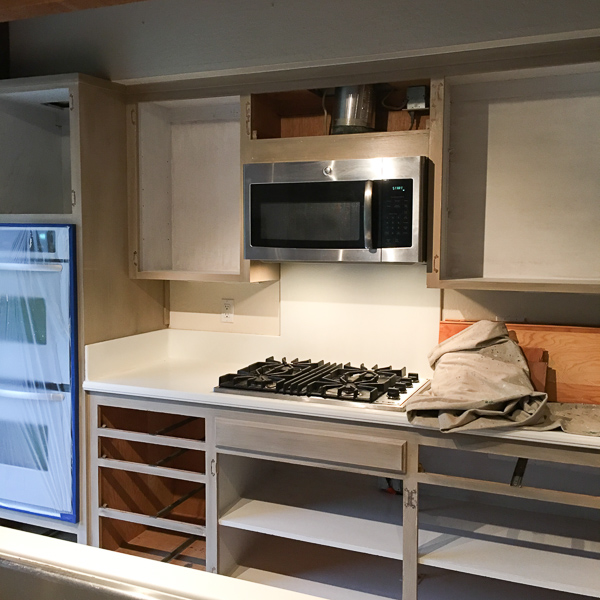 We lived like this for a week.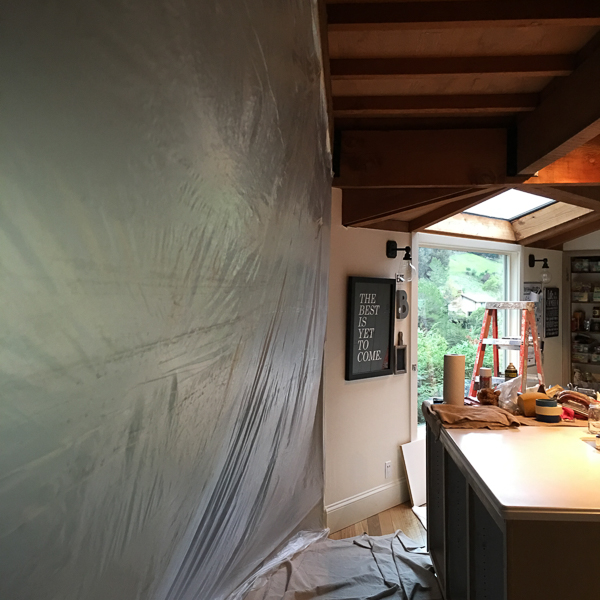 Frames painted black. Doors were taken off-site and painted in our painter's garage.
They were sprayed and the hinges were painted too.
We opted out of replacing all the hinges because it was going to be such a pain to match all the holes up and line everything up perfectly.
Seeing it at this stage really excited me.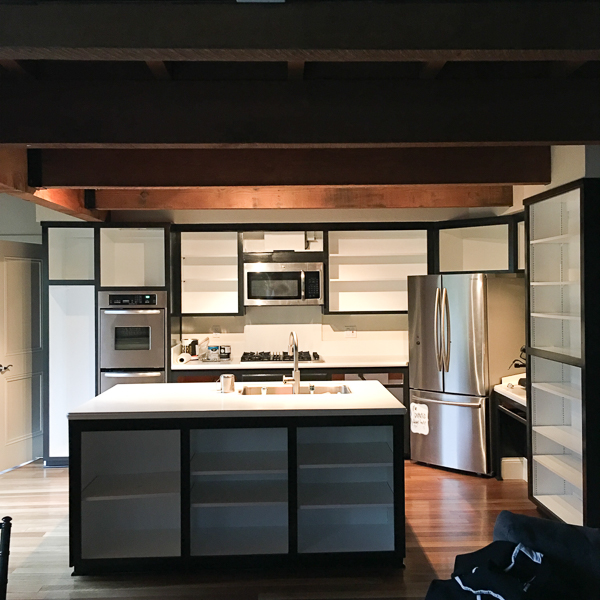 In case you didn't notice, I have a sign on my fridge that says:
I'm dented. Please Help. God Bless.
When our fridge was delivered, it arrived dented (a couple of years ago) and the delivery company refused to make good and we were on the phone for a million years and SIGH. Totally awesome, right?  So, now I have that sign up and maybe one day I'll motivate to research how the heck to get a new face for my freezer. Until then, we must live with my humor. I could have photoshopped it out but I'm lazy.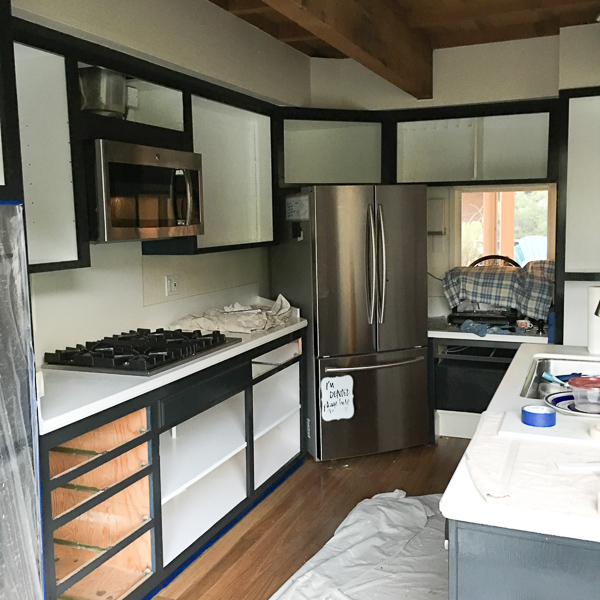 Doors go on!! This happened on a Saturday. The project started on a Monday. I was so excited.  I spent the whole week staring at the insides of the cabinets…imagining what would go where.
I'll do another post on the organization of the inside of my cabinets because I really worked hard on it and I'm proud of how they ended up. Makes me love working in my kitchen now that there's a proper place for everything.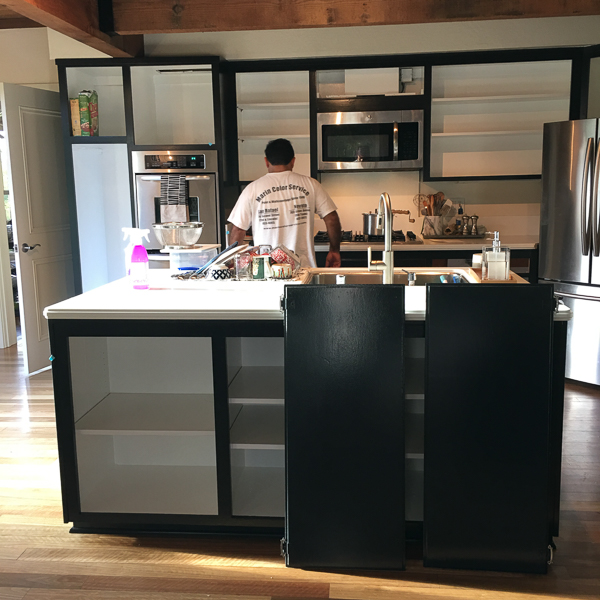 Besides taking off the old hardware, we decided to put drawer pulls on the drawers instead of knobs. It was kind of a pain, but Casey powered through and put them in like a champ.  I love how it looks. I rearranged some things in the drawers so I'm always crazy happy to open them now. That's such a weird thing to say.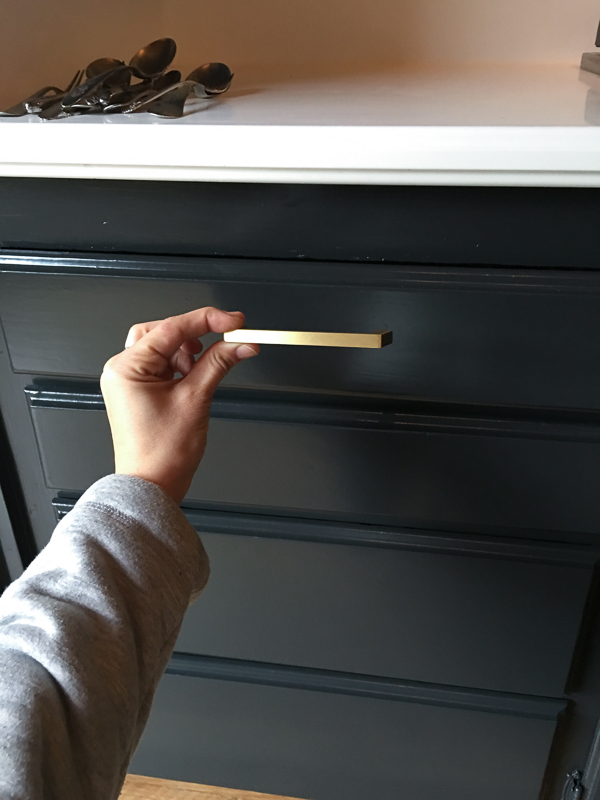 And here we are…..AHHHH.
This is where I work!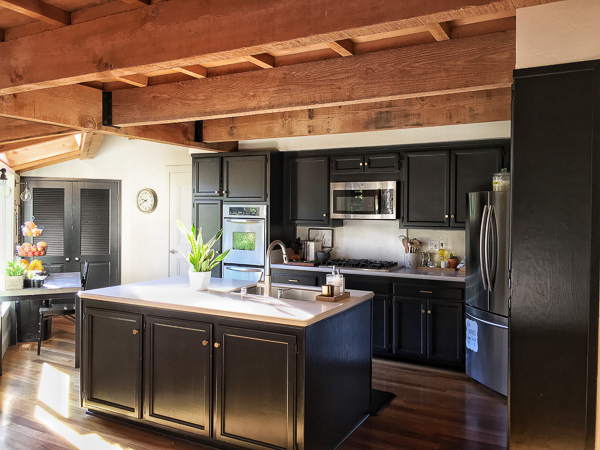 We used Fine Paints of Europe like we did in our last kitchen. My mother-in-law highly recommended we use their paint for the quality, pigment concentration & durability.  We've used their on our garage door, front door, Cooper's bedroom and several rooms in our last house.  In our last house, we had our island painted a shiny black which I loved BUT you could see every single fingerprint and speck of dust from certain angles. We changed the finish to a silky smooth satin finish and I love how the cabinets subtly reflect the light.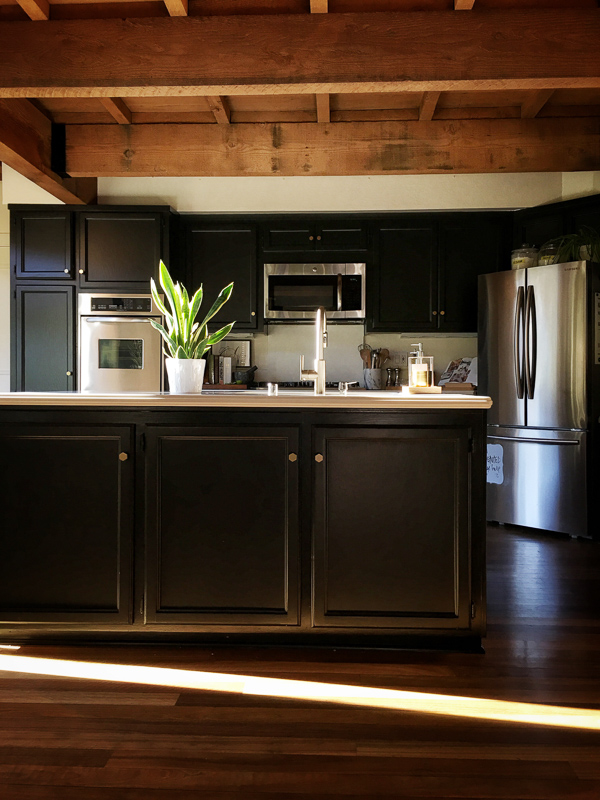 Now that the cabinets are black, I want to add a little wallpaper to the wall in between the  Corian backsplash and cabinets. I'm on the hunt for something good. I've been stalking this Etsy shop for some removable wallpaper options. Might take the plunge soon. We'll see.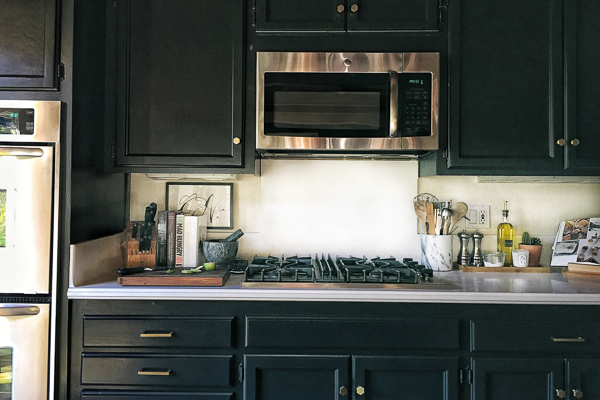 I was hoping that the black would make the white counters POP and it happened!
The counters reflect more light now and they're way more noticeable than before.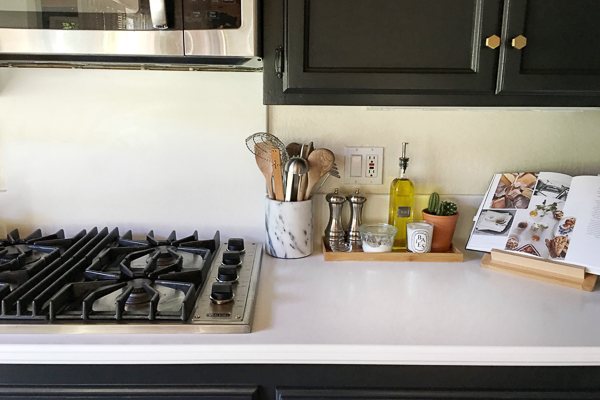 That's my little chopping area with some of my favorite cookbooks.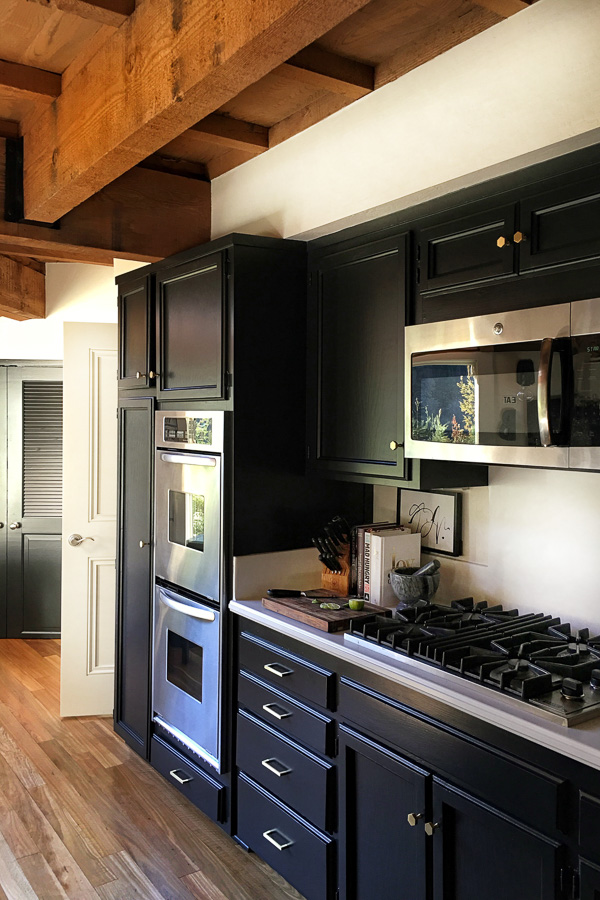 Before we had the cabinets painted, I spray painted the old light fixtures black, took out the lamp shades and replaced them with big old bulbs I bought at Rejuvenation. The look works really well now that the cabinets are black.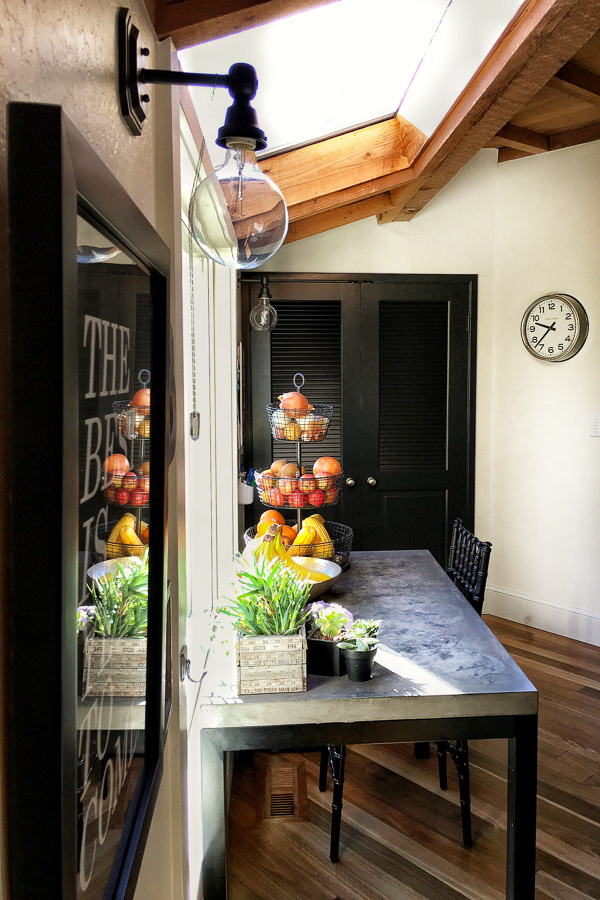 The doors of the pantry also black! I had no idea that there were some dents in there until they got painted. Oh well.  We have brass hardware on order that will match the knobs & drawer pulls.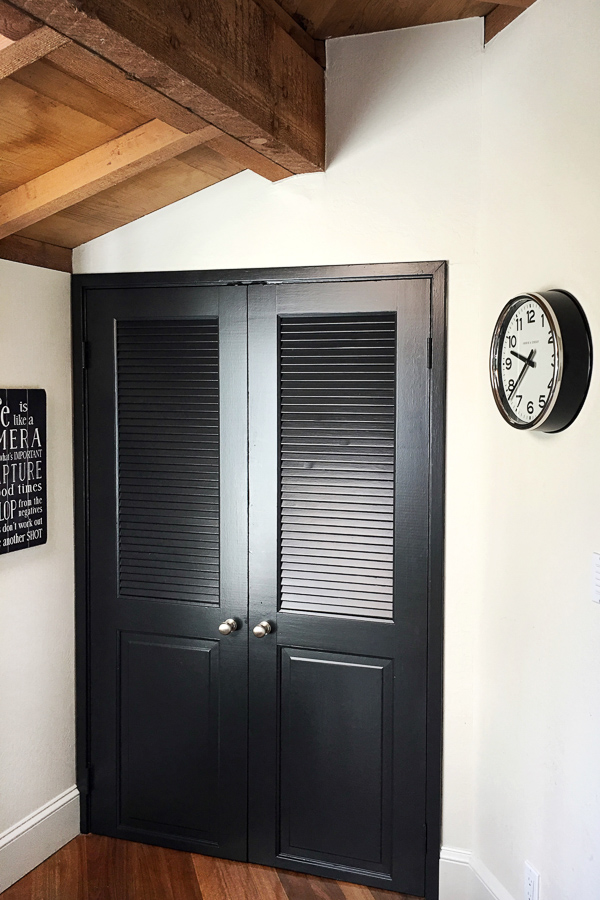 Here's the angle from the pantry area.  You can see that the kitchen is apart of one big family room. We have a fireplace, couch, tv and our dinner table in that room.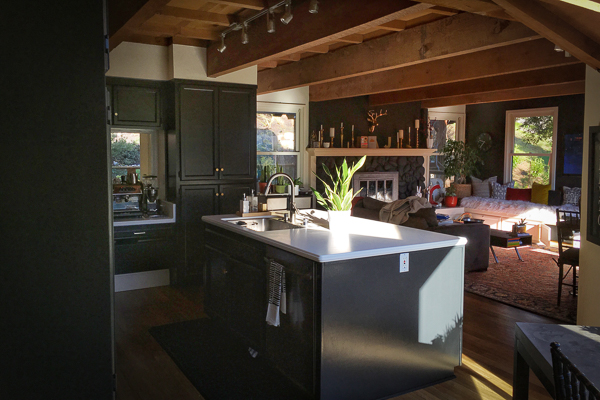 View from the sink. I think Cooper is watching the Power Rangers?
I sit and work on my laptop over in that bookshelf area at our table.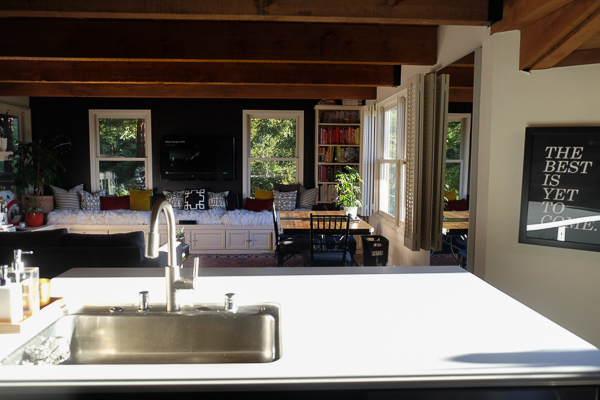 There used to be florescent  lighting above the kitchen island, so we replaced that with some non-offensive looking track lighting. I think we'll most likely add a few pendants over the island in the next phase. I just have to search for the right ones!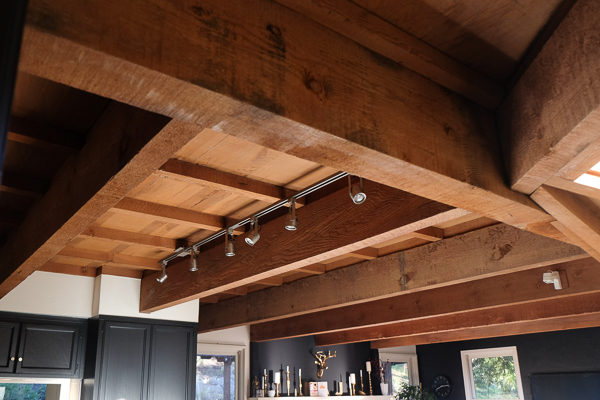 Hardware from the side.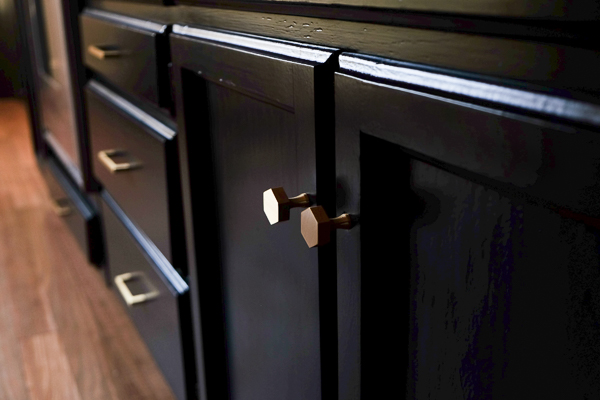 Drawer pull action!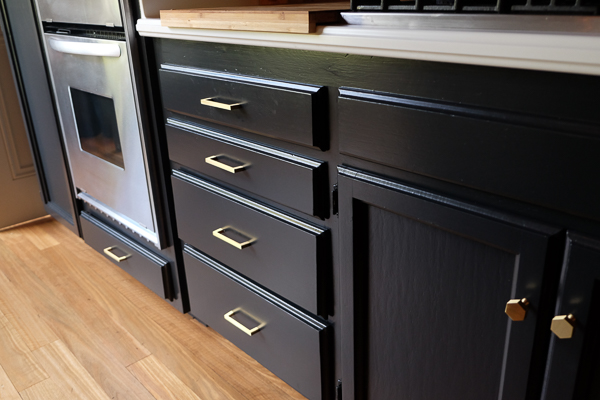 Just a little reminder of what the cabinets/knobs looked like before.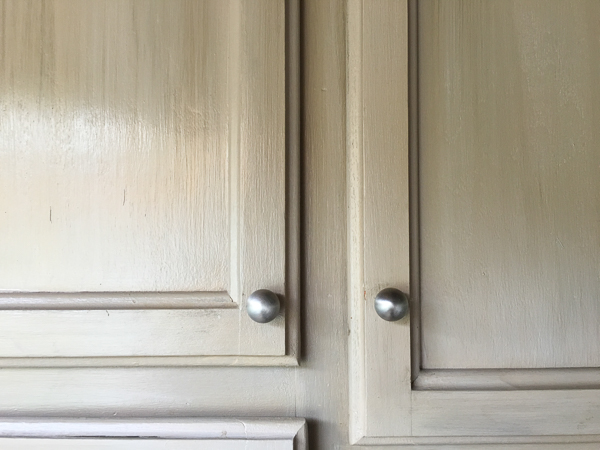 One more shot….Can't wait to show you my cereal cabinet & my broom closet!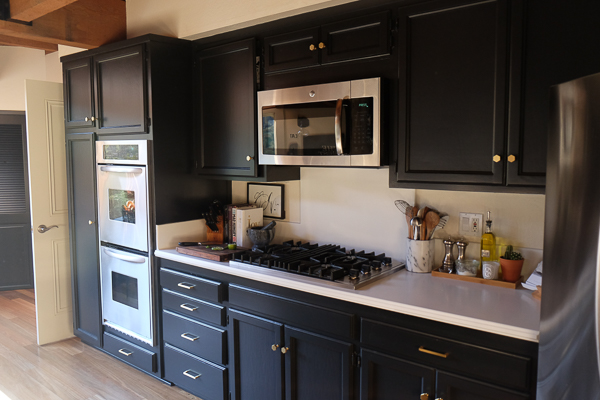 The view to the left…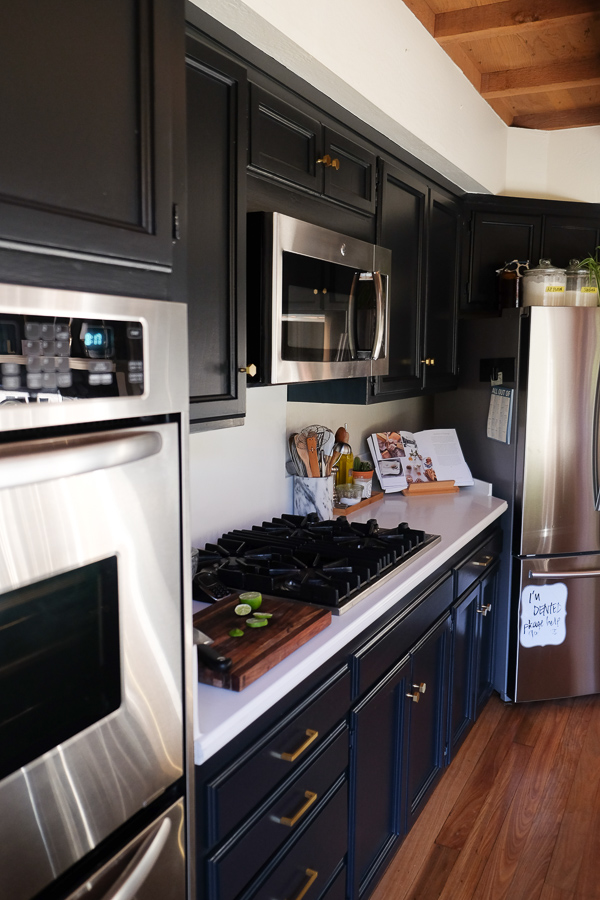 Fridge in the corner next to our espresso machine.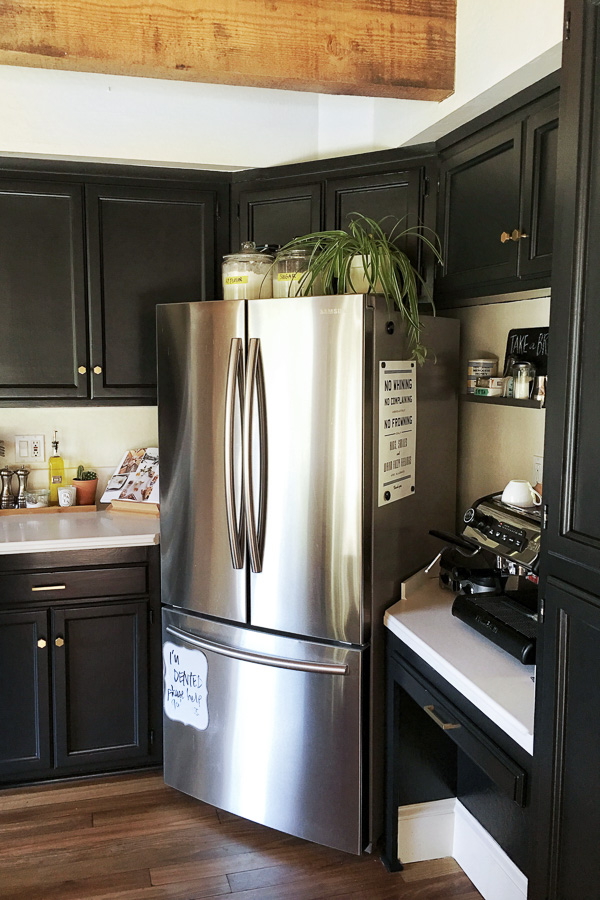 Flour, sugar, plant, kombucha on top of the fridge.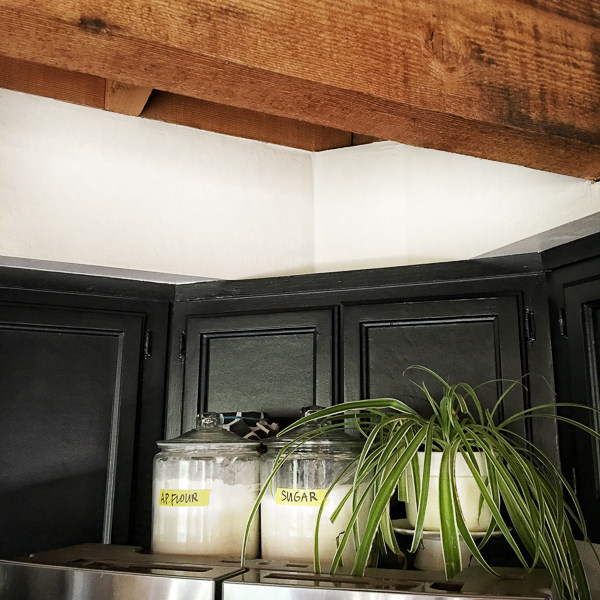 The color of the cabinets in the morning light. You can see that they look gray in the bright sunlight.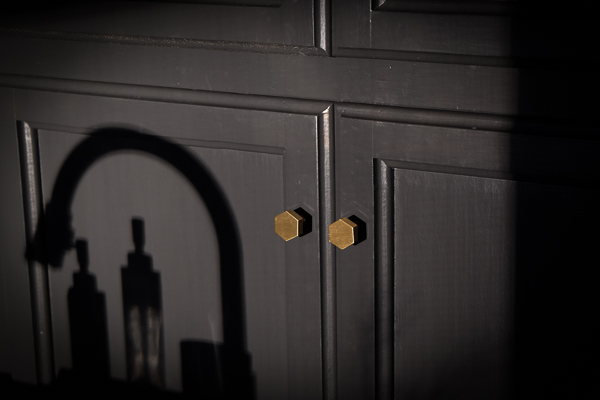 The sun floods in and the contrast is exceptional. The white countertops GLOW.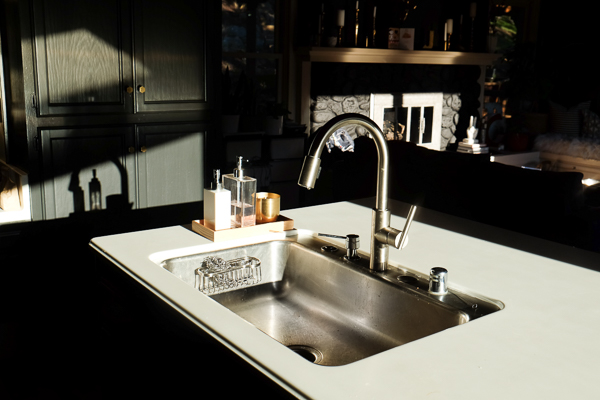 There we have it!  My new favorite room of the house.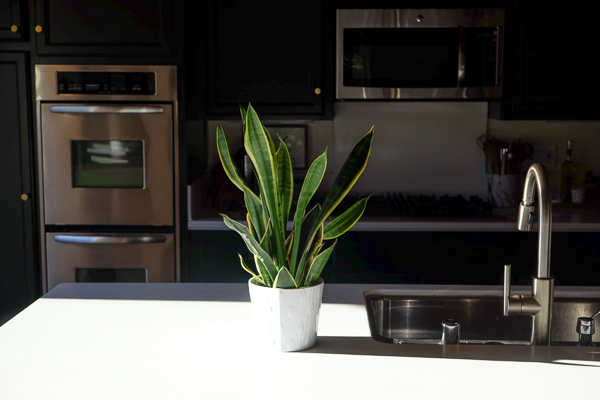 I absolutely LOVE my new kitchen space because finally feels like MY kitchen. I mean… look at my website. You can see how into black & white I am 😉
Paint used: Fine Paints of Europe Hollandlac Satin, (British Standard Colors – Night – BSC-642 )
Hardware:  Knobs/ Drawer Pulls