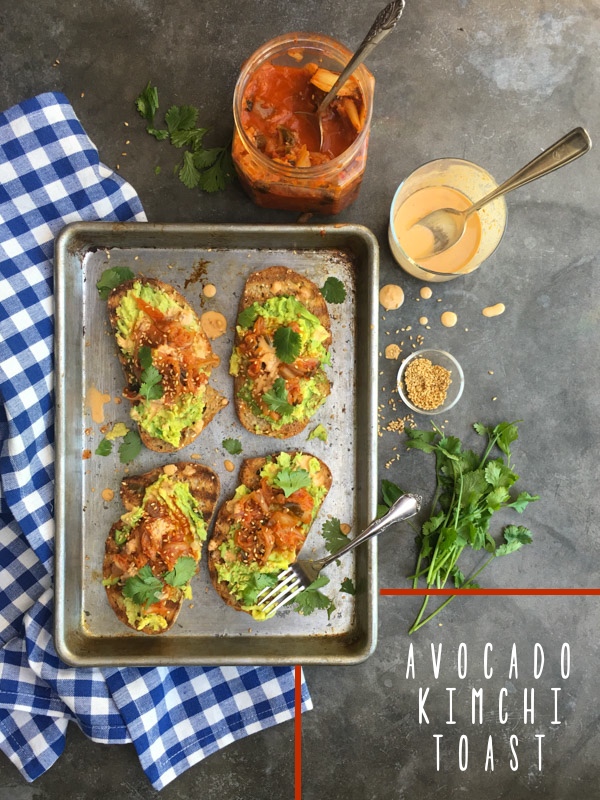 I've been doing this whole food blogging thing for almost 10 years (!!!) and I've seen my fair share of cookbooks. It's not often that a cookbook wows me. Julia Turshen's book, Small Victories definitely wows me. Like… really wows me.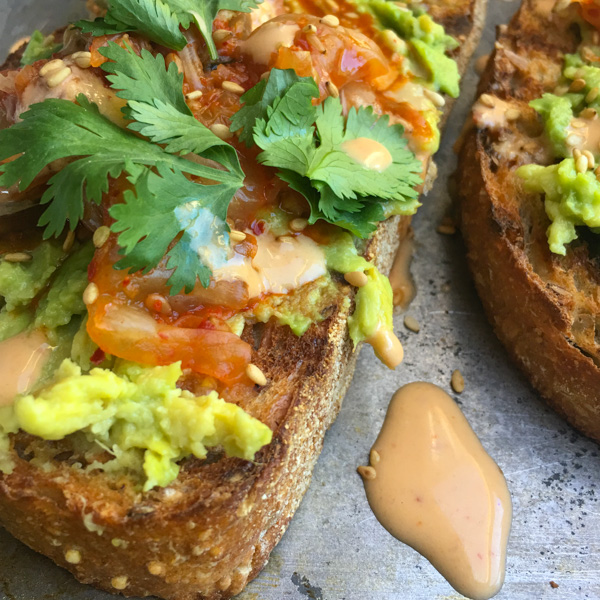 Julia proves that the kitchen isn't an intimidating place if you focus on all of the small victories (like pitting an avocado!) that happen day in and day out. It's much like life, isn't it?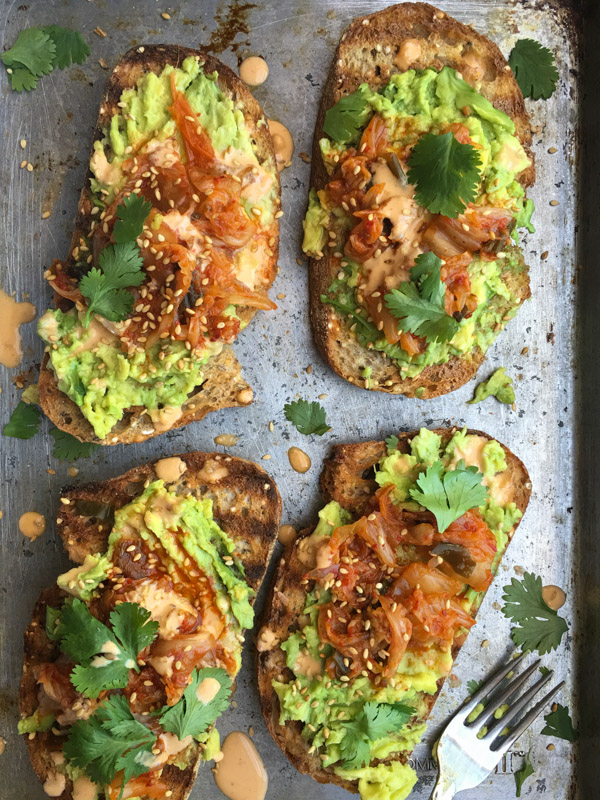 I've been on a spicy/pickled kick lately and this avocado kimchi toast recipe definitely went on the MUST MAKE NOW LIST. It's not your ordinary avocado toast. It's extraordinary. Spicy kimchi is topped on avocado smashed toast. There's a spicy tahini drizzle on top with cilantro and sesame seeds. I definitely had a hard time sharing…
Let's gather our ingredients.
It's all very simple, just as avocado toast should be.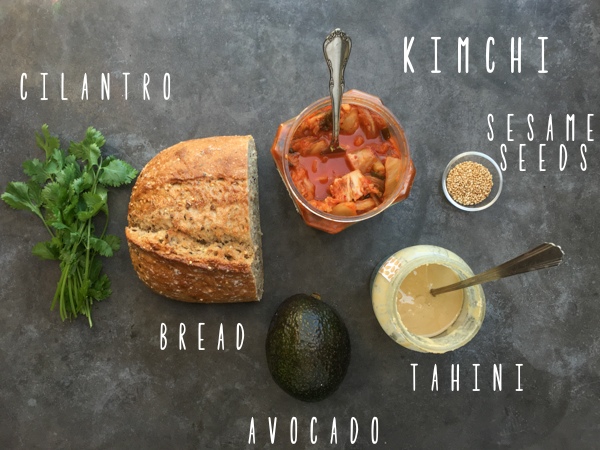 In the original recipe, the kimchi dressing/drizzle is a combination of the kimchi juice with mayo. For those of use who aren't mayo fans (me!), I made it two ways. One way with yogurt as a substitution and one with tahini. The yogurt brings out the tang of the kimchi, so if you're looking for more of pickled situation, try that route! Start with a tablespoon of yogurt and then go from there.
I preferred the tahini version because I thought it brought out the nuttiness of the sesame seeds.
It also makes it vegan!
We start with kimchi.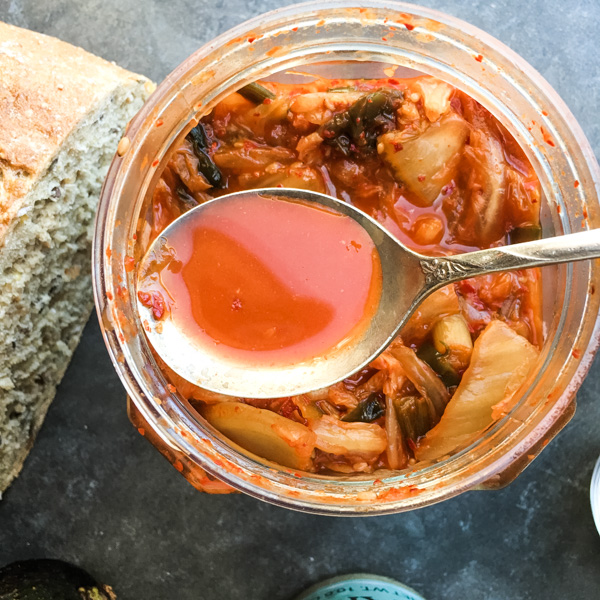 We make a little sauce by combining the kimchi juice with a little tahini. It will be thick. Thin it out with a little bit of warm water. Season with salt for balance.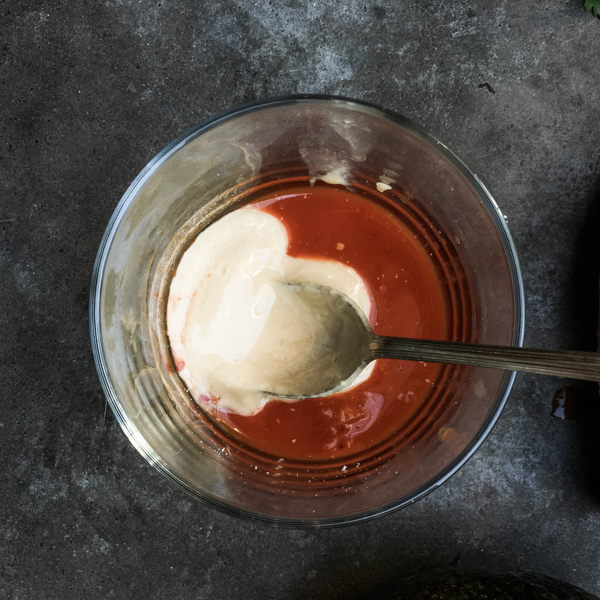 Dressing!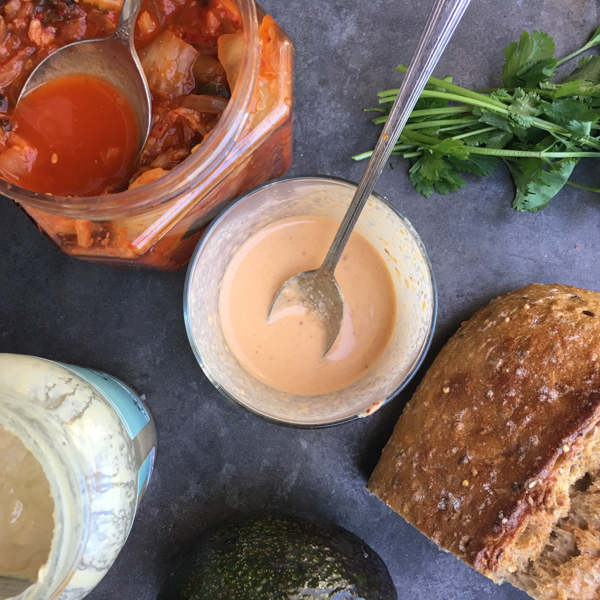 We smash avocado into grilled/toasted TOAST.  I use my panini maker to make the best toast.
This is the kimchi I used- Wildbrine Korean Kimchi
What's your favorite? I'm always looking to try new things.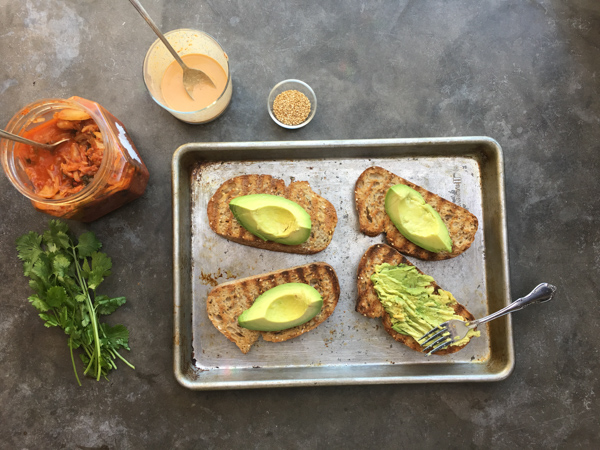 Avocado smash.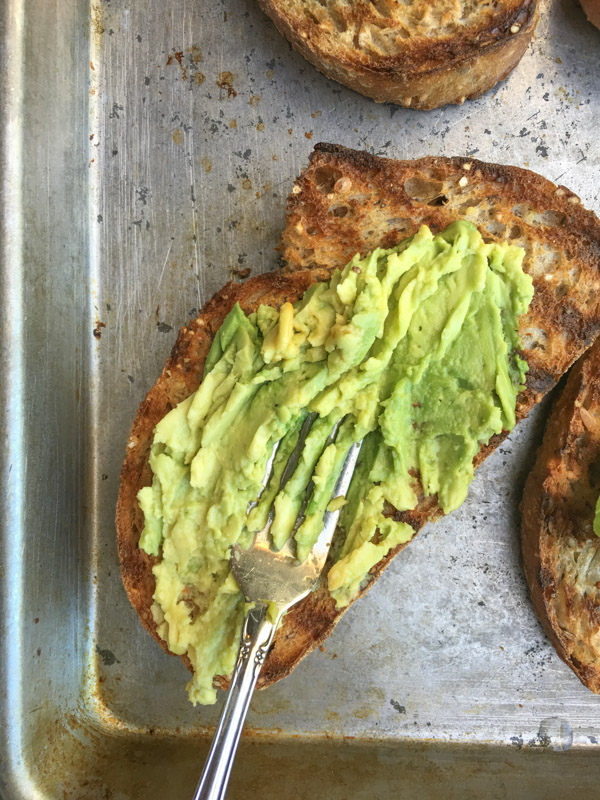 Kimchi topped.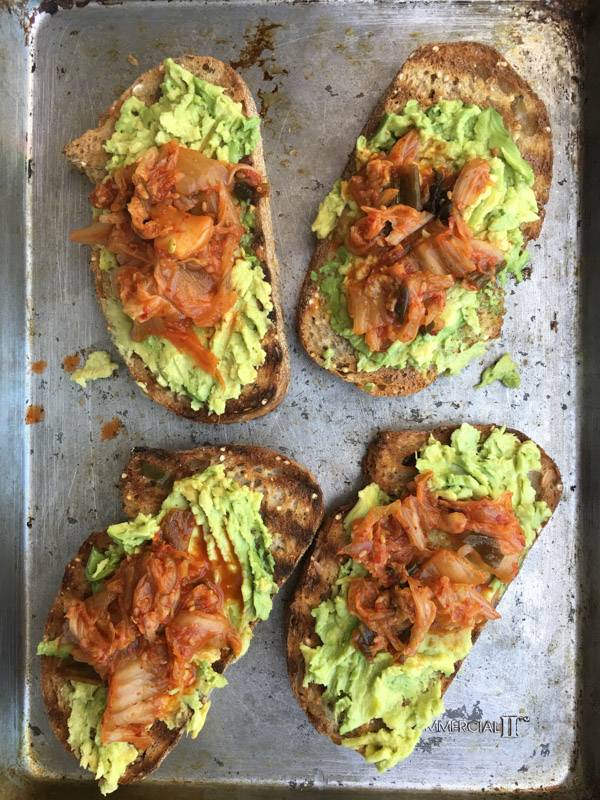 A drizzle here. A drizzle there.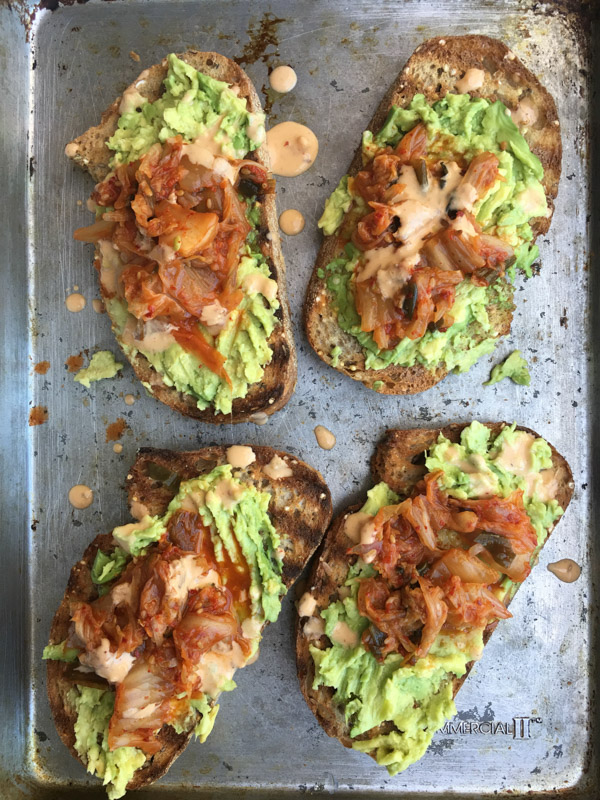 Sesame seed garnish.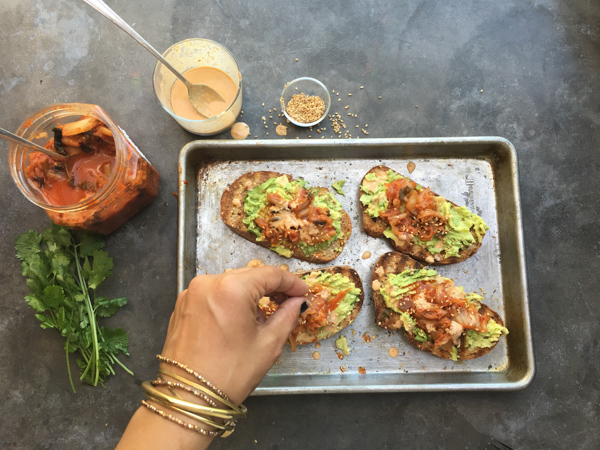 Serve them like this or cut them in half.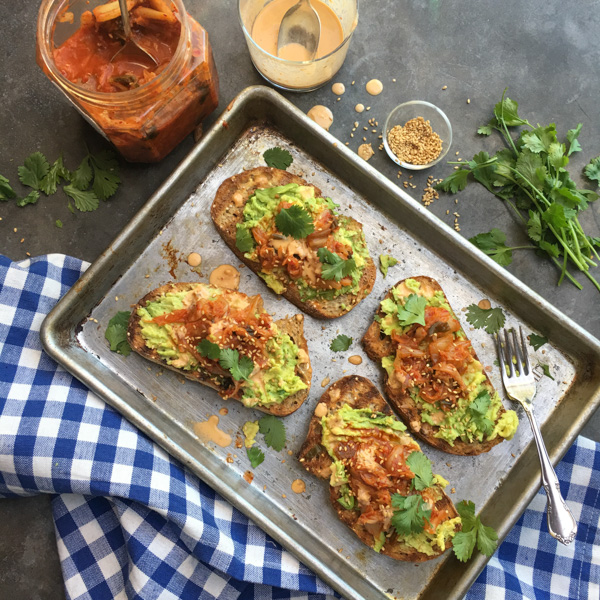 I'll take all 4 please.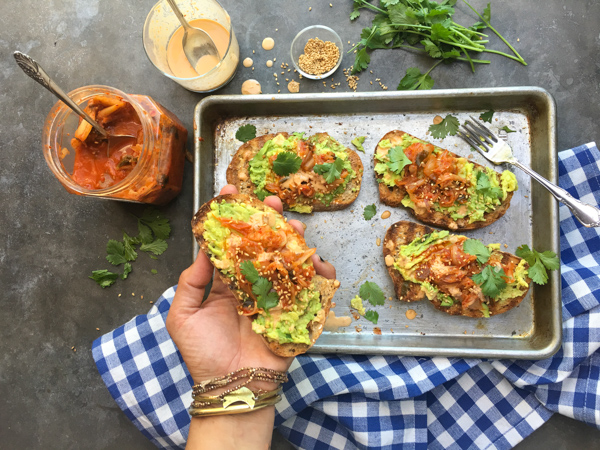 Spicy, creamy, nutty, seedy, tangy goodness. Not your average avocado toast.
Avocado Kimchi Toast

makes 4

recipe slightly adapted from Small Victories

2 tablespoons juice from kimchi jar, plus 1 cup drained cabbage kimchi, roughly chopped
1 heaping tablespoon tahini
kosher salt
1 ripe avocado, halved, pitted, peeled & sliced
4 large slices country bread, grilled or toasted
1 teaspoon toasted sesame seeds
a small handful of roughly chopped cilantro

In a small bowl, whisk together the kimchi juice and tahini. Add about 1 tablespoon warm water to thin out sauce. Season to taste with salt and set aside.

Place one-fourth of the avocado slices on top of each slice of toast and mash the avocado into the toasts with a fork. Sprinkle each one with a generous pinch of salt.

Divid the chopped kimchi evenly among the toasts and drizzle each with tahini mixture. Sprinkle the sesame seeds and cilantro evenly over the toasts, and slice each one in half. Serve immediately.