We spent every Thanksgiving with my Auntie Marilyn and Uncle Bob. Half of the time we went to my Aunt's house and then later, my mom later took over hosting duty. One thing never changed-the menu.
cheese + crackers (too many!)
vegetable platter + ranch sour cream dip
baked artichoke squares (my all time fave!)

Roasted Turkey + Gravy

Mashed Potatoes 

Sausage Chestnut Stuffing 

Pecan Topped Sweet Potatoes

Green Beans (later we replaced with creamed spinach)

Parker House Rolls

Cranberry Jell-o casserole (my guilty pleasure)
As kids, we were just as excited to see the sweet potatoes as we were to see my Aunt & Uncle. My aunt's sweet potato contribution was truly a labor of love, and even at a young age we knew that to be true.
Over the years, she figured out how to adapt the recipe to help feed growing kids.  She was delighted when her experiment with using canned sweet potatoes instead of roasting her own paid off. 
When I was in high school, my aunt lost her battle with cancer. It was the first major death in my family. Our first holiday without her was hard and it continued to be hard until we learned how to be OK with new traditions while preserving as many as we could.
Every year after her death, my Uncle Bob continued to come to our Thanksgiving with the sweet potatoes. He stood in the kitchen placing every single pecan on top of the orange hued casserole dish to make it ever. so. perfect.  He paused after every few rows of pecans, choking back the tears. I always watched in awe, as my dreams of being a caterer and working in the kitchen transpired. When the Pecan Topped Sweet Potatoes came out of the oven and onto the buffet table, us kids would circle around it like hawks. We tried our hardest to see how big of a scoop we could get away with before my mom told us to stop.
Every year we'd say grace and at least 3 people would tear up. We ate the sweet potato casserole to remember my aunt and to remember how many Thanksgivings we were all lucky to share together. Food is incredibly powerful that way.
In the year right before Casey and I were married, my Uncle Bob died suddenly of a heart attack. There was another empty place at our table.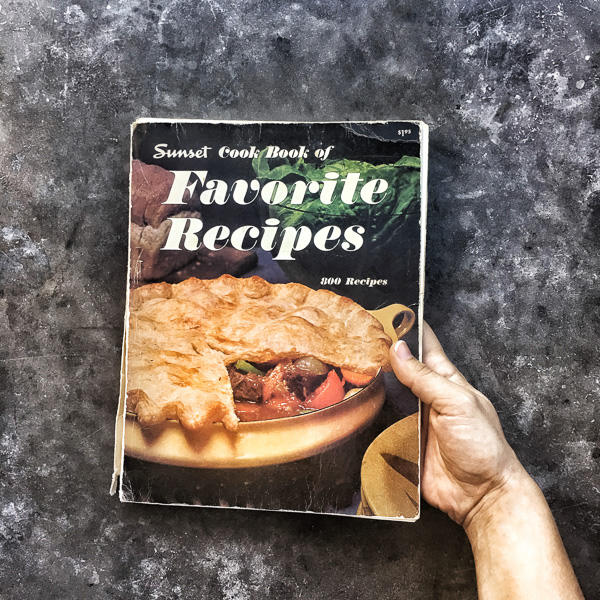 In gathering my Uncle's stuff, I was given his Sunset Magazine cookbook- the very one with the recipe my Aunt & Uncle used to make this sweet potato casserole.
It's a Thanksgiving tradition I've upheld for the past 10 years.
(Hey Mom- is this Auntie Marilyn's handwriting or Uncle Bob's?)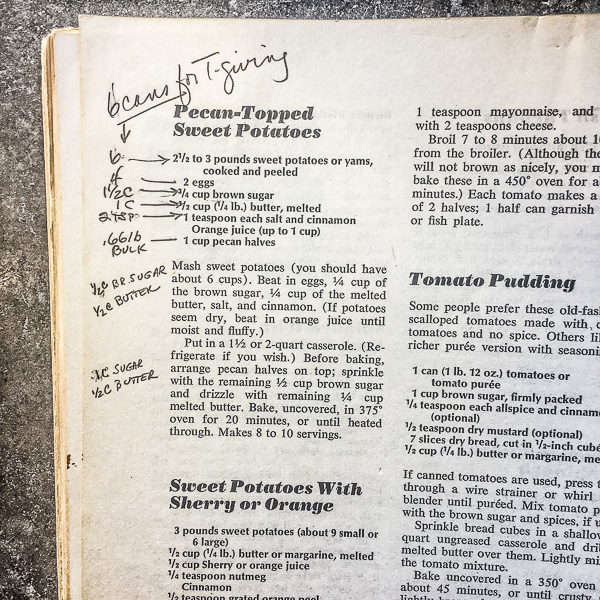 There are definitely a lot of sweet potato casserole recipes out there.
I had no idea that people put marshmallows on their sweet potatoes until I was in college! 
What does that even taste like??!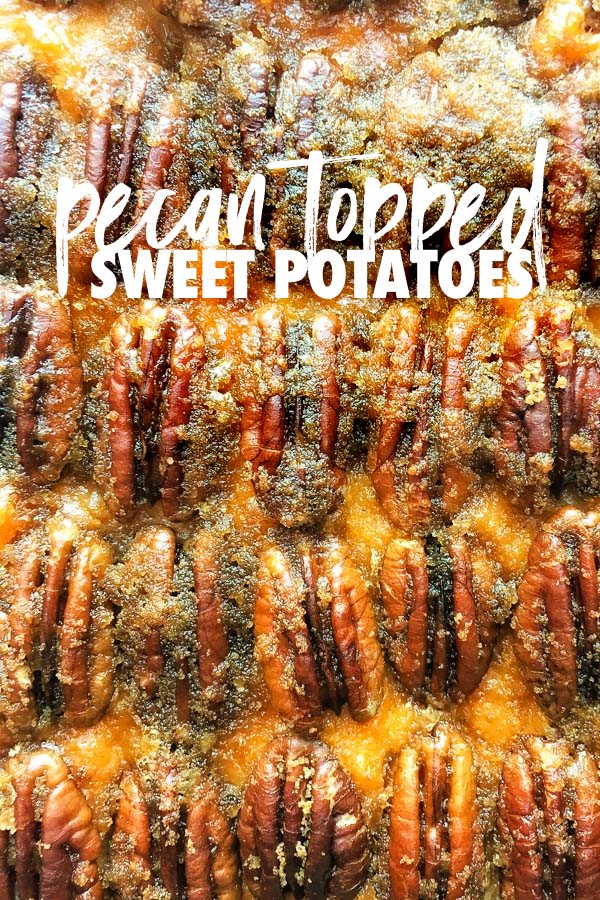 You probably have your own family's recipe.
This one is mine.
My Thanksgiving doesn't taste the same without it.
Let's gather our ingredients.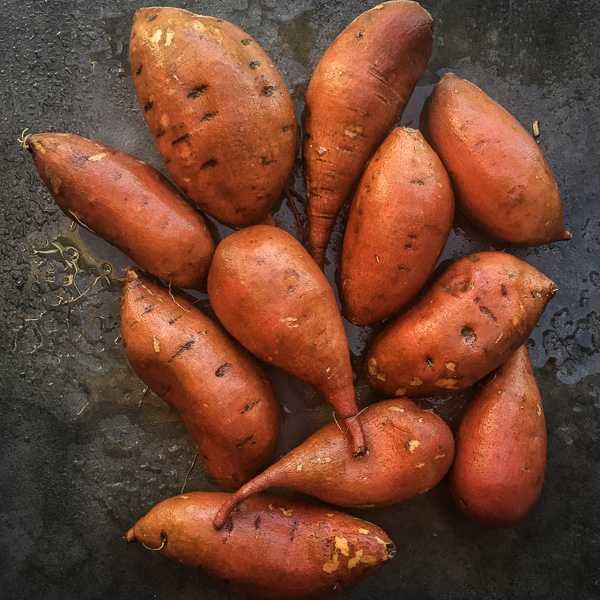 I peeled /cut up the sweet potatoes.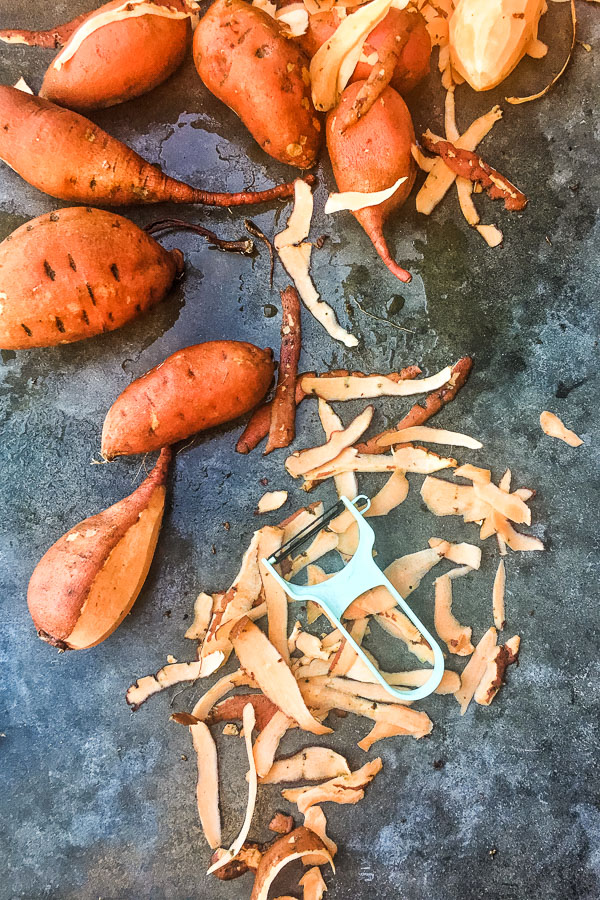 All for the purpose of boiling them.
Boil in hot boiling water and then simmer for about 8-10 minutes or until you pierce easily with a fork.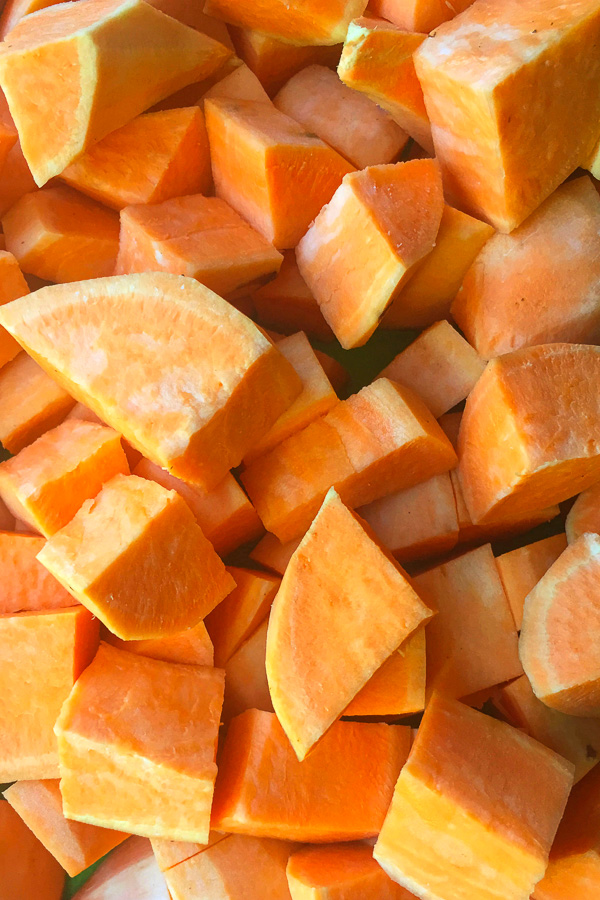 And this is what you'll need: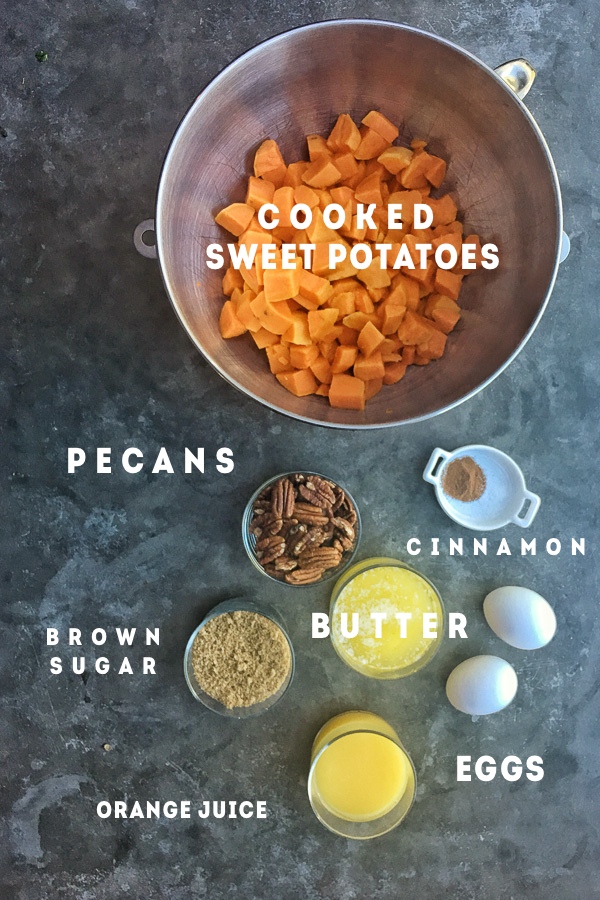 I used my kitchen aid mixer for this recipe!
Eggs, brown sugar, butter, cinnamon, salt.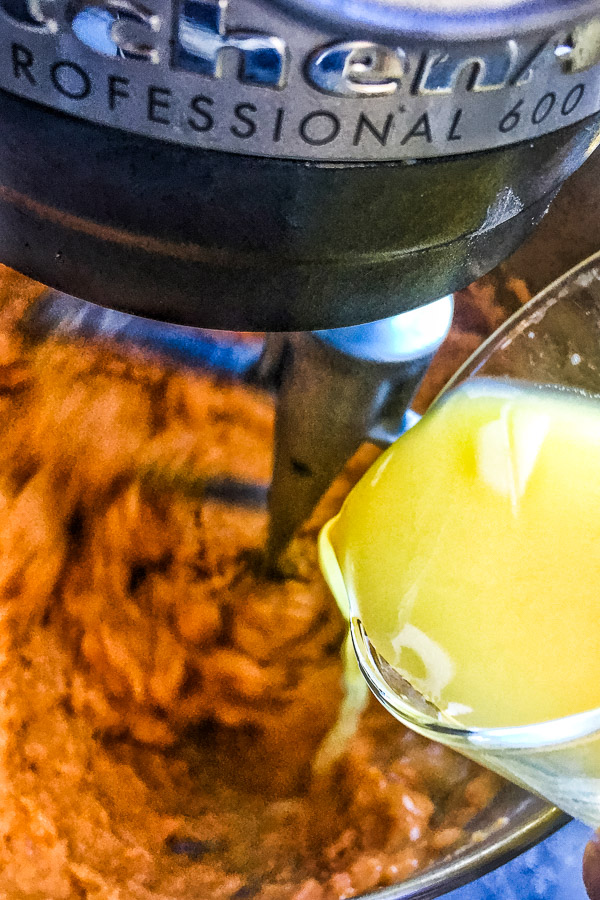 Followed by orange juice. Whip it up!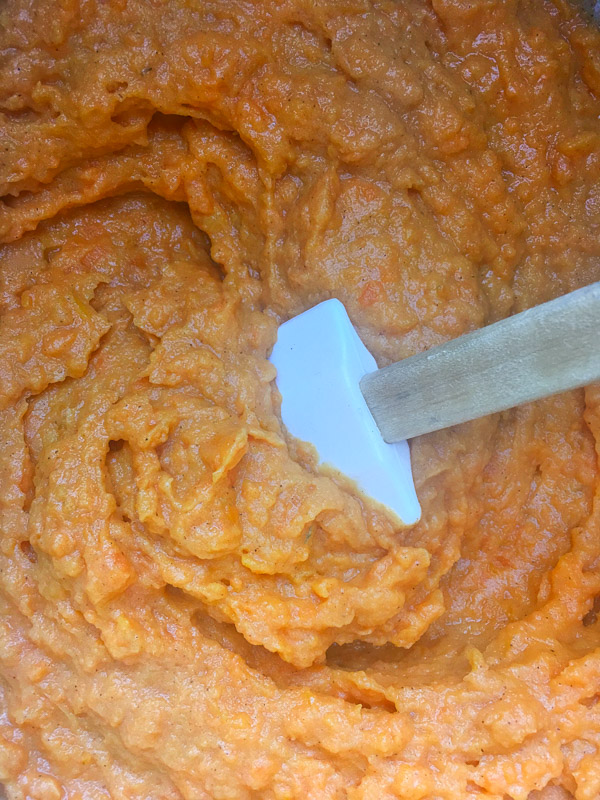 Let's get topping.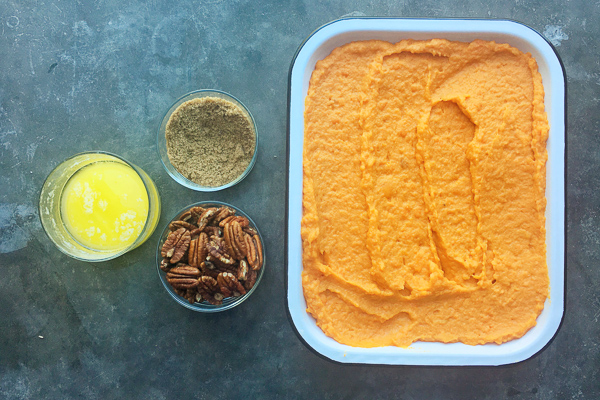 Therapy in lining things up.
Something good to focus on for a bit.
Could be a really good introvert tool. Just sayin'.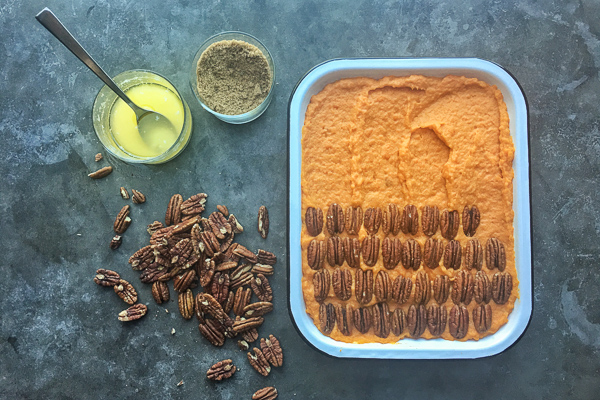 YES. YES. YES.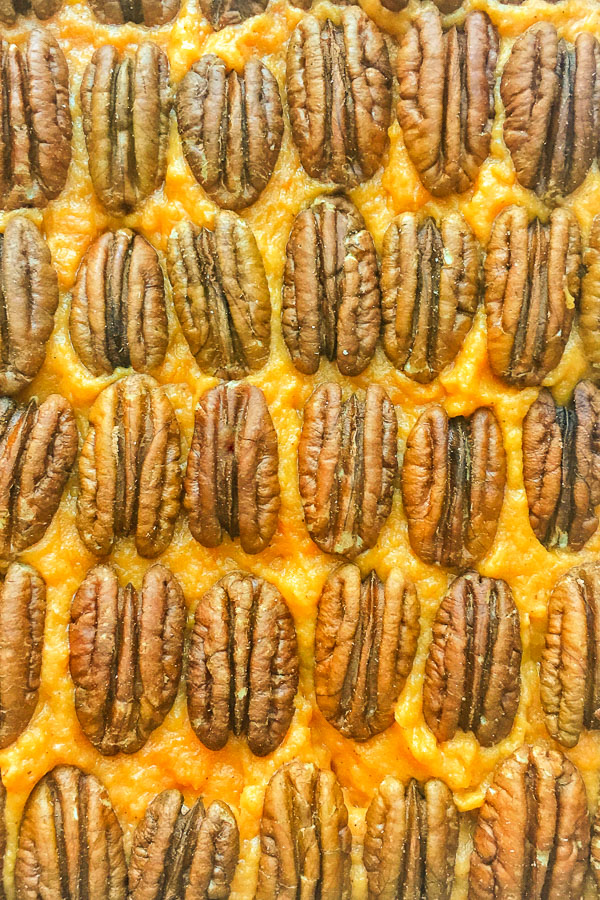 We're going to put butter and brown sugar on top! It caramelizes the pecans.
IT IS DELICIOUS.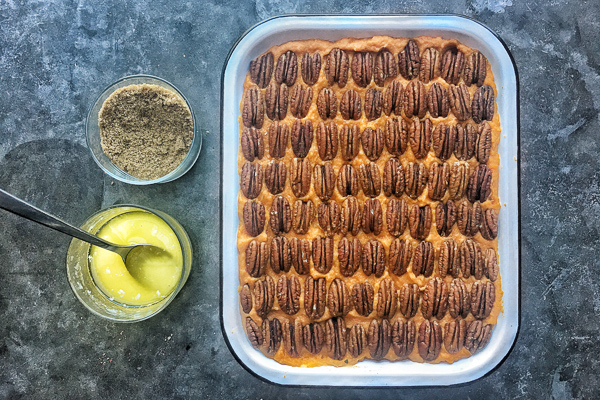 Don't believe me?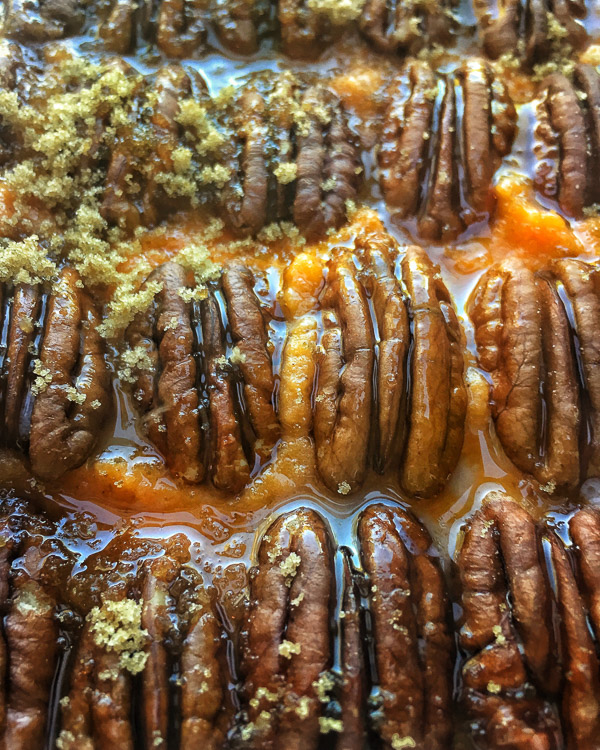 After a trip to the oven, look at this butter/sugar topping.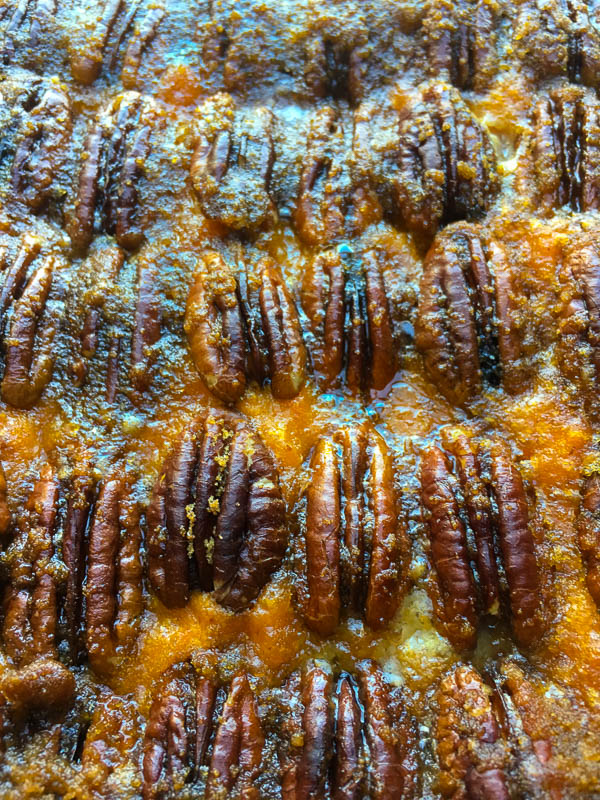 Who gets to dive in first?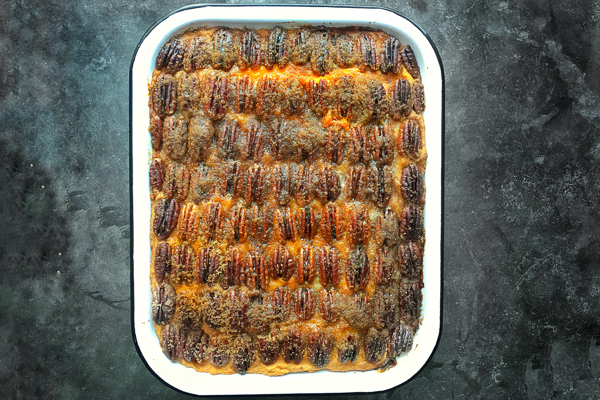 It's just as exciting as cracking into creme brûlée.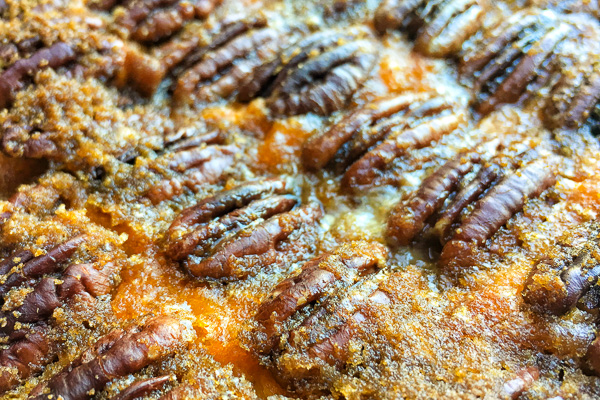 Dibs on the edge pieces.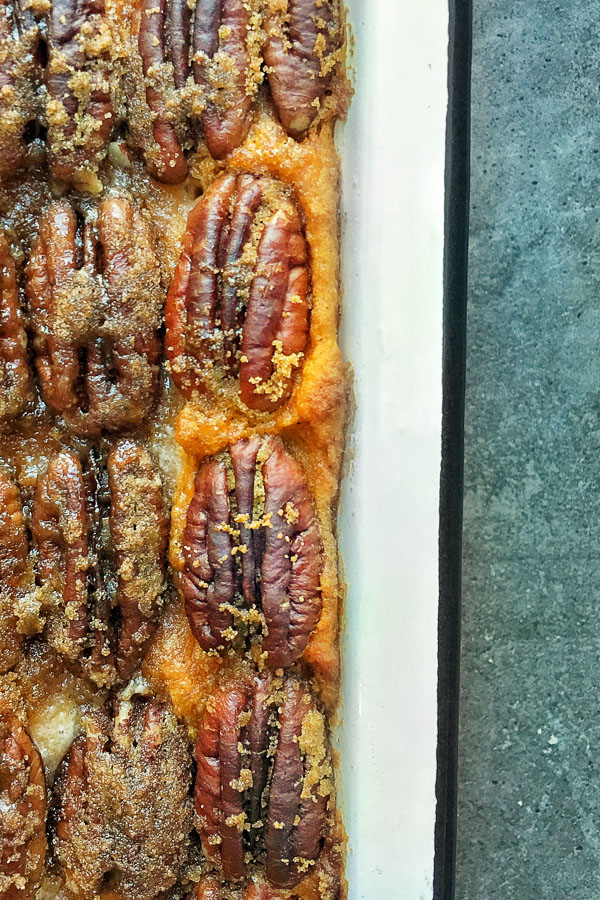 What's a tradition that you carry on for your family? 
Pecan Topped Sweet Potatoes

makes 8-10 servings

recipe slight adapted from Sunset Magazine 1971

3 lbs. sweet potatoes or yams, cooked and peeled
2 eggs
1 cup brown sugar
1/2 cup butter, melted
1 teaspoon salt
1 teaspoon ground cinnamon
orange juice (up to 1 cup)
1 1/2 cups pecan halves

Preheat oven to 375F.

Mash sweet potatoes (you should have about 6 cups). Beat in eggs, 1/2 cup brown sugar, 1/4 cup melted butter, salt and cinnamon. If sweet potatoes seem dry, beat in orange juice until moist and fluffy.

Put mashed sweet potatoes in a 2 quart casserole dish. Before baking, arrange peach halves on top; sprinkle with the remaining 1/2 cup brown sugar and drizzle with remaining 1/4 cup melted butter. Bake, uncovered for 20 minutes, or until heated through.