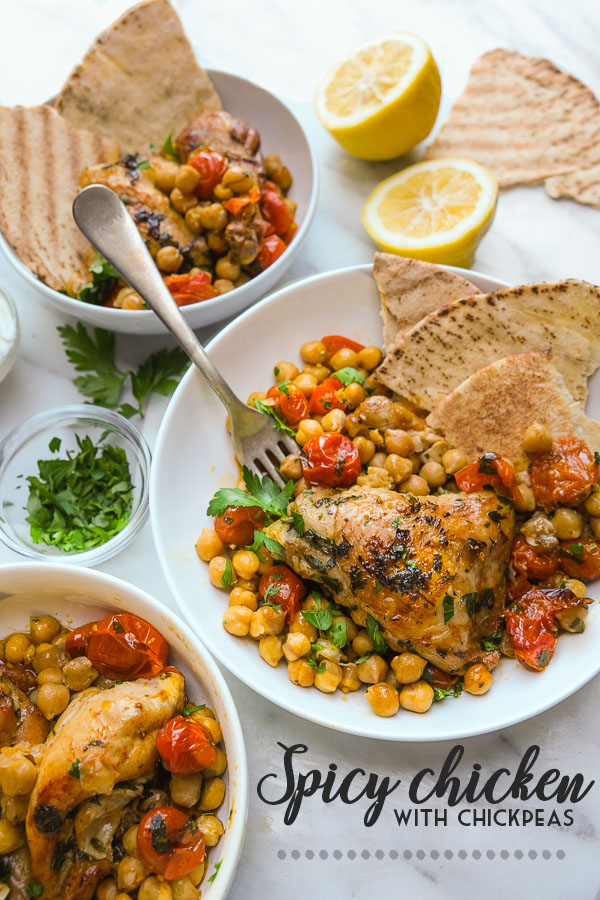 As much as I want to get on board with meal planning, I just never know what some of our weeknights will bring us.  An unexpected baseball victory celebrated with the team at a pizza parlor can get in the way of intended dinner plans.  Someone's late lunch can really throw off dinner plans too!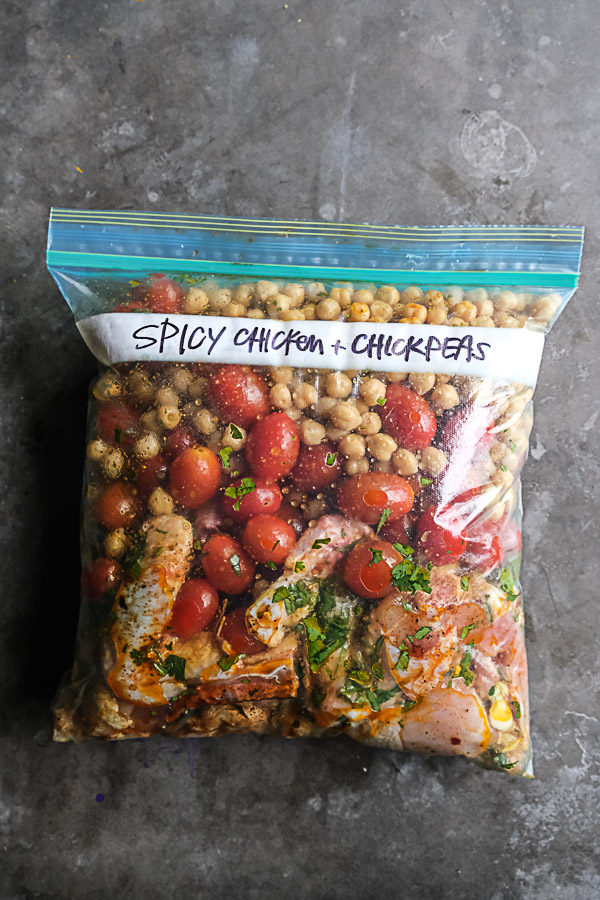 This Spicy Chicken with Chickpeas recipe is one of those dinners where it's OK if you don't make it the night you wanted to. What's the worst that could happen? The marinade will make the flavors develop overnight and your dinner plans the next night are still GO.
That means it's also really great for meal prep purposes!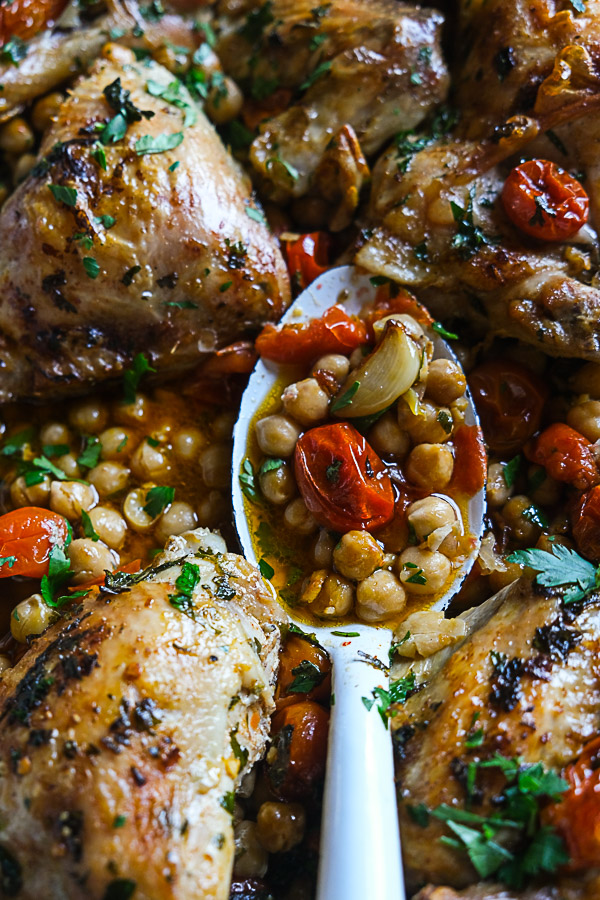 The leftovers can become something new the next day. You can make a salad out of it, serve with toasted pita and Greek yogurt. Mix in some couscous to make it extra hearty.
Welcome to the rotation, Spiced Chicken Chickpea dish!  You kinda remind me a little of the Curry Chicken with Coconut Rice I was obsessed with so many years ago.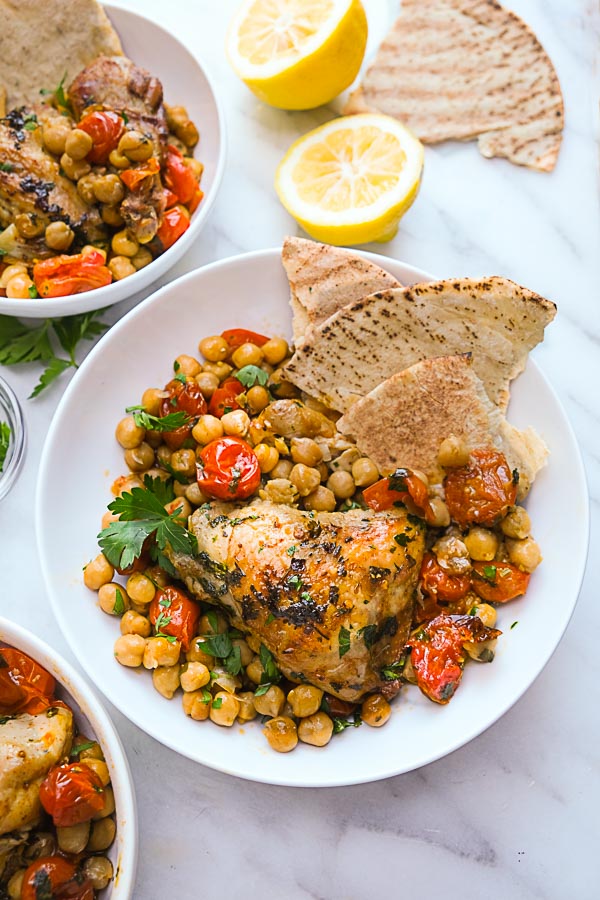 Let's gather our ingredients.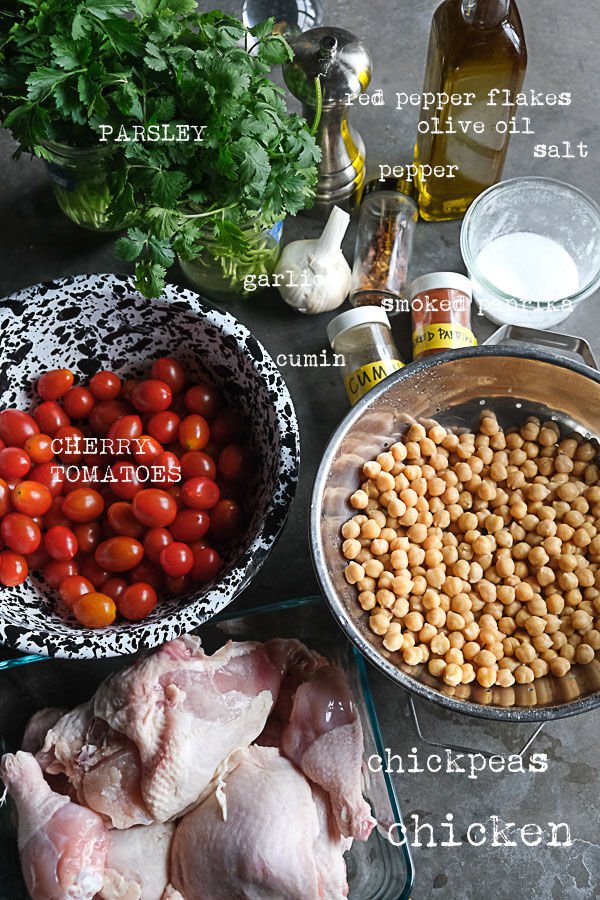 Make the marinade.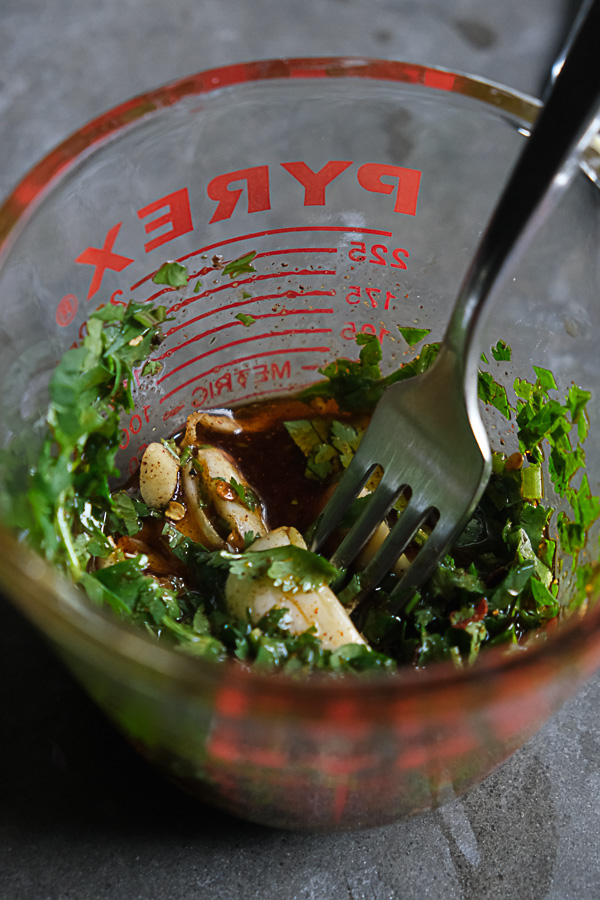 Toss the chicken, tomatoes and chickpeas in the marinade. Let sit for at least an hour – up to a day.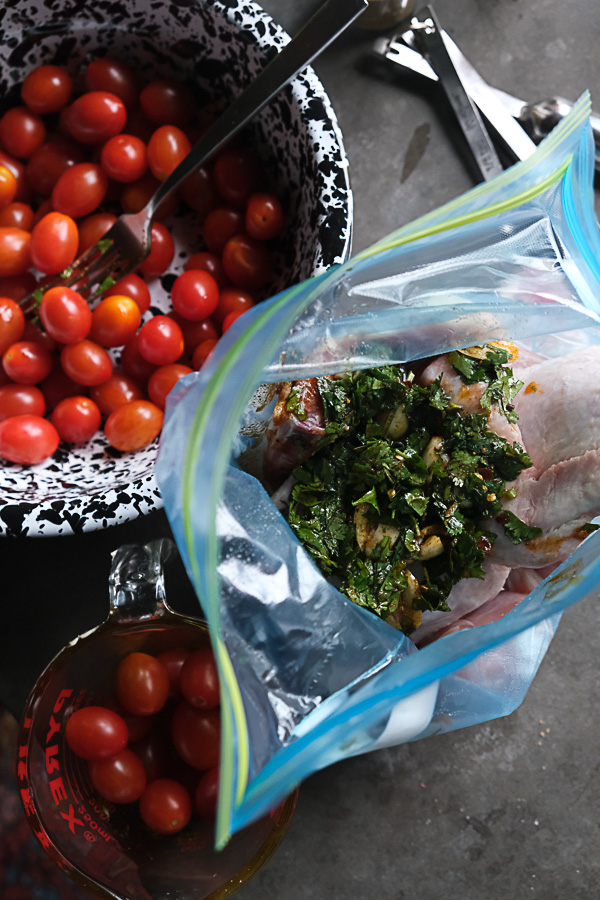 Dump! Roast!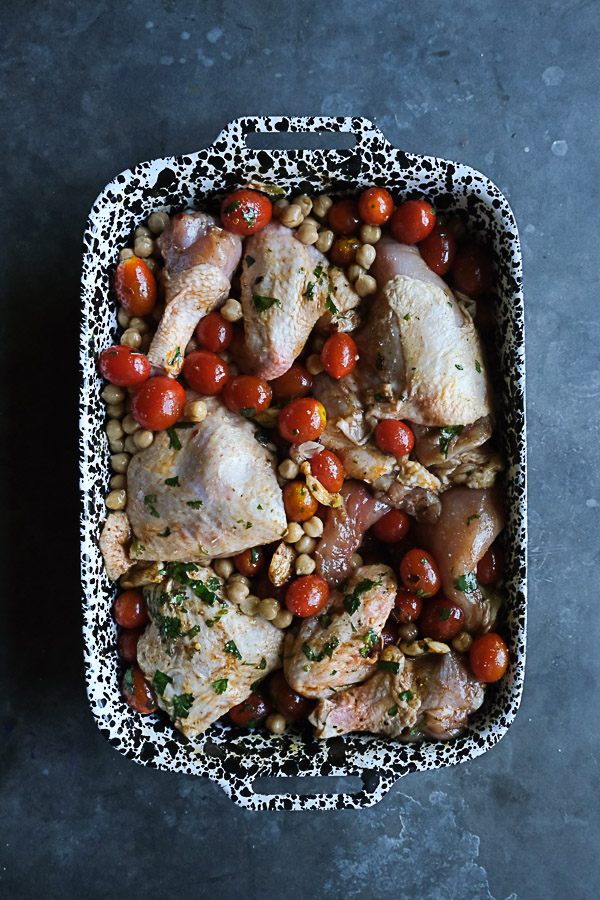 MMMM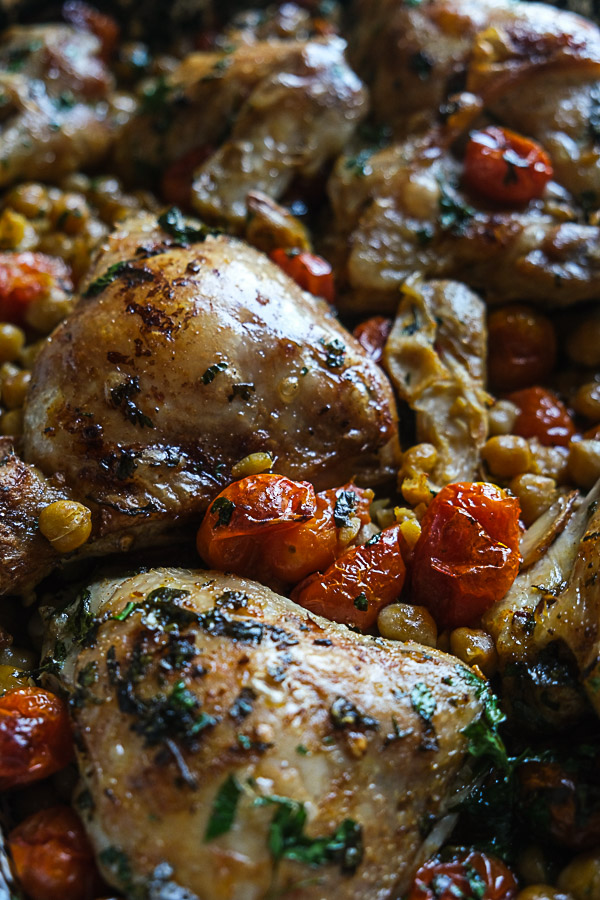 Those bursting tomatoes!
That juice!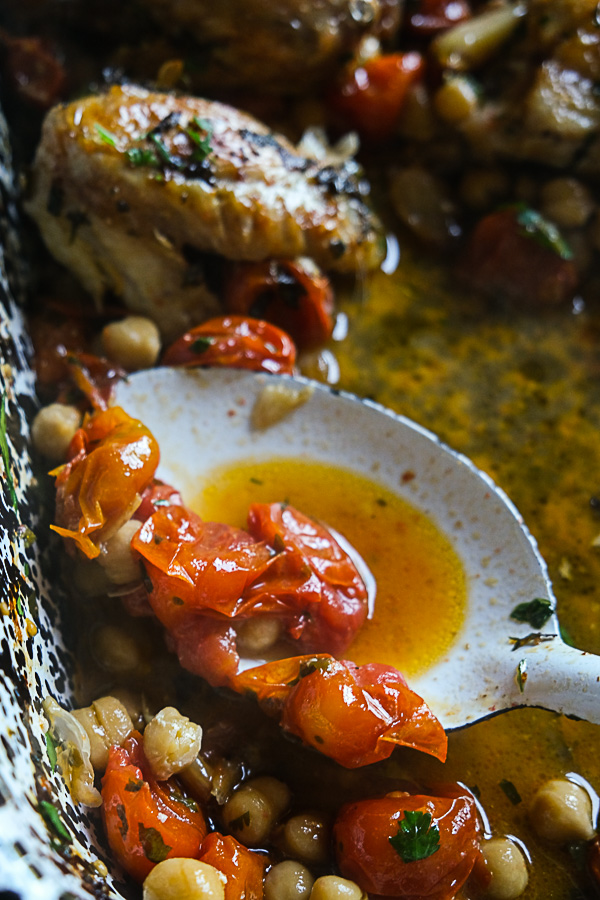 A very healthy dinner to get excited about!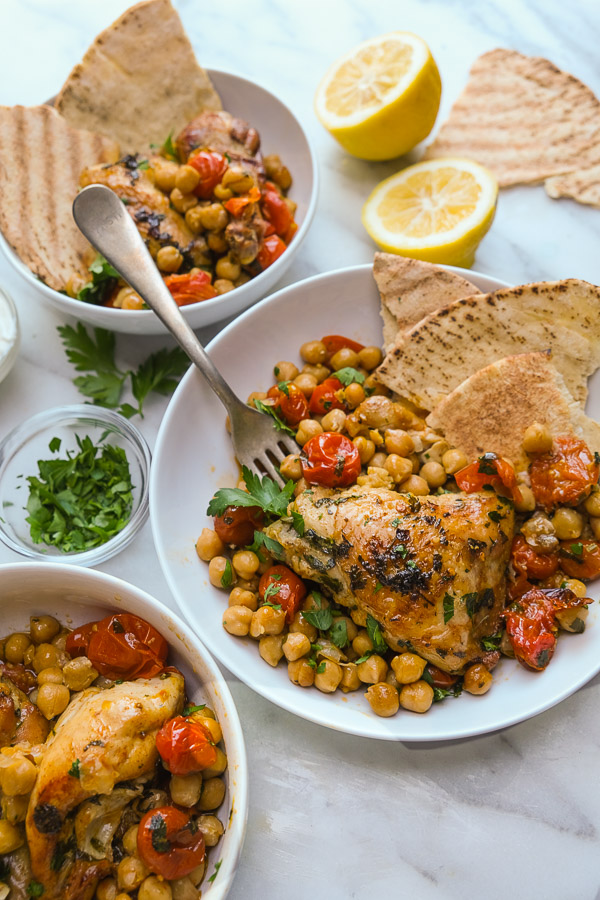 I can't wait for leftovers tomorrow!
Spicy Chicken with Chickpeas

serves 4-6

recipe slightly adapted from Mad Hungry Cravings

1/3 cup extra virgin olive oil
4 cloves garlic, smashed and peeled
1/2 cup chopped cilantro (or parsley) leaves, plus more for garnish
2 teaspoons smoked paprika
1  1/2 teaspoons ground cumin
1/2 teaspoon crushed red pepper flakes
2 tablespoons coarse salt
1 teaspoon freshly ground black pepper
1- 3lb. chicken, cut into serving pieces
2- 15 oz. cans chickpeas, drained
2 pints cherry or grape tomatoes

Mix together the oil, garlic, cilantro, paprika, cumin, red pepper flakes, salt, and pepper in a bowl. Transfer the marinade to a zip-top bag or a large container and add the chicken, chickpeas, and tomatoes, making sure that everything is evenly coated. Marinate in the fridge for a few hours, all day, or overnight.

When ready to cook, preheat the oven to 450F. Place the chicken and other ingredients, including any marinade into a large roasting pan. Roast until chicken is cooked through and browned and the tomatoes have burst and are caramelized, about 30-35 minutes.  Garnish with fresh chopped cilantro (or parsley).