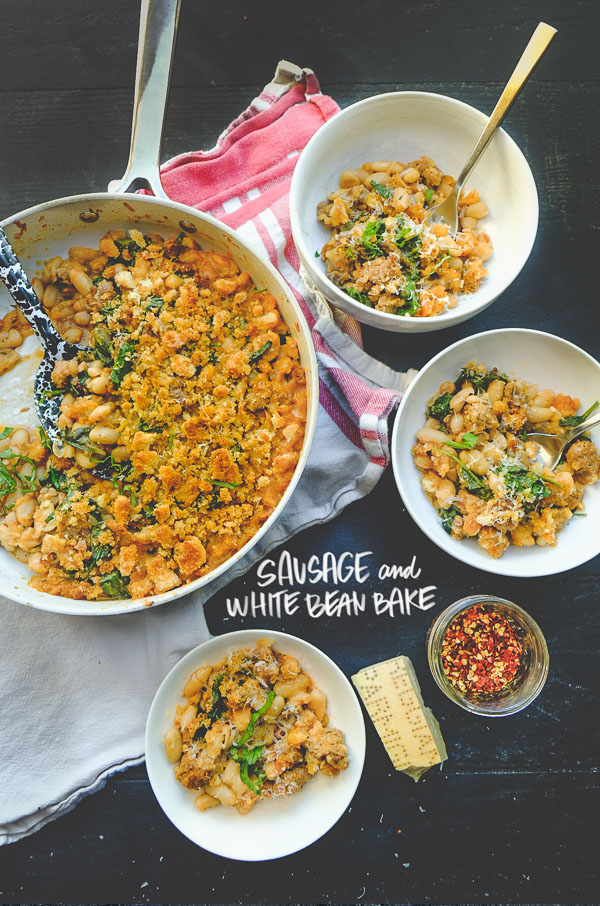 I'm on the lookout for recipes that are hearty, easy to make, and will provide leftovers that we can easily heat up for a few meals after. Mostly because I have lost my steam in the kitchen and don't really want to keep cleaning it since we've been at home for what feels like 500 days now. I made a recipe like this Sausage White Bean Bake back in 2008 and I don't know why it took me this long to work something like this back into the rotation cuz it's exactly what I need right now on cold winter nights,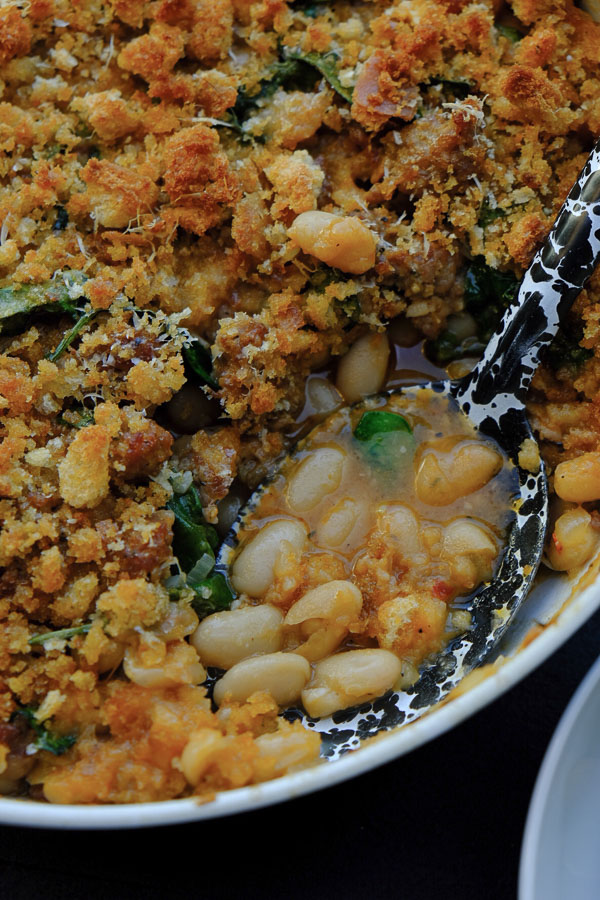 So, welcome back into the rotation hearty BEAN recipe! I made this even easier for myself and subbed in red wine vinegar for white wine cuz I didn't have any to open.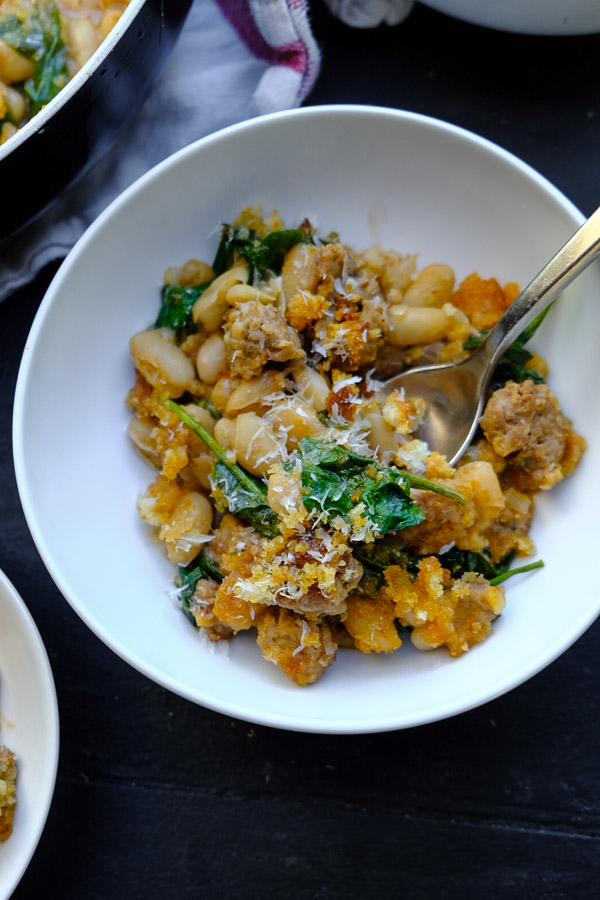 The leftovers are fantastic, I'm happy to say. On day two, I heated some up in a bowl with marinara sauce and OMG divine.
Ingredients involved: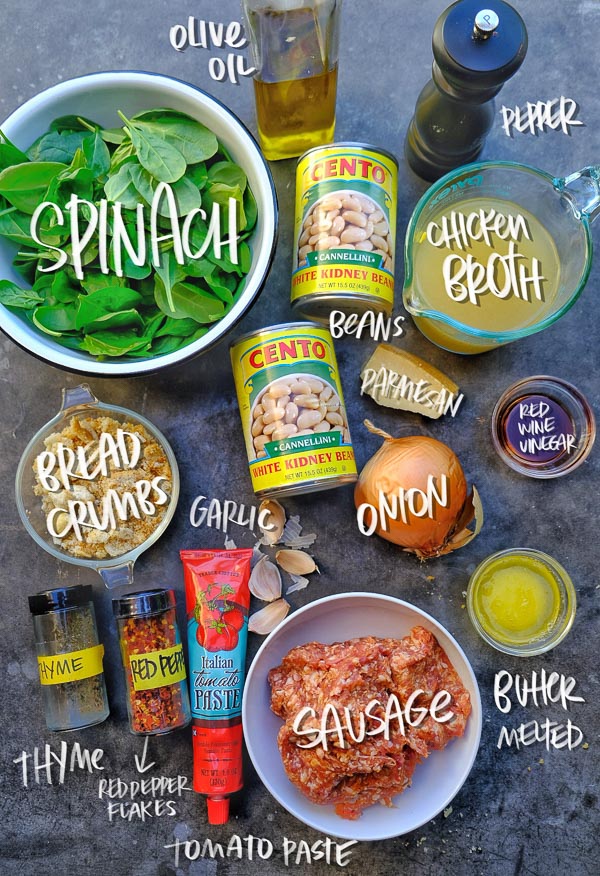 First, we brown the sausage. Set aside and use that oil for the onions.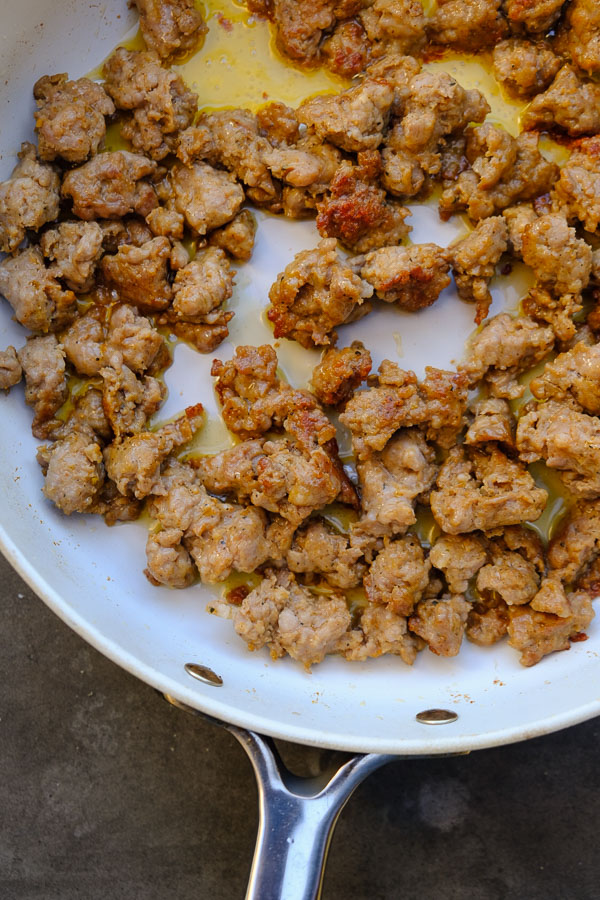 Melted butter goes into the bread crumbs. MMMhmmm.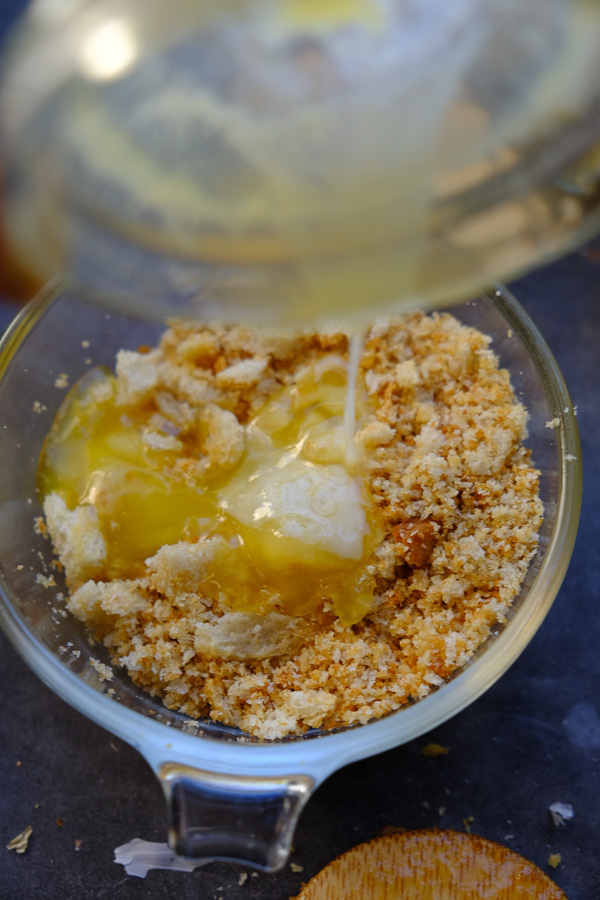 Onions and garlic get their sweat on.
Tomato paste and thyme enter the picture.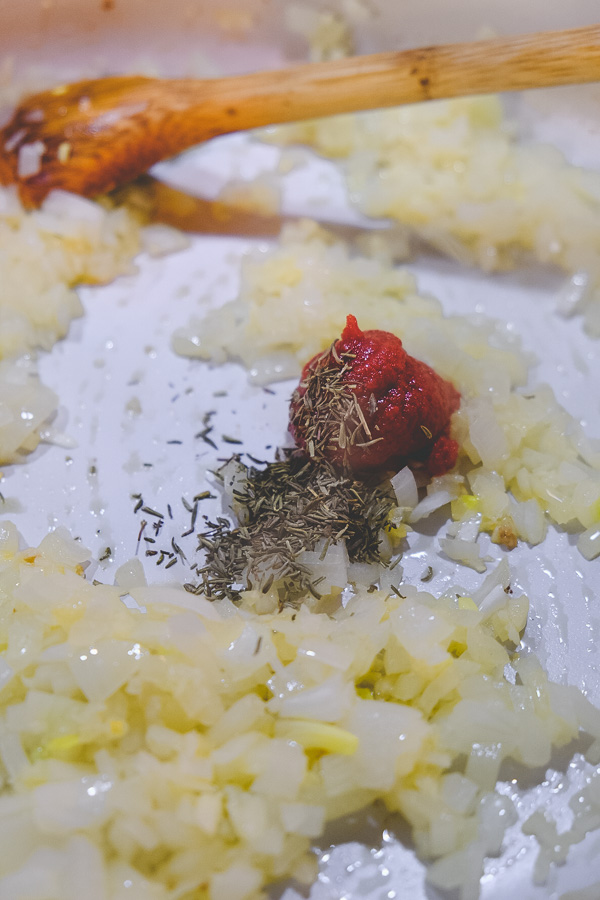 Red wine vinegar goes into for a little pizzazz.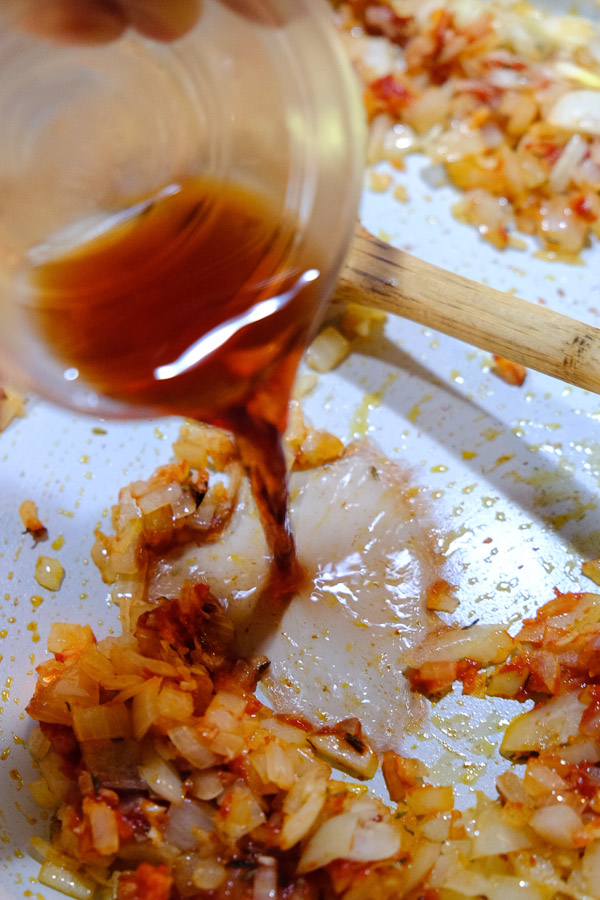 Sausage and beans enter.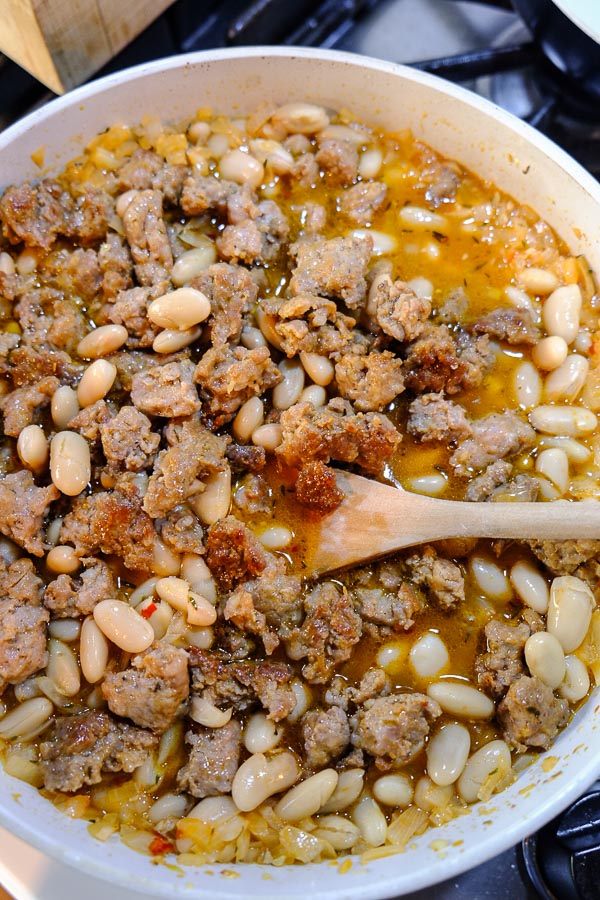 Mixture should remain a little saucy!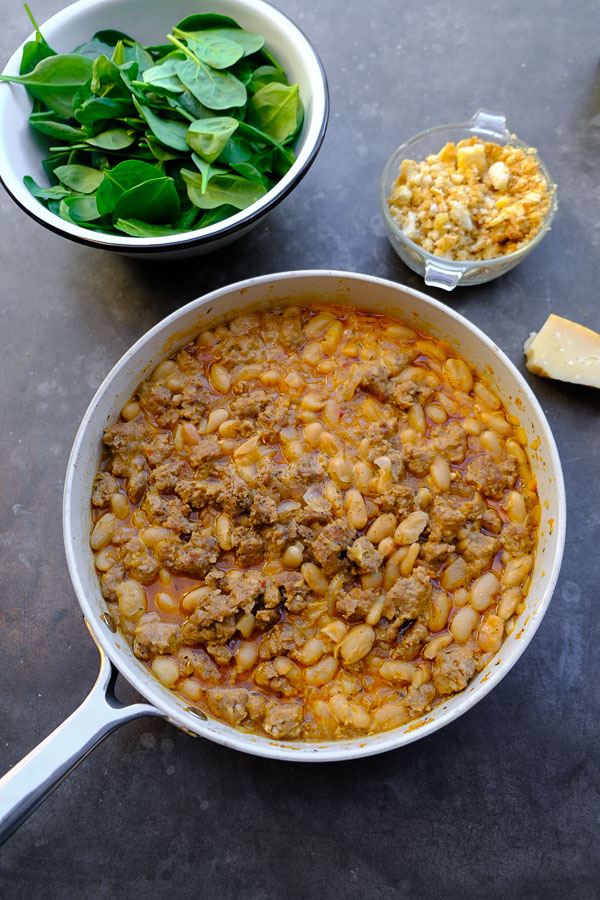 Fold in your spinach.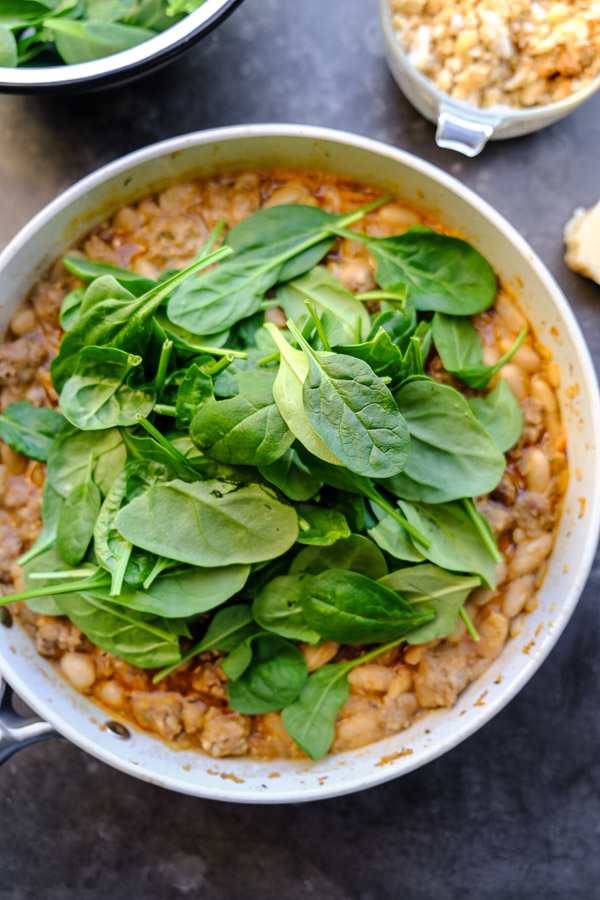 It wilts fast!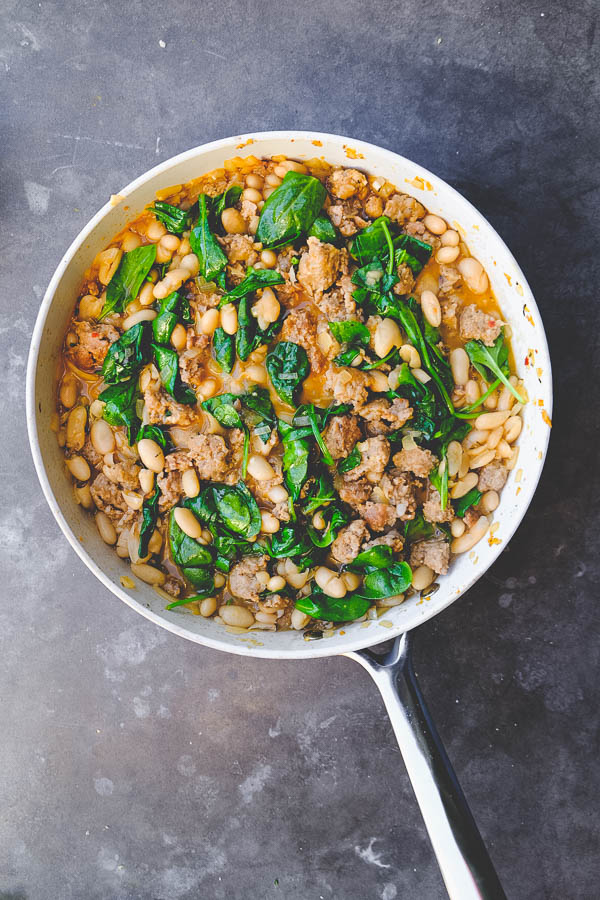 Now we top with Parmesan and bread crumbs!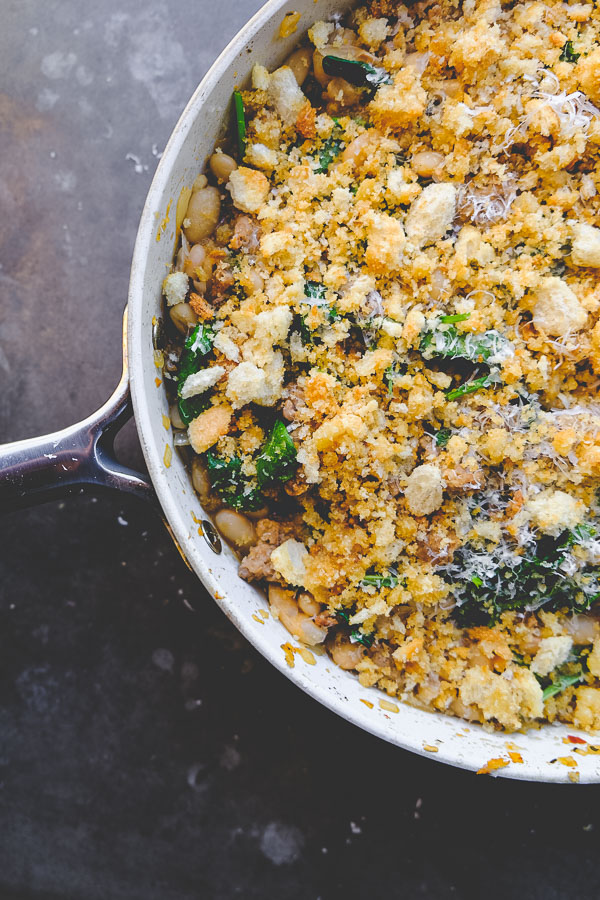 BAKE!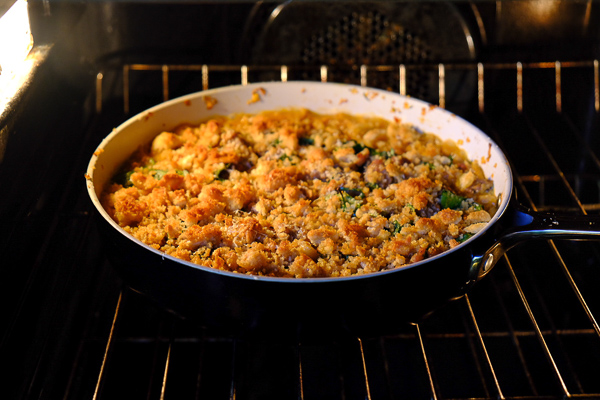 Let it sit for about 10 minutes before serving.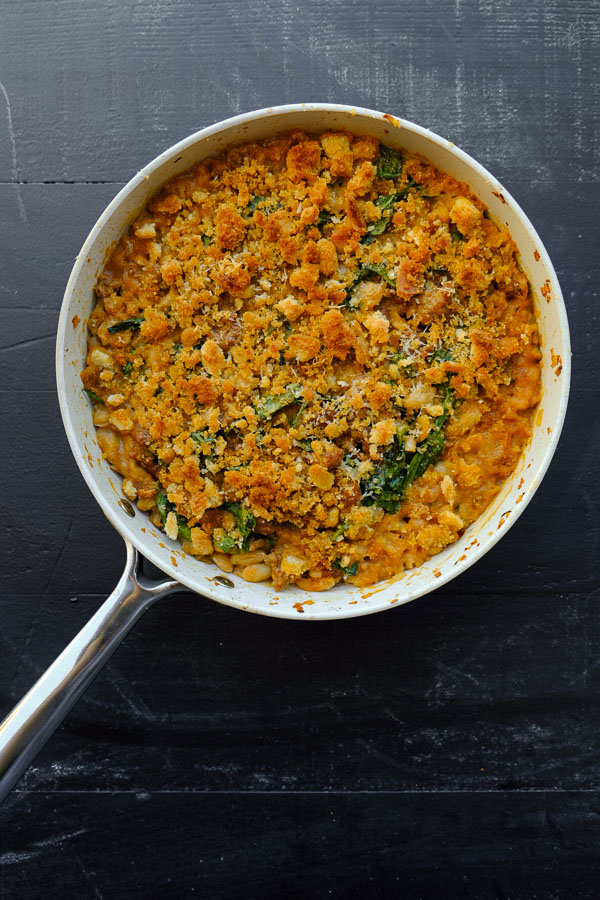 Scoop up into bowls and dig in!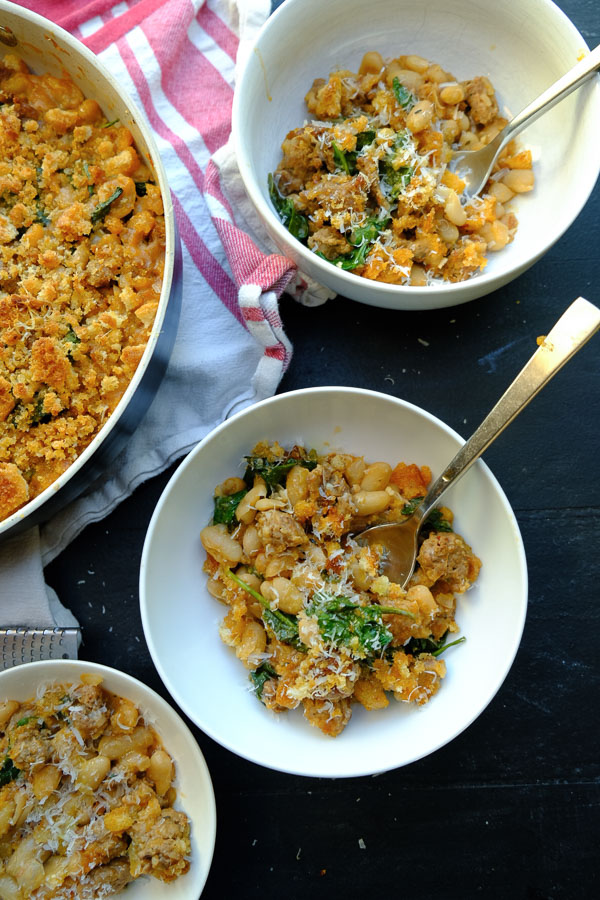 Hooray for leftovers!
Sausage and White Bean Bake

serves 6

recipe adapted from Keepers

3/4 cup bread crumbs
2 tablespoons unsalted butter, melted
kosher salt
1 tablespoon olive oil
1 lb. Italian sausage, casings removed
1 small yellow onion, chopped
4 garlic cloves, minced
1 heaping tablespoon tomato paste
1 teaspoon dried thyme
1 tablespoon red wine vinegar
1 1/2 cups chicken broth
2 15.5 oz. cans white beans, drained and rinsed
fresh ground pepper
pinch red pepper flakes
4 large handfuls of baby spinach
grated parmesan, for topping & serving

Preheat oven to 425F with rack in the middle position. In a small bowl, combine the panko and butter, season with salt, and set aside.

In a large ovenproof skillet, heat the oil over high heat until it shimmers. Add the sausages and cook, stirring often and breaking up the meat, until browned, about 4 minutes. Leaving as much oil in the pan as possible, transfer the sausage to a medium bowl and set aside.

Reduce the heat to medium-low, add the onions and garlic and cook until onions are softened, about 8 minutes. Add the tomato paste, thyme and vinegar and stir into the onions and cook for about 1 minute.

Add the broth and bring to a simmer, then add the beans and cooked sausage. Season with salt, pepper, and red pepper flakes, stirring occasionally for about 5 minutes. Take the mixture off the heat and stir in spinach. Top evenly with a heavy hand of grated Parmesan followed by the bread crumbs and bake until bubbling and the top is golden brown, about 15 minutes. Let rest for about 10 minutes before serving.