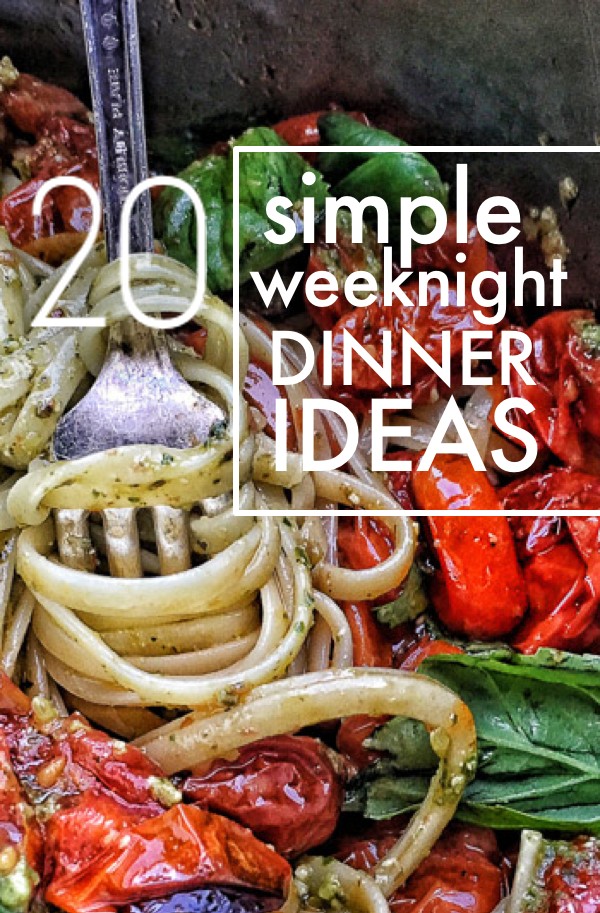 It's Monday. There's a good chance you haven't even thought about what you're going to eat this week. It's cool. I too have no idea. I went through some pictures on my phone this morning to find some inspiration and forgot about some of my family's favorite dinners.
Let me inspire you with 20 Simple Weeknight Dinner Ideas: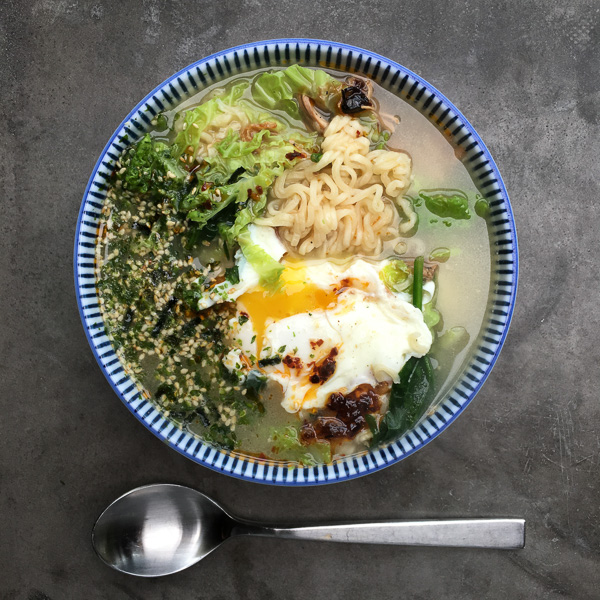 1. Fancy Ramen
A package of ramen (yes! Top Ramen!) is fortified with a ton of spinach, some seaweed, sesame seeds, sesame oil and an egg! Hot sauce for good measure. You can see more on how I cook the egg in the ramen in this Smoked Salmon Ramen recipe.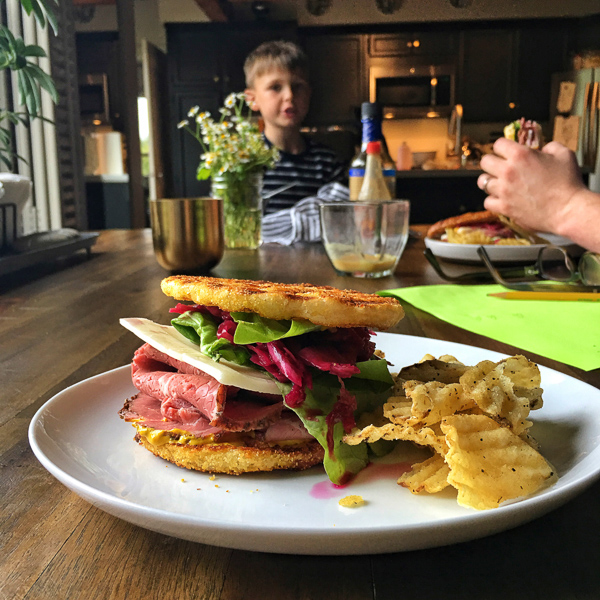 2. A Big Ass Sandwich
I think the one pictured above is a hot pastrami sandwich with cheddar, beet sauerkraut and mustard. Served with chips!  I almost never eat a sandwich at lunch time, so I make up for it sometimes by throwing together one for dinner.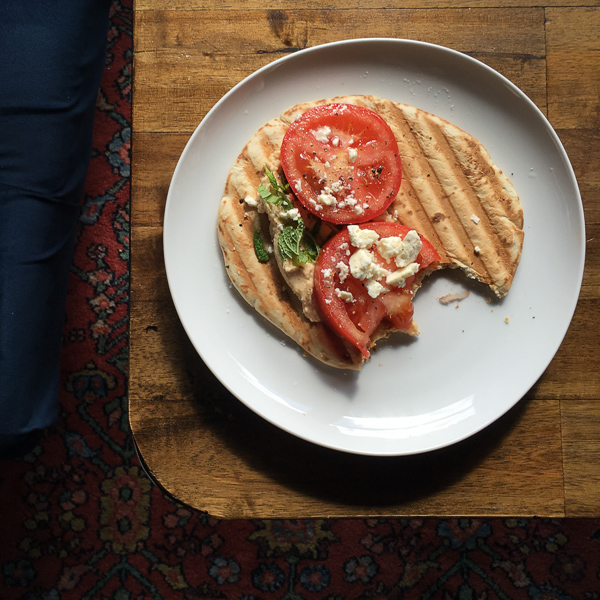 3. Grilled Flatbread Sandwich
I grill a flatbread in my panini press  and topped it with hummus, sliced tomatoes, fresh mint, feta, salt/pepper and a squeeze of lemon juice and a spritz of olive oil.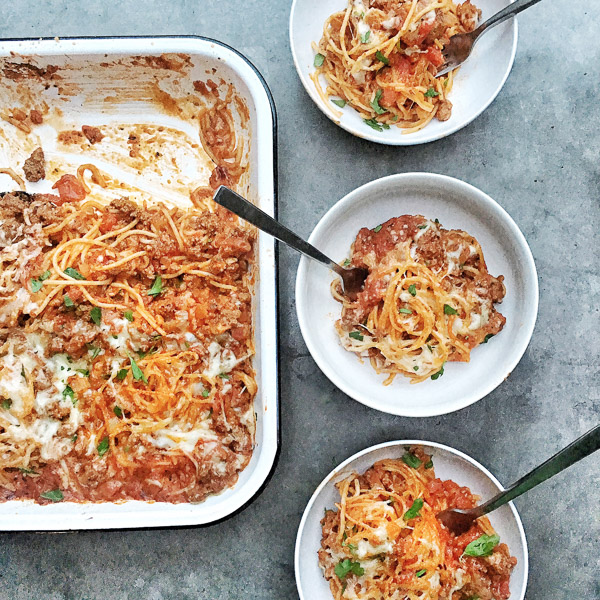 4. Baked Spaghetti with Meat Sauce
Really so simple and satisfying. It's always nice to have pasta leftovers (cold!) the next day.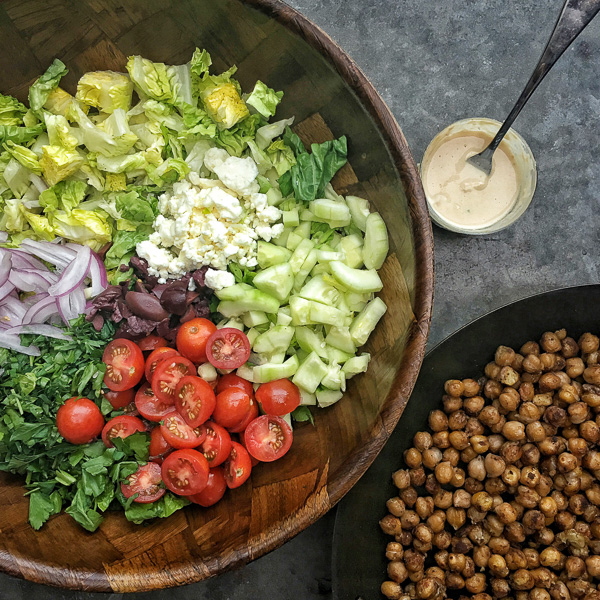 5. A Gigantic Chopped Salad
A perfect way to relieve the tension from work- CHOP A BUNCH OF THINGS. I got my aggression out on this Chopped Salad with Spiced Chickpeas a few weeks ago.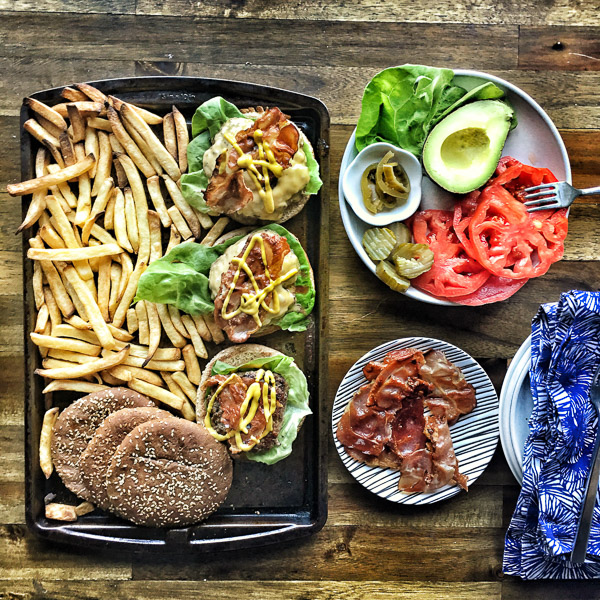 6. Cheeseburgers and Fries
My family loves this option because (FRIES!). I tried making my own fries once and it was a lot of work. I buy frozen fries and plop them in the oven. I cook our burgers in a cast iron skillet because it helps get a nice crust! On these particular burgers, I had some prosciutto in the fridge to get rid of so I cooked the pieces in the skillet. It was like having bacon cheeseburgers.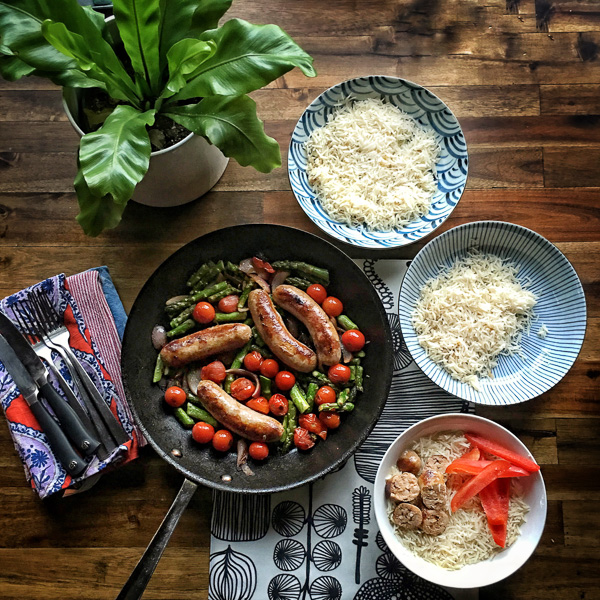 7. Roasted Sausage, Tomatoes & Asparagus
I put everything on one baking sheet in the oven at 400F for about 30-35 minutes with a little glug of olive oil, salt & pepper.
Serve with rice. The tomatoes get so juicy.
8. Roasted Tomato Pasta with Basil
If you have leftover tomatoes, roast them! 400F for 20-30 minutes with olive oil, salt & pepper. Boil pasta/drain/stir in tomatoes, fresh basil, salt/pepper/and a nice spoonful of pesto. Dinner winner.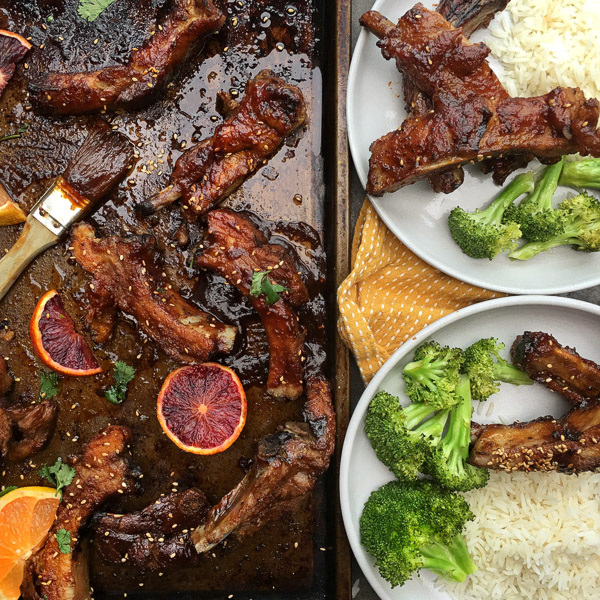 9. Oven Baked Ribs
The second I get home from work, I get ribs going in the oven. This means between 4-6 I can go about my business and finish dinner off around 6:30. This weeknight dinner is Orange Soy Glazed Ribs!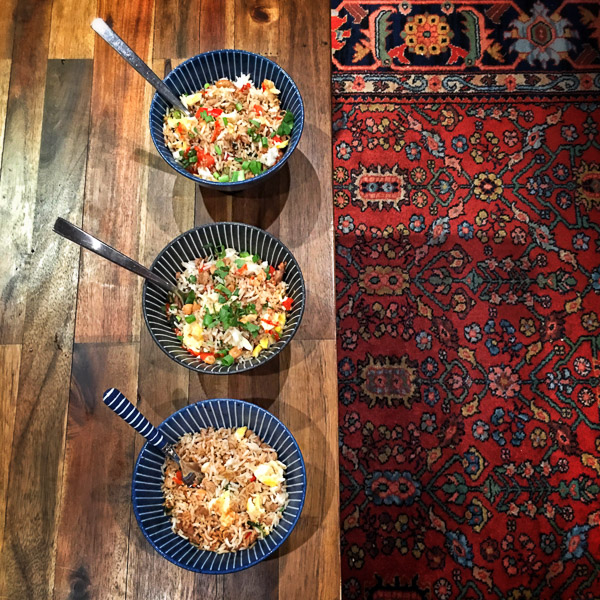 10. Fried Rice
I usually have some rice in our fridge for my meal prep so I can make a quick fried rice with it. If I have bacon, it turns into Bacon Fried Rice!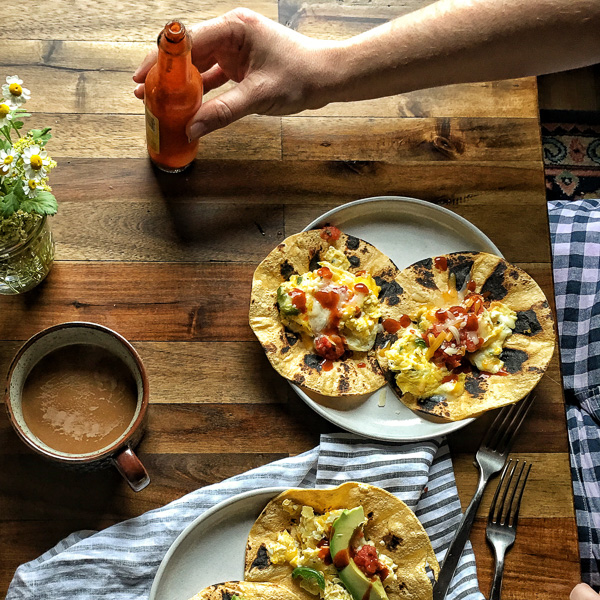 11. Breakfast (for dinner!) Tacos
Eggs + Cheese + Avocado + Hot Sauce = Breakfast Tacos!!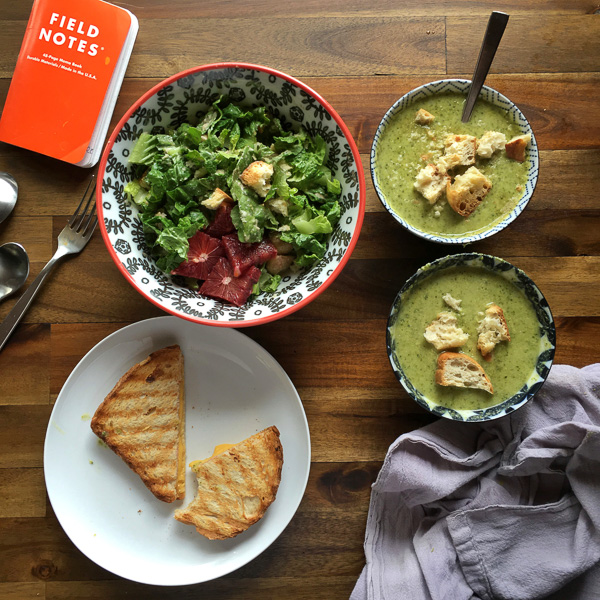 12. Soup/Salad/ Grilled Cheese
I always have a few portions of soup tucked away in our freezer. I just defrost and reheat and serve with a grilled cheese sandwich and soup. This particular soup is one of my favorites- Cream of Spinach Soup.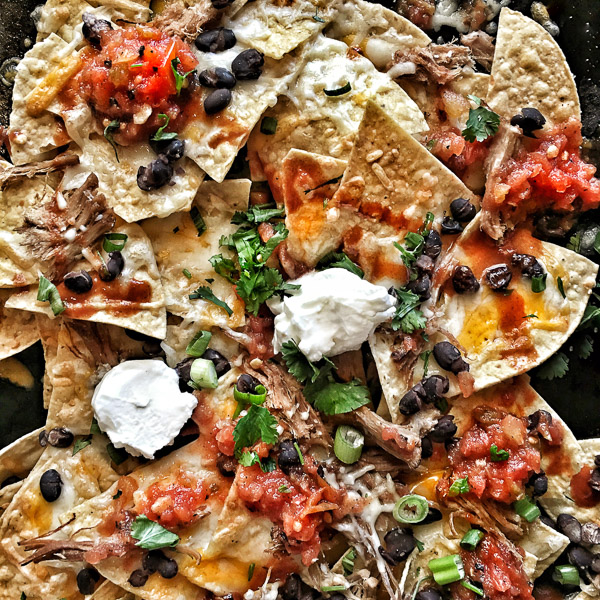 13. NACHOS
Need I say more? It's my go to dinner for Casey and I when he's super hungry and I have little time. Put it all on a baking sheet and broiler! Or… you can make your own nacho cheese sauce. Check out this Nacho Party situation…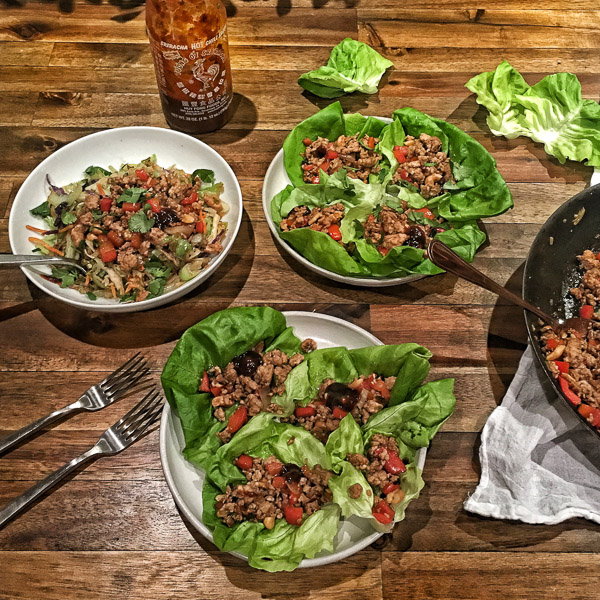 14. Chicken in Lettuce Cups
These are one of the simplest things to make. Just cook ground chicken with red peppers, sauce & cashews and serve them in lettuce cups. My family LOVES this recipe.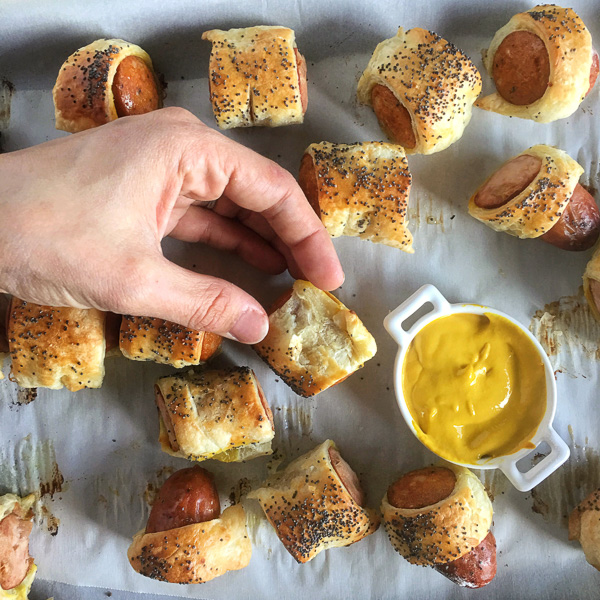 15. Pigs in Blankets 
All you need is some dough, hot dogs & mustard— OH! And poppy seeds and a little oven time and you are good to go. Here's how to do it.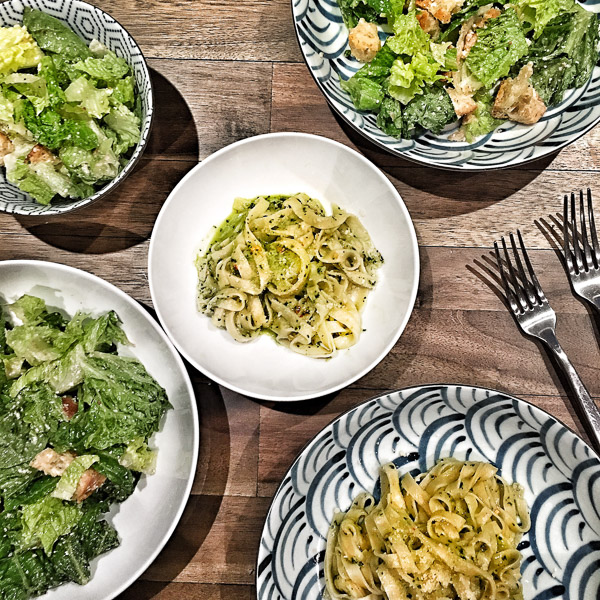 16. Pesto Pasta & Caesar Salad
If you're a pesto fan like I am, you'll want to keep a jar of pesto in your fridge for last minute dinners like this pesto fettucini dish served with a simple Caesar Salad.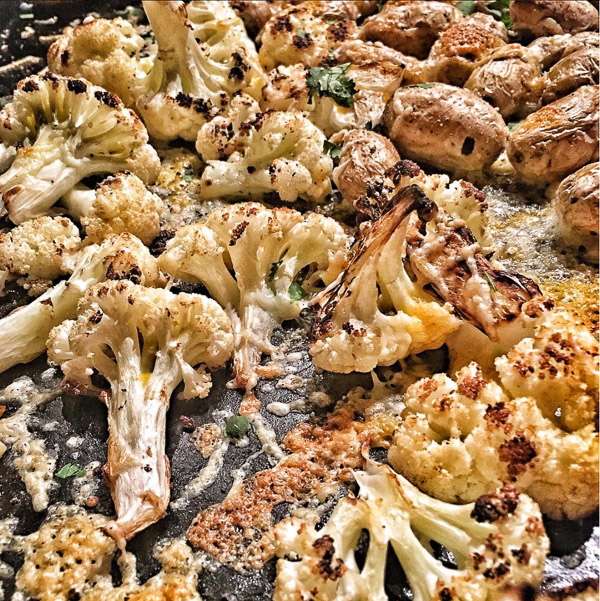 17. Roasted Vegetables with Cheese 
Cauliflower or broccoli can be a full on dinner if you roast it and cover it with cheese. The melty/crunchy bits are my favorite part. Sometimes I add it to a baked potato. If you're all for eating a bunch of vegetables at dinner (some weeks call for it after really indulgent weekends), you'll like this Roasted Broccoli with Tahini recipe.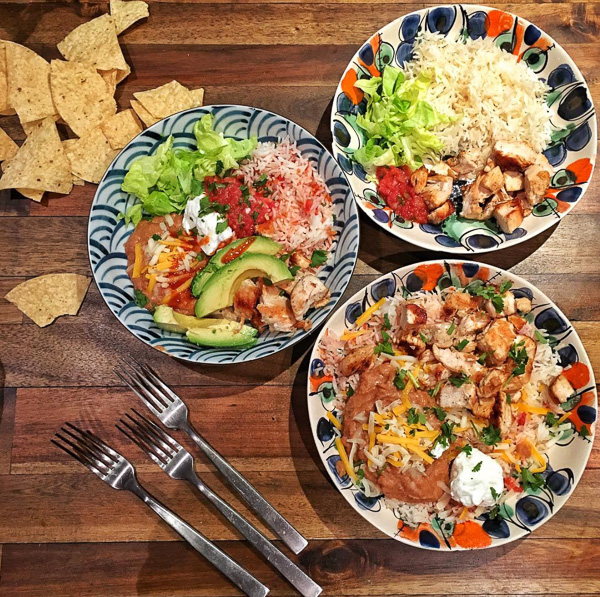 18. Burrito Bowls
Make a batch of rice. Stir in salsa. Instant spanish rice. Add your favorite meat on top, some beans and all of the burrito fix ins. Chips add a nice crunch…or scoop out your burrito bowl with the chips. No one complains about burrito bowl night around here.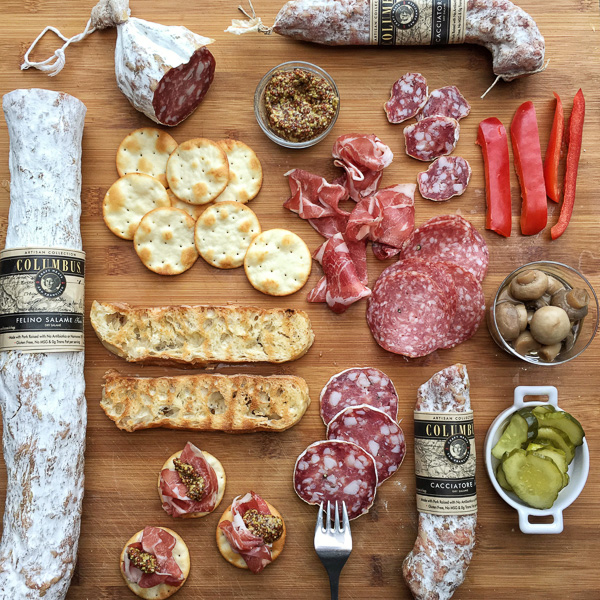 19. Charcuterie Platter
Snack dinners are my favorite. I almost always try to add vegetables in there somehow….Gotta balance all of the cured meats!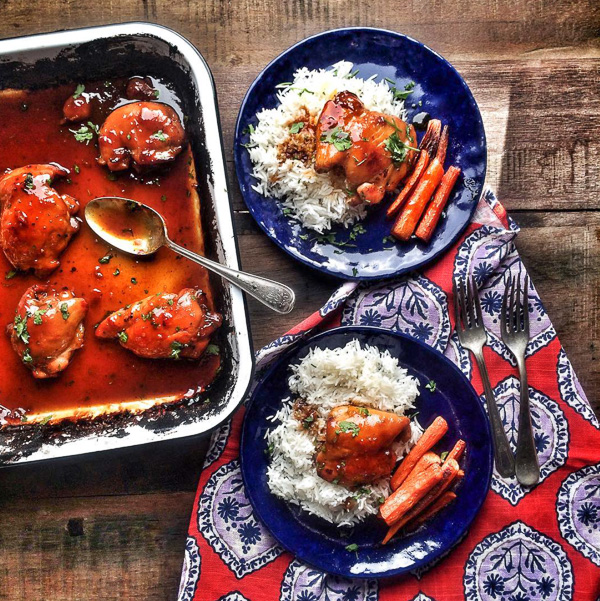 20. Apricot Glazed Chicken
Don't you just love a recipe that takes little to no effort? All you have to do for the Apricot Glazed Chicken recipe is mix the glaze/bake the chicken and serve with rice. Leftovers are great too.
Now, your turn! What are some of your simple GO-TO weeknight dinners? I'm so curious!