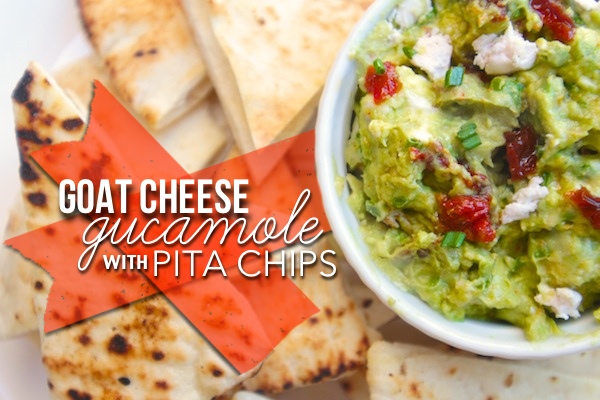 I am obsessed with avocados but I'm pretty sure you already knew that. I think 80% of my breakfasts in the past year have been some version of avocado toast. I can't stop/won't stop. Sometimes I wonder how many avocado toast pictures you can endure in  My Everyday Life posts…365?  Someone made a comment on one of my Instagram photos about how many Weight Watchers points are in an avocado and I thought to myself…thank god I'm not on Weight Watchers (been there, done that, it totally works, but I'm a food blogger and I'm not about to put points on this stuff. I just can't……….fit into some of my jeans but whatever).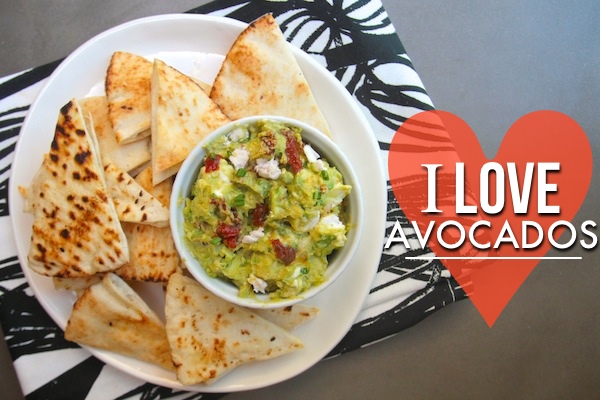 Let's talk guac! My dear friend Gaby just came out with an amazing new cookbook— Absolutely Avocados. It's AB/FAB!  Gaby also has quite an obsession with avocados and this is just one of the many many things I adore about her. She's a real gem/burst of sunshine if you didn't already know. She's also one of the few people I can dish on Bravo shows for DAYS.
I picked this guacamole as my first of MANY recipes to try because I can't stop thinking about sun-dried tomatoes since I made that crazy Greek French Bread Pizza last week. I was also intrigued with putting goat cheese in a guac and OH BOY IS IT GOOD! You know when you get a CREAMY avocado and it's like buttah? It's like that times 1000. It's so smooth and creamy, that you're not sure if it's the avocado or goat cheese that you're eating. Not to mention the combination of  lemon with the sweetness of the sun-dried tomatoes & the tang in the goat cheese makes it…Earth shattering.
Just to reiterate, I am not on Weight Watchers…but maybe after eating all servings, I should reconsider…Ha!
And we're off!
Let us begin with our ingredient gathering.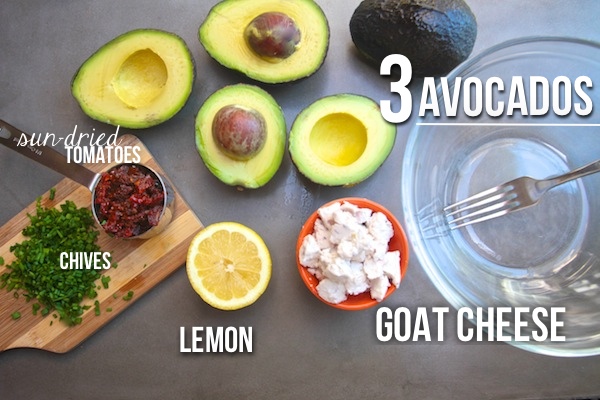 We're gonna make our own pita chips. It's EASY.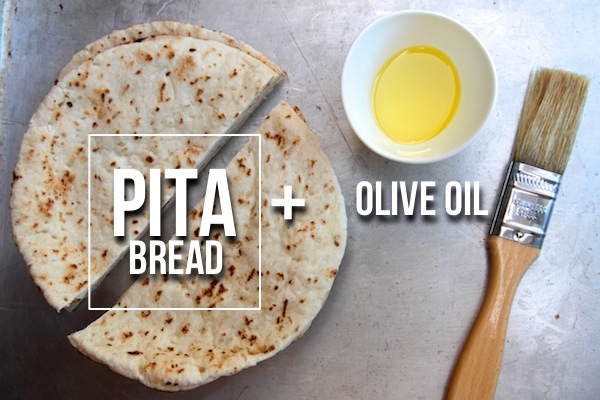 Cut three pieces of pita bread into triangles. Brush olive oil on both sides. Sprinkle salt & pepper over the pita.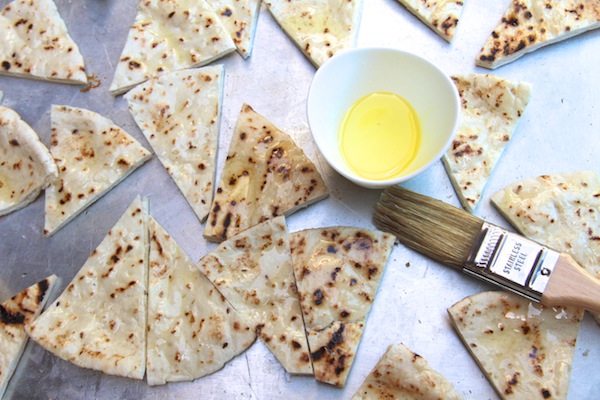 In a large bowl, scoop out the avocado (sans pit!) and add in the goat cheese, chives, sun-dried tomatoes & give it a quick stir/ mash.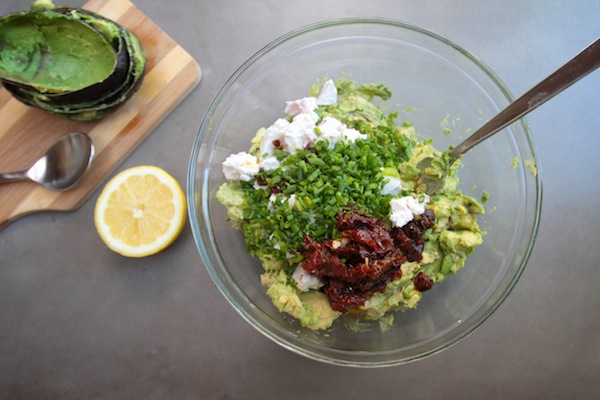 Add in the lemon juice. The more the merrier, I say!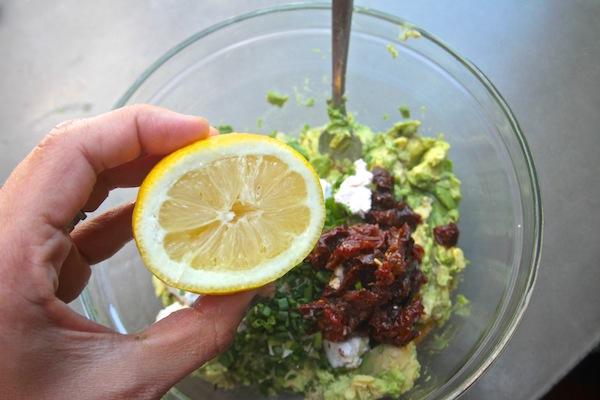 Mix it up! Salt & pepper to taste, as you do!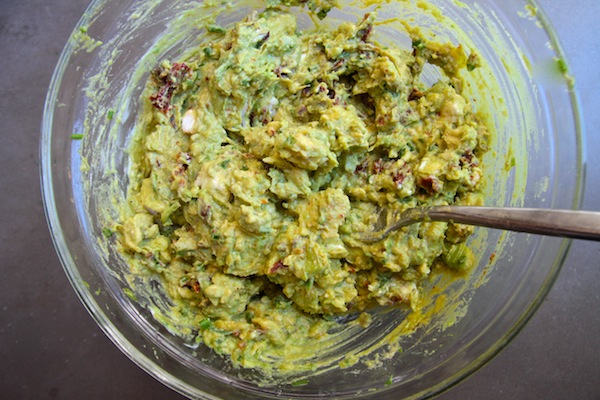 Serve it up!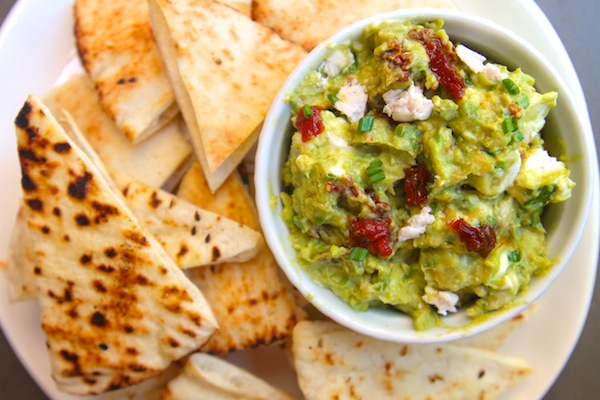 You're going to want to put it on EVERYTHING and ANYTHING. #trustME #insane #dontputitonatoothbrushthough
Goat Cheese Guacamole with Pita Chips

serves 4

recipe adapted from Absolutely Avocados

3 Hass avocados

1/2 cup crumbled goat cheese
1/4 cup chopped fresh chives
1/4 cup chopped sun-dried tomatoes in oil
1-2 tablespoons fresh lemon juice (to taste)
5 slices pita bread, each cut into 8 triangles
2 tablespoons extra virgin olive oil
kosher salt & freshly ground pepper

Cut each avocado in half lengthwise. Remove the pit from the avocado and discard. Remove the avocado from the skin, and place the avocado flesh in a bowl.

Add the goat cheese, chives, sun-dried tomatoes, lemon juice, salt & pepper. Mash with a fork until half smooth and creamy. Taste and add more salt & pepper if desired.

Preheat oven to 400F. Lightly brush each side of pita with olive oil and sprinkle salt & pepper over triangles. Scatter pita onto a baking sheet and bake for 5-7 minutes, until nicely browned and crisp.

Serve fresh pita chips alongside guacamole. Enjoy!