It was always a treat when my mom made her TO-DIE-FOR Macaroni & Cheese when we were growing up. My dad (who was always on some type of crazy diet) would always cave and eat her mac & cheese. I mean…how could you not? It's pure love!
My own child? Not a fan. Doesn't matter what kind of noodle you make it with, the kid has weird melted cheese issues. Apparently it's fine on pizza but totally questionable on pasta and in grilled cheese sandwiches. I think we need to get some genetic testing. There seems to be quite an abnormality there.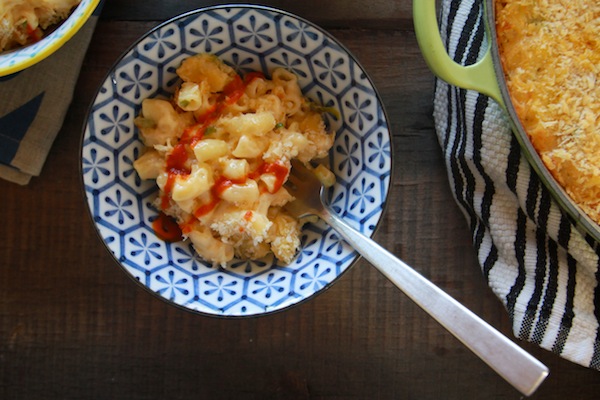 Fortunately my husband loves Mac & Cheese because Carbs + Cheese= our love language. Add a heavy helping of spicy/creamy sriracha sauce & extra crispy panko bread crumbs? We've taken loving to a whole new level. It's really a shame that Cooper can't get in on this action. But it's not like we don't have our own love language…in the form of waffles.
And we're off! This recipe comes from the Mac + Cheese Cookbook by my friends Allison & Erin. If you love mac & cheese, you need this cookbook. I'm obsessed! Also, their dessert section is bonkers. Homemade Oreos? Peanut Butter Pie??! YES.
They own Homeroom in Oakland. YOU NEED TO GO.
It all begins with their mac sauce. HELLO, béchamel.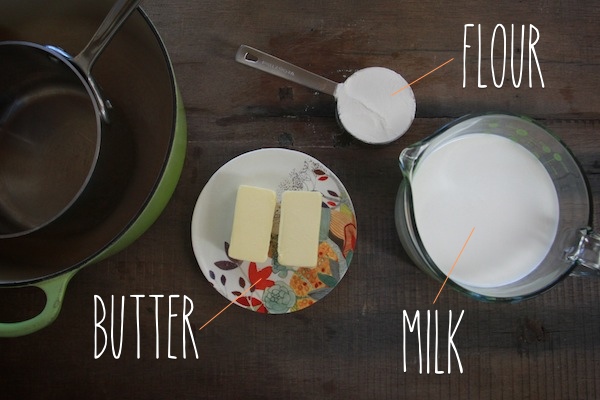 This is what goes into the macaroni & cheese part.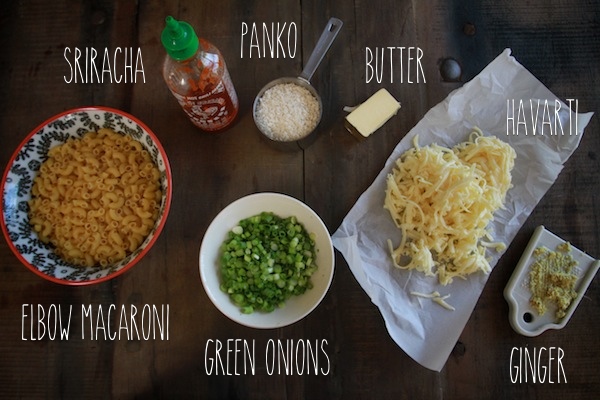 First we make a roux. Melt butter. Add flour to butter. Cook over medium heat. Roux turns light brown.
This all happens in a heavy bottomed (hehe) pot.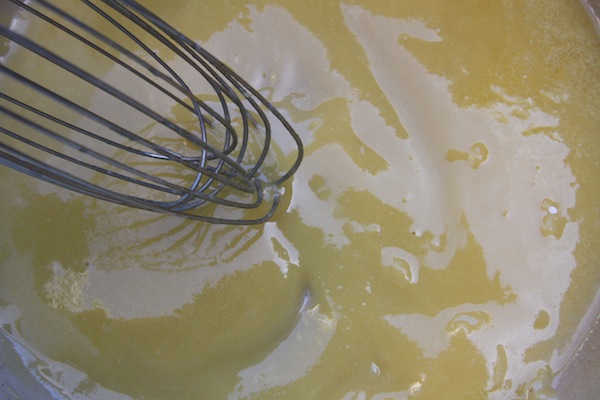 Whole milk gets poured in slowly. We're whisking! It's gonna get clumpy for a second. Fear, NOT.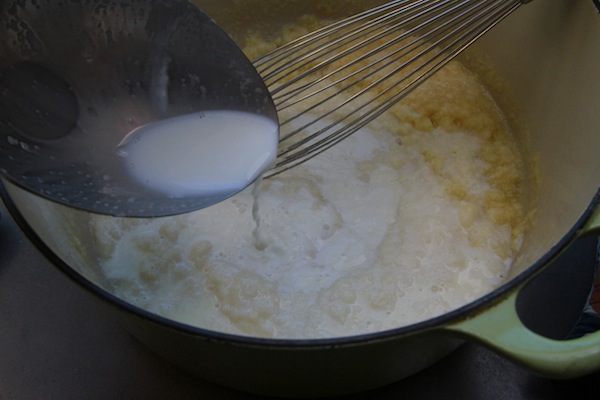 Because things will be nice & creamy in no time. HEAVEN. Now add salt.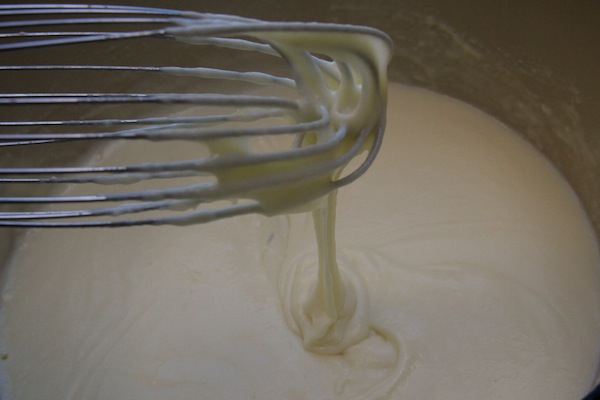 OK!  Now that the mac sauce is done, get your pasta cooking. You want it super al dente!
Mash ginger & butter together.
Add it to the mac sauce & stir in the grated havarti.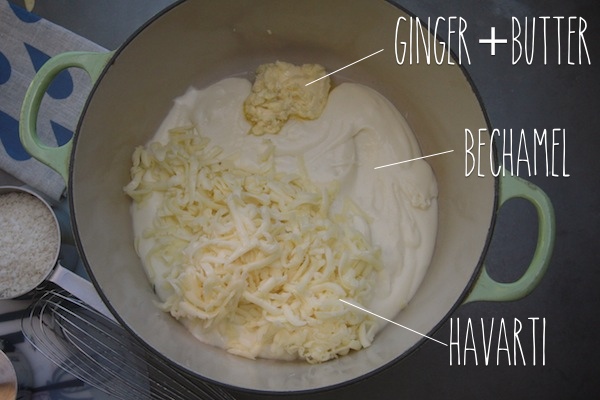 Stir. Cheese doesn't have to be melted fully. Add in your sriracha.
*sidenote*
I call Sriracha, COCK SAUCE. Just look at the bottle. I'm glad a few of you are reading this. HI!!!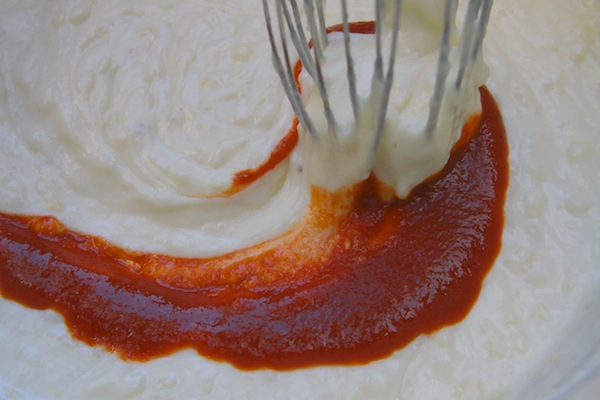 Add in the cooked noodles. We stir!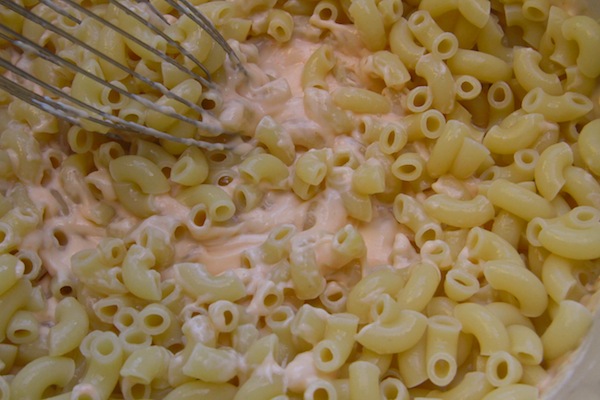 Hello creamy deliciousness. Let's add some green onions in there. When I read the recipes I was like WHAAAAAAT?? One whole cup of green onions? That seemed like a lot. They add a surprising sweetness to the dish!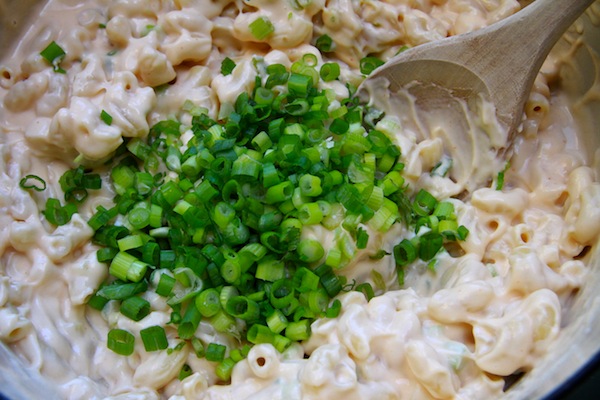 Now we add our macaroni & cheese to a casserole dish. I upped the 1/2 cup of panko to 3/4.
"The best part of mac & cheese is the crispy/crunchy breadcrumbs."- quote by Tracy Shutterbean.
Add that to my Pinterest Board.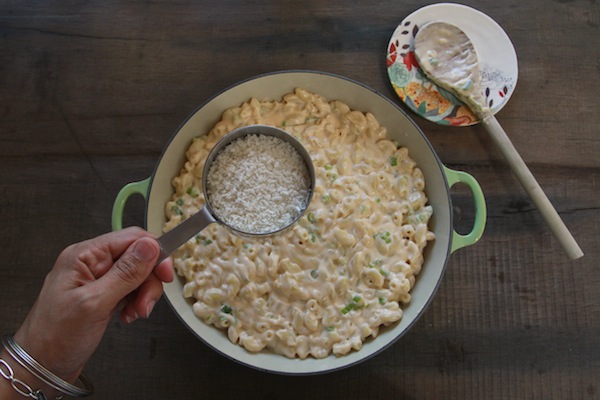 DONE! Those bowls are like FILL US UP, LADY. The spoon is saying, GET ME TO THAT EDGE!
The sriracha bottle is saying, TELL THE NEW GUY TO KEEP HIS TOP CLEAN.  I dunno. Sorry.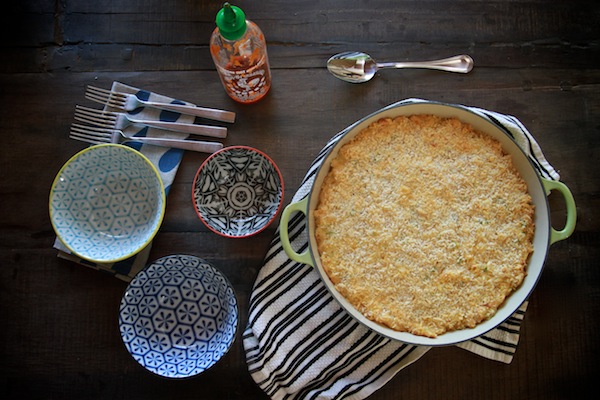 Ahhhhhh.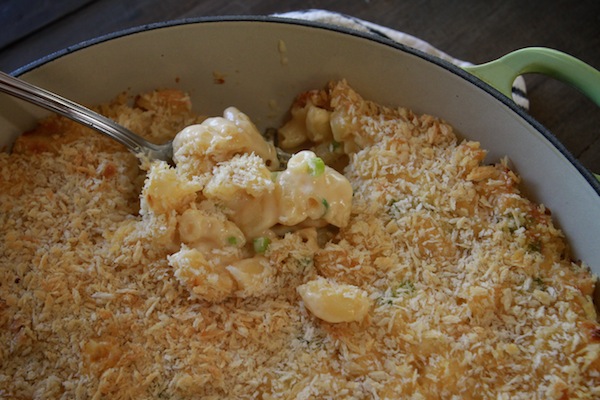 Spoon it up. Drizzle the top with sriracha.  The small bowl was for Cooper.
But really… it's just for us parents to split. Parents, you know how it goes.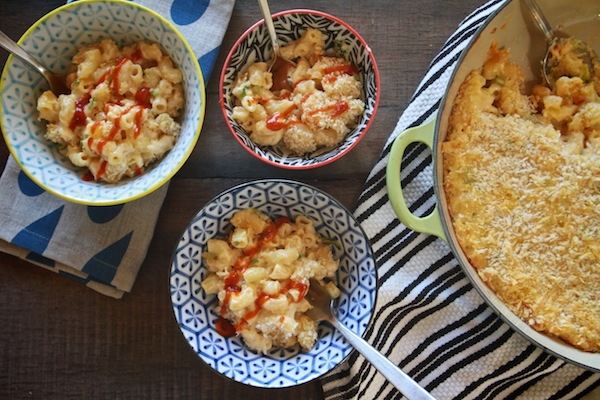 You're gonna love this.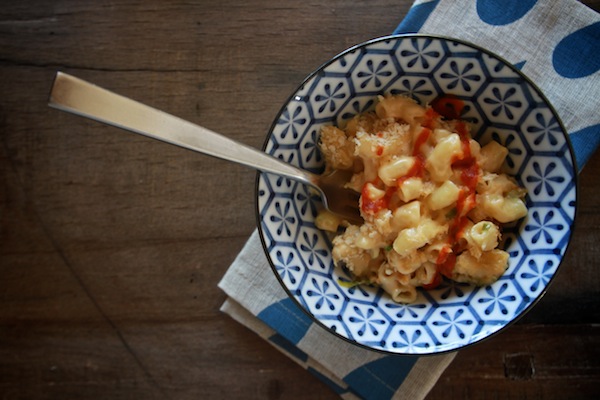 It's just the right amount of spice! Creamy crunchy spice.

Sriracha Mac + Cheese

recipe slightly adapted from the Mac + Cheese Cookbook

serves 4

mac sauce:

3 cups whole milk
1/2 cup unsalted butter
1/2 cup all-purpose flour
2 teaspoons kosher salt

for the pasta:

3/4 pound dried elbow pasta
1 tablespoon minced fresh ginger
2 1/2 tablespoons unsalted butter, at room temperature
2 cups grated Havarti
2-3 tablespoons Sriracha sauce, plus more for drizzling
1 cup chopped green onions (both green and white parts)
3/4 cup panko (Japanese bread crumbs)

to make the mac sauce:

Heat the milk in a pot over medium heat until it just starts to bubble, but is not boiling, 3-4 minutes. Remove from the heat.

Heat the butter over medium heat in a separate, heavy bottomed pot. When the butter has just melted, add the flour and whisk constantly until the mixture turns light brown, about 3 minutes. Remove from heat.

Slowly pour the warm milk, about 1 cup at a time, into the butter-flour mixture, whisking constantly. It will get thick when you first add the milk, and thinner as you slowly pour in the entire 3 cups. This is normal.

Once all the milk has been added, set the pot back over medium-high heat, and continue to whisk constantly. In the next 2-3 minutes the sauce should come together and become silk and thick. Use the spoon test to make sure it's ready. Dip a metal spoon into the sauce-if the sauce coats the spoon and doesn't slide off like milk, you know it's ready. Add the salt and stir to combine.

to make the sriracha mac & cheese:

Preheat oven to 400F.

Cook the pasta in salted boiling water until a little less than al dente. Drain, rinse with cold water, and drain the pasta again.

Mash together the ginger and butter in a small bowl until fully combined.

Add the mac sauce, cheese, and ginger butter to a large heavy-bottomed pot and cook over medium heat. Stir until the cheese is barely melted, about 3 minutes. Add the sriracha and the cooked pasta and continue cooking while stirring continuously until the dish is nice and hot, another 5 minutes.  Add the green onions and stir to fully combine.

Pour the mac into a 14-inch casserole pan and sprinkle with panko. Bake until hot and bubbly and the topping is golden, about 20 minutes. Remove  from the oven and drizzle with more sriracha. Spoon into bowls and serve.