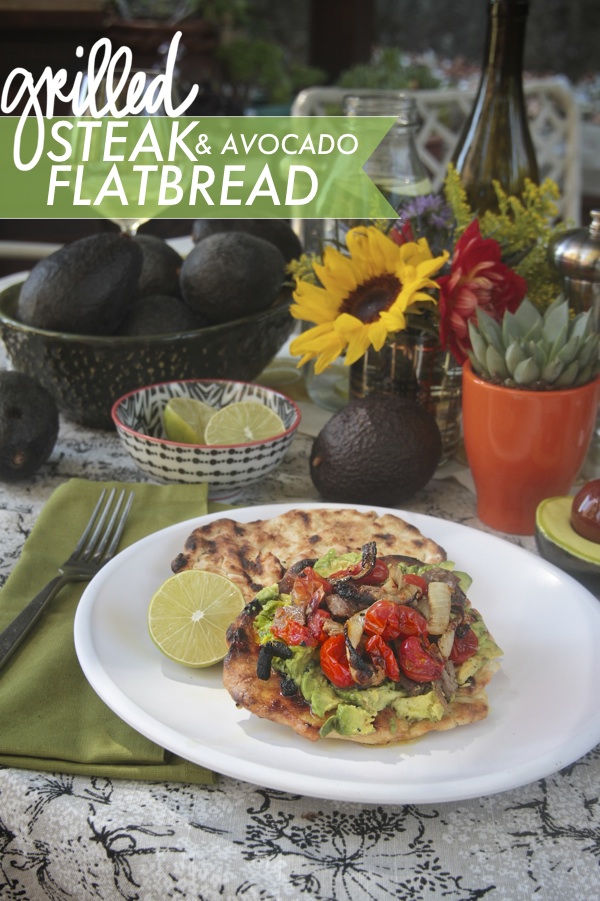 New post! Grilled Steak Avocado Flatbread
There's been a subtle shift in the weather the past few days here in the Bay Area. It's taking longer for the fog to burn off in the morning and there's a slight chill in the air. I'm not ready for this shift. I want to hold onto to Summer for as LONG AS POSSIBLE. I feel like I didn't have enough outdoor eating time the past few months What gives??!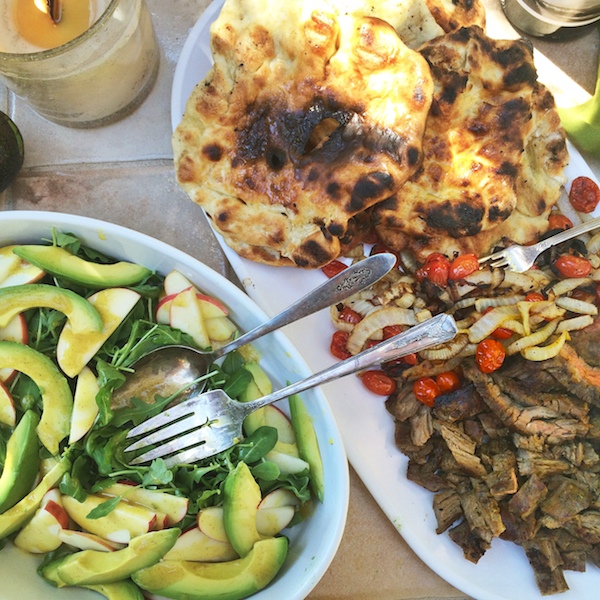 I was gifted a gigantic flat of avocados by the California Avocado Commission (THANK YOU!!) last week and couldn't imagine a better way to celebrate other than having a leisurely Sunday BBQ at my house. The stars aligned and my friend Gaby (author of Absolutely Avocados) stopped by with her husband for a late lunch this past weekend and I made this Grilled Steak & Avocado Flatbread with my Apple Avocado Salad and Spiked Blueberry Lemonade. I also made an awesome dairy-free chocolate pudding (with avocados!) that I'll share next week. As you can imagine, it's avocado central in my house right now.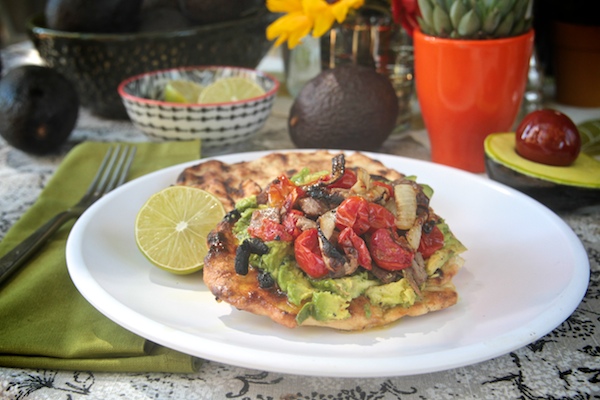 For this flatbread, I used my favorite no-knead pizza dough. The dough gets grilled, avocado gets smashed on top followed by grilled steak, charred onions and juicy roasted tomatoes rest on top. I finished with a healthy squeeze of fresh lime juice to add a nice tang. It's like avocado toast meets pizza meets fajitas. In other words, it was GOOD. I felt good to impress such an avocado aficionado 😉
And we're off!
The first thing to do is get your dough ready.
I always use this no knead pizza dough recipe. It's my favorite.
You can follow the directions on that post! And you can see some of my grilled pizzas here and here.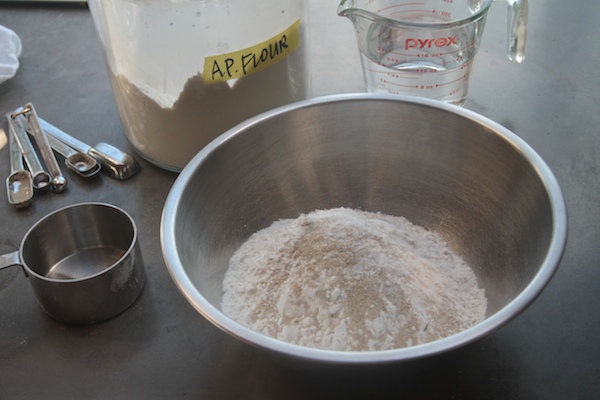 An hour or so before grilling, take skirt steak out of the fridge.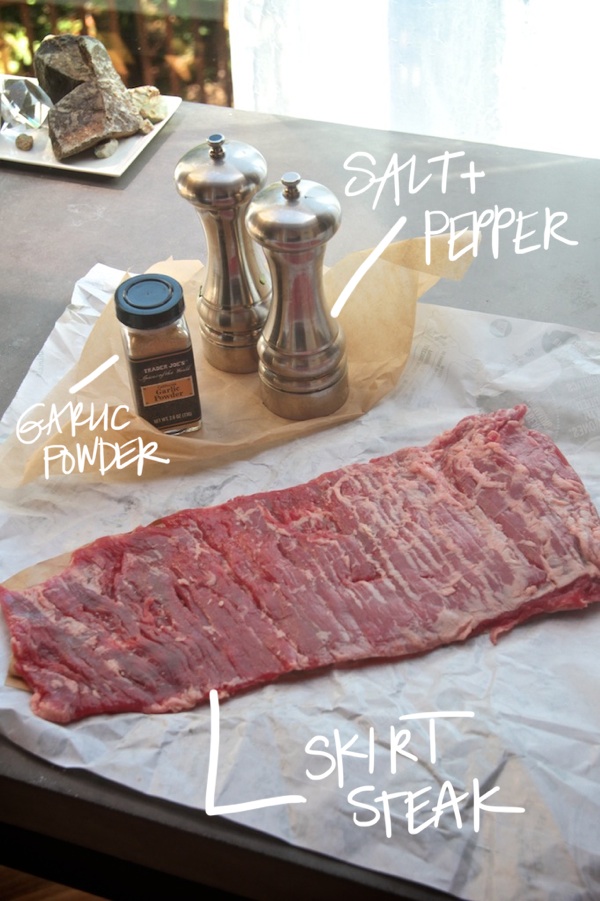 We're going to season with a healthy dose of sea salt, pepper and garlic powder. I like to keep it simple.
Wrap up the skirt steak and set aside. We want to let it get to room temperature before we grill.
Look away vegans, there's nothing to see here.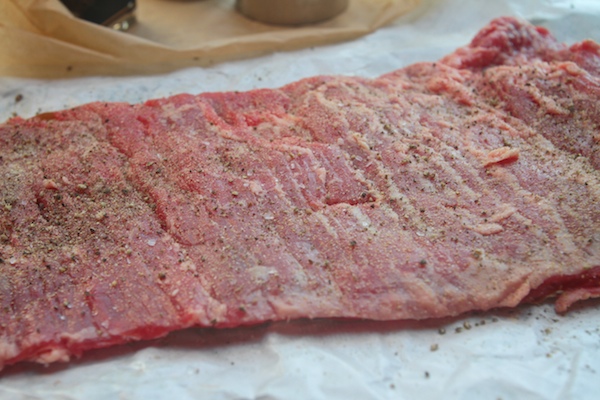 We're going to grill tomatoes & onions coated in olive oil and salt & pepper in a grill basket grilling basket.
They're super handy if you don't already have one. Nothing slips under the grill grates.
We also grill the steak at the same time. Cook on high heat for about 3-4 minutes per side.
The tomatoes & onions will take a little longer than that.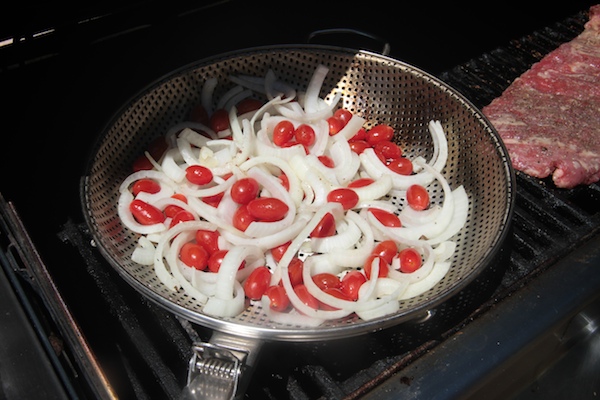 Take the steak off the grill and let it rest, covered with aluminum foil.
When dough is ready, shape each flatbread into a 4-5 inch round. Drizzle with olive oil and place on the grill.
Grill for 4-6 minutes per side.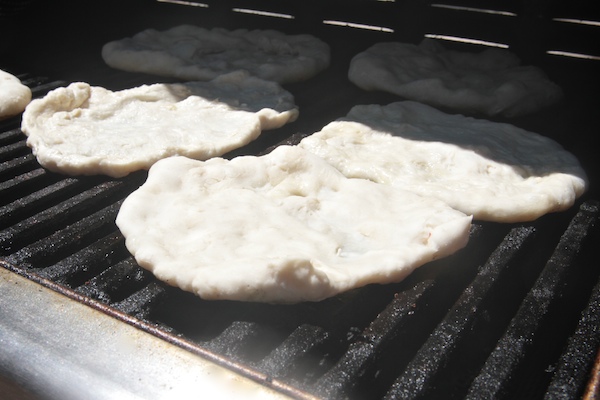 Thinly slice meat. Chop it up so it's in small bites. Bite sized!!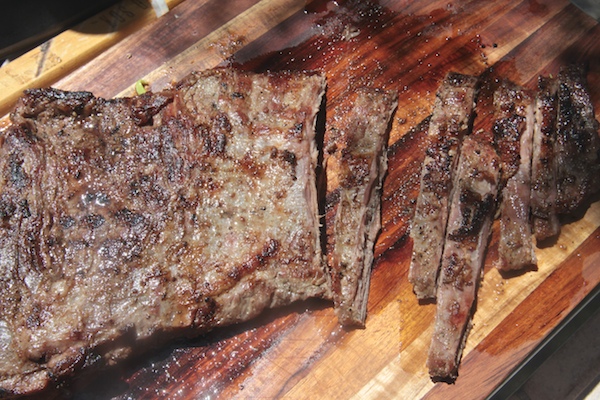 PLATTER TIME!!!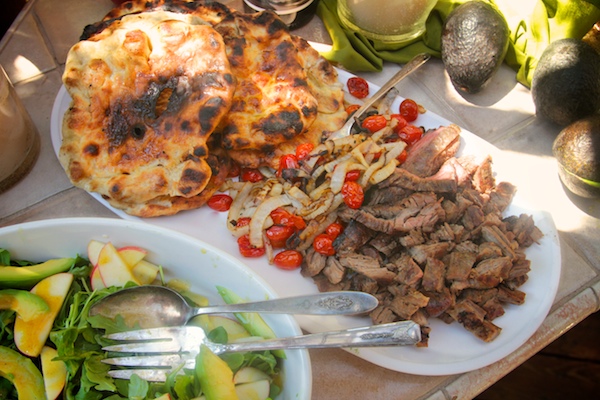 To serve, smash about 1/2 avocado into the top of each flatbread. Season with a little salt.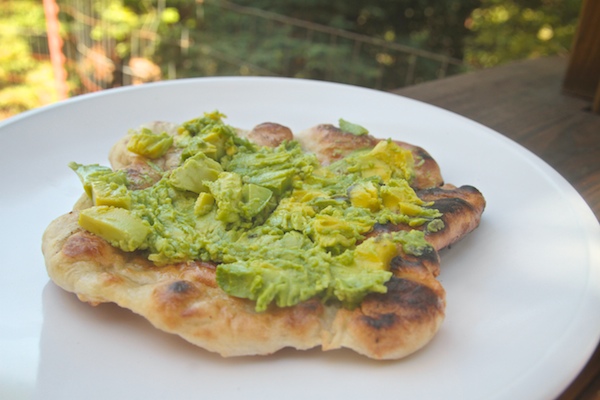 Top with onions, tomatoes, & steak. Finish with fresh lime juice.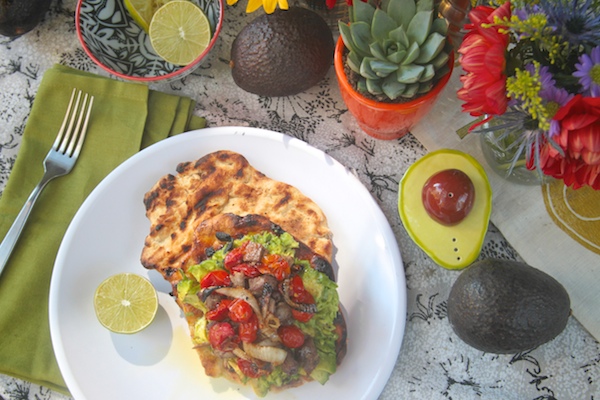 Yesssss. I could totally see goat cheese on this flatbread. Or maybe even a blue cheese situation…
Next time, Tracy. NEXT TIME.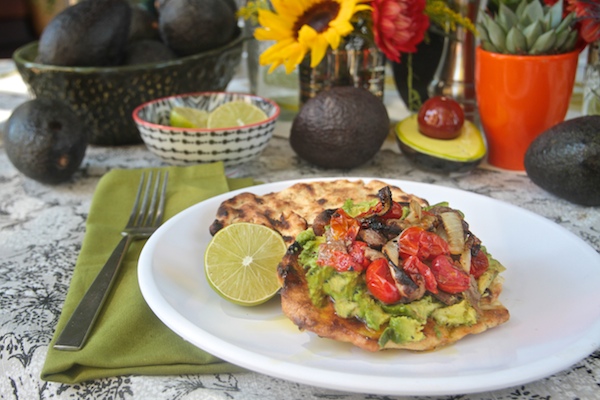 The California Avocado Commission wants you to enjoy grilling season before it's too late.
They're hosting a GIVEAWAY!
ONE Shutterbean reader will get: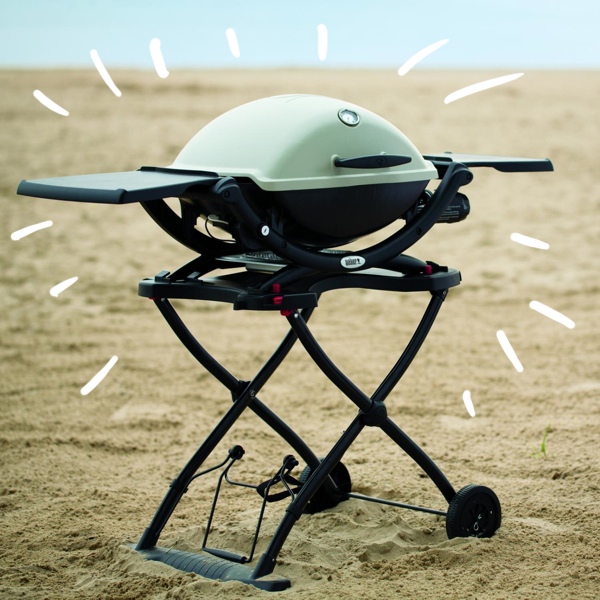 a Weber 54060001 Q 2200 Liquid Propane Grill (includes gas grill with cart, cover and two-piece tool set)
a flat of California Avocados (roughly 18)
other goodies including an avocado slicer, cutting board, & apron & tea towel.
Side note: We used to have this grill when we lived in San Francisco (I had it on the fire escape!) and it was AMAZING! It's actually the grill I learned how to grill on. We had it for about 6 years before we moved into our current house. I'm pretty sure you're going to be super happy with it. It's perfect for tailgating & camping too.
ONE winner will be picked at random.
Giveaway ends Thursday August 21st 10:00 PM and winner will be announced on my I LOVE LISTS FRIDAY post, this Friday August 22nd, 2014.
One entry per person. US Residents only.
To enter, leave a comment on this post telling me what your favorite grilled item is!
A big thanks to the California Avocado Commission for the avocados & sponsoring this giveaway!!
Grilled Steak & Avocado Flatbread

serves 4-5

1 batch no-knead pizza dough
extra virgin olive oil
1 lb. skirt steak
1 teaspoon garlic powder
sea salt & fresh cracked pepper
extra virgin olive oil
2 cups plum tomatoes
1 medium yellow onion, thinly sliced
2 California avocados
fresh lime juice, for serving

Generously season steak with garlic powder, sea salt & fresh cracked pepper. Wrap meat up and set aside to come up to room temperature.

Preheat grill to medium-high. Place tomatoes and onions in a grill basket and season mixture with a glug of extra virgin olive oil, sea salt & pepper. Set grill basket on one side of the grill and cook until tomatoes and onions are soft and have a nice char on them, about 10 minutes.

While the tomatoes and onions cook, place skirt steak on another side of the grill. Grill each side for 3-4 minutes, making sure to achieve a nice sear and to not overcook meat. Pull steak off of grill, set on a plate and cover with aluminum foil. Let steak for about 5 minutes and then slice into small chunks. Transfer steak to a platter with tomatoes & onions.

Shape each flatbread into a 4-5 inch round, drizzle each round with a little bit of olive oil and cook flatbreads on grill for 3-4 minutes per side. You want a nice char on the flatbread. Make sure not to overcook, or else flatbread will be too crispy.

To serve flatbread, smash 1/2 avocado onto each flatbread. Season with a little salt. Top with grilled steak, onions, and tomatoes. Finish with a squeeze of fresh lime juice and serve immediately.