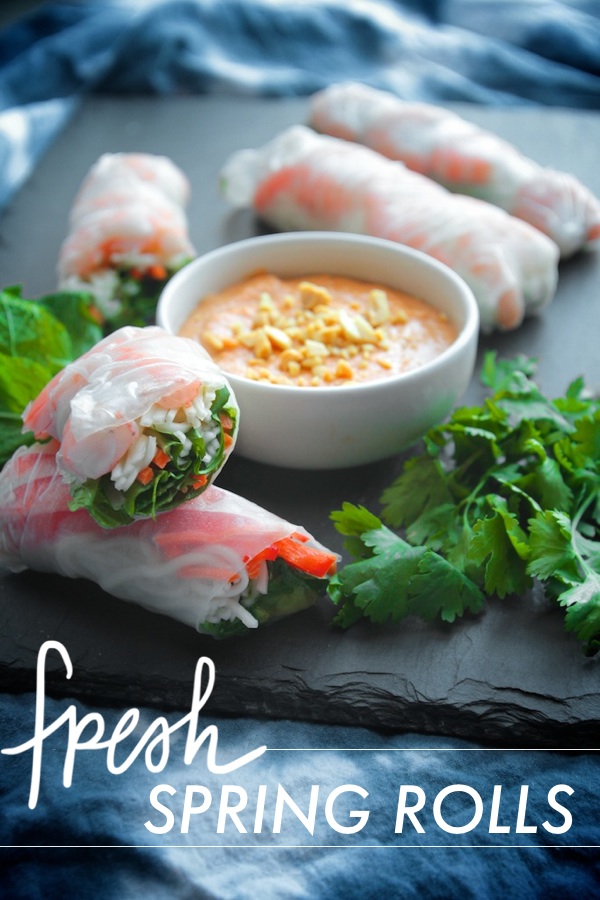 When I was young I absolutely loved Taco Night and Hamburger Night. You know why? It was all about customizing and getting EXACTLY what I wanted for dinner. I've learned that as a parent, these types of dinners are so nice when you have picky eaters to feed. Fresh Spring Rolls to the rescue!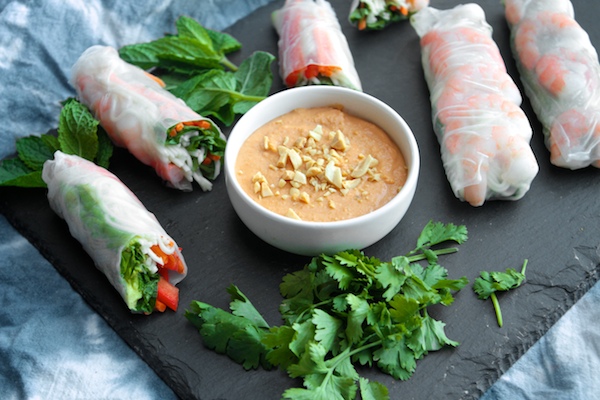 Not into shrimp on your spring roll? Don't worry, I'll make you one with out.
Want a lot of mint? I've got you covered. Noodles only? Let's try that. And weird!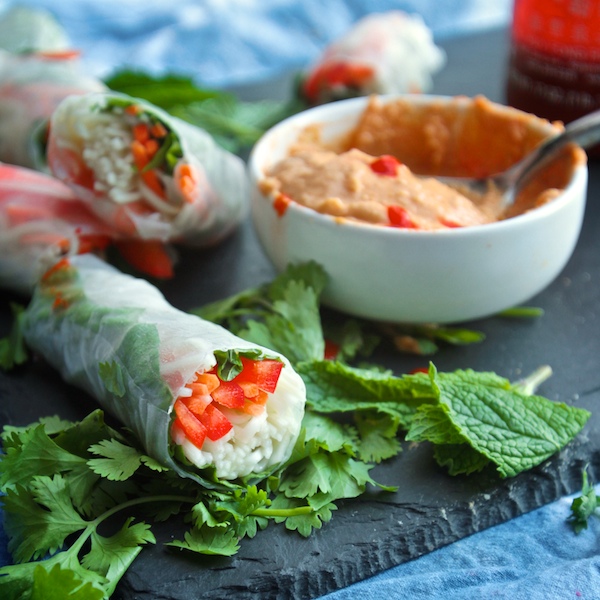 I'm the one that goes for the avocado in my spring roll. Casey goes classic and Cooper does it all sans avocado & shrimp. We all get exactly what we want. There's so much comfort in that.
And we're off!
Don't let the amount of ingredients intimidate you. You don't have to put it all in one roll…
We're customizing!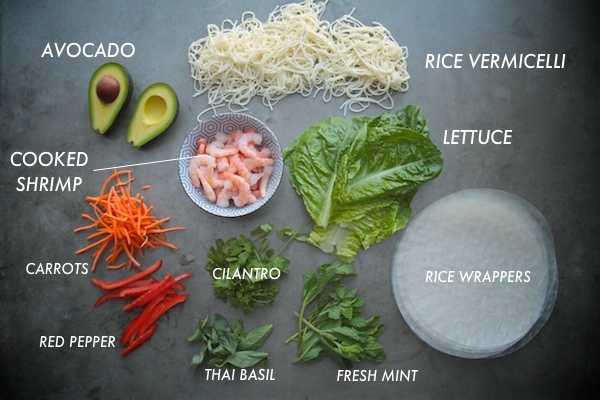 Pour hot water into a bowl. We're going to slowly & carefully dip our wrapper in.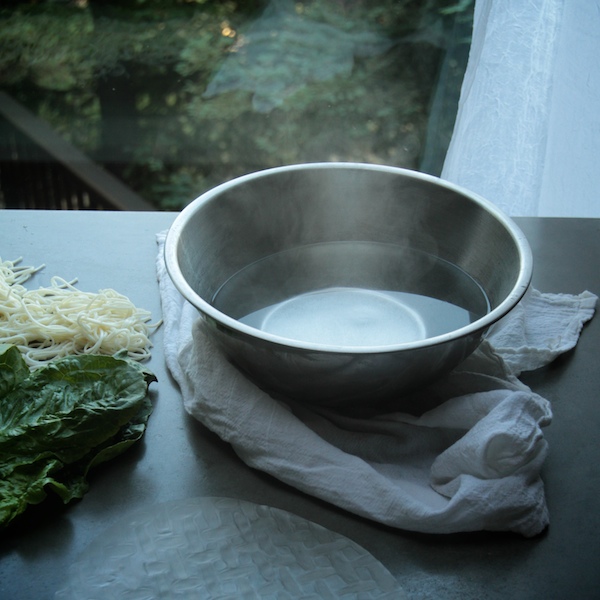 Then we lay the wrapper down on a moistened dish towel.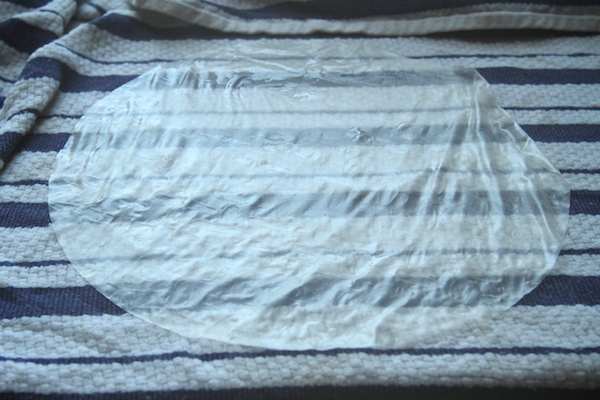 Start with your shrimp layer. Whatever is on the bottom layer will show on the top when folded.
I think I may have put them a little too close to the middle. Don't be like me.
If you do it about 2 inches from the edge, when you roll the wrapper up you should have the seam tucked under. Plus it makes it harder to roll it up you don't give yourself room. These things you forget when you're trying to take pictures of dinner for your family 🙂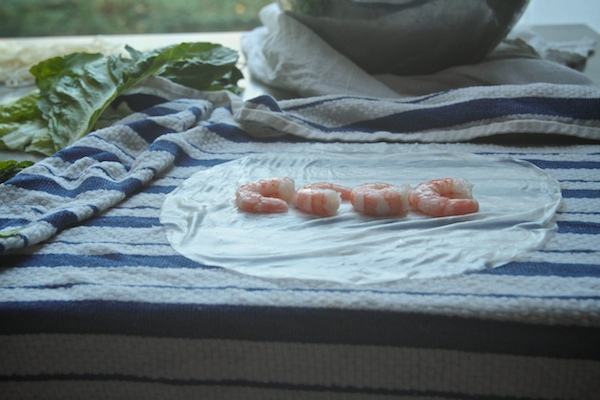 Cooked noodles go on next.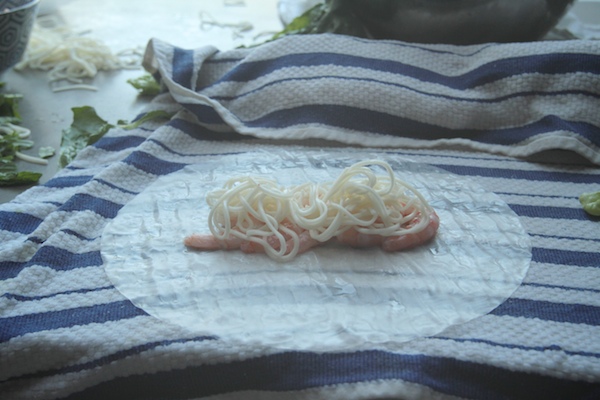 This one had lettuce, cilantro, thai basil and mint.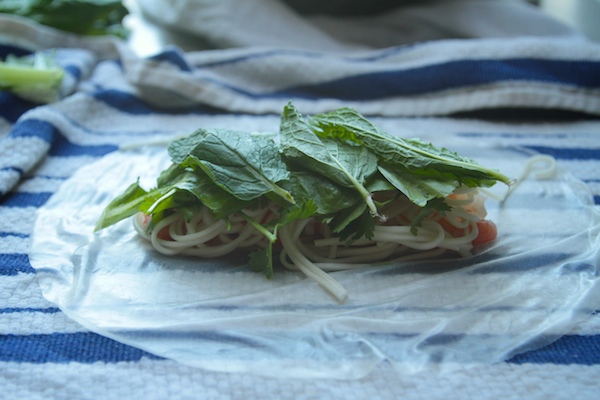 You fold over the top, tuck in the sides and roll it up. They're very forgiving, just make sure you wrap it tight!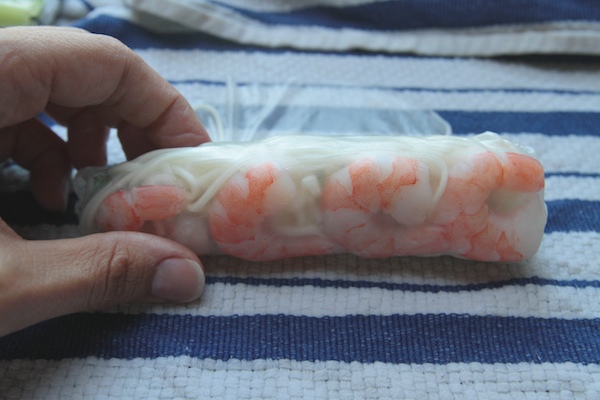 This one was for Cooper.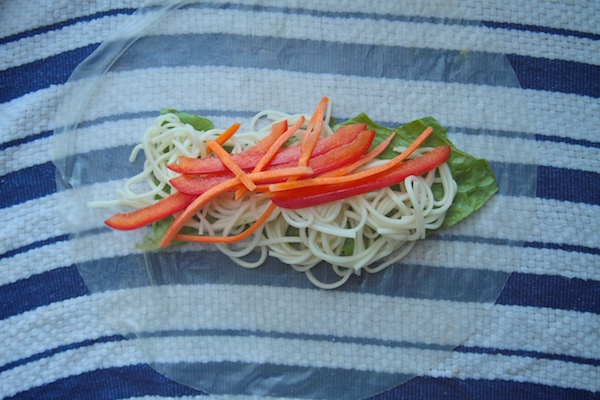 This one was for me. Casey ate it by accident. Less for me. Sad panda.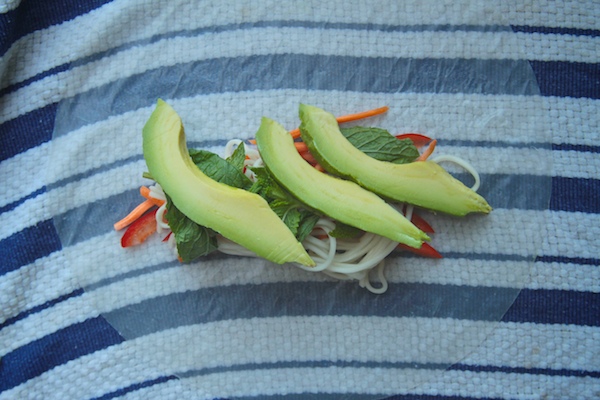 The fresh mint is our favorite part. Sometimes I load it UP!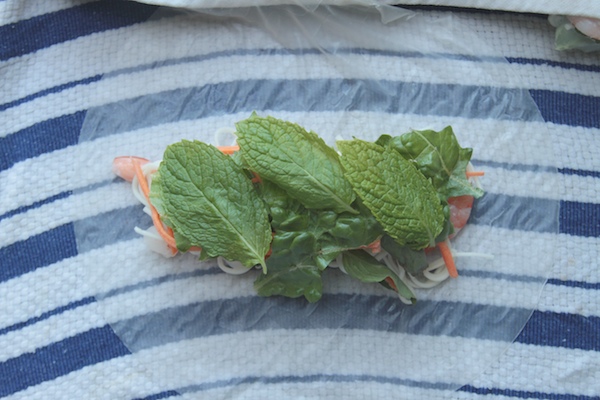 A job well done. Wrap them up in the damp kitchen towel to prevent them from sticking to one another.
Serve immediately or within a few hours (keep in fridge!)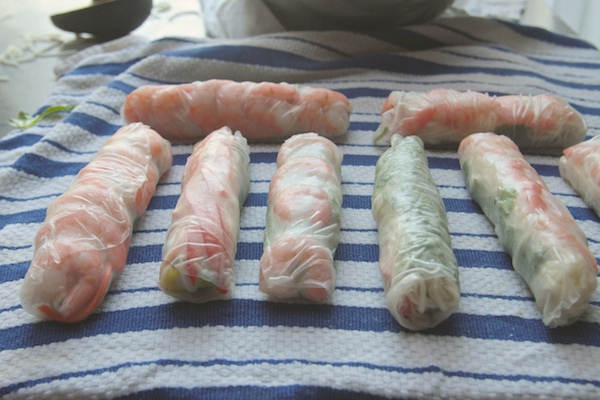 This peanut dipping sauce is adapted from The Slanted Door restaurant in SF.
It's ADDICTIVE. Consider yourself warned. Miso & ketchup are the secret ingredients.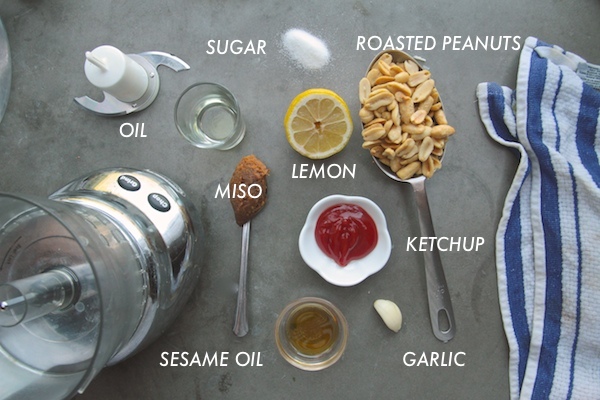 Peanuts go into a mini Mini Food Processor.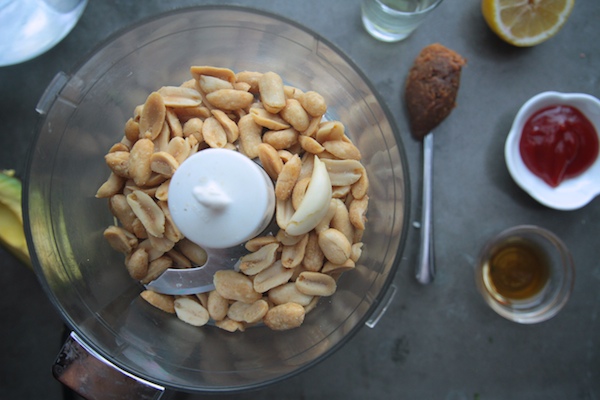 Then add the rest of the ingredients.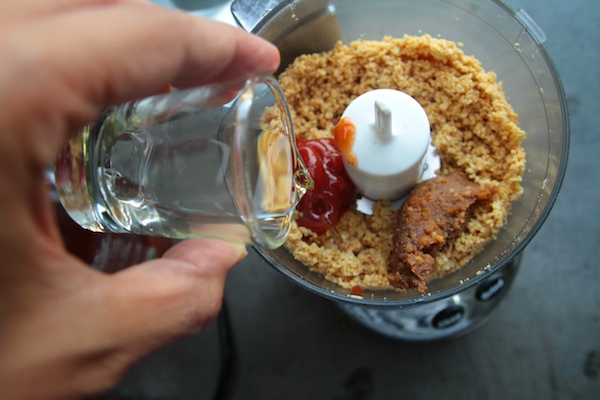 Whirl and WHIRL and add water to thin out. I kept mine on the chunkier side cuz I like texture.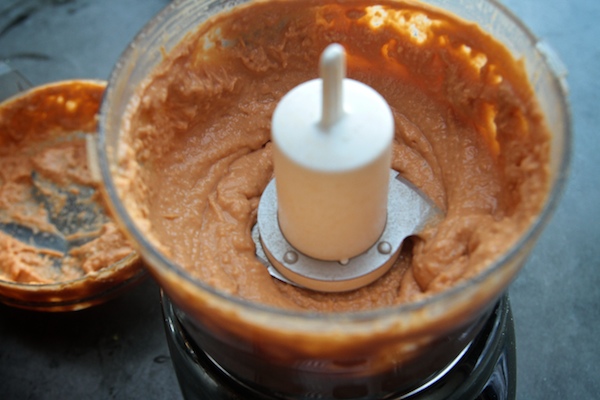 Transfer to serving bowl. Top with chopped roasted peanuts.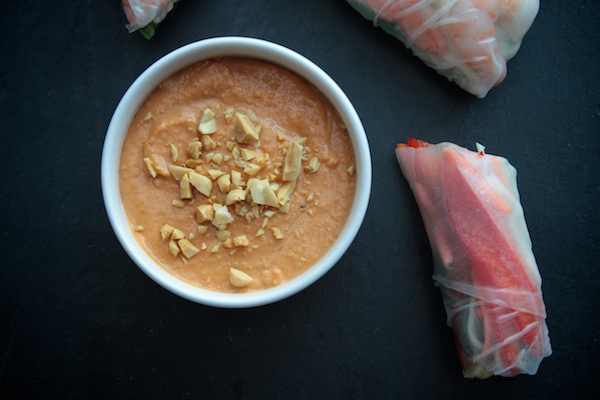 We are on our way. Cut the rolls in half with a sharp knife.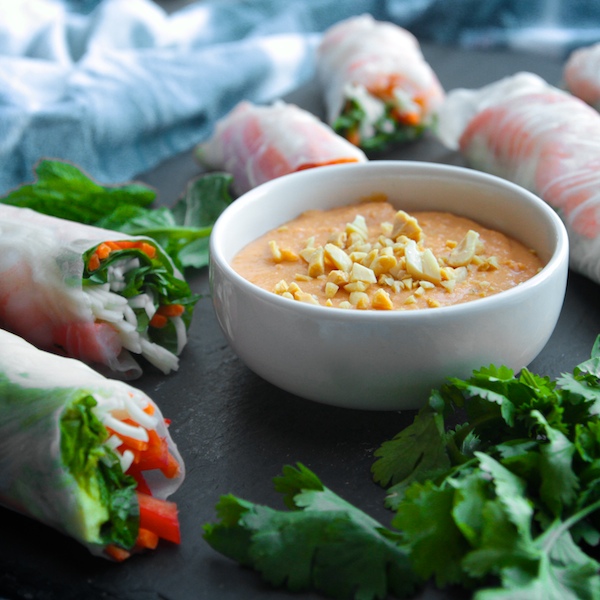 I love the symmetry in a cross section.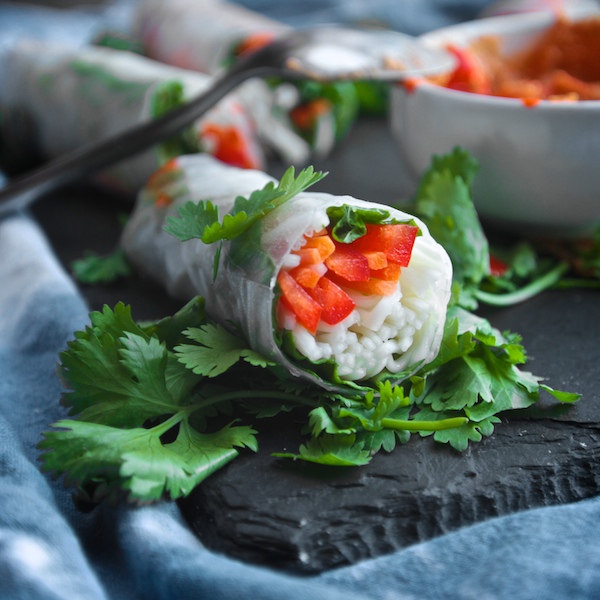 We like ours with extra sriracha.
Fresh Spring Rolls

makes 8 rolls

recipe adapted from Allrecipes & Vietnamese Home Cooking

for the peanut dipping sauce:

1/4 cup roasted peanuts
1 clove garlic
1 tablespoon red miso
2 tablespoons ketchup
1 tablespoon canola oil
1 tablespoon sugar
2 teaspoons sriracha
1/2 teaspoon fresh lemon juice
1/2 teaspoon toasted sesame oil

In a mini food processor, combine peanuts, garlic, miso, ketchup, oil, sriracha, lemon juice, and sesame oil and process until mixture in a fine paste. Thin with water (about 1/4 cup) until the texture is smooth and creamy. Transfer to a bowl, cover and refrigerate until ready to serve. The sauce will keep, refrigerated for up to 4 days. When ready to serve, transfer to a serving bowl and add chopped peanuts to the top.

for the fresh spring rolls

2 ounces rice vermicelli
8 rice wrappers (8.5 inch diameter)
24 medium cooked shrimp – peeled & deveined
16 mint leaves
2 tablespoons chopped fresh Thai basil
3 tablespoons chopped fresh cilantro
4 lettuce leaves

additional filling options:

1/4 cup shredded carrots
1/4 red pepper, thinly sliced
1/2 avocado, thinly sliced

Bring a medium saucepan of water to boil. Boil rice vermicelli 3 to 5 minutes, or until al dente, and drain.

Fill a large bowl with warm water. Dip one wrapper into the hot water for 1 second to soften. Lay wrapper flat. In a row across the center, place 3-4 shrimp, a handful of vermicelli, basil, mint, cilantro and lettuce, leaving about 2 inches uncovered on each side. Fold uncovered sides inward, then tightly roll the wrapper, beginning at the end with the lettuce. Repeat with remaining ingredients and add the additional fillings if you desire. Serve with peanut dipping sauce.