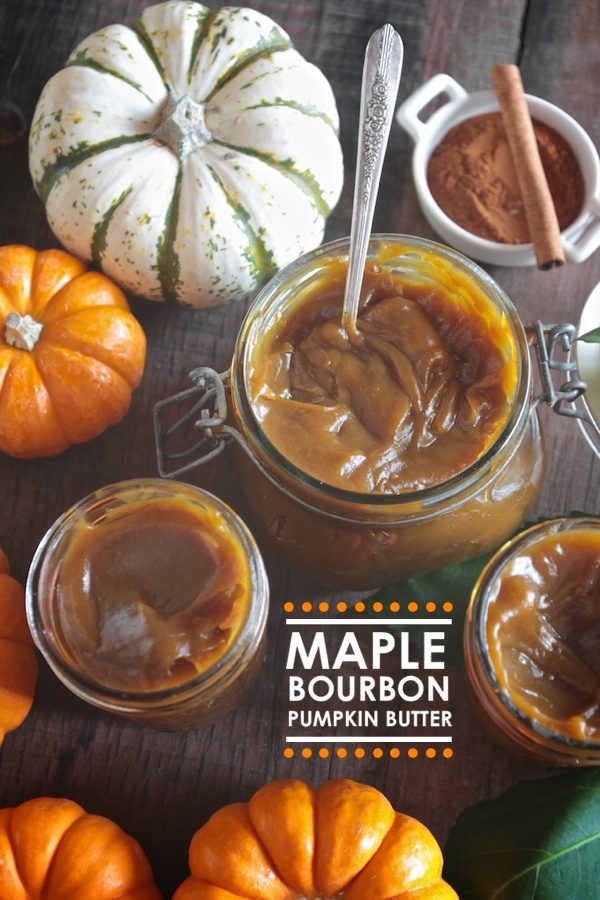 New post! Maple Bourbon Pumpkin Butter
I've made quite a few recipes that involve pumpkin butter and I almost always get a comment asking if I've made my own. The answer is NO, but now it is YES. Yes, I've made my own pumpkin butter and it's REALLY REALLY EASY. Of course I added bourbon to my pumpkin butter, because that's how I operate.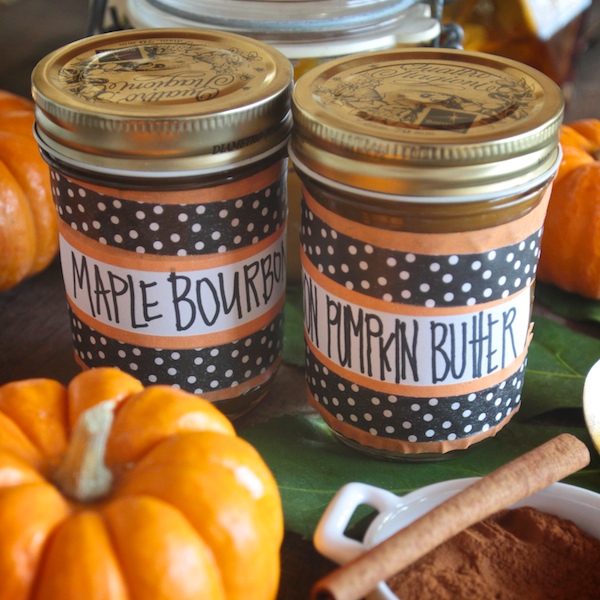 It's November which means we're all kind of expected to GO GO GO. I'm a fan of making life easy for myself. Shortcuts are always welcome and recipes that don't take a ton of effort are my wheelhouse. I just typed wheelhouse. Sorry about that.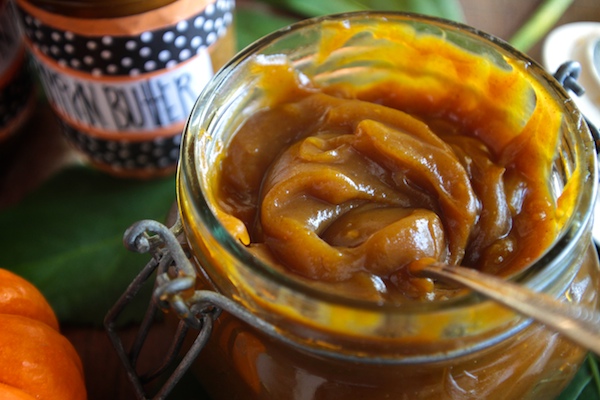 If you're thinking about giving the gift of treats this year, you should really add this Maple Bourbon Pumpkin Butter to your lineup. It's kind of an unexpected gift because somehow pumpkin gets lost under the fold of COOKIE NATION. People love a little something special they can add to their regular meal rotation. You could pair a small jar with a bigger jar of homemade granola as a hostess gift. I'd write a little card that says Just Add Yogurt! Or maybe if you're feeling adventurous, you'll make your own? I'm pretty sure the lucky recipient of this pumpkin butter will appreciate the smooth texture (thanks to a whirl in the Vitamix!) and cinnamon-y bourbon notes. I bet it would make an even better addition to a milkshake…

And we're off!
It all starts with roasting your own pumpkin.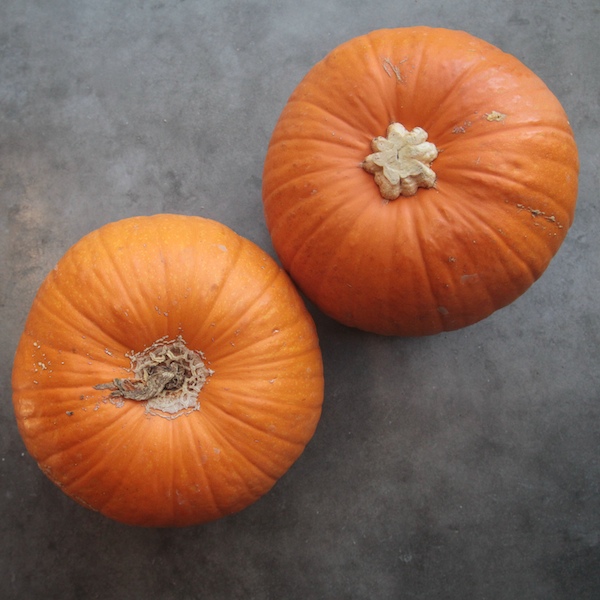 Two sugar pumpkins… about 4 lbs. total.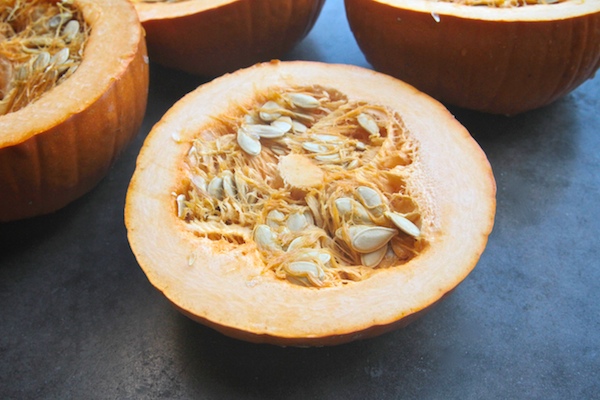 Scrape out the seeds.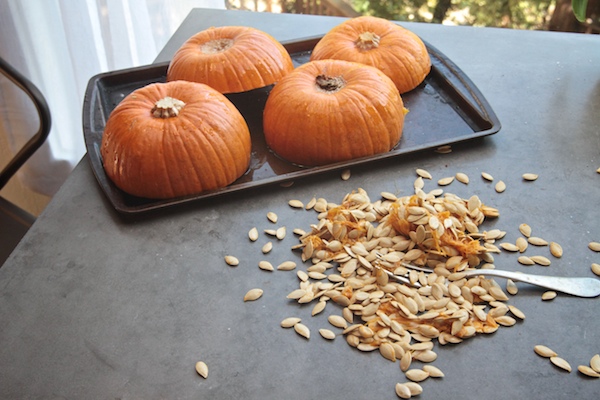 Place them flat on a baking sheet and ROAST.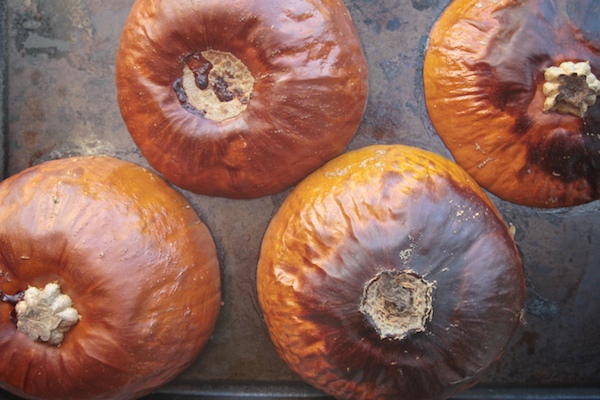 Dig out the pumpkin meat (or just pull off the skins).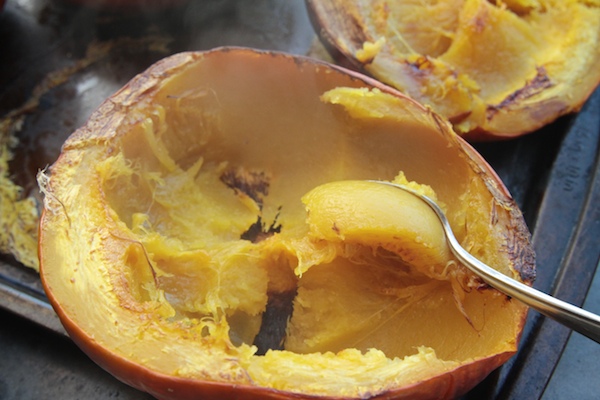 Place in your Vitamix.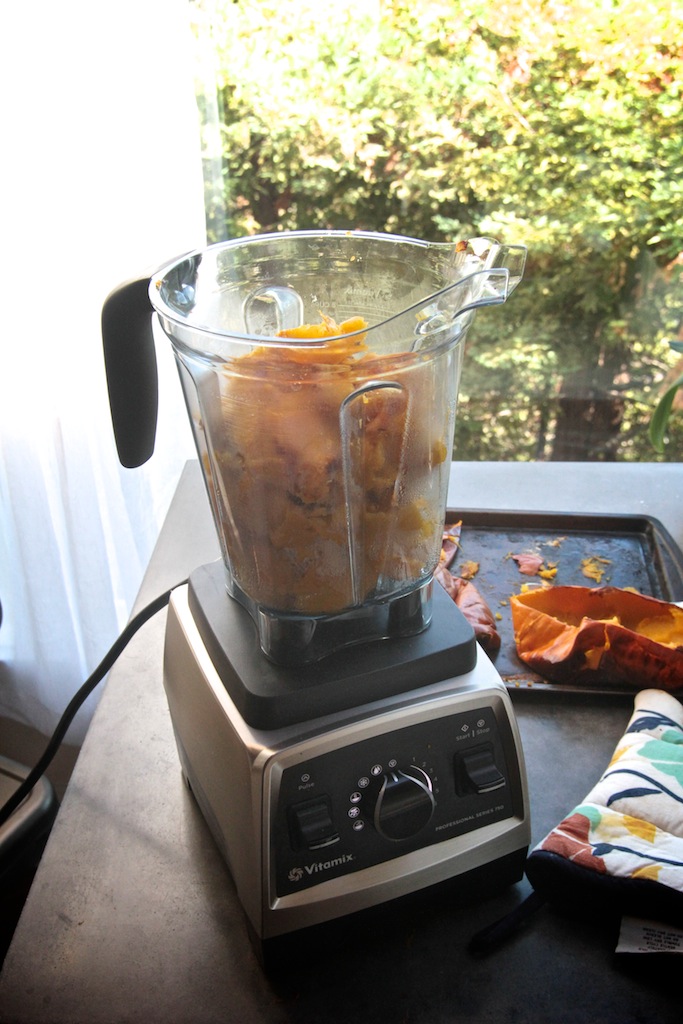 Get ready to process!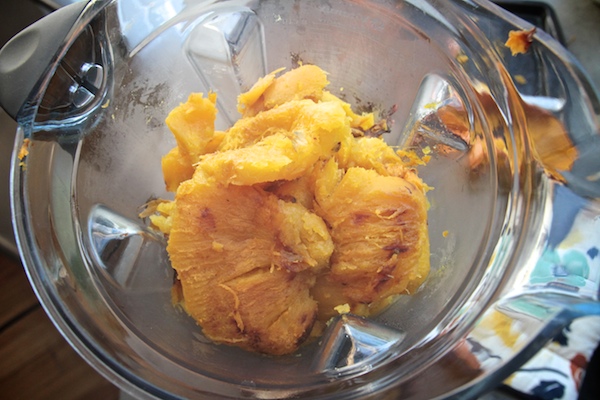 Ahhhh steamy.
Weird Confession:
I love watching things get blended from the peep-hole of my Vitamix.
I also love that it will process pretty much anything I put in it…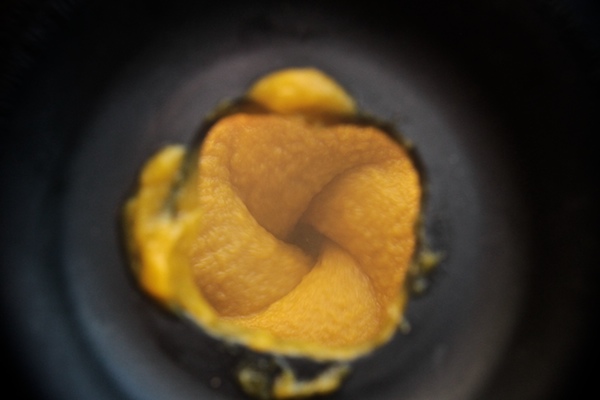 SMOOTH!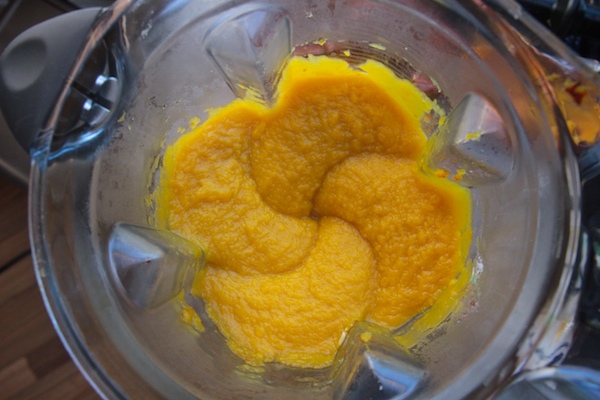 I mean…really smooth. It's like baby food smooth.
We're going to cook it over the stove! Alternately, you can use a slow cooker for this.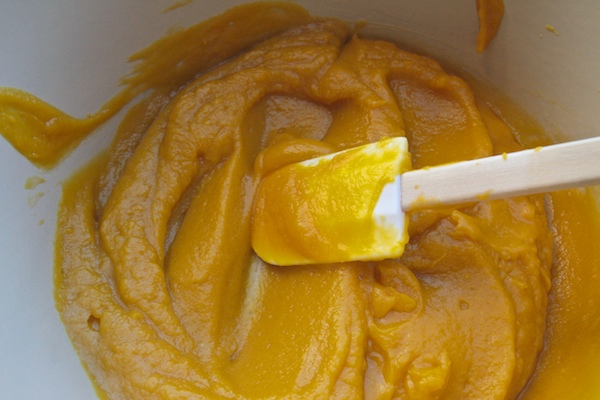 Now we add our flavor!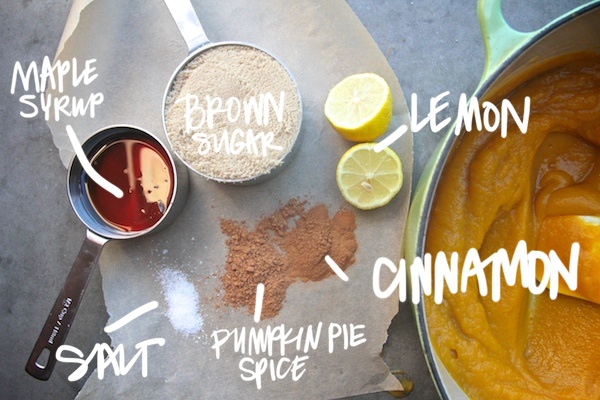 Stir it in!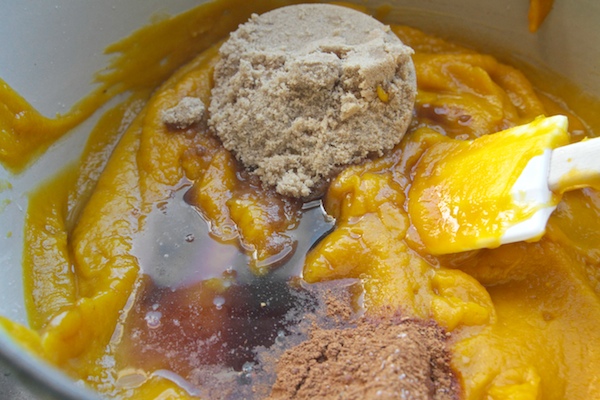 Now we're ready to cook & reduce.
There's something so satisfying about stirring this pumpkin butter. Absolutely HYPNOTIC.
I'm telling you, the Vitamix did all the work!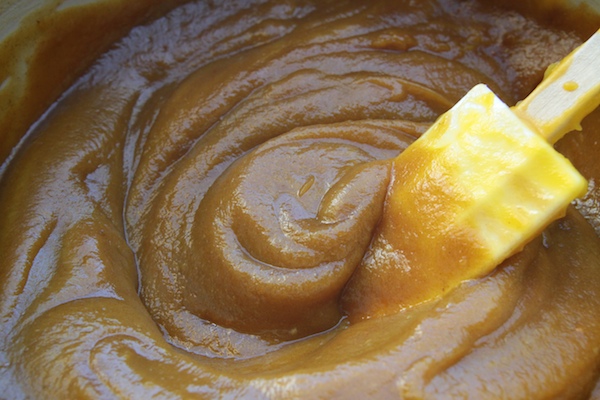 We've reduced and we're done! Looks like caramel, doesn't it?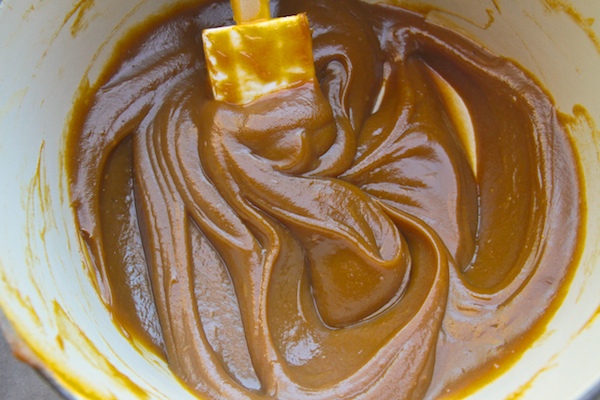 We could stop here…but BOURBON.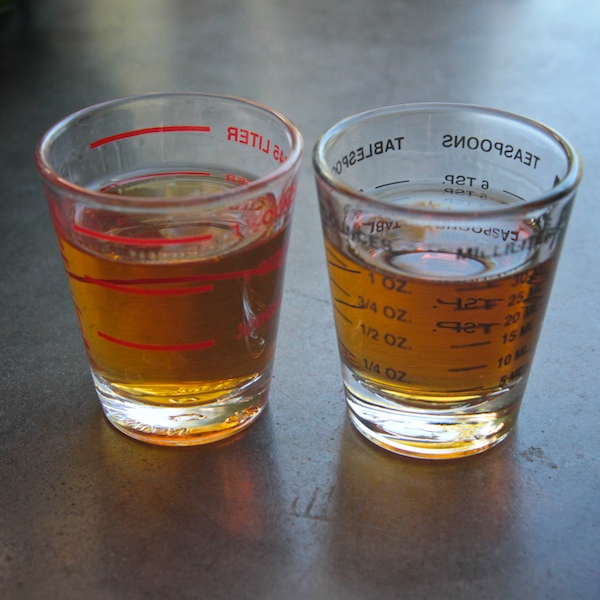 Pour it in…let it reduce. Keep stirring. Taste to see if it needs more lemon or maple syrup.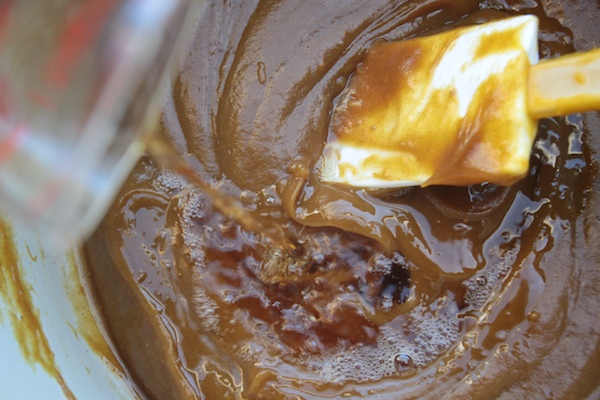 YESSSS. Now let the pumpkin butter cool…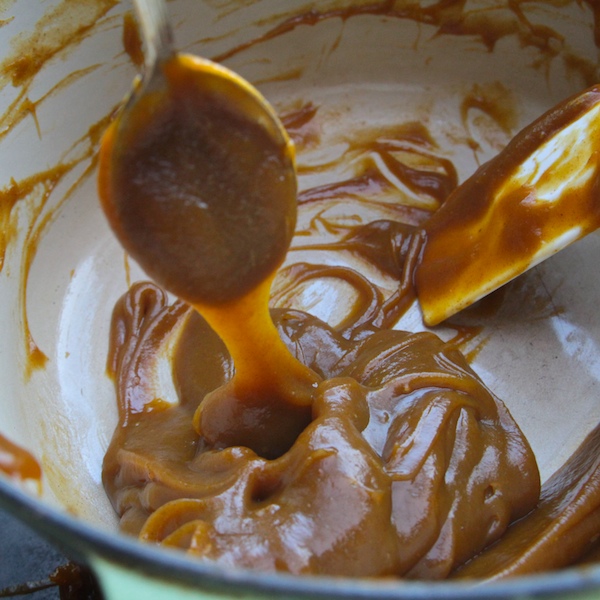 Transfer to jars.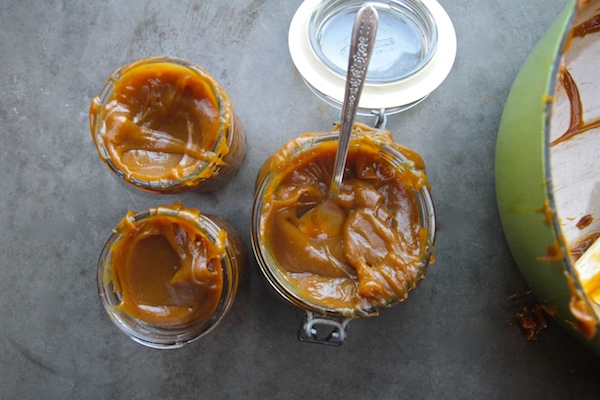 Clean up the sides….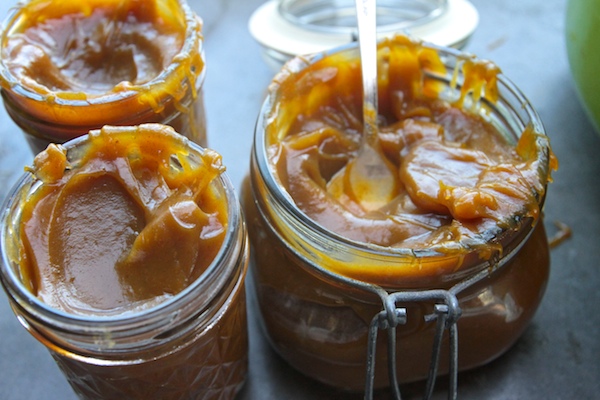 Now let's label the jars!
I used a combination of Scotch Decorative Masking Tape and polka dot washi tape.
I cut out a few strips from an index card and labeled them with a sharpie.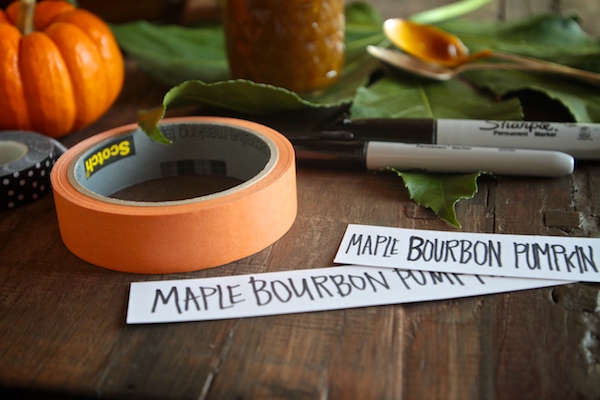 Tape layering fun!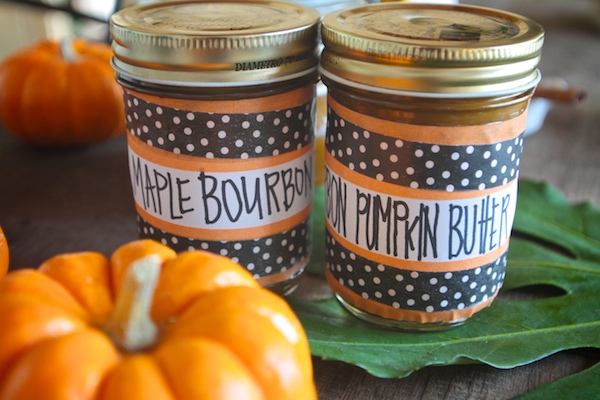 Now…who wants a jar??

Maple Bourbon Pumpkin Butter

2 sugar pie pumpkins, cut in half & de-seeded
1 1/4 cups brown sugar
3/4 cup maple syrup
1 1/2 teaspoons ground cinnamon
1 teaspoon pumpkin pie spice
pinch of kosher salt
juice of 1 lemon
3 oz. bourbon

Preheat oven to 400F. Place pumpkin cut side down on a baking sheet and roast in the oven for 50-60 minutes, or until pumpkins are thoroughly cooked. Remove from the oven and set aside to cool.

Scrape the cooked pumpkin from the skins and place in a blender. Process for about 2-3 minutes, until pumpkin in velvety smooth. Transfer puree to a large saucepan and add brown sugar, maple syrup, cinnamon, pumpkin pie spice and a pinch of salt. Stir to combine and finish with the juice of one lemon. Heat pumpkin mixture over low heat for about 30 minutes, stirring occasionally. Do not let any burn at the bottom of the pan. Slowly add in the bourbon, and simmer for about 15-20 minutes. Add additional maple syrup or lemon juice to taste, if needed.

Let mixture cool and transfer to clean jars. Pumpkin butter will last up to one month in the fridge and up to 3 months in the freezer.