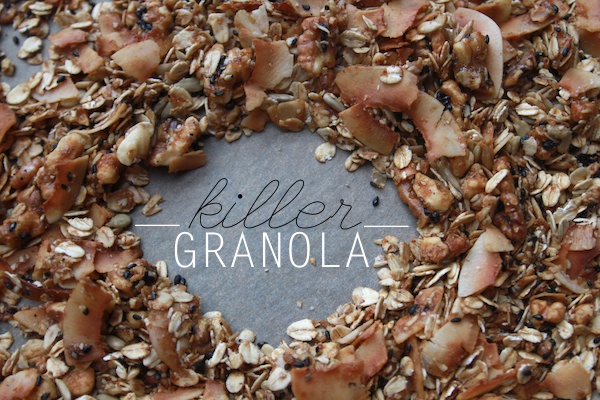 What makes a granola a killer granola? I'm so glad you asked!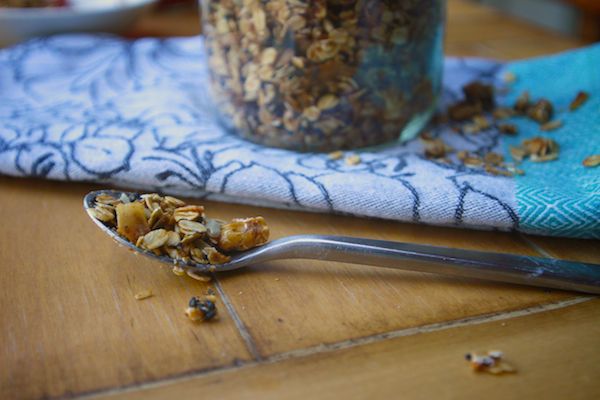 One that includes butter, crunchy coconut and a bounty of seeds.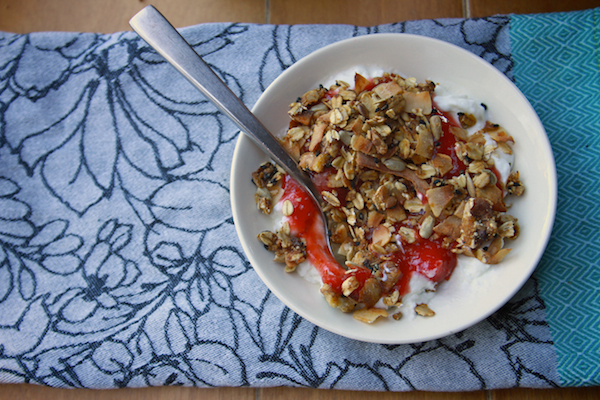 Toasted coconut is buttery enough, but coated in a brown sugar, butter and mixed with golden oats?
Killer, indeed.
And we're off!
Let's gather the ingredients.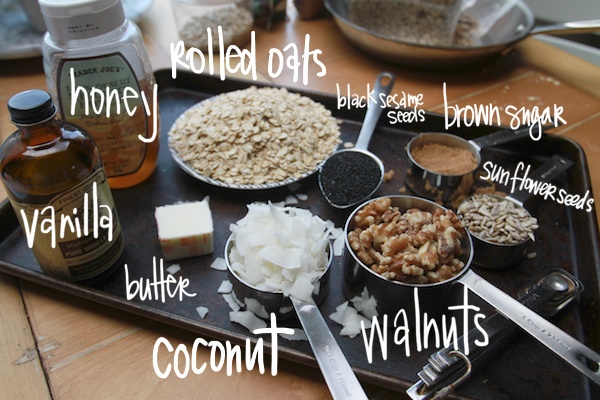 Chop up the walnuts or use any other nut you want! I love a good toasted walnut, don't you?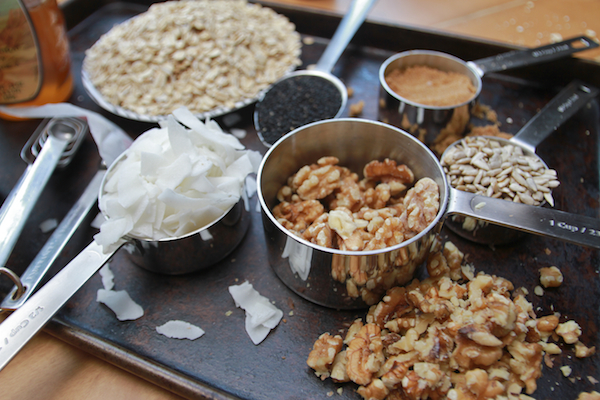 Melt butter in a pan, add in the walnuts, toss to coat. I've never done this to a granola before.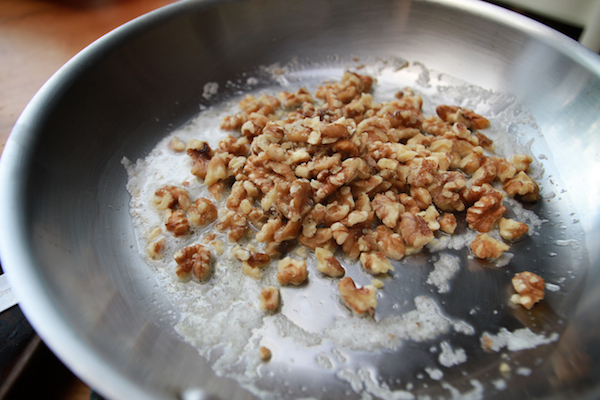 I like where this is going.
And then we add the sugar. Hummina Hummina. Stir in the vanilla at the very end.
We do this so we don't burn off the vanilla taste. That would be a waste of vanilla.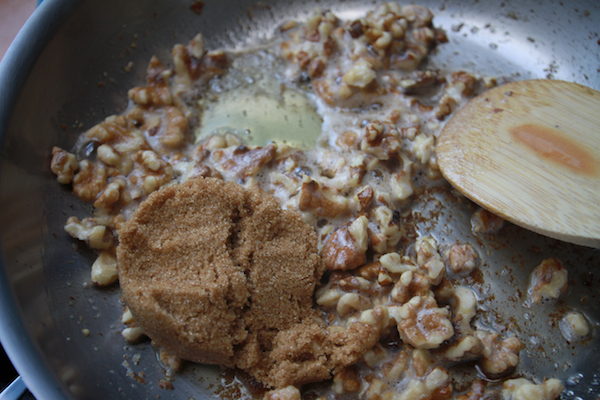 Now we get the rest of the ingredients in a bowl.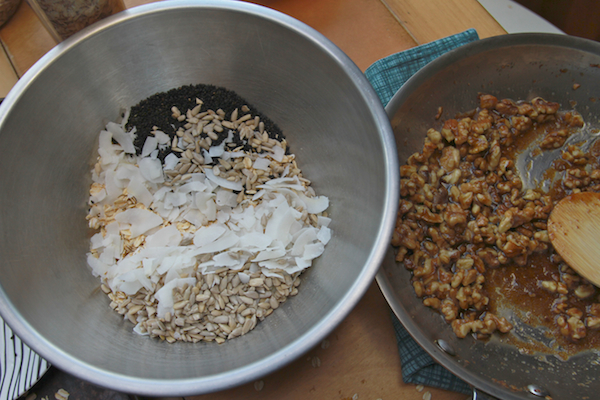 Would you just LOOK AT THOSE GLAZED WALNUTS?!!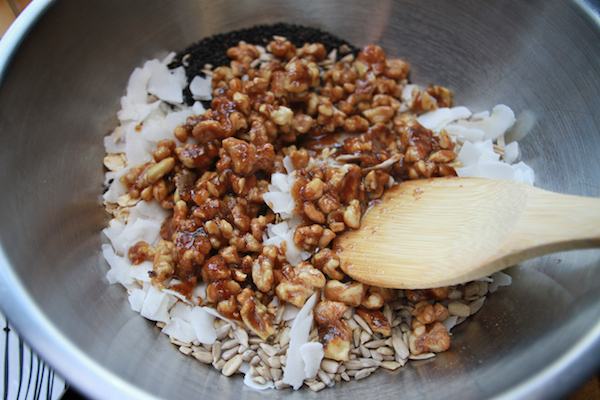 Mix really well and then spread it out on a parchment lined baking sheet.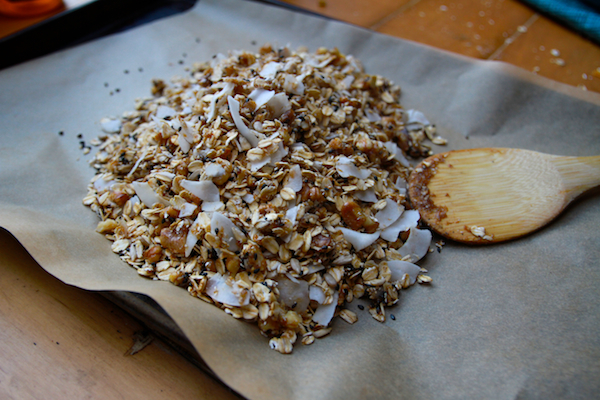 And we're toasted! You see those coconut flakes? Cooper picks them all out and eats them.
I really don't blame the kid. I need to make him his own tray of toasted coconut.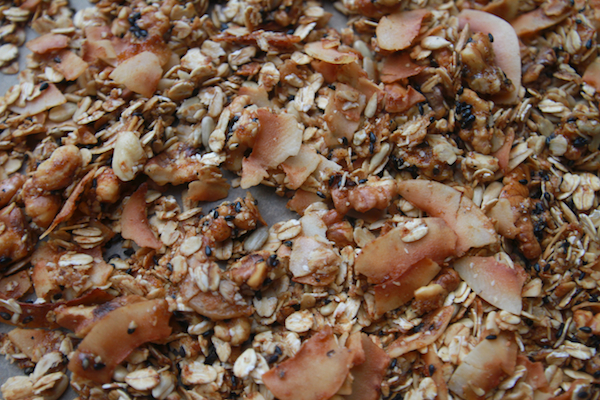 I had this granola for breakfast for a week straight with plain yogurt & a peach plum compote.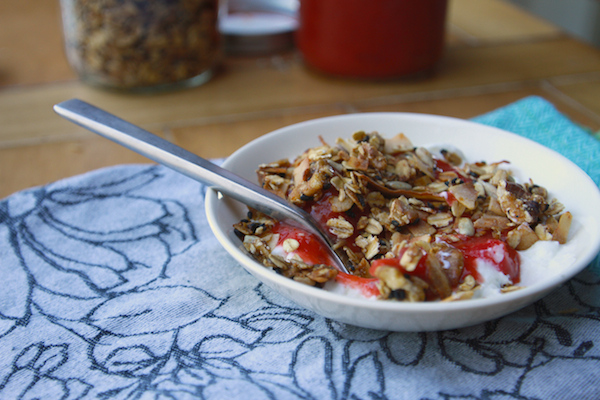 I was sad when I ran out. You would be too.
Killer Granola

makes 3 cups granola

recipe slightly adapted from The Cheese Board Collective Works Cookbook

2 tablespoons unsalted butter
pinch of salt
1 cup chopped walnuts
2 teaspoons honey
1/4 cup packed light brown sugar
1/4 teaspoon vanilla extract
1 1/4 cups old-fashioned rolled oats
1/2 cup unsweetened coconut flakes
1/2 cup sunflower seeds
1/4 cup black sesame seeds

Preheat oven to 325F. Line a baking sheet with parchment paper or a baking mat.

In a small saucepan, melt the butter with the salt over low heat. Add the chopped nuts, increase the heat to medium, and cook, stirring frequently for 5 minutes, or until lightly toasted. Add the honey and brown sugar, reduce the heat to low, and stir until melted and combined. Remove from the heat and stir in the vanilla extract.

In a large bowl, combine the oats, coconut, sunflower seeds and sesame seeds. Add the sugar mixture and toss until the oats are evenly coated.

Spread the granola evenly on the prepared pan. Place in the oven on the middle rack and bake for 15 minutes. Remove from the oven and stir to redistribute the granola. Bake for an additional 10 minutes, or until golden brown.

Let cool completely on the baking sheet. Store the granola in an airtight container.