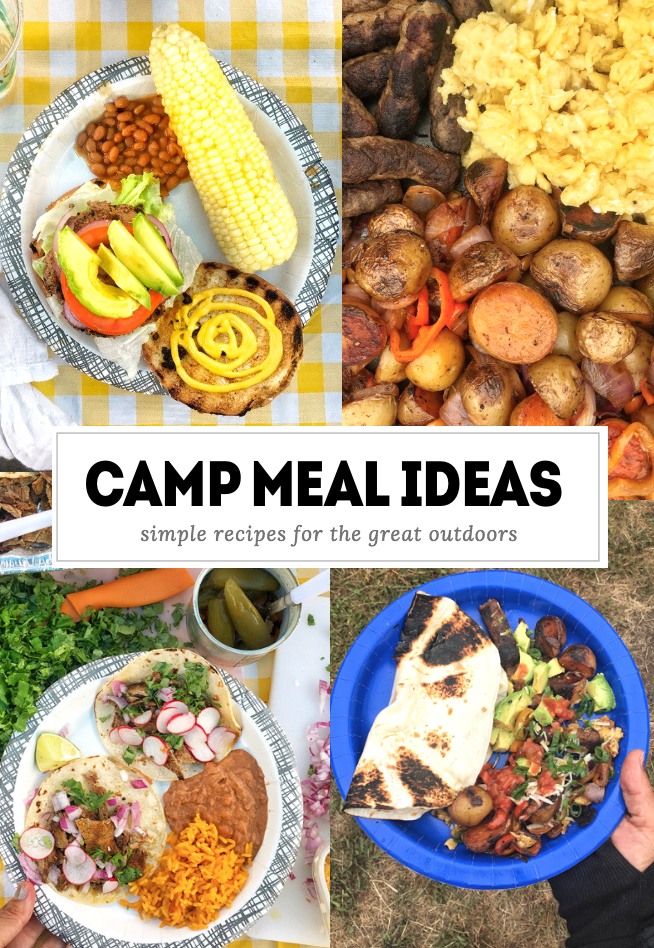 Someone asked me if I'd write a post about Camp Meal Ideas and I thought I'd take a stab at it.  Everyone has their own approach to camping. Mine? I like to add little comforts of everyday life into our camping lifestyle. I've never done one of those backpacking camping trips where we live off of nothing but what's on our back. Although I'm tempted to try a minimal camp experience, I'm more of an air mattress
/good food/booze lady who likes to have as many luxuries from home that I can fit in my car.
We just went camping up in Manchester over the weekend (which is probably why I need a cleanse right now). One of the reasons why I like our site is that there's a grocery store not too far away. There are so many things to remember when it comes to camping, that it's nice that we can buy things like meat and other perishables when we're up there. Plus, it means we have less to pack. I try to keep things minimal, but it never works out that way.
On our Two Nights/Two Breakfast camping trip we ate: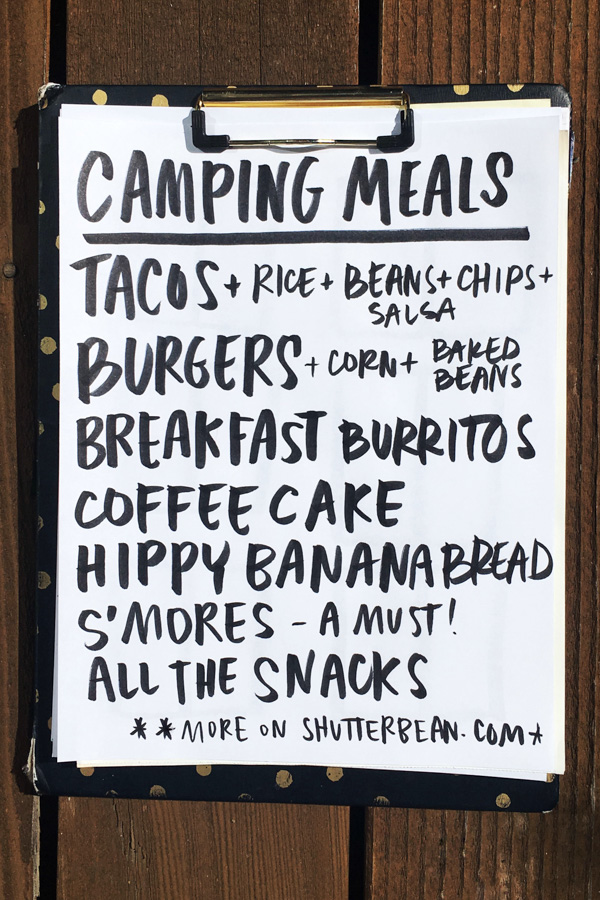 Our Camping Meals:
tacos
burgers
breakfast burritos (both days)
hippie banana bread
coffee cake
s'mores galore
Taco Night
corn tortillas
carne asada (bought pre-marinated at the grocery store)
mango salsa (brought ingredients to make from scratch)
cilantro
red onions
tortilla chips
radishes
limes
pickled jalapeños (from a can)
Spanish rice (we used a package mix)
refried beans (canned)
You can definitely be more minimal or go overboard with taco night. Cheese, guacamole, sour cream would all be good but they require cooler space, so if you don't have much, you can leave them off your list. Tacos are great because you can take any leftovers and turn them into nachos for lunch the next day. Bring the cheese!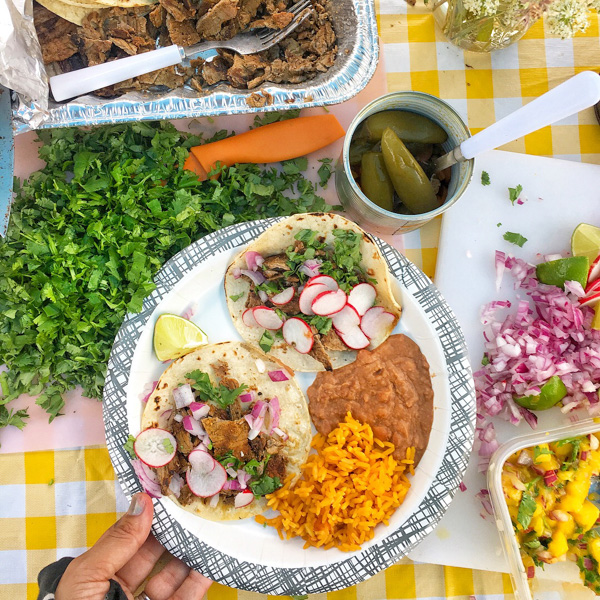 The second night, we had burgers.

Burger Night
ground beef (added salt + pepper)
buns
red onion
ketchup & mustard (mayo if you're into that sorta thing)
lettuce
tomato
avocado (splurge!)
can baked beans
corn on the cob + butter
You could always shape the hamburger patties ahead of time. If you're not a meat-eater, bring some veggie burgers. Next time I want to see if I can bring ingredients for a simple green salad.  It would be nice to have a little more vegetables in the mix.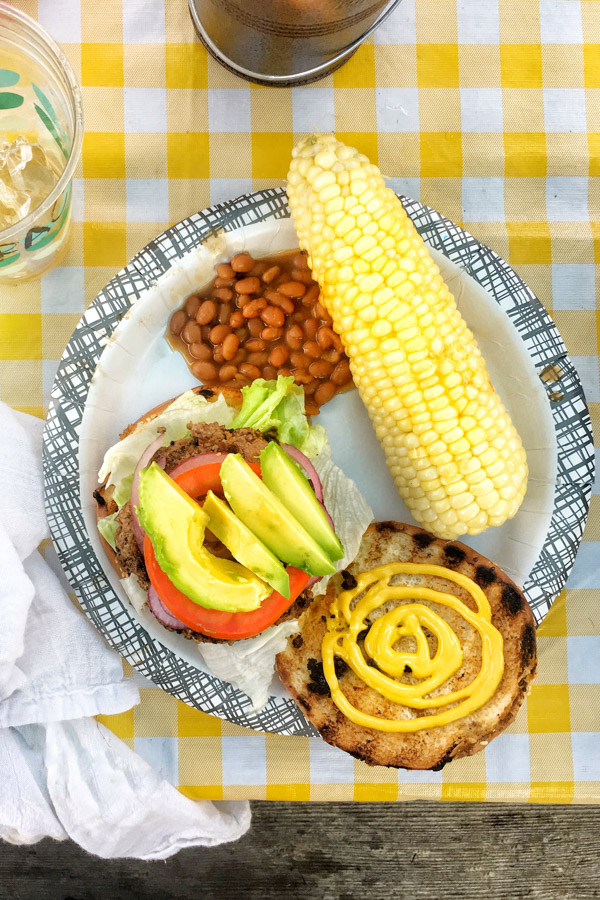 Last year we added hot dogs to the mix. GRILL PARTY!


Breakfast Burritos
flour tortillas
eggs
potatoes
red peppers
onions
breakfast sausage
avocado
Or you can have yourself a nice breakfast platter!  As you can see above, I had my burrito a la carte. I didn't have the energy in the morning to assemble mine. #bourbon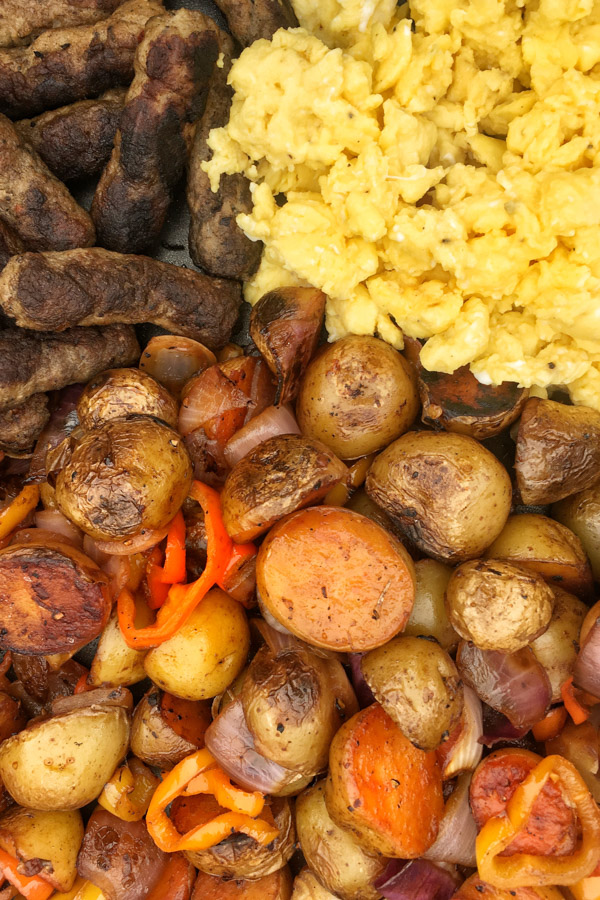 More Simple Dinner Ideas: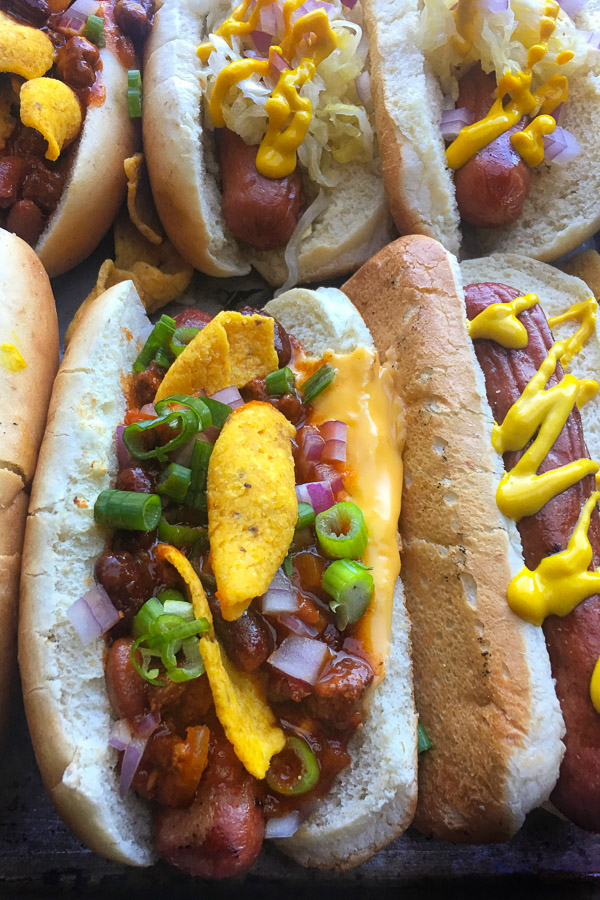 Don't forget hot dogs! Or veggie dogs. Whatever you're into!
You can keep it simple or make it fancy! Bring a can of chili and cheese for Chili Cheese Dogs!
Just consider who you are sharing a tent with…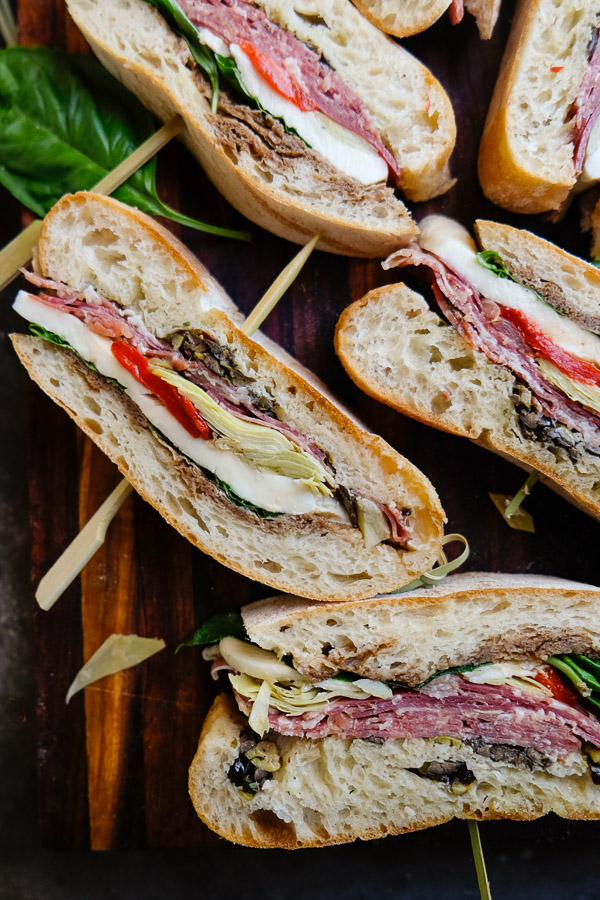 These sandwiches would be great for your first night at camp. If you don't feel like getting all your stuff out, just unwrap a sandwich you made before you headed out. You can also eat some for lunch the next day.
If you don't feel like getting all your stuff out, just unwrap a sandwich you made before you headed out. You can also eat some for lunch the next day.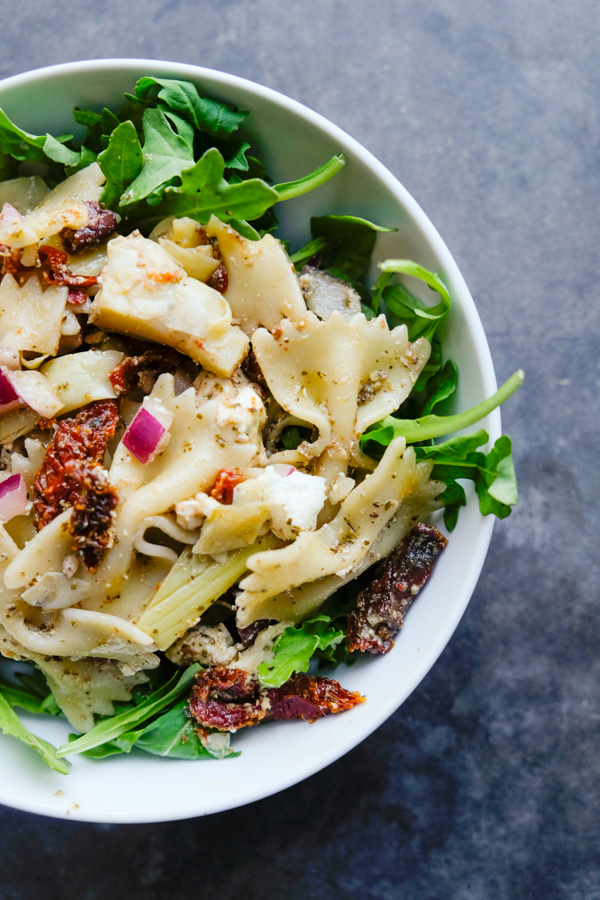 Bring a container
full of pasta salad. Great to fortify dinners or for lunch. Plus, you don't really have to worry about it being TOO cold or TOO hot. The cooler keeps it just right.

I suppose if I didn't camp with men, I'd have more meals like this pasta dish. It's easy to chop up tomatoes, boil water over the stove for pasta and assemble.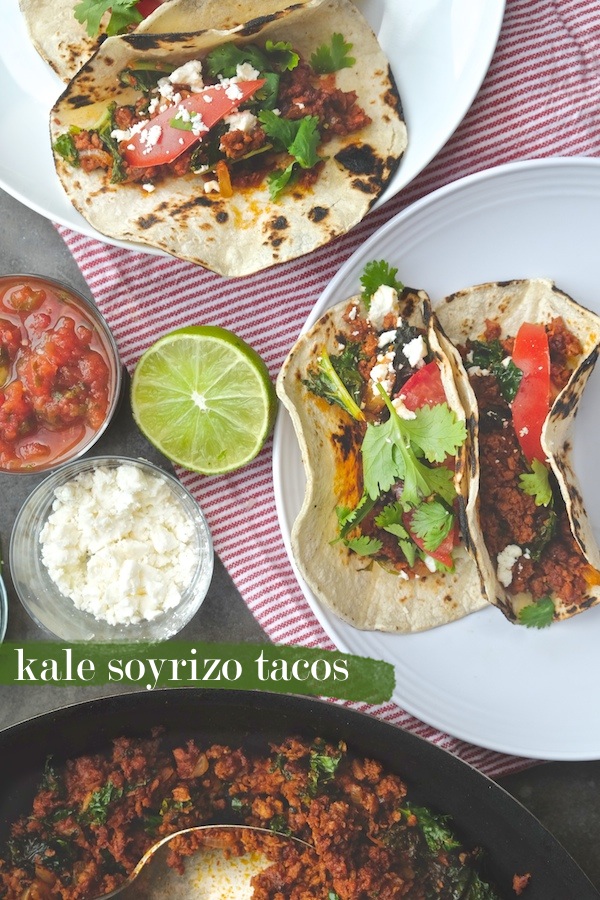 This is a good addition to the lineup. Soyrizo is pretty easy to use and doesn't take up much space in a cooler. Plus there you have some kale for health. Add some eggs to any leftovers and you've got a good breakfast situation.

If you want to keep it light and clean this is a really good meal. I'd probably add some bread in there, but that's just me!

If you like doing your chopping outside (like me!) you'll like making this dish while camping.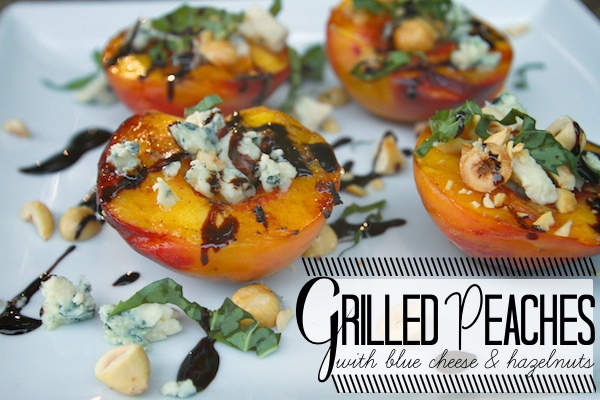 Look at this fancy number. I bet you've never had blue cheese on a camping trip. There's a first for everything.
Other Recommended Sweets: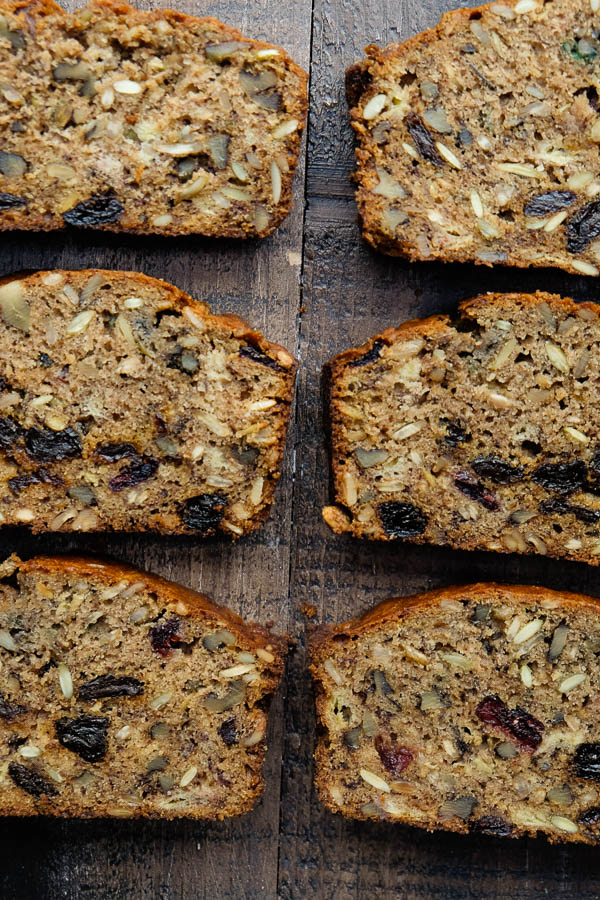 I brought a loaf this year because I knew my father-in-law (who is a protein nut!) would go crazy for the stuff. CORRECT!  It's a great breakfast option and if you're back at camp needing a little afternoon snack, it's perfection.

Coffee cake is great to have on hand. I just wrap it up in foil and call it a day. Before our breakfast burritos were made, a few of us were digging into a few pieces with our campfire coffee. That's what coffee cake is for!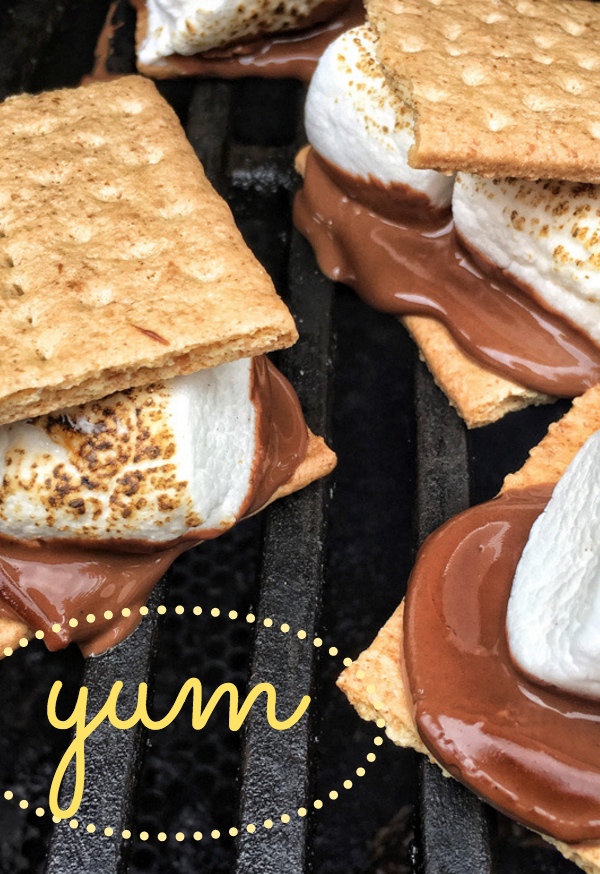 Stock up before you go! I've found that most places that are within a campsite sell all the supplies at a REALLY HIGH MARKUP. It definitely pays to think ahead. No one needs to be paying $7 for a box of graham crackers.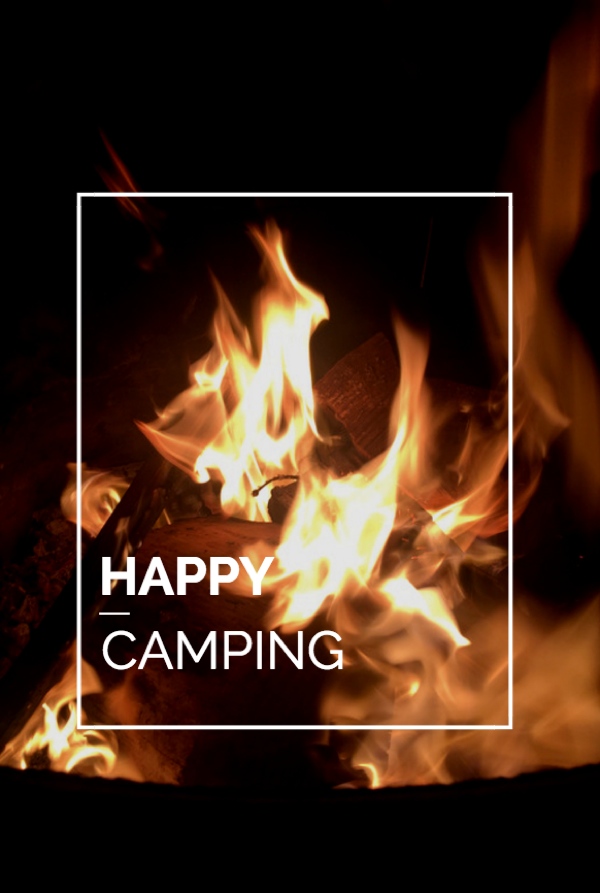 If you have Camp Meal Ideas you'd love to share, let me know.
I'm always looking to shake things up!