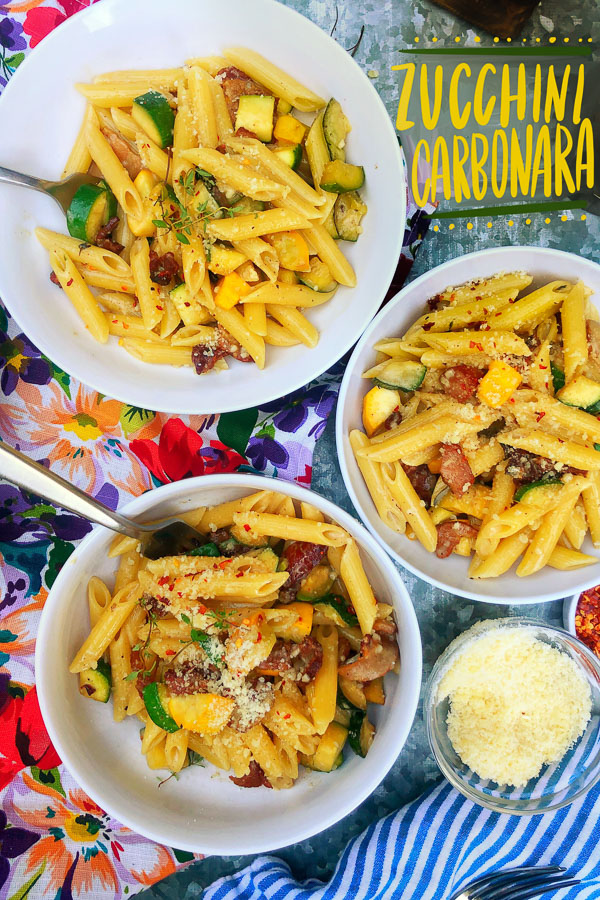 How do you get a family who doesn't really like eating vegetables to eat their vegetables?
You made a creamy bacony carbonara that has an exorbitant amount of zucchini in it.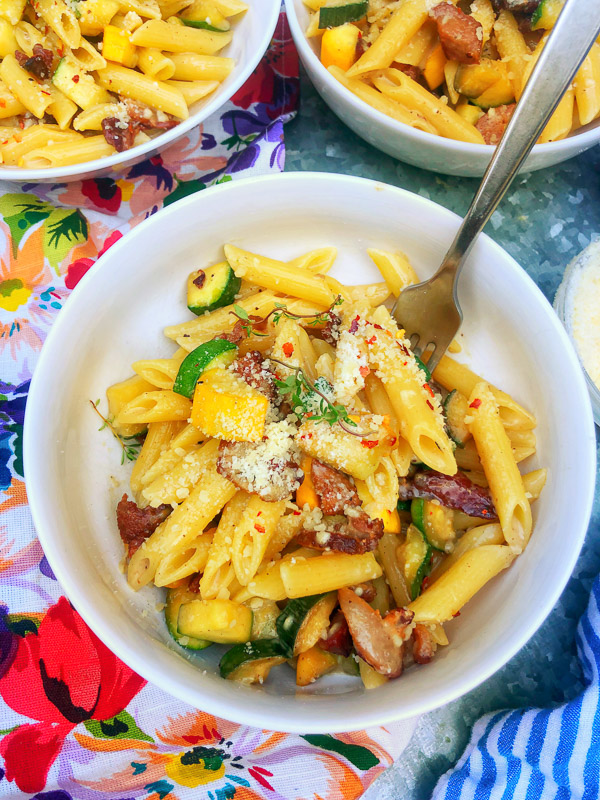 You make it easy for them to eat by using penne.
That way they can stab penne and zucchini with a fork and shove it into their mouths.
Have you ever made carbonara? No? You're in for a real treat.
It couldn't be simpler.
You just have to act fast when you stir in the sauce so you don't accidentally make scrambled eggs.
Fear not, I'll show you.
But just FEAST YOUR EYES ON THIS.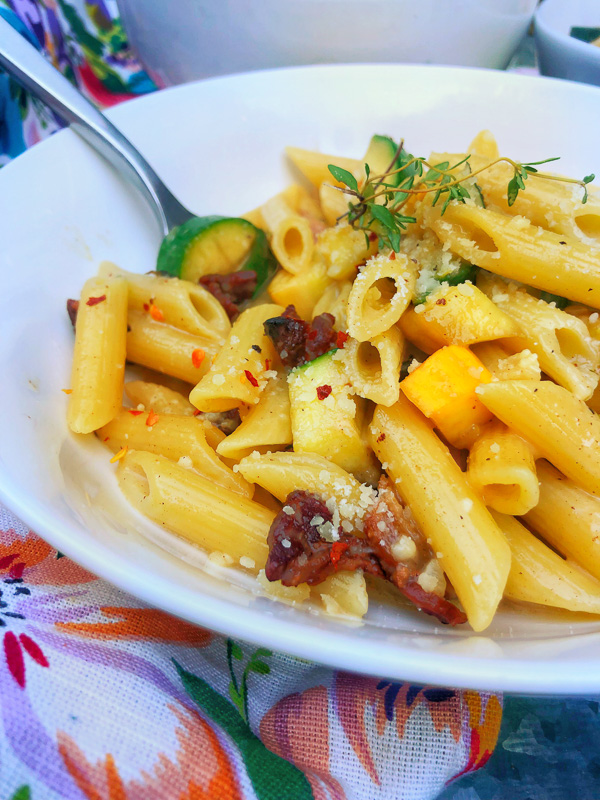 It's a simple dinner you can pull together on a weeknight and a great way to put all that zucchini you've grown in your garden to good use.
Chances are if you're growing zucchini in your garden you have more than you know what to do with.
Besides this Zucchini Carbonara, you can also make zucchini fritters, zucchini blueberry bread, zucchini parmesan sliders,  curry zucchini soup, and one of my favorites zucchini corn pizza!
Let's gather our ingredients.
Got that yellow squash from a friend!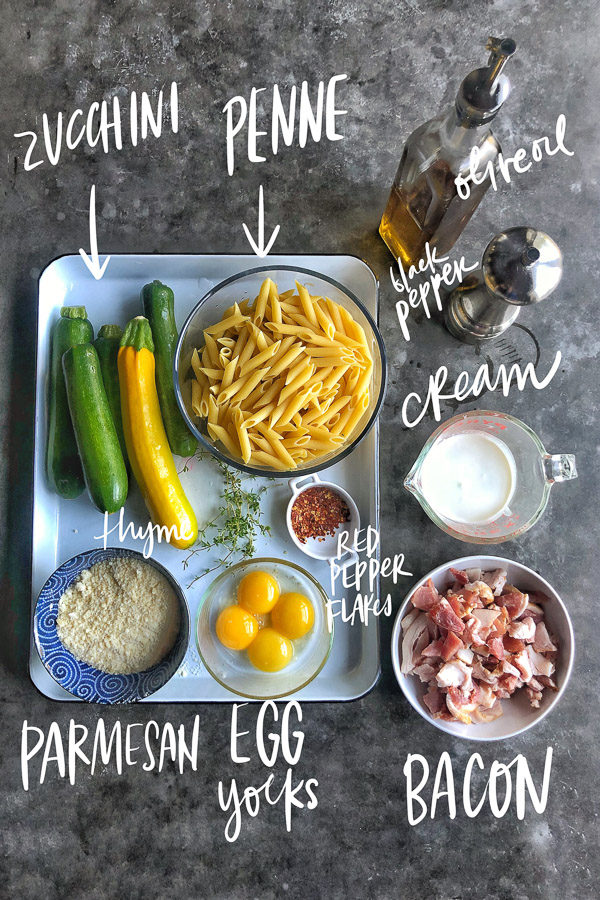 The base for carbonara is egg yolks & heavy cream.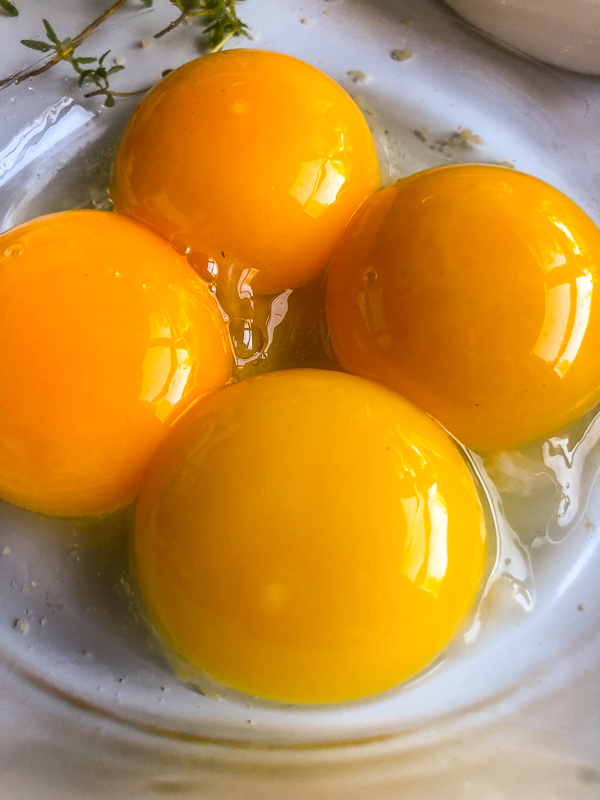 Did I mention Parmesan cheese? Well, there's a lot of that in there too.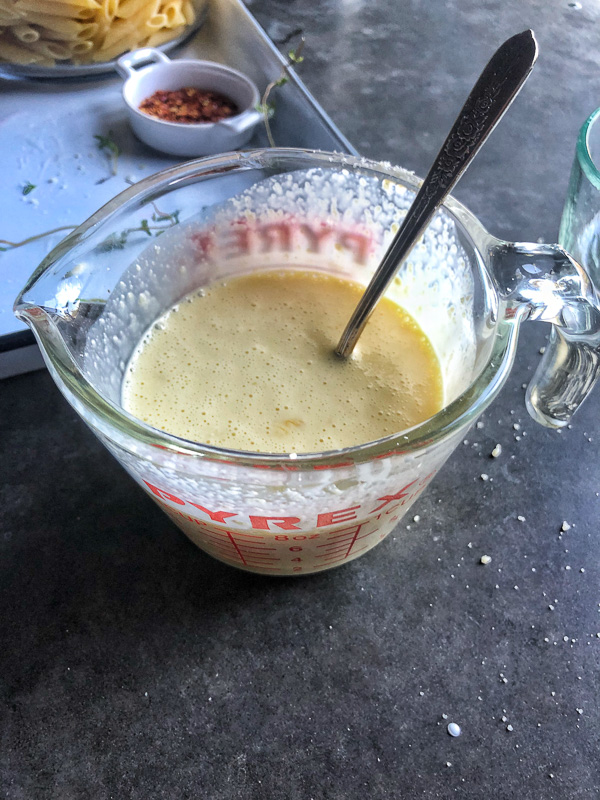 I didn't feel like having my house smell like bacon. Plus it was too dang hot so I cooked it outside. Just me and the birds outside and a cocktail.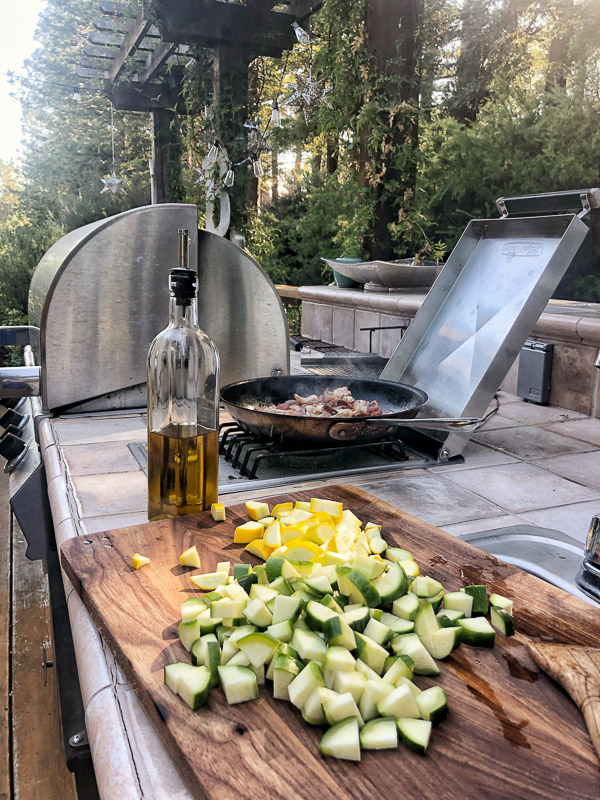 Hello, bacon.
Drain most of the rendered fat. Leave about 2-3 tablespoons of it so you can cook the zucchini.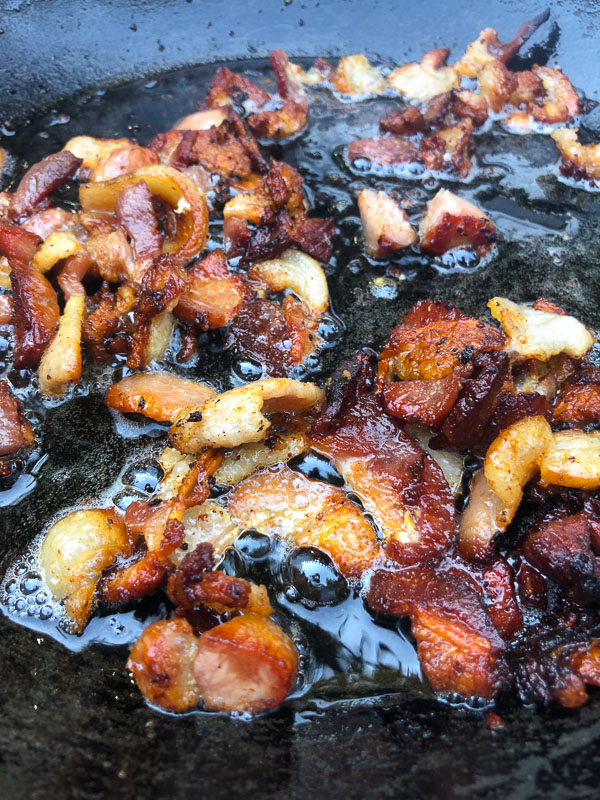 Nice to see you, zucchini.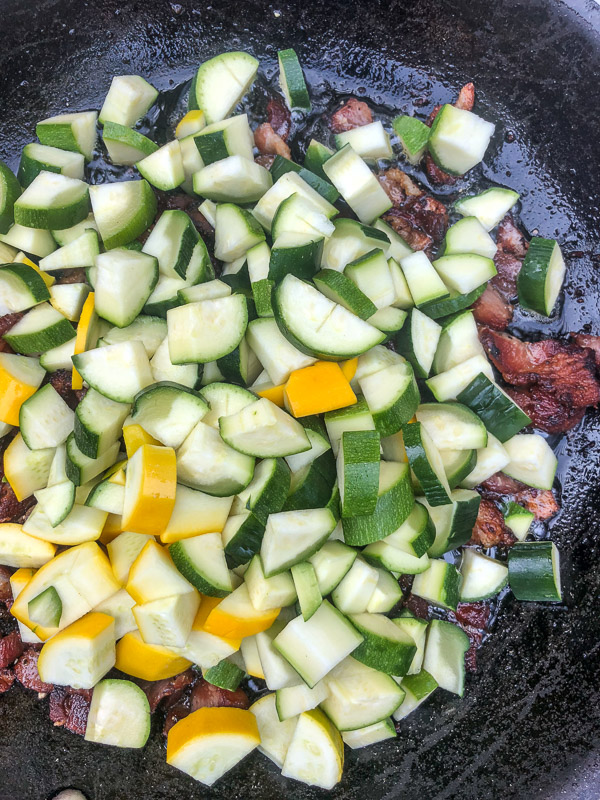 Oh hey, penne.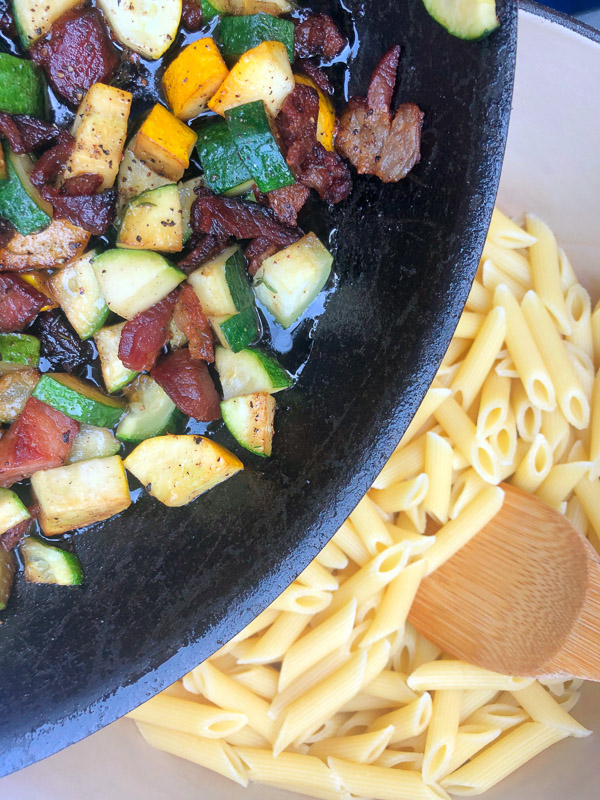 Goodness, gracious.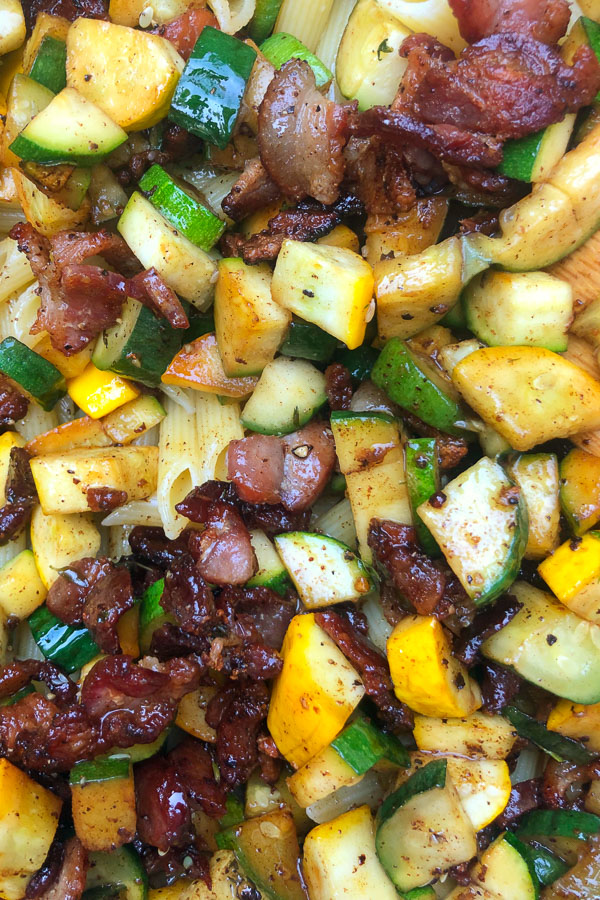 Sauce, stir, sauce stir, fast, keep going. Add pasta water if you need to make it more saucy and shiny.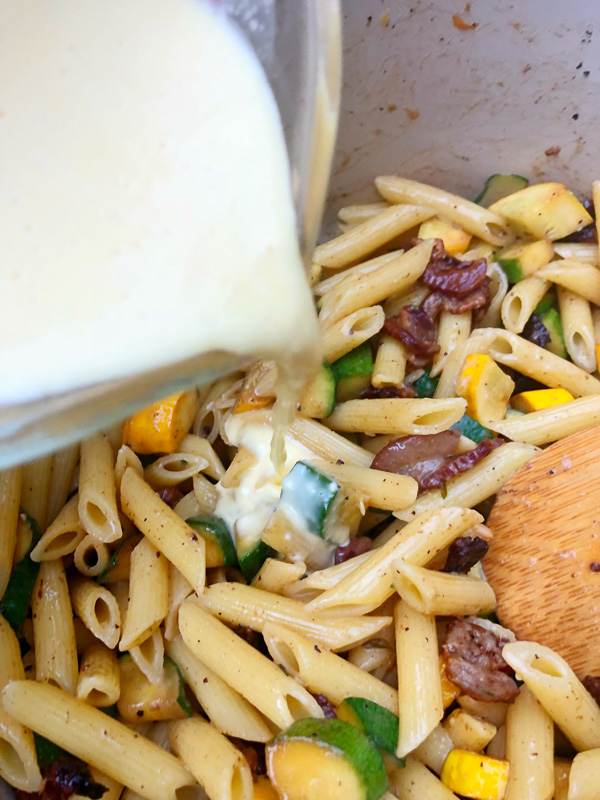 Parmesan added because we know how to live. I like a heavy dose of cracked black pepper on my carbonara. I dunno about you.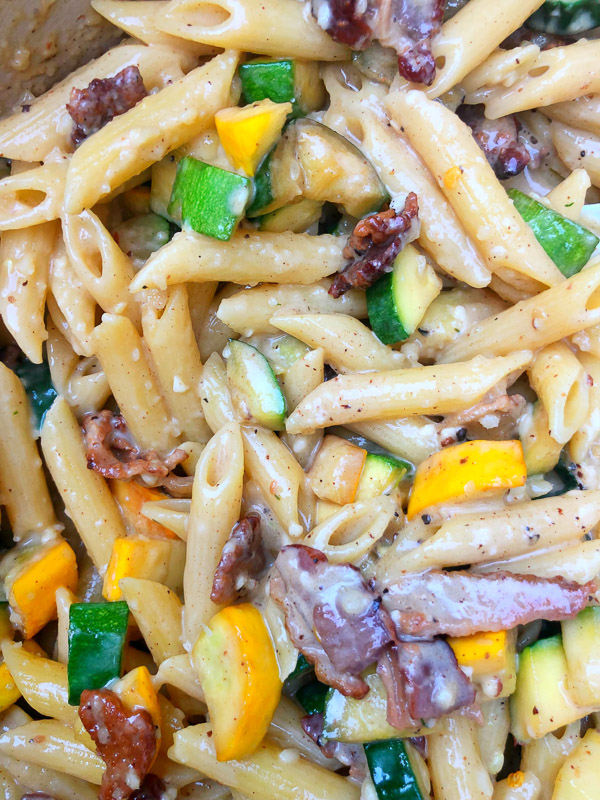 Bowls are set. Parm added. A sprinkle of red pepper flakes because we like spicy things in my family.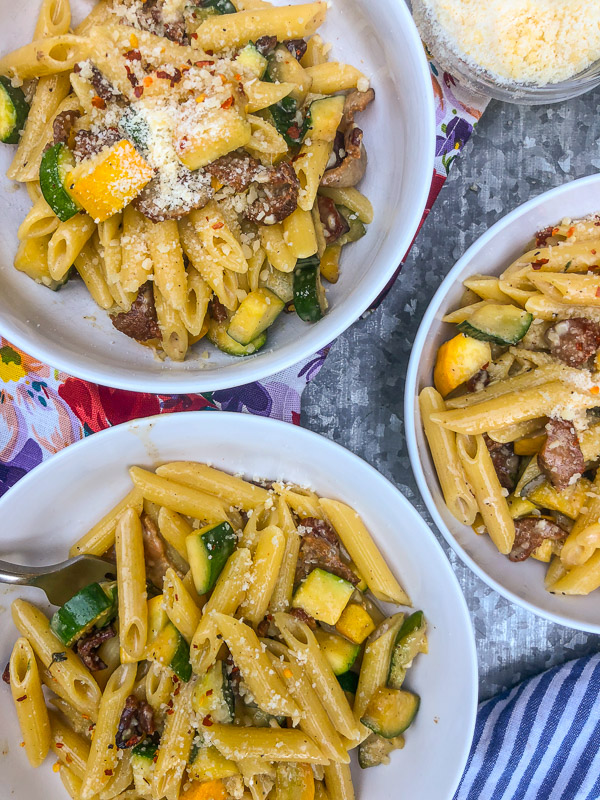 Grab a bowl. Let's sit on the deck and look at our garden while we devour this pasta.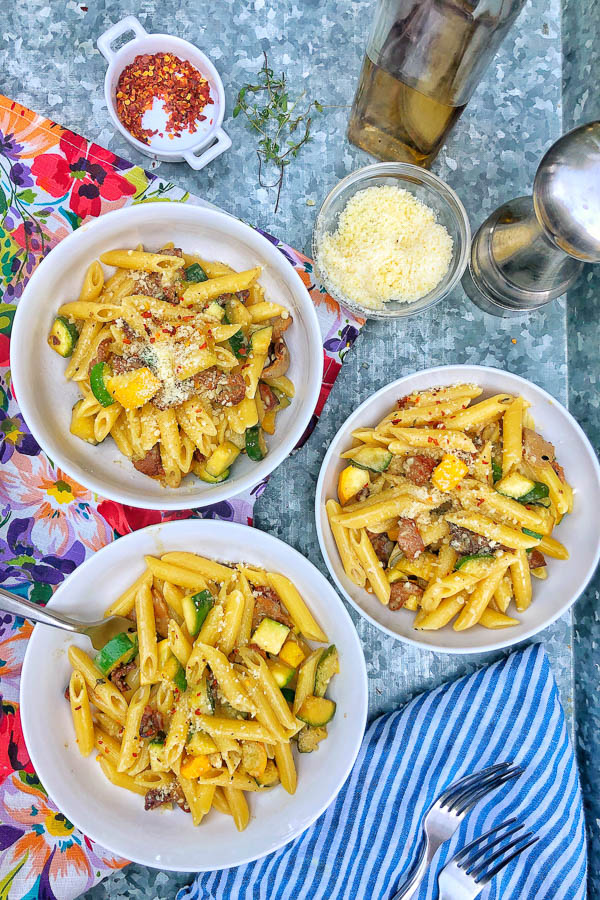 Your family will be cool with all that zucchini because it's mixed in with creamy sauce and bacon.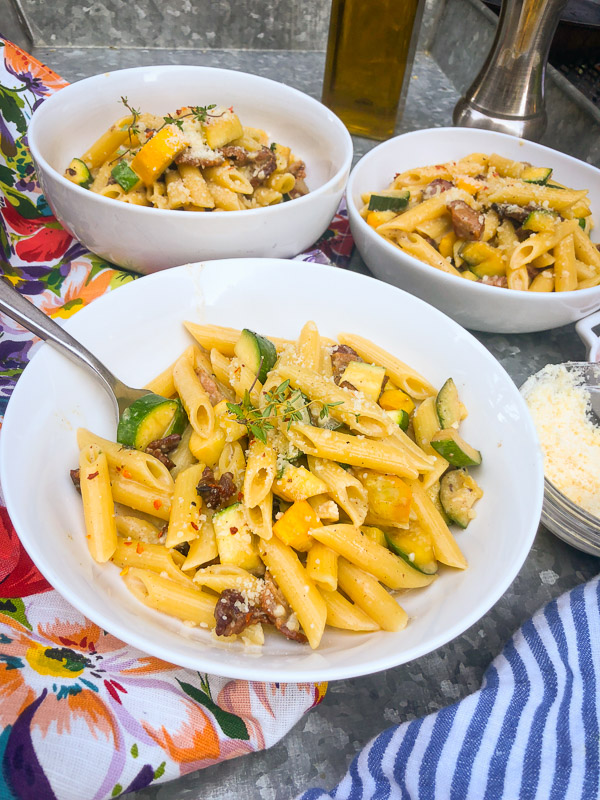 I like mine heavy on the zucchini and light on the pasta.
When you're an adult, you can do whatever you please.
Zucchni Carbonara

serves 4
Recipe adapted from Jamie at Home

6 medium zucchini

1 lb. penne

4 large egg yolks

½ cup heavy cream

2 good handfuls freshly grated Parmesan cheese

Olive oil

12 thick slices of bacon, cut into chunky pieces

1 small bunch of fresh thyme, leaves picked and chopped

Sea salt & freshly ground black pepper

red pepper flakes, for serving

Put a large of salted water to boil on the stove

Cut zucchini in half and then cut into quarters. Proceed to cut zucchini on an angle roughly the same size as the penne.

To make the carbonara sauce, put the egg yolks into a bowl, add the cream and half the Parmesan, and mix together with a fork. Season lightly and put to the side.

Add penne to boiling water and cook according to the package.

Heat a large frying pan with a good splash of olive oil. Fry the bacon pieces until dark brown and crispy.  Drain most of the rendered bacon fat. Reserve about 2-3 tablespoons. Add the zucchini slices and 2 big pinches of black pepper. Sprinkle in the thyme leaves, and stir evenly to coat the zucchini in the bacon flavored oil. Fry zucchini until they start to turn lightly golden and have softened slightly.

When the pasta is finished cooking, drain it, reserving a little of the cooking water. Immediately toss the pasta in the pan with the zucchini and bacon. Remove from the heat and add a ladleful of the reserved cooking water and your creamy sauce. Stir together quickly and work fast or else you will have scrambled eggs.

Toss the pasta with the rest of the Parmesan and a little more of the cooking water if needed to give you a silky and shiny sauce. Taste for seasoning. Serve with Parmesan and red pepper flakes. Eat immediately.