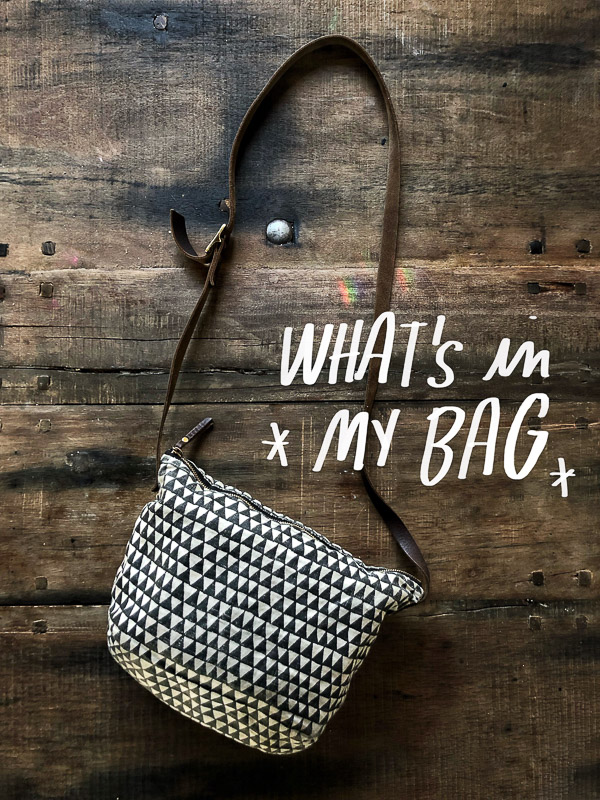 I've been through two bags since my last What's in My Bag post and I didn't even show you!   I used my Mom's leather shoulder bag for a good while and then got paranoid that the smell of her would fade away if I continued to use it so I switched bags immediately. Her bag is hanging in my family room on the door and I think of her whenever I see it.  I am glad I asked my Mom if I could use it a few years ago. She got to see me use her bag, just as I got to see her use one of my bags from college in the last few years of her life.  Life a real trip, isn't it??!
For the past six months, I've been really enjoying my TRIANGLE BOOKHOU BAG. I've had it for a few years and it's aged well. It's been the best companion for erranding as it can fit a lot!  Just you wait and see what I stuff in mine!  Over the years, I've learned that I am a crossbody bag wearer. I like to be able to have hands-free mobility. I haven't tried a fanny pack, but I can really see how convenient they are.  So this is my favorite crossbody bag as of late.
This is my bag in use: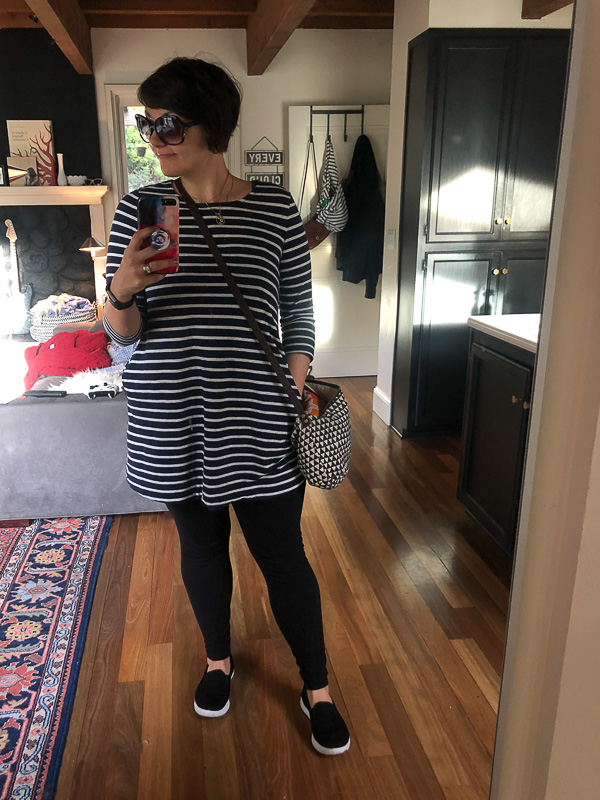 Cleaning out my purse is one of my action items on Sundays when I'm getting ready for the week ahead. I actually really love this process because it forces me to be intentional about I carry along with me.  I 'm glad I've done these posts because I love being able to reference old versions of myself. It differs a bit, year by year. Things come and go, and there are some of my favorite things.
Old bags/configurations if you want to take a gander:
THIS IS WHAT'S IN MY BAG!!!!  Right now as of 02/20/2019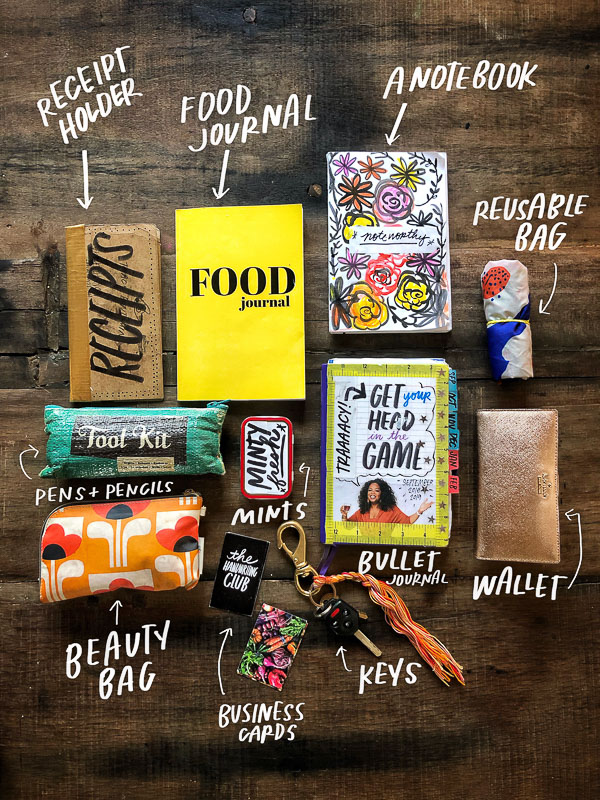 My Essentials
Let's talk about what I keep with me. If you're new to here, I like to be prepared. I learned it from my Mom, who also carried a lot of stuff with her too.
⋅Bullet Journal- My calendar/TO DO LIST toolkit.  If I'm on the go and will need my calendar, I'll bring this with me. If you want to see some of my bullet journals, you can do that here! 
⋅Food Journal -I usually have this on my kitchen counter when I'm at home and when I'm away from the house it comes with me. I designed the food journal with the idea in mind that it was something I couldn't easily slip into my bag to be on the GO with.  If you would like a food journal, you can get one from my Etsy shop. If you're international, here's a link to buy one!   Follow more adventures on @thehandwritingclub
⋅Notepad- I folded up a stack of paper /stapled it with a long stapler to turn it into a booklet.  Kinda like how I did with our gratitude journals. When we're out and about and I need to jot down notes or occupy Cooper at a restaurant, I pull out this notebook. I love when we finish one because it's mostly filled with hangman, random grocery lists, and countless games of tic-tac-toe.
Wallet– I have this shiny rose gold Kate Spade wallet I love!
Reusable shopping bags– Baggu makes the best!!! I have a variety of them and they carry SO MUCH at once. All the clerks are always commenting on how much they love my bag and it makes me happy because it sparks a good conversation!
Keys- because, DUH
Business cards- I got mine from Moo (get 25% off your first order here)
Beauty Bag – for touchups and help!
Pen Case – cannot go anyware without it.
Receipt Folder- to keep paper piles at bay.
Mint Case- fresh breath!
Let's deep dive, shall we?!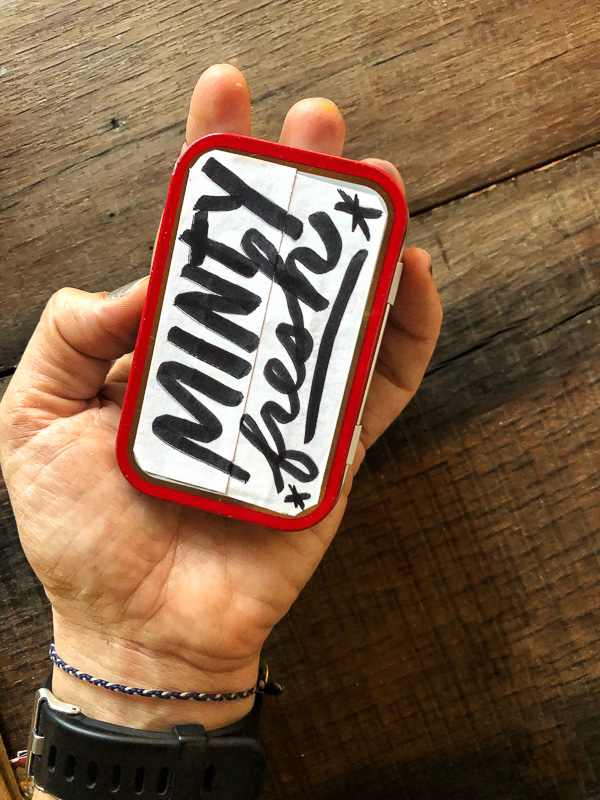 Because fresh breath is important and also a good reset/coping tool.
I repurposed an altoids container but I put the sticker on the wrong way and every time I open it, it's backwards and drives me nuts. Will fix soon.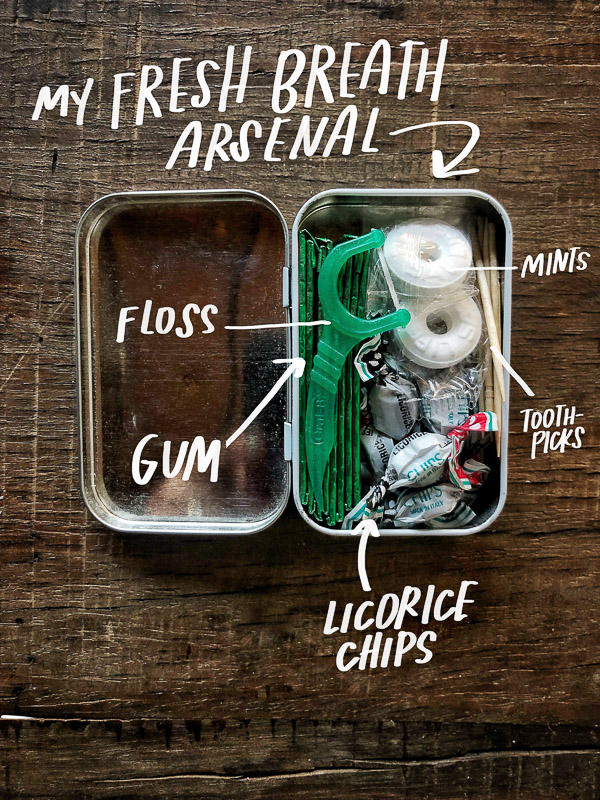 Breath Fresheners:
Licorice Chips – My grandpa had these on his bedside when I was young. I remember having them and liking them. I went to an old Italian restaurant and they handed these out with the check and I immediately rushed home and ordered a ton of them on Amazon.  I like that they are kinda chewy, they soothe a scratchy throat, can act as a breath freshener, but mostly I like them because they give me a good RESET.  They help me curb a sugar craving too.
Toothpicks– Sometimes you need one! I really like these ones that are minty. I tried the cinnamon version but it totally irritated my skin so no more of those for me.
Floss– Gum health is important. Sometimes I'll floss while driving. Hey! It's better than being on the phone! These picks are great. They're minty and they have a toothpick end.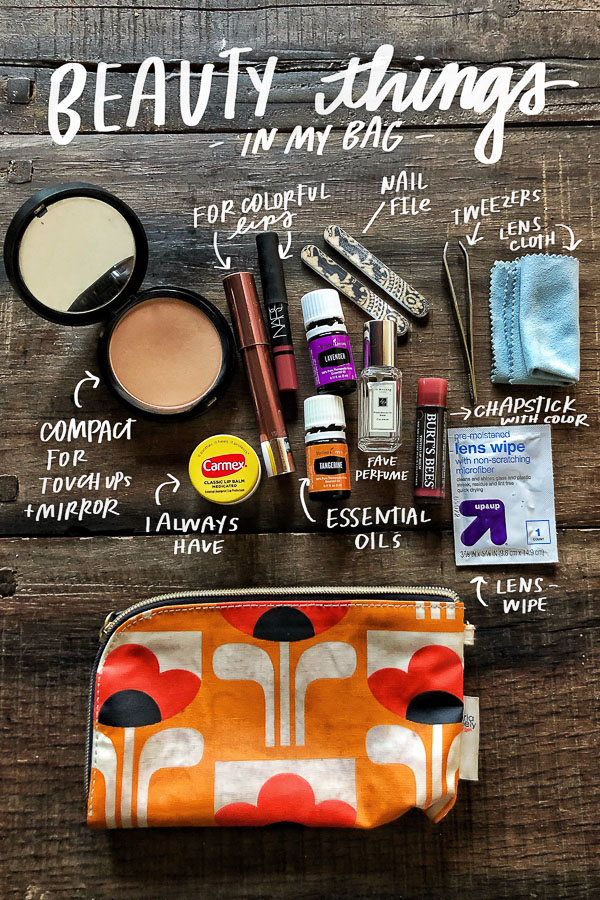 In my Beauty Bag:
Essential oils–  Orange and Lavender are my go-to's when I'm on the road!
My favorite perfume– I like to have a travel size of my favorite perfume with me.  Pomegranate Noir is my favorite thing to wear during the winter.
Carmex – This is something I cannot live without.
Tweezers– I always have one in my bag or in my car because I'm getting old and rogue hairs are no joke.
Nail Files-  If I have a snag in my nail, I won't rest until it's taken care of. That is why I must have a nail file with me.
Tinted Chapstick – When I'm feeling like I need some moisture and color I'll use this.
Lipstick-  two of my favorites are this  Revlon Lip Stain and Nars Lip Pencil.
Pressed Powder Compact– It's a mirror and powder. It makes my face less shiny. I use it when I need to.
Lens cloth  – I have to be good about keeping one with me because I wear glasses and also my phone and camera lens need cleaning at times.
Lens Wipes– for the tougher lens cleaning jobs.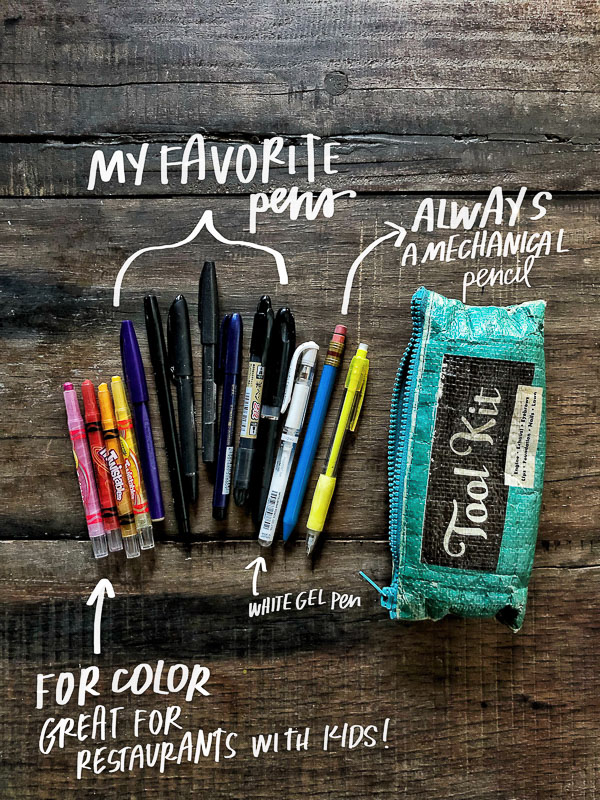 Pen Bag
I would carry a Tombow Brush pen
with me but my pen case isn't long enough to hold it.
If you love pens too, you'll probably dig my post on My Current Favorite Pens.
That's it!  That's what I like to carry with me most times. I was thinking about doing a post about my food styling tool kit and my working out of office bag to go. Is that something you'd be interested in? Let me know!