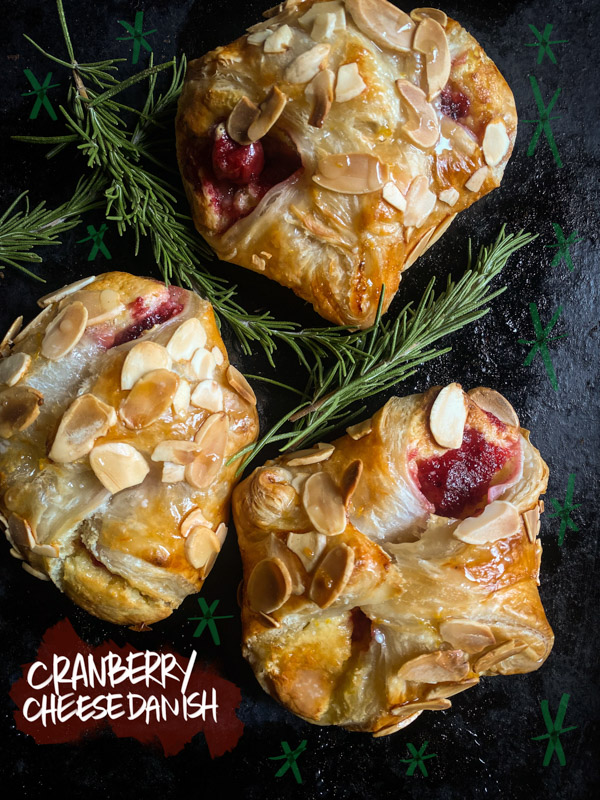 If you find yourself with a little bit of cranberry sauce leftover from Thanksgiving this year, you can make Cranberry Cheese Danishes! Just get yourself some cream cheese and puff pastry while you're at the store this week (godspeed, my friend!).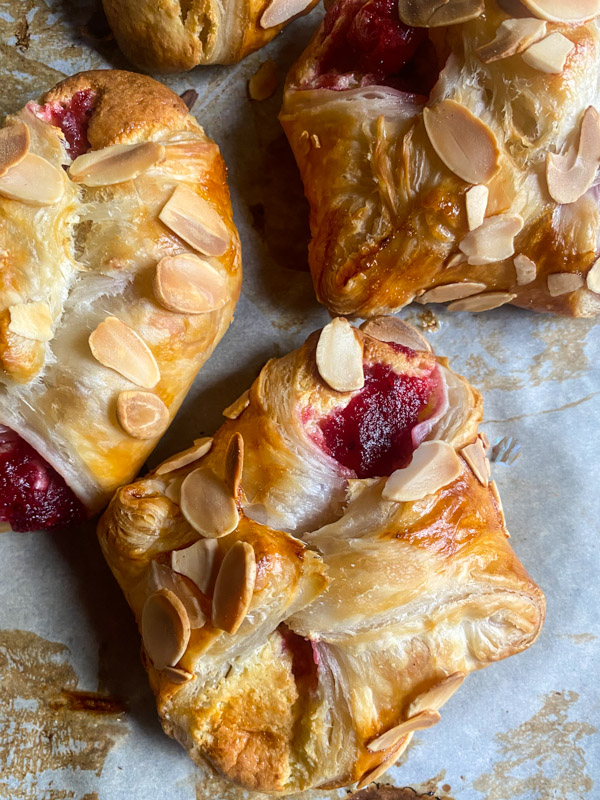 When I was a kid, my favorite Aunt & Uncle spent the night at our house when we had holidays together. They always brought some type of cheese danish that my Mom heated up in the oven the next morning while we all sat around in our jammies. It was delightful and it helped make their sleepovers so much fun. These Cranberry cheese Danishes might be just the thing if you're looking to build a new holiday tradition!
Here are the ingredients involved. This recipe makes 4!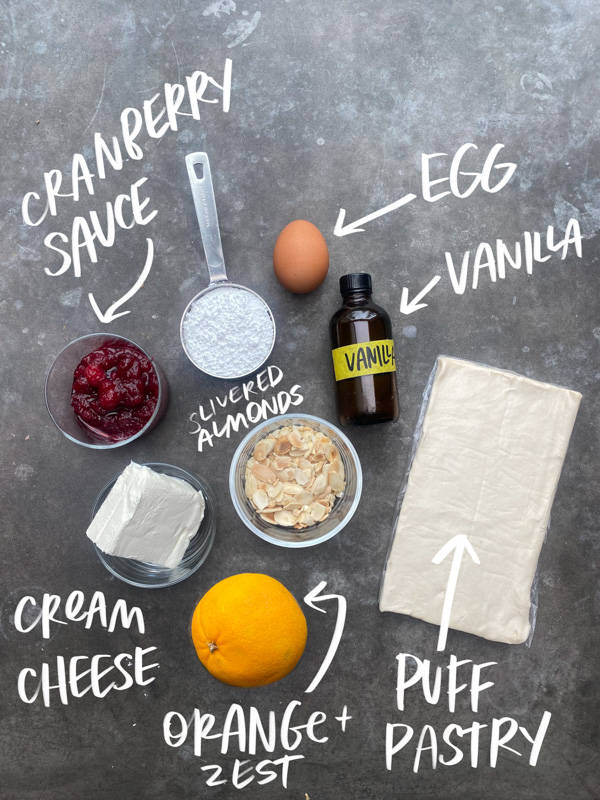 The filling is a combo of powdered sugar, cream cheese, vanilla, and egg yolk.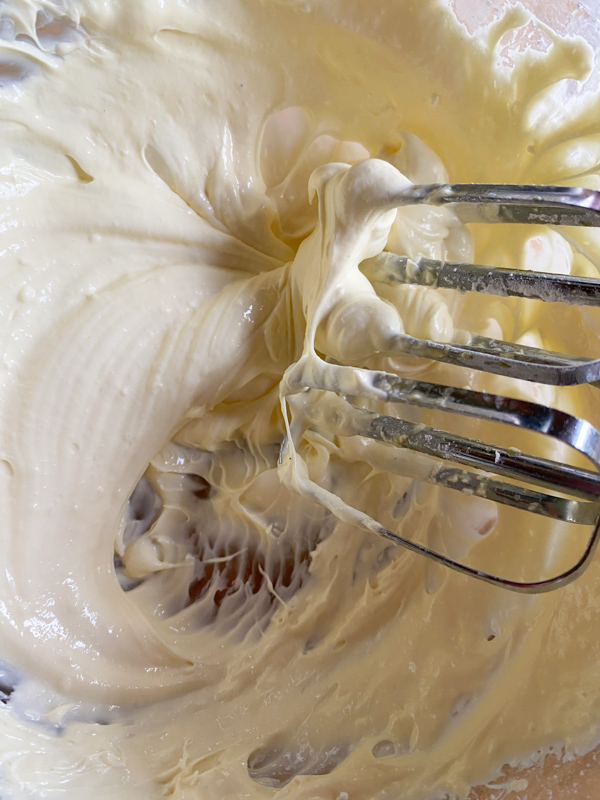 Cut the puff pastry into 4 squares. Do this on a floured surface and then transfer to a parchment-lined baking sheet.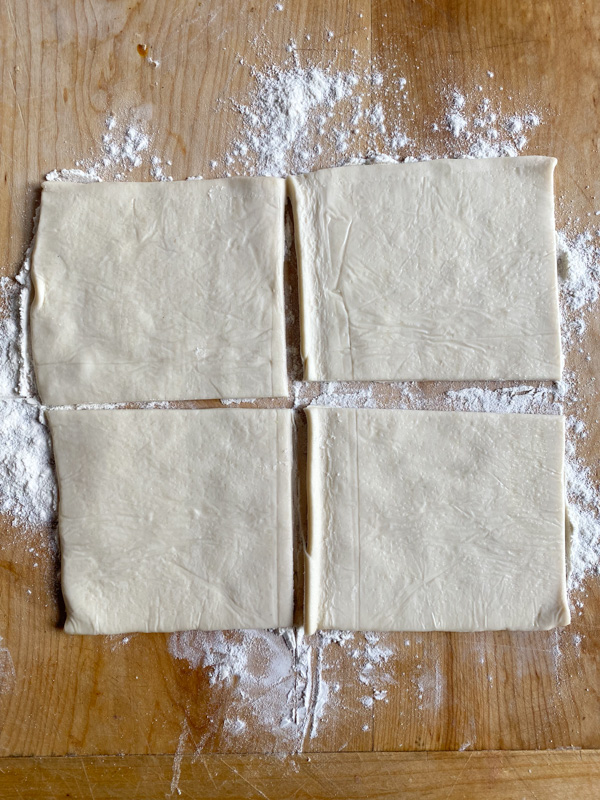 TADA!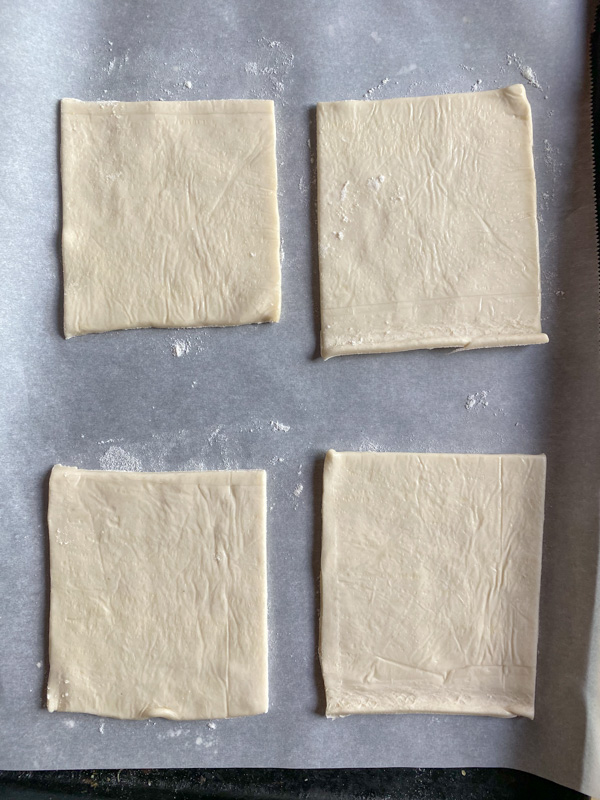 Scoop in the filling to each square.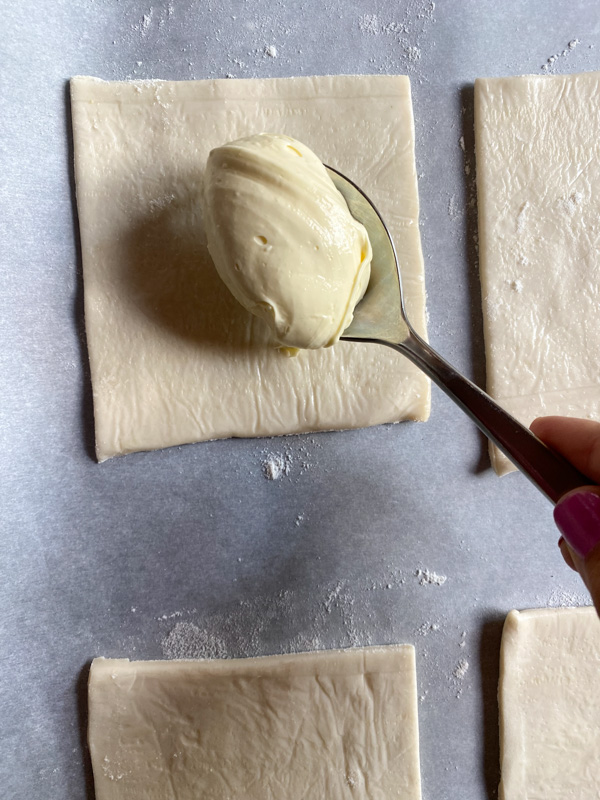 Add some cranberry sauce!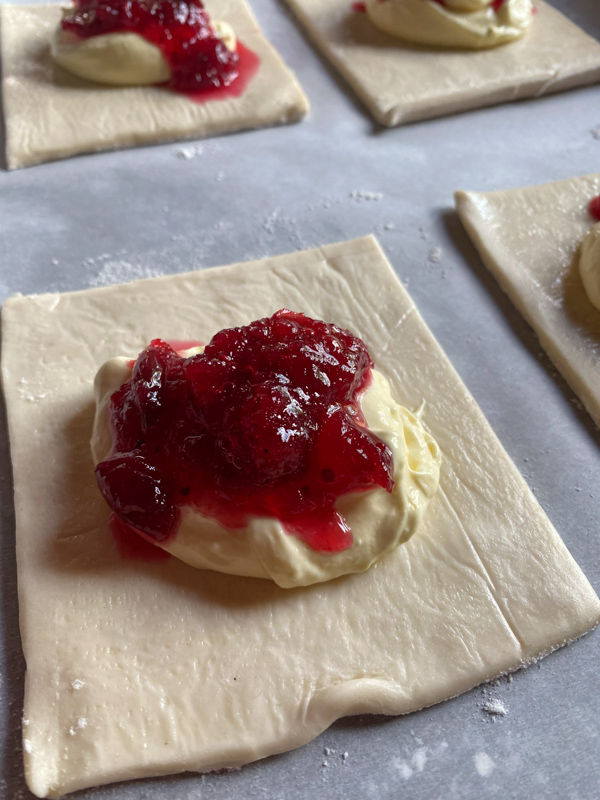 Fold both sides together. Do a little pinch to keep it closed. Brush egg white on each of the danishes.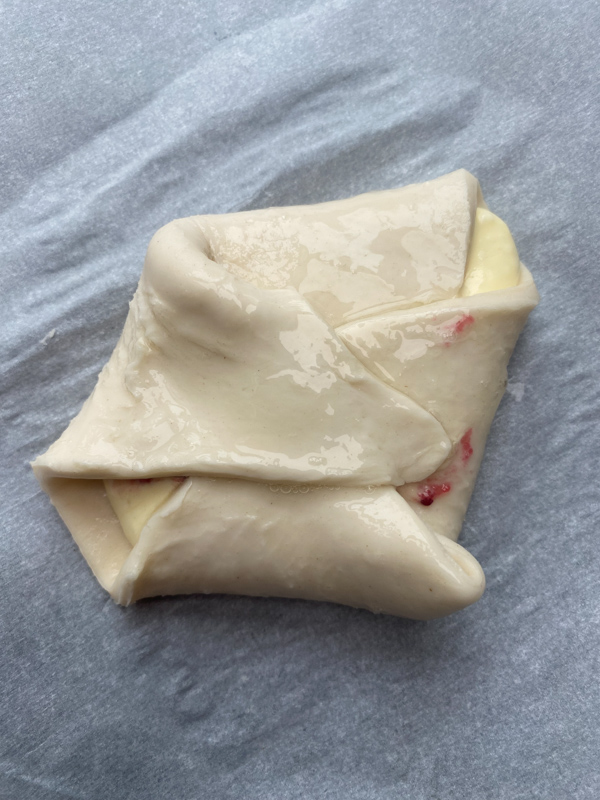 Top with slivered almonds.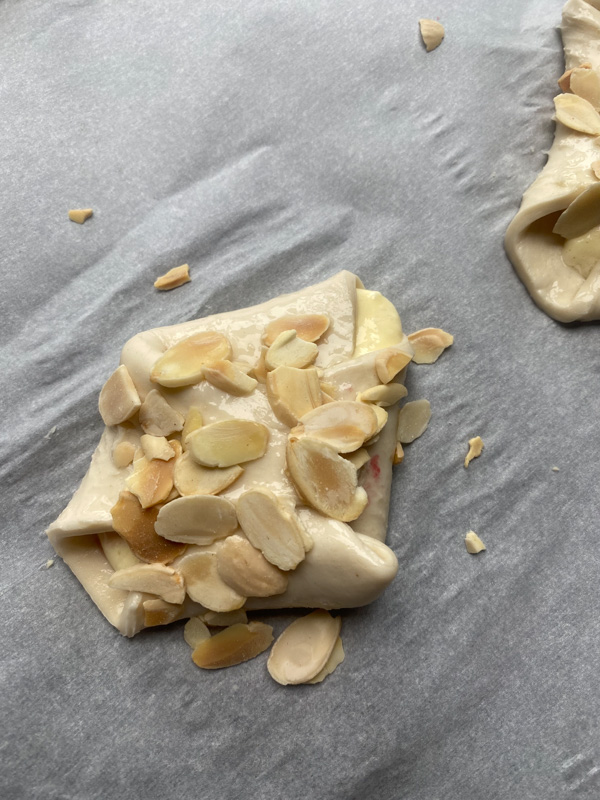 What makes them even better after they come out of the oven-baked and golden?
An orange glaze!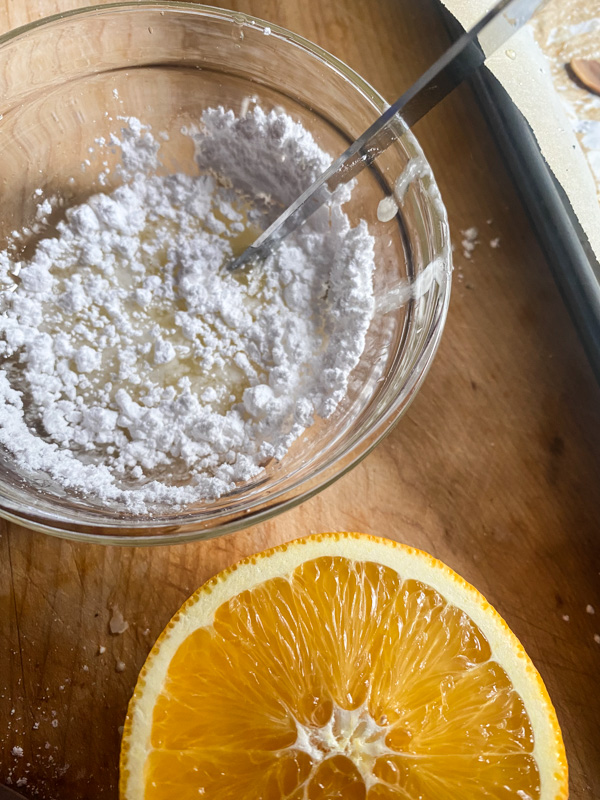 Drizzle a bit of the glaze on each one.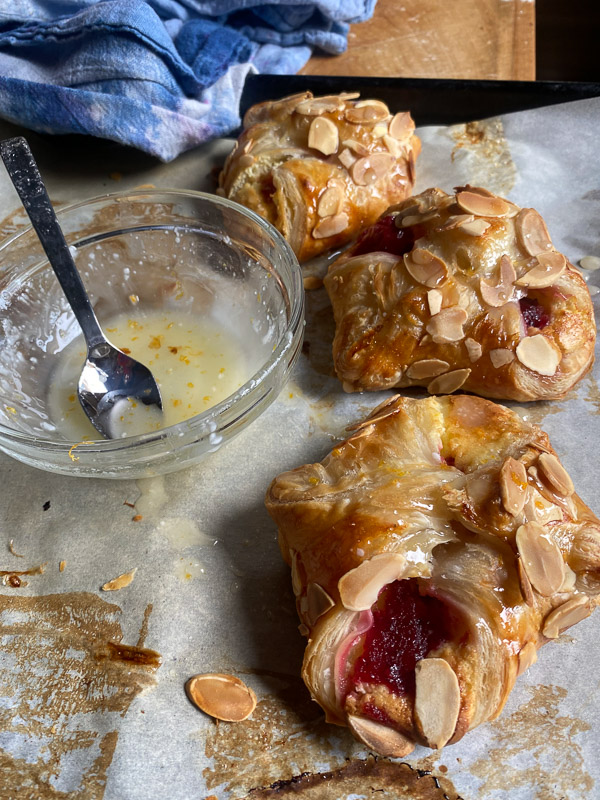 Mmmhmm.
Aren't they beautiful?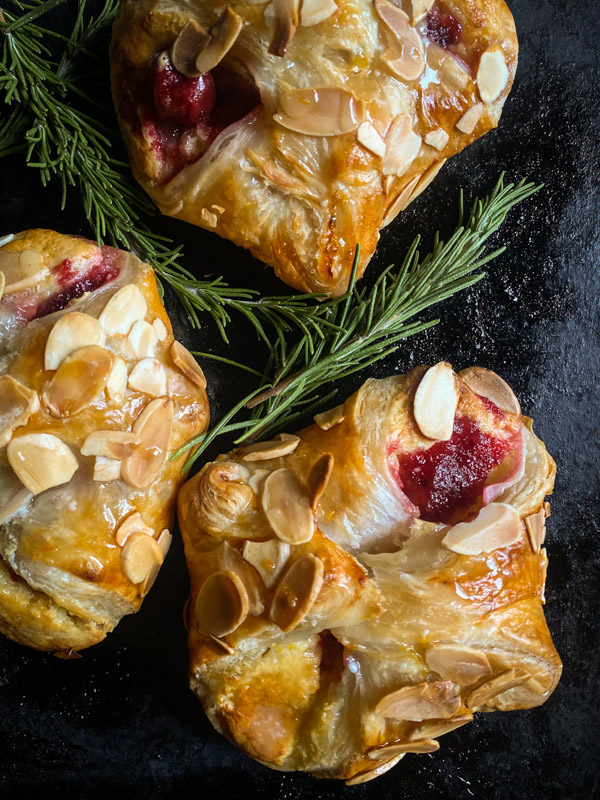 Need more cranberry inspiration? Try some of my faves:
Cranberry Cheese Danishes

makes 4

4 ounces cream cheese, softened
1/4 cup confectioners' sugar, sifted
1 large egg, separated
1 teaspoon pure vanilla extract
1/8 teaspoon salt
1 sheet frozen puff pastry, thawed and refrigerated
4 teaspoons cranberry sauce
1/4 cup sliced almonds

for the glaze

1/4 cup confectioner's sugar
2 teaspoons grated orange zest
1-2 tablespoons orange juice

Position a rack in the lower third of the oven and preheat to 400°. Line a baking sheet with parchment paper. Using an electric mixer, beat together the cream cheese and 1/4 cup confectioners' sugar. Beat in the egg yolk, vanilla, and salt.

Place the puff pastry on a lightly floured surface and roll out to form a 10-inch square; cut into 4 equal squares and place on the prepared baking sheet. Dollop the cream cheese mixture evenly in the center of each square; top with 1 teaspoon cranberry sauce. In a small bowl, beat the egg white with a fork, then lightly brush some of it onto the pastry. Lift 2 opposite corners of each pastry and cross over the center, overlapping slightly; pinch to seal. Brush the tops with more egg white and sprinkle with the almonds. Bake until golden, about 20 minutes. Let cool completely.

In a small bowl, stir the remaining 1/4 cup confectioners' sugar, orange zest and orange juice with a fork until smooth; drizzle over the cooled pastries.