The second I laid eyes on this salad, Brussels sprouts jumped to the top of my grocery list. I had to have it. I'm not sure I've ever been this motivated to make a salad before! Toasted walnuts, crunchy brussels sprouts smothered with finely grated Parmesan cheese and lightly coated in a mustard dressing! HECK YES.
Apparently the recipe serves 8. In actuality, the whole bowl served ME. Like– almost in one sitting. I'm getting the feeling that I'll be binging on this salad for the next few months. You'll see what I mean when you find yourself dipping your fork directly into the bowl of leftovers in the fridge. You can't say I didn't warn you!

And we are off!
Cut the ends off the sprouts. Pull off any yucky leaves and rinse/soak in a bowl of water.
Get the walnuts toasting in a little pan on the stove. Keep your eyes on it. Takes about 5- 8 mins on med. heat.
You can use a food processor, mandolin or a knife to shred the sprouts. Mandolin shredding was kinda scary!
My eager fingers were a little too close to the blade.
Put the olive oil, apple cider vinegar & mustard in a little jar. Salt & pepper should be thrown in too!
SHAKE IT UP. Instant dressing!
Because I used a mandolin, there were little leaves that didn't get sliced. I chopped the rest up with a knife.
Finely grate your cheese. Use the good stuff! It really pays off.
Put the shredded sprouts into a big mixing bowl. Add the cheese & walnuts.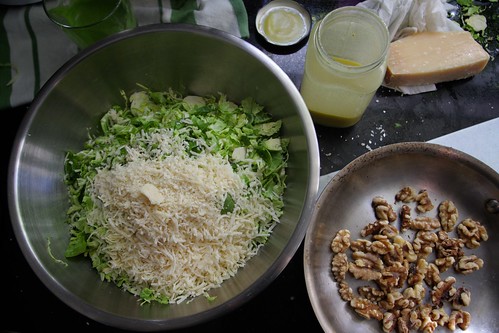 Pour the dressing over the top. MIX MIX MIX.
Dig in.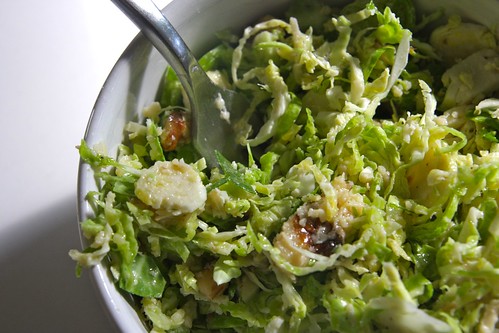 Don't be shy.
Oh! While I've got your attention, you should check out Shauna's Gluten Free Thanksgiving! There's lot of tasty ideas there & a fun collaboration of other bloggers and their gluten free dishes!  CHECK IT OUT!
Addictive Brussels Sprouts Salad

serves 8
(recipe adapted slightly from Shauna at Gluten Free Girl)
24 Brussels sprouts, shredded
1/2 cup Parmigiano–Reggiano, finely grated

1 cup toasted walnuts, in pieces
9 tablespoons extra virgin olive oil
3 tablespoons apple cinder vinegar
2 teaspoons Dijon mustard
salt & pepper
Shred the Brussels sprouts in a food processor, mandolin or chop with a knife!  Toss the sprouts in a bowl, top with toasted walnuts & grated cheese.  In a small jar, add the olive oil, apple cider vinegar and mustard with a sprinkle of salt & pepper. Put a lid on the jar and shake it up! Pour the dressing over the salad and stir thoroughly!  Best served immediately, although I ate leftovers the next day and it still held up well!