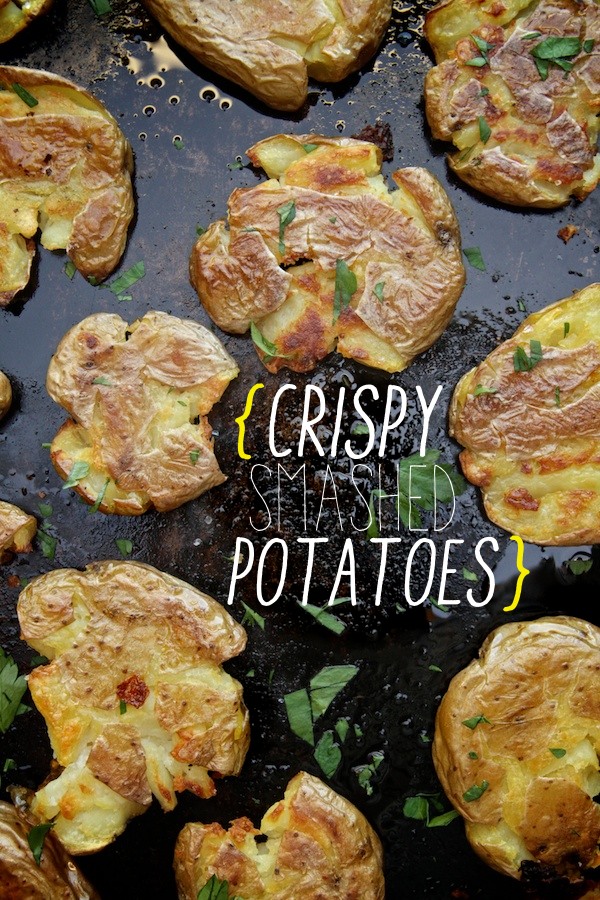 If I'm perusing a menu and having a hard time deciding what entree to get, potatoes usually seal the deal. Mashed? Whipped? Fried? Smashed? I'm into it. Gratin? Hmm. Maybe? Depends on if they put cheese or crispy in the description. Then I'm sold.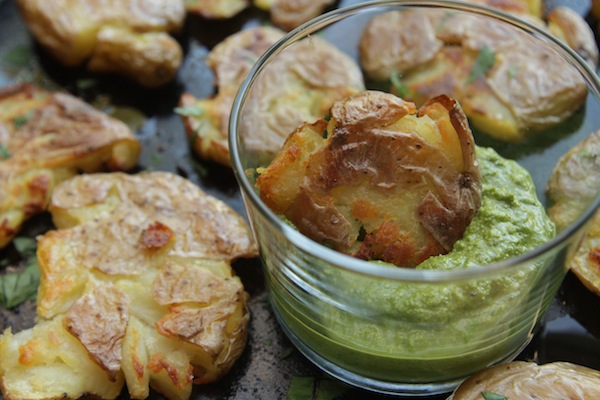 What about an entree that's JUST Crispy Smashed Potatoes? Can we make that happen? We could serve it with a bacon/chive sour cream or how about a little bit of Arugula Pesto? I already made a batch this week for this very purpose.
Creamy insides + Crispy outsides= Crispy Smashed Potatoes 4 LIFE.
And we're off!
This really couldn't be easier! Three ingredients if you don't include a dip. It's vegan & gluten free too. BONUS.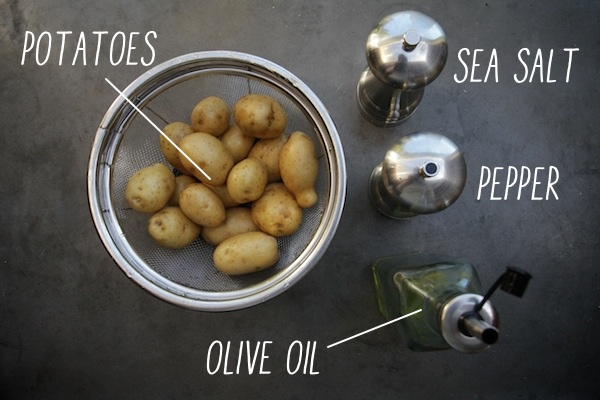 First we boil the potatoes. Then we set them aside to cool. Then we SMASH THEM.
I used the back of my measuring cup and smashed them against a small cutting board.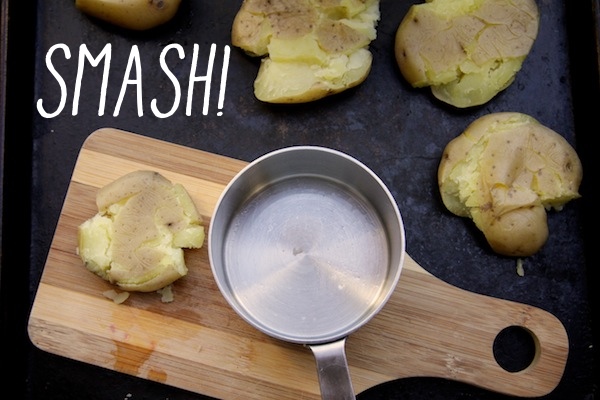 Put them on a baking sheet. Drizzle with olive oil. Toss them around.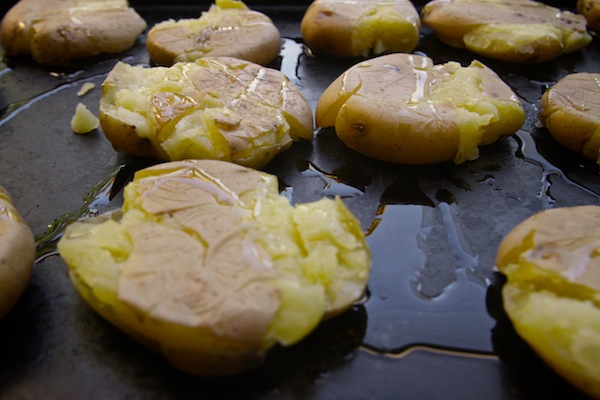 Season with salt & pepper. Now ROAST!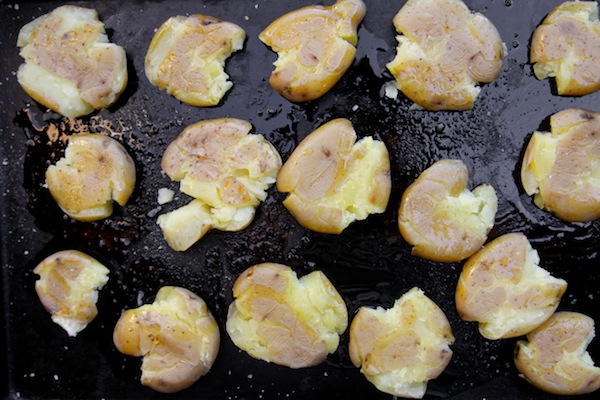 Sometimes I leave them in longer…cuz I'm a sucker for crispy potatoes.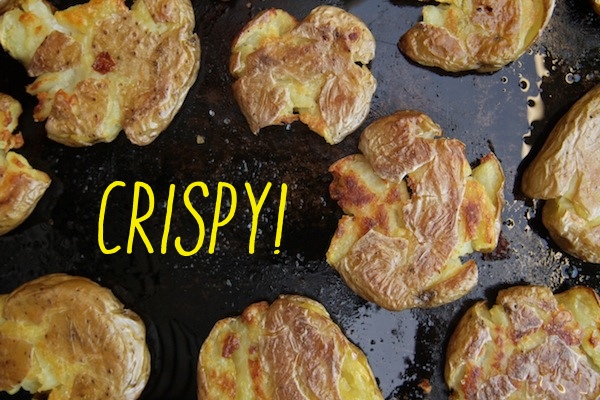 Just check out this action…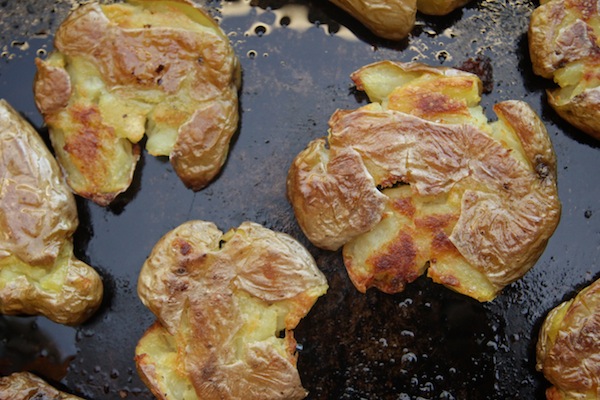 When I dip, you dip….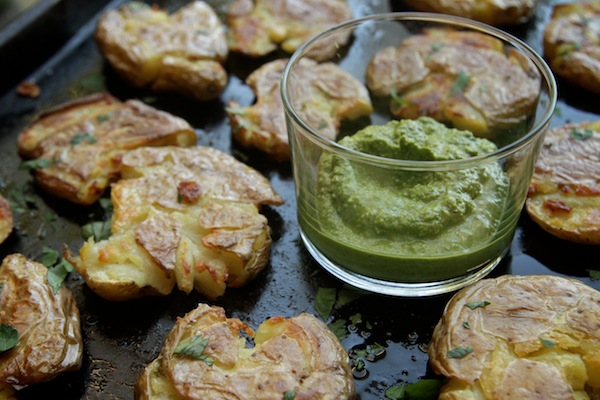 WE DIP. I added some freshly chopped parsley for garnish. GREEN!
Crispy Smashed Potatoes

serves 4

recipe adapted from Feast Cookbook

1 1lb. creamer potatoes (I used Trader Joe's Dutch Yellow Potatoes)
3 tablespoons extra virgin olive oil
fine sea salt & freshly ground pepper
freshly chopped parsley for garnish

Preheat oven to 450F. Add the potatoes to a medium pot with enough salted water to cover and bring to a boil over medium-high heat. Cook until the potatoes are fork-tender, about 20 minutes. Drain and let potatoes cool until they are easy to handle. Pat very dry with paper towels. Smash each potato on a cutting board with your fist or small frying pan to make it flat (I used the back of a measuring cup).

Spread out the potatoes on a baking sheet. Drizzle with olive oil, season with salt &  pepper and toss until evenly coated. Roast until the potatoes are crispy and golden, 25-30 minutes, turning the potatoes with a spatula halfway through cooking. Serve while potatoes are hot and sprinkle some chopped parsley for garnish.