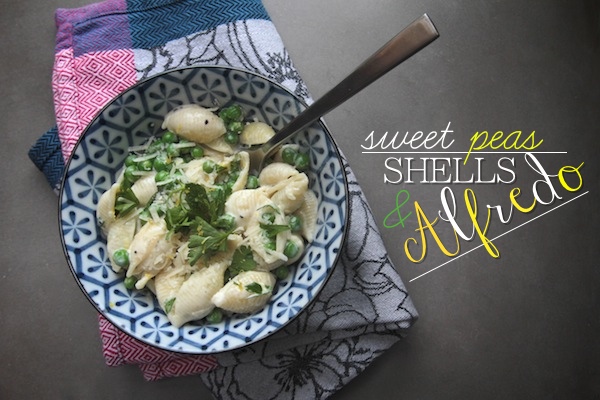 As the person responsible for putting food on the table in our household, I've found quite a few helpful shortcuts to keep me sane.  I occasionally employee the good ole doctored up box of mac & cheese trick. It's something I rely on when I come home from work to hungry boys and my brain is fried from looking at Quickbooks all day. No matter how hard I try, boxed mac & cheese always tastes like boxed mac & cheese. Sure, I'll sometimes throw peas, broccoli, red pepper, bacon and tons of Parmesan in and yep…the boxed cheese taste shines through. Husband doesn't mind, but I kinda do (although I keep eating it).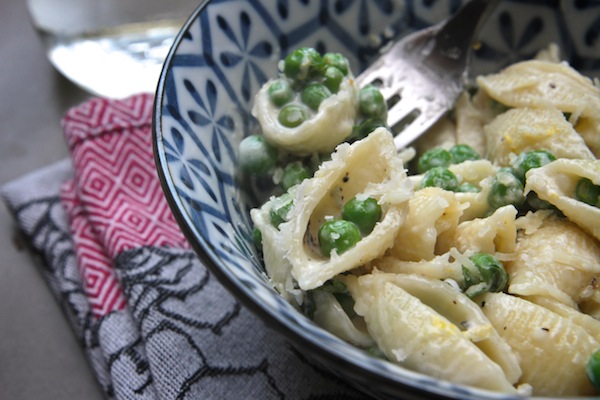 This recipe from The Smitten Kitchen Cookbook (YAY DEB!) can be whipped up in NO time. And boy is it good!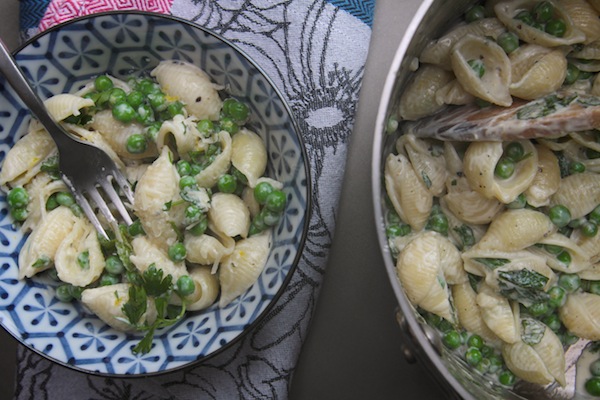 What you have is a creamy shell pasta dish with TONS of peas, herbs & lemon zest. It screams SPRING to me with it's light & creamy nature. It's a crowd pleaser for the adults in my house. Picky 4 year old still is on the fence about pasta/cream sauce/peas. I'll pay you 50 bucks if you can get him to eat a bite. But for now….us greedy adults will make this recipe serve TWO.
And we're off!  Gather your ingredients.
Trader Joe's has been selling fresh shelled peas. They're pretty good. I suppose you could use frozen peas, you'll just have to cook them a bit longer.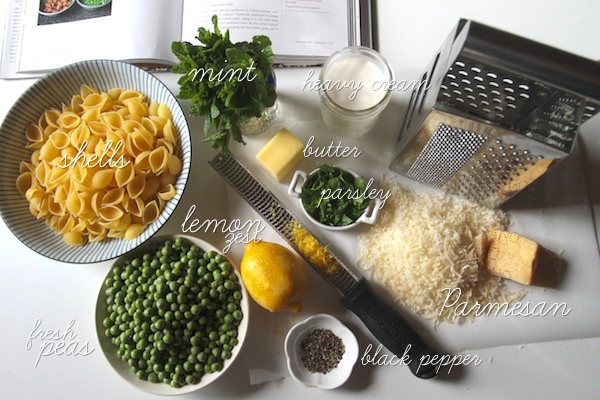 Cook the pasta, and at the last 30 seconds add the peas.
My camera lens got a steamy facial in the making of this pasta. Camera lens doesn't have clogged pores now…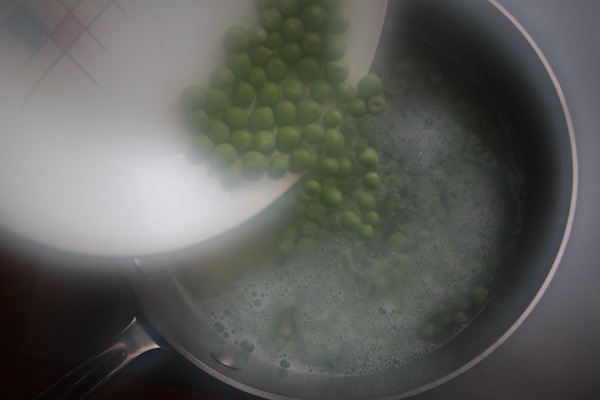 Drain the pasta & peas. Reserve some of the pasta liquid.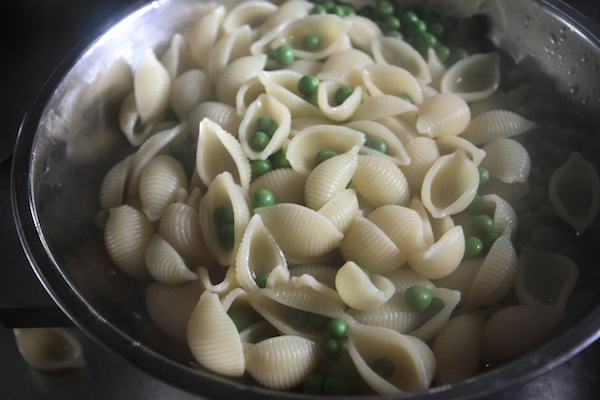 Heat the cream in the empty pot.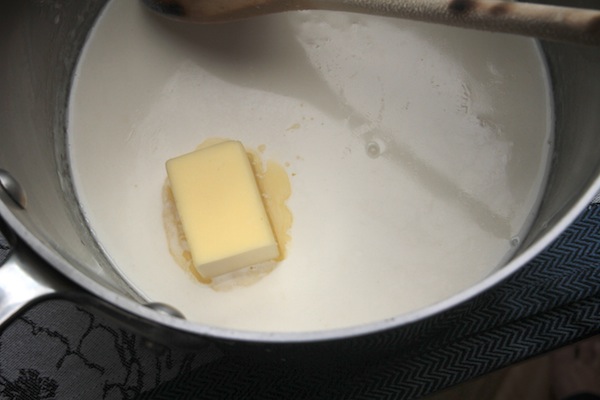 Add the zest, pepper & Parmesan. Stir! Cook it down til it's thicker.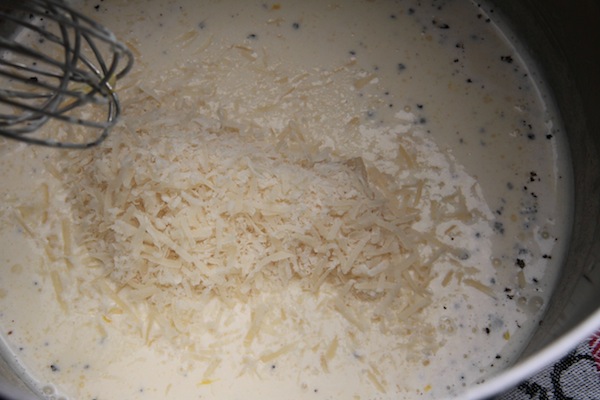 And we marry the pasta/peas with the sauce. EASY.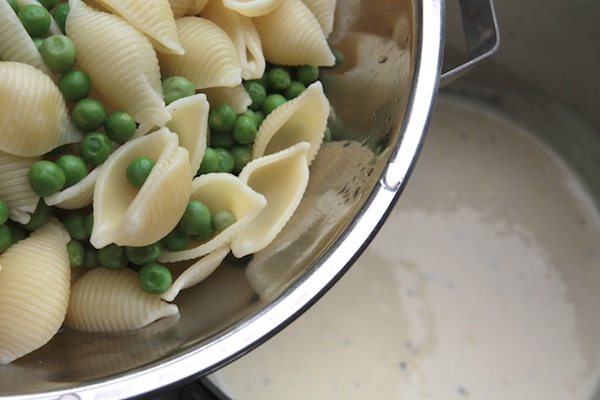 Give it a good stir. Add in more Parmesan.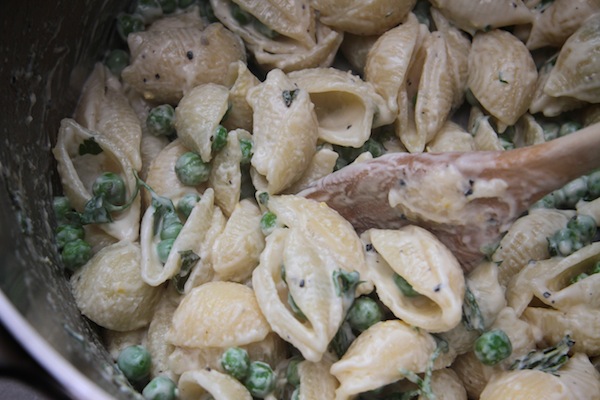 Throw in the parsley & mint.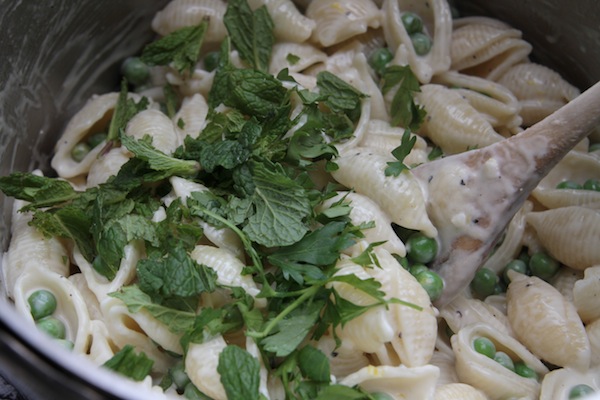 Dinner is served.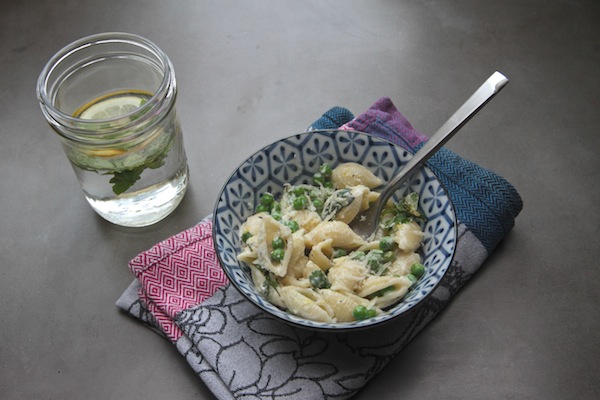 There's no looking back!
Sweet Peas & Shells Alfredo

serves 2-4
recipe adapted from The Smitten Kitchen Cookbook

1/2 lb. dried small pasta shells
1 cup fresh shelled peas (from about 1 lb. in the pod)
1 cup heavy cream
3 tablespoons unsalted butter
freshly ground black pepper
1 tablespoon finely grated fresh lemon zest
1 cup finely grated Parmesan cheese
2 tablespoons chopped fresh flat-leaf parsley
2 tablespoons chopped fresh mint leaves

Bring a large pot of salted water to boil. Add the pasta, and cook according to package instructions. Add peas to cook during the last 30 seconds of pasta cooking time. Reserve 1/2 cup cooking water, set aside. Drain the pasta and the peas together

Dry out the pasta pot, and pour in the heavy cream. Bring the cream to a simmer, and cook until slightly reduced, about 4 minutes, stirring frequently. Add the butter, and stir it until it has melted. Generously season the sauce with freshly ground black pepper, add a pinch of salt as well as the lemon zest. Add 3/4 cup Parmesan, and stir it until the sauce is smooth; then toss in the drained pasta & peas. Cook the pasta in the sauce for 2 minutes, until the sauce has slightly thickened. Add the reserved pasta water by the spoonful if needed to loosen up the sauce.

Divide the pasta among bowls. Garnish with remaining Parmesan, chopped parsley & mint.