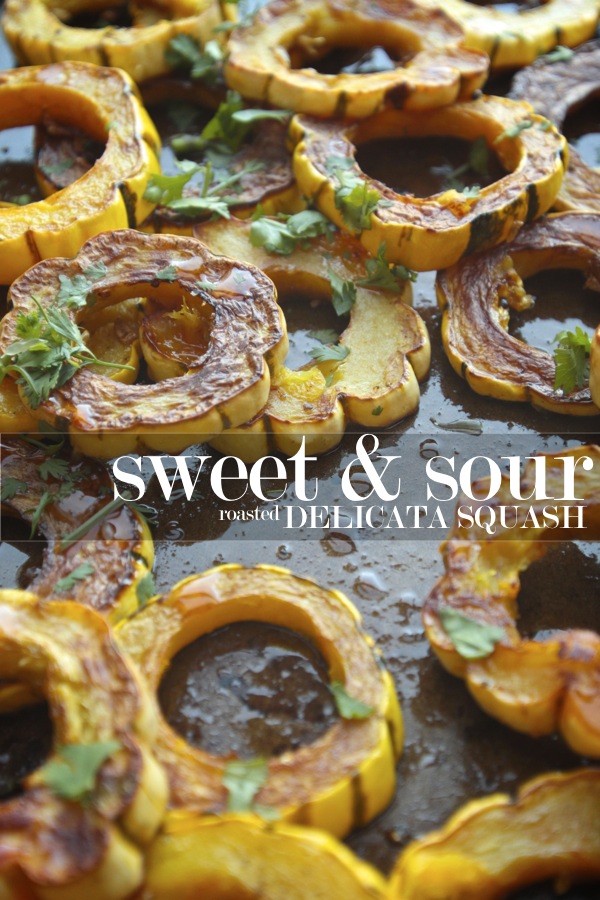 If you haven't tried delicata squash, YOU SHOULD. It's one of my favorite things about Autumn. What I like most about them is that they're pretty easy to roast. Cut off both ends, scoop out the seeds, slice them up and let the oven do the rest.  Maybe I just like that they're cute and scalloped on the edges. Maybe I just like that you can eat them skin and all. I think that's it.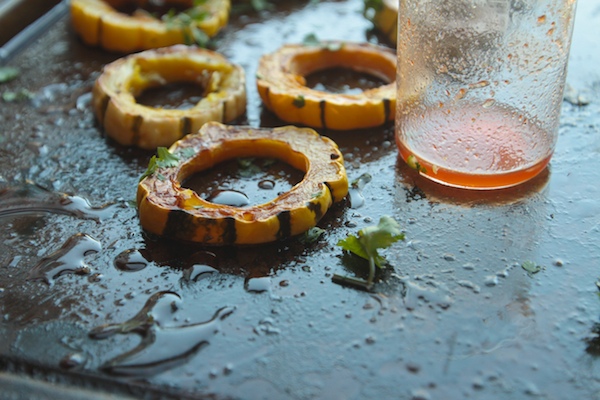 A few years ago I fried Brussels Sprouts and man they were good. What made them so dang amazing was the honey lime sriracha sauce on top. I thought it might be a nice thing to add on top of roasted delicata squash so I tried it. Here it is and….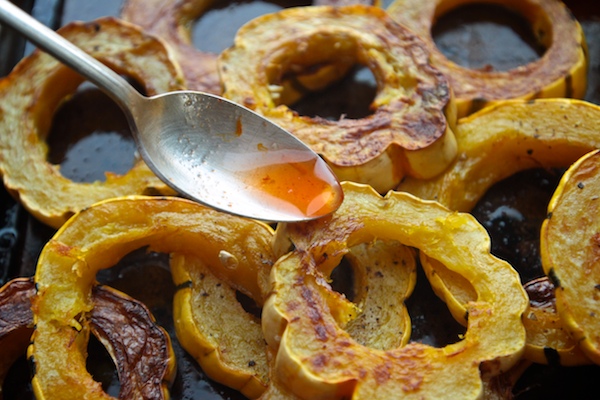 OMG it's good. How could it not be? The sweetness of the squash! The sweet & sour tang of the sauce! A match made in haven.  I brought these to a ladies dinner and I turned a few people on….to delicata squash! They were instant fans and the serving dish was wiped clean. Honestly though, I could totally eat a whole batch myself. I find roasted delicata squash irresistible! There's just something about they're texture and sweetness that gets me.
And we're off!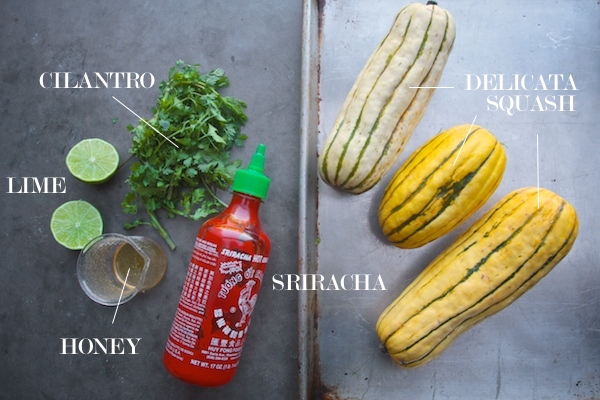 I'm gonna show you how I cut up a squash.
Take both ends off with a knife. You'll have a flat surface on both ends.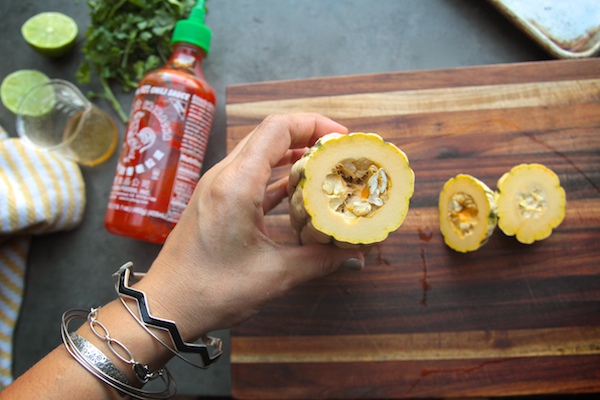 Take a long spoon and push the seeds out of the bottom.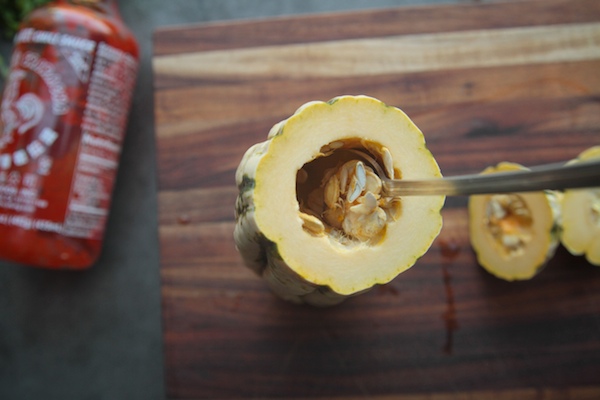 Keep at it.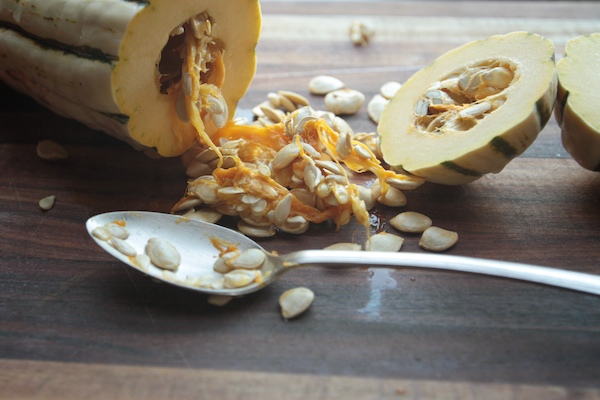 DONE!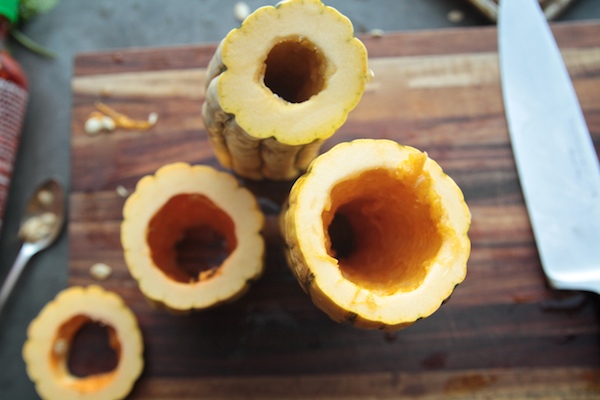 Slice up the squash. Aren't they cute??!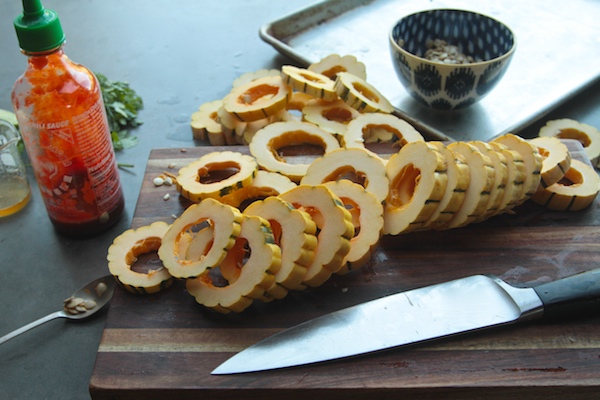 Liberally oil two baking sheets.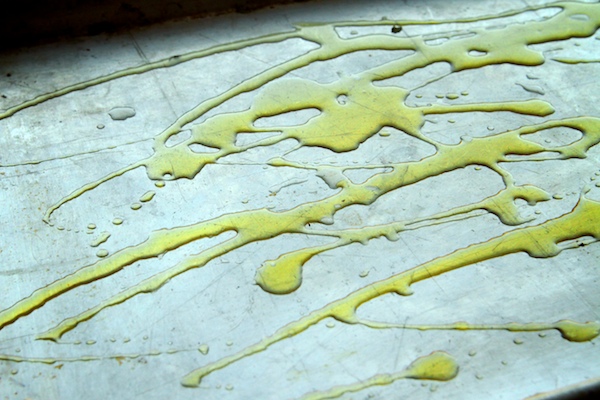 Toss the squash on the baking sheets.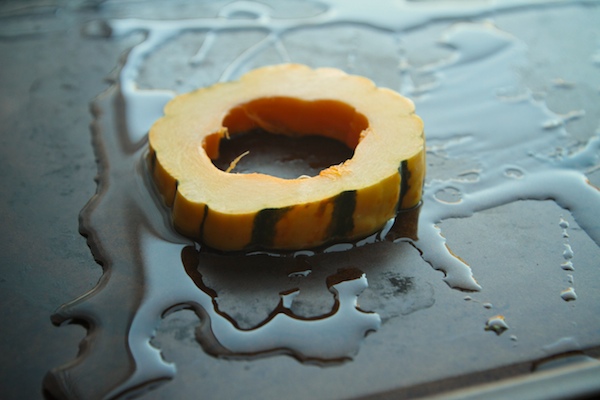 Make sure not to overcrowd each sheet. They'll steam if you do. They won't be ask crispy.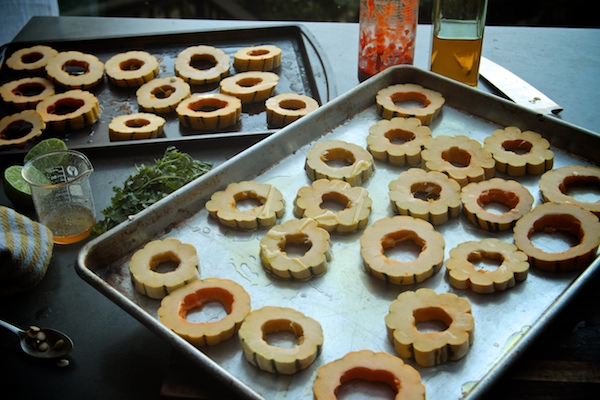 Season with salt & pepper and ROAST.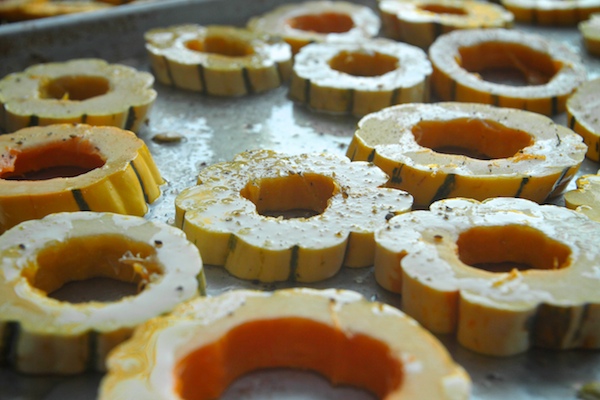 While they're roasting, make the sauce. Honey, lime, sriracha.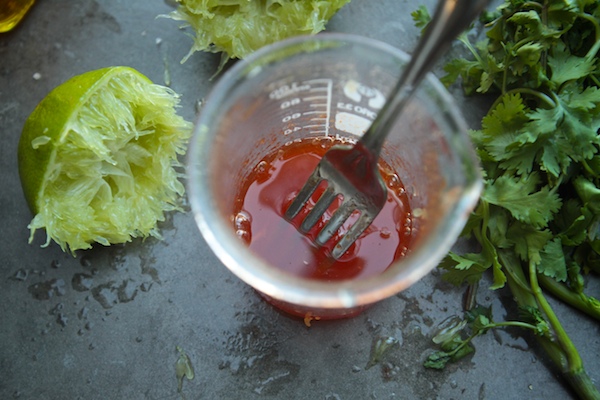 When there's about 10 minutes left on the roasting time, FLIP.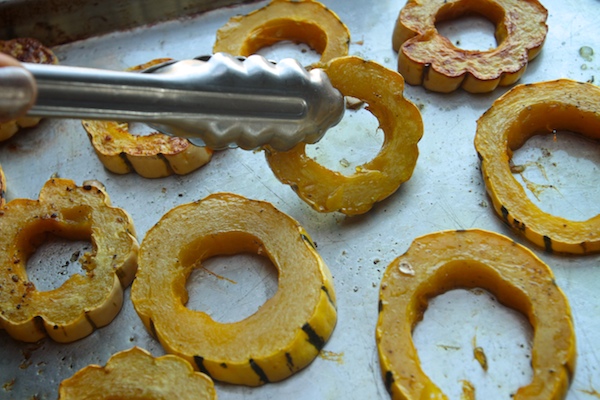 All toasty!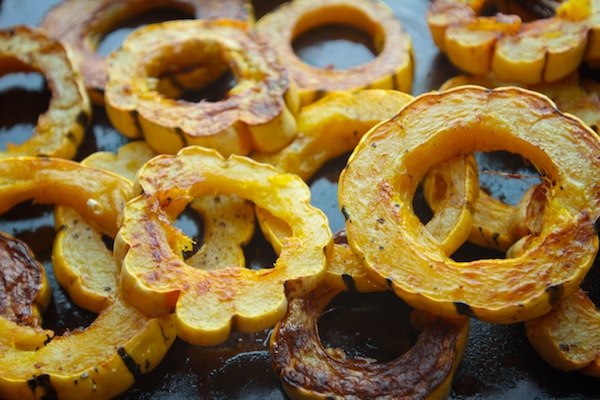 Drizzles!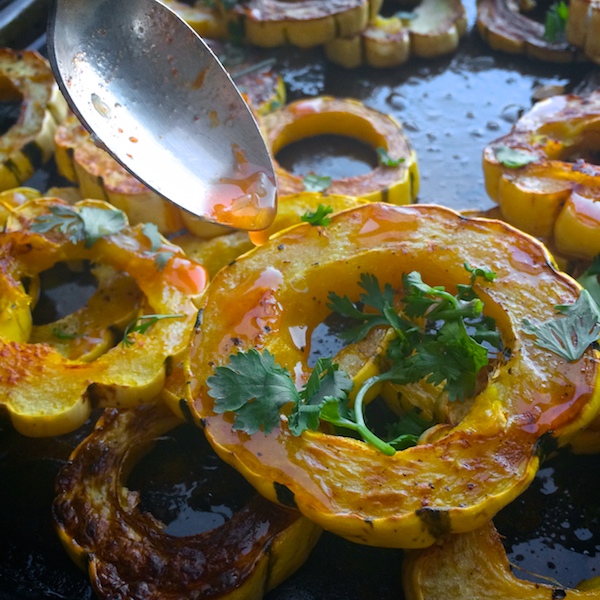 Goodness! I think it's better when they're a little crispy brown!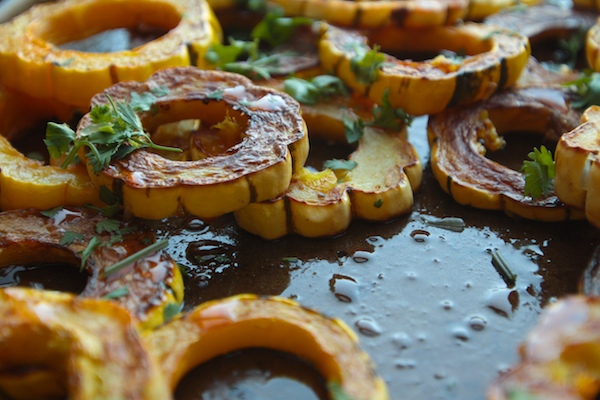 Perfect for the holidays when you want a side dish. I might have to make these on Thanksgiving.
They're also really good in a salad and I made a sandwich with them yesterday! I stuffed them in a baguette with smashed avocado, cilantro and sriracha. Hallelujah, praise be.
Sweet & Sour Roasted Delicata Squash

serves 4

3 delicata squash
2-3 glugs olive oil
kosher salt & fresh ground pepper
juice of 1 lime
1 tablespoon sriracha
2 tablespoons honey
2 tablespoons chopped fresh cilantro, for serving

Preheat oven to 400F.  Liberally oil two baking sheets with olive oil and set aside. Cut the ends off of each delicata squash and push the seeds out with a spoon. Cut squash into 1/4 inch pieces and place them on the baking sheets. Toss squash in the olive oil, season with salt & pepper. Place baking sheets in in the oven and roast for 20-25 minutes, until the bottoms of the squash have nicely browned. Flip the squash and continue to roast for about 10-15 minutes until both sides are golden brown.

Meanwhile, mix the juice of one lime, sriracha and honey in a small bowl.  Drizzle honey sriracha glaze over hot squash and finish with a sprinkle of chopped cilantro. Serve warm.