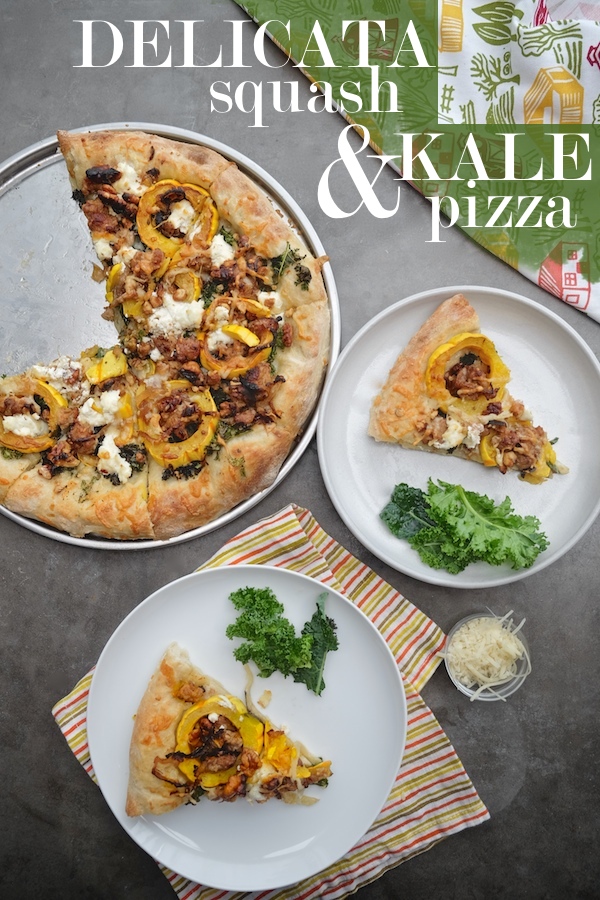 When I made the pork enchilada casserole last week, a few of you responded that you'd love to see more Everyday Eats on Shutterbean. Thank you for your feedback! And thank you for leaving comments. Sometimes it feels a little lonely out here.  If you like recipes that can be made with Trader Joe's items, this one's for you!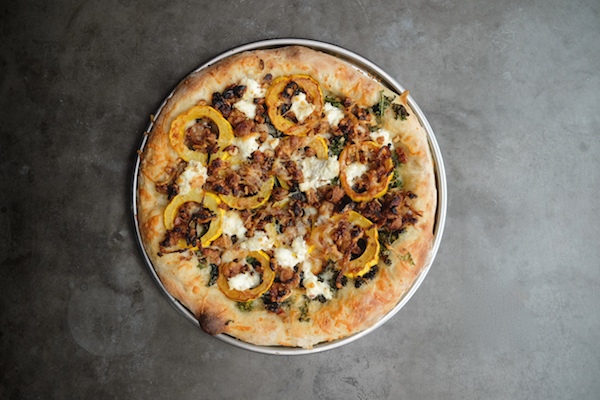 Yesterday I walked into Trader Joe's with a mission to make something Autumn like. I knew I wanted to use their pizza dough…and then I saw a delicata squash and the sausage in my cart and here we have this pizza. There was obviously a few steps in between but there's pizza in the end so does it really matter?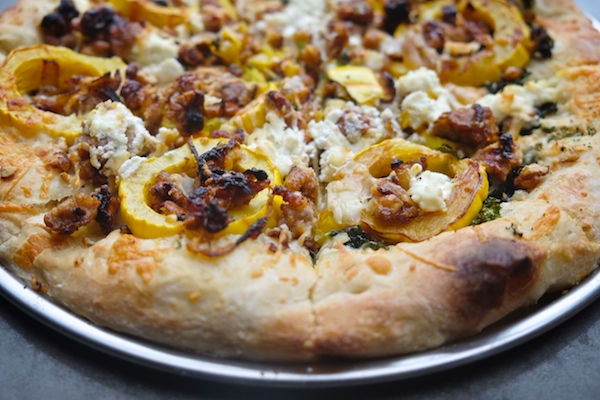 We layer cheese and kale on store bought pizza dough. We top with more cheese, roasted delicata squash, caramelized onions and sausage and dollop goat cheese on top. To push it over the edge, I added candied walnuts on top. Red pepper flakes are added for spice. This Roasted Delicata Squash Kale Pizza is Autumn's best. Next time I'm added gorgonzola because I think it will be soooooo good with those walnuts!
Let's gather our ingredients. Everything can be found at Trader Joe's. If you want to see what it's like to eat a whole bag of candied walnuts in one sitting, buy a bag. They're ADDICTIVE. Also, I want to let you know that I love having pizza dough in our fridge because it means I can make things like pizza, garlic twists, garlic knots, and pizza rolls. The other day I made stuffed bread with it- I'll share a recipe soon.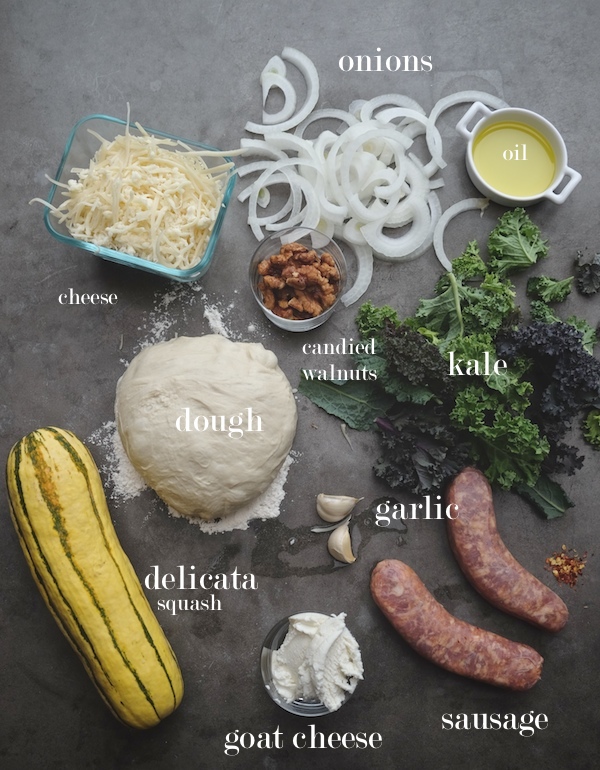 First we roast the delicata squash. I cut the ends off of the delicata squash and scoop out the sides with a spoon. A knife will work too if you want to scrape off the membrane inside. Membrane? Is that what it is?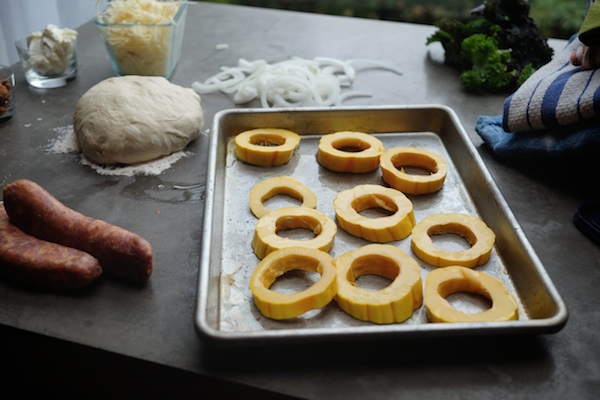 Onions in a skillet with oil.
Sausage addition.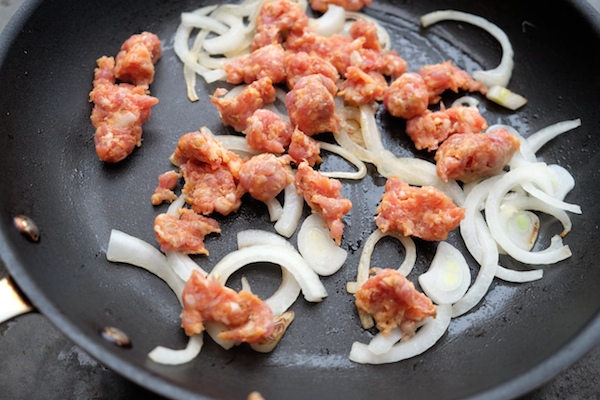 After sausage is cooked, add sliced garlic and red pepper flakes.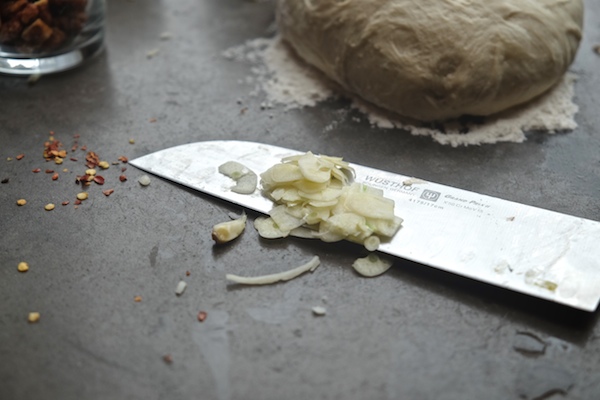 Pizza gets formed. I used a 14 inch pizza pan for this recipe. We layer cheese onto the bottom.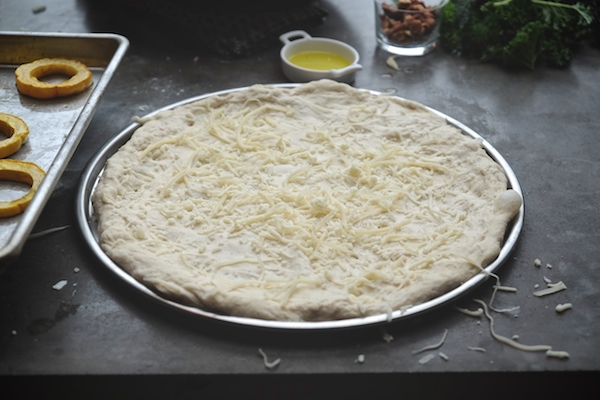 Toss the kale in a little bit of oil. Just a tad. Not much.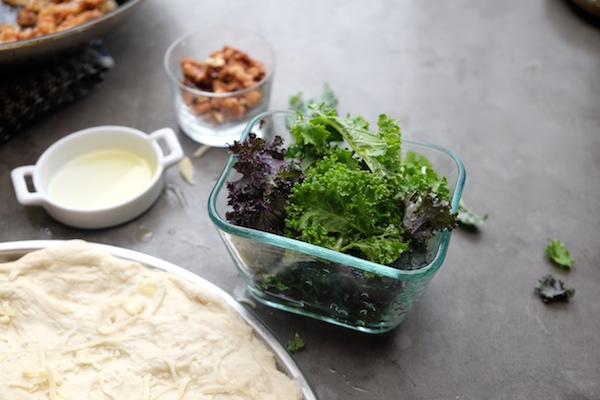 Cheese and kale.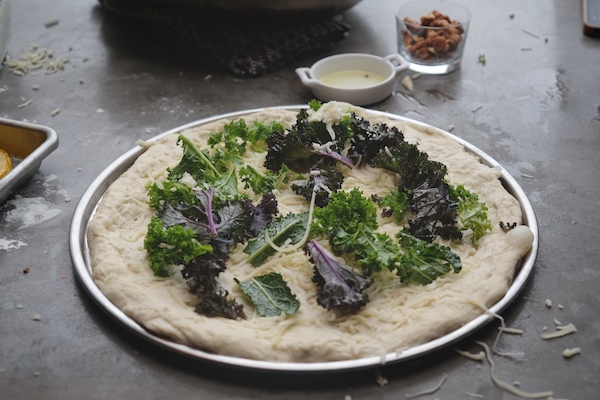 Delicata squash on top.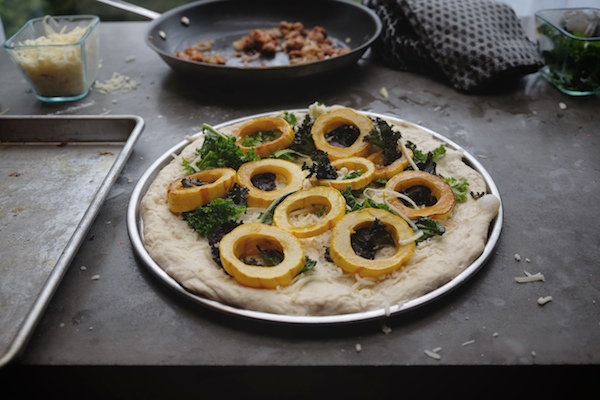 Sausage & goat cheese.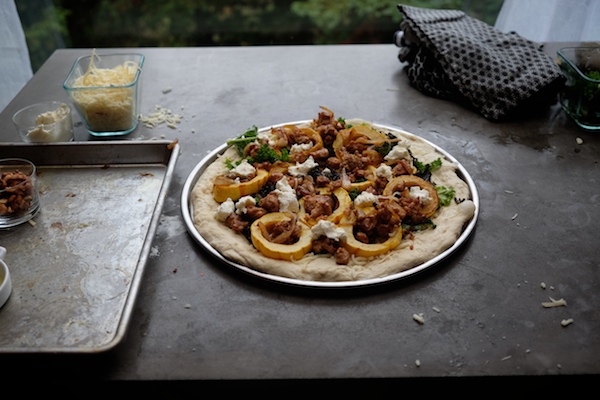 The best part is that you can nestle the sausage in the squash.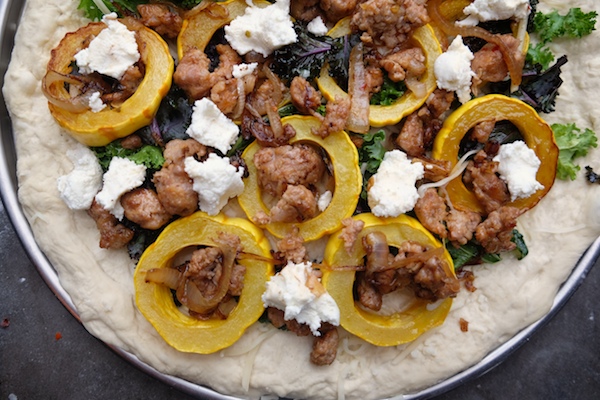 Candied walnuts on top. Here's a shot of my hand with nuts in it. 😉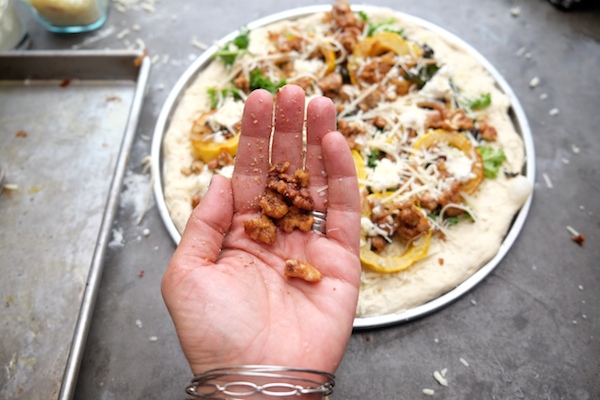 All dressed up…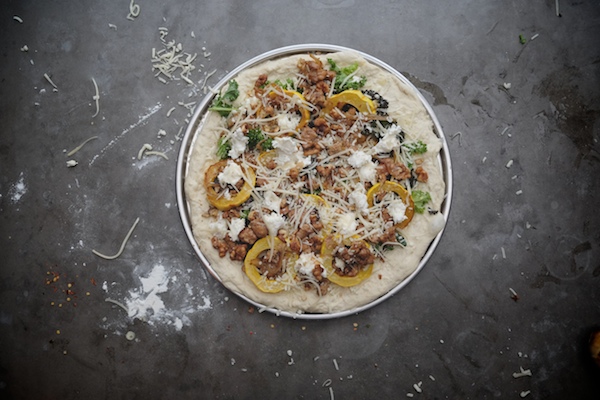 DONE.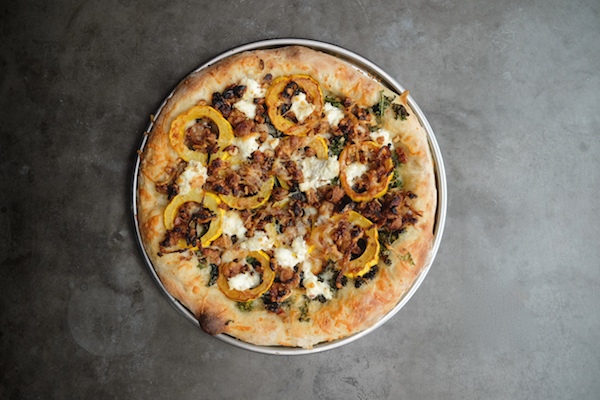 Go ahead. Devour.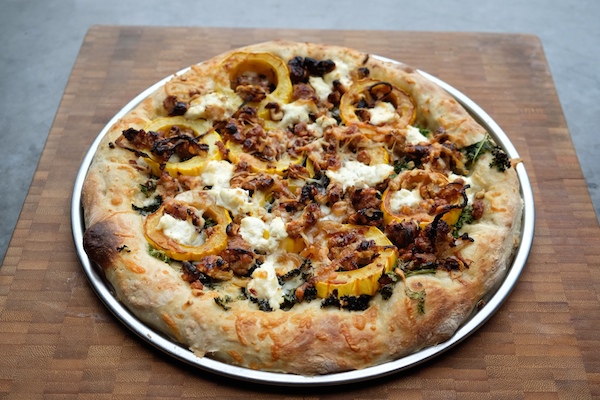 With all of this vegetables on top…it's practically salad.
Thanks for reading Shutterbean!  If you'd like check out my everyday life, follow me on Instagram and be sure keep in touch via Facebook, Twitter,  Bloglovin,  Pinterest, or subscribe via email to get new posts delivered to your inbox.
Roasted Delicata Squash Kale & Sausage Pizza

serves 3-4

1 delicata squash, seeds removed and cut into 1/2 inch circles
extra virgin olive oil
2 Italian sausages, casings removed
1/2 yellow onion, thinly sliced
2 cloves garlic, thinly sliced
1/4 teaspoon red pepper flakes
kosher salt & fresh cracked pepper
1 1lb. pizza dough
2 cups kale, torn into pieces
2 cups shredded mozzarella
3 tablespoons goat cheese
2 tablespoons chopped candied walnuts

Preheat oven to 400F

Place delicata squash on a baking sheet. Drizzle liberally with olive oil and toss the squash to coat. Season with salt and pepper and roast in the oven for about 15-18 minutes, or until squash has become tender; set aside.

Meanwhile heat a glug of olive oil in a skillet over medium high heat. Stir in onions and cook until softened, about 4-5 minutes. Add sausage to the pan and break into smaller pieces with a spoon. You want cook the sausage thoroughly and brown the onions.  Stir in the garlic and red pepper flakes and cook for another minute.  Season with salt & pepper to taste and set aside.

To make the pizza, adjust oven to 450F. Stretch pizza dough into a 14 inch circle onto a pizza bake or baking sheet.  Top with 1/2 cup cheese and add the kale to the top. Nestle the delicata squash on top, followed by another 1/2 cup cheese and the sausage and onion mixture. Place dollops of goat cheese on top and finish with the remaining cheese and candied walnuts. Bake in the oven until crust is nicely browned, about 15-18 minutes. Serve hot.