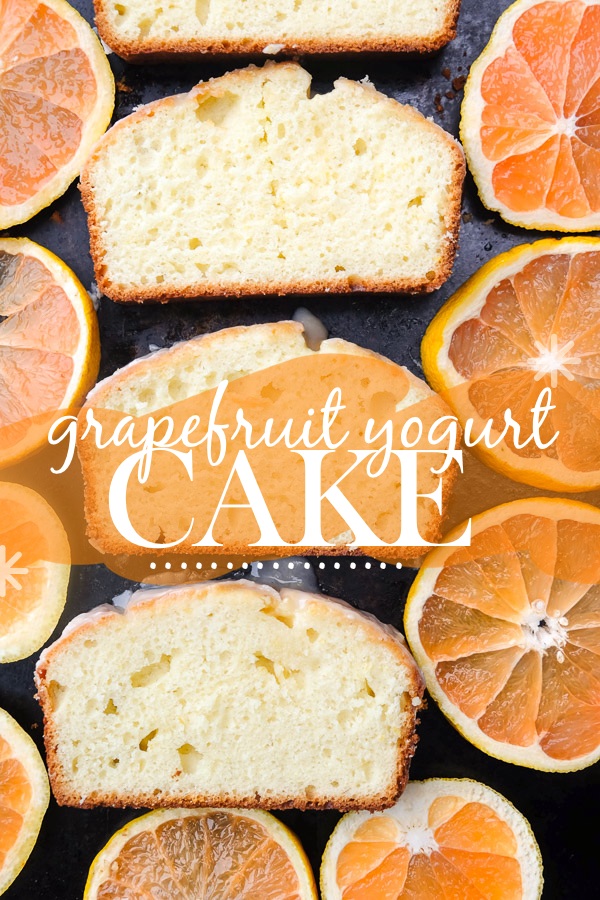 I have family coming into town for Easter weekend. YAY!  Honestly, I'm barely keeping it together. There are field trips this week, school things, work obligations, half days, taxes to complete, photos to take & recipes to make all before I have time to even think about our Easter Brunch and shopping for that. I'm not complaining. Life is just full at the moment. When I make it through this week, I will have legit super powers. At least that's what I'm telling myself.
Maybe I should take this time to think about Easter Brunch.
Let's kill two birds with one stone. Stream of consciousness begins NOW:
Things I'm thinking of making…. Well- I think I want to make something with asparagus. I could make these Egg & Asparagus Gratins… an Asparagus Soup with some type of panini…OR I could make this& Asparagus Pizza/Flatbread with eggs on top?  It would be kinda of like a breakfast pizza. But then my brother-in-law doesn't like fried eggs and he's gonna give me a hard time about that even though I'm feeding him. Perhaps I should just make scrambled eggs or a fritatta. Oh! A fritatta would be fun.  That way I can make it ahead of time and serve it at room temperature.  I was also thinking that it would be fun to do a Honey Glazed Baked Ham with Crispy Smashed Potatoes, scrambled eggs, and a blueberry muffin situation.  Maybe I'll throw in a fancy salad for the ladies. No scrambled eggs. Just fritatta. Ok we got this.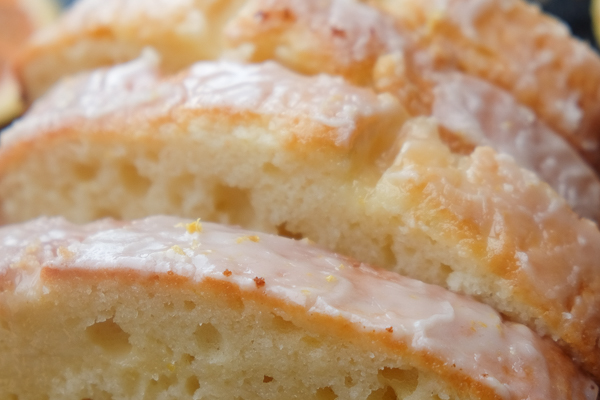 OH! And I'm also going to make this Grapefruit Yogurt Cake the night before because we need a nice breakfast treat with coffee before we get to brunching (we're having a weekend sleepover thing happening).  So this cake will be an appetizer.  Cake as appetizer.
That should be a thing.
Let's definitely make that a thing.
Let's gather our ingredients: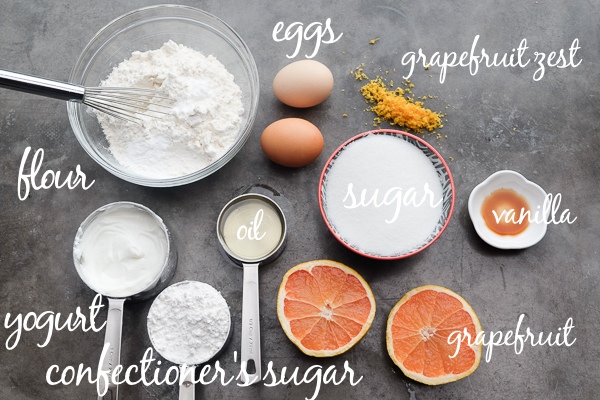 Deep breath. We are about to make your kitchen smell wonderful.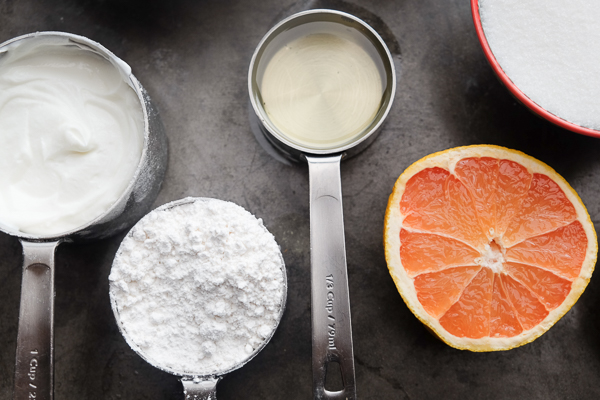 Zest the grapefruit.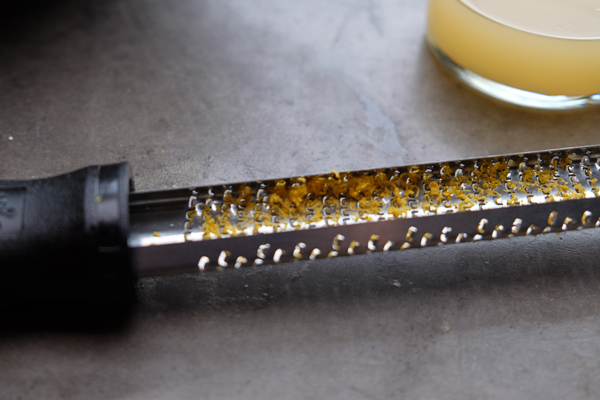 Grapefruit zest meets sugar. It makes even more potent!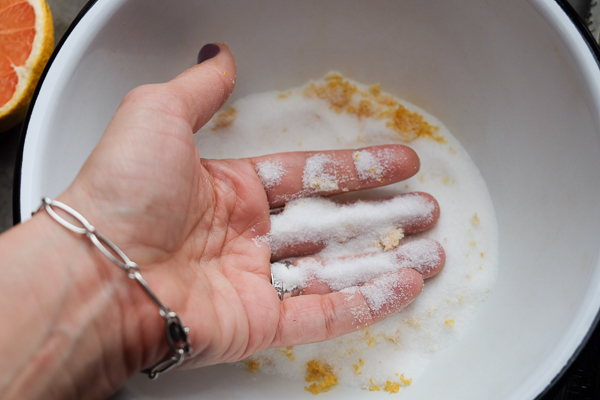 Wet ingredients.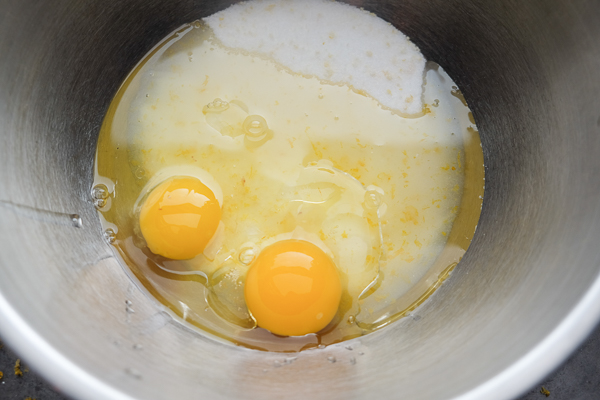 Dry ingredients mix with yogurt. We reserve a little yogurt for the glaze.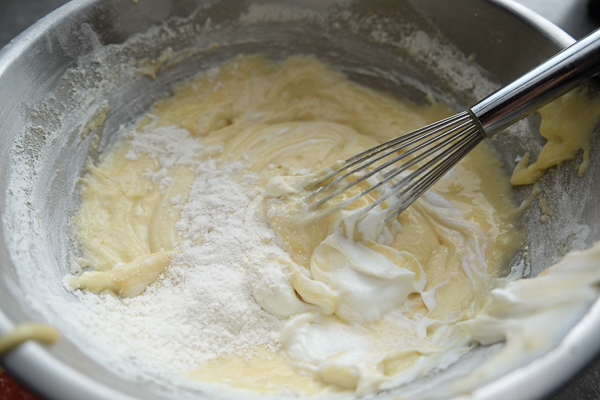 Hey batter batter.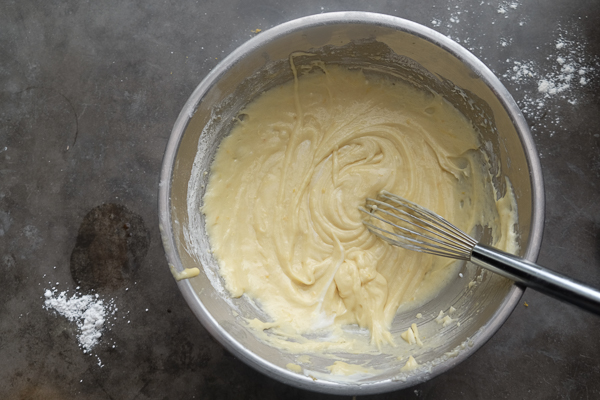 Batter goes into a parchment lined/oiled baking pan.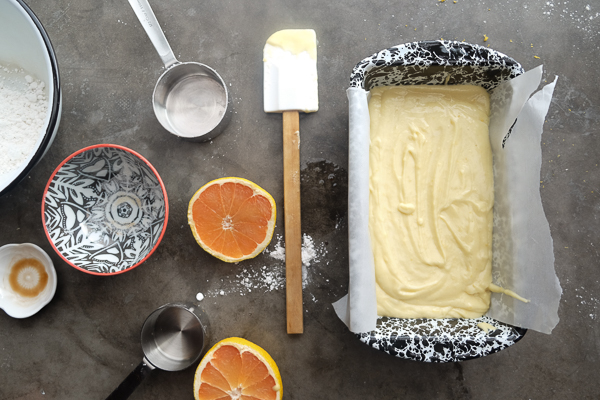 BAKED! We poke the top with a few little holes because we are going to baste with grapefruit juice and we want a cake that's yummy in every section.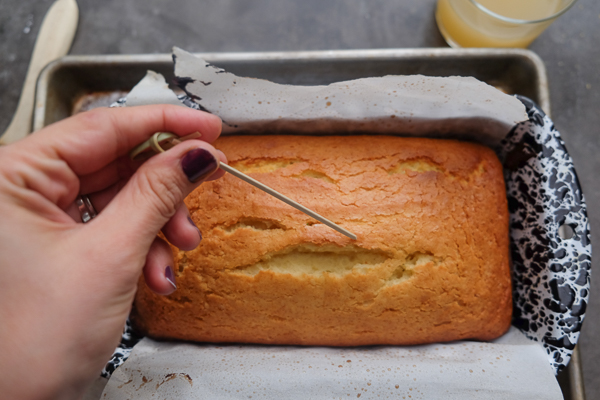 Get in there.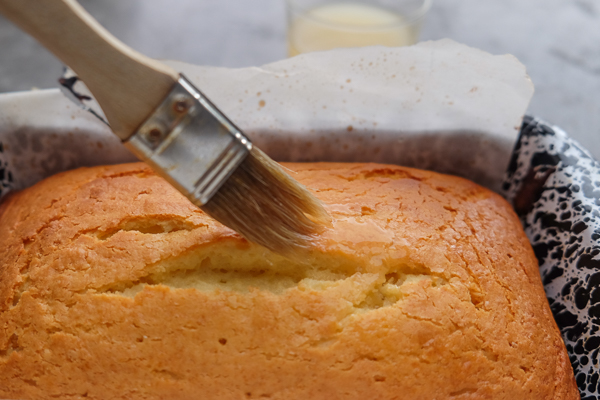 We now make glaze.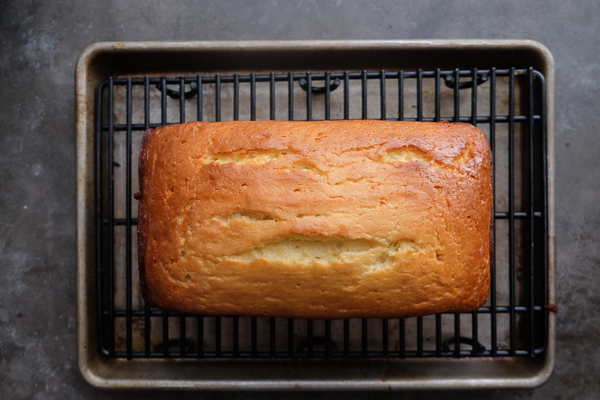 Yogurt, grapefruit juice & confectioner's sugar.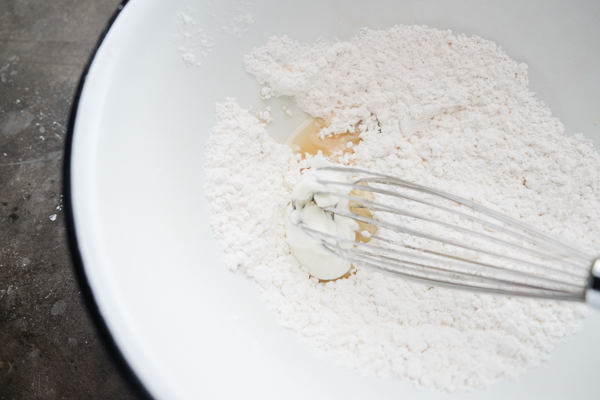 Whisk whisk whisk.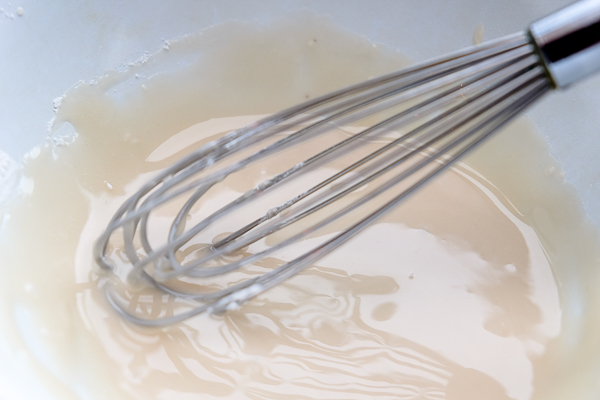 GLAAAAAAZE.  Insert Homer Simpson voice here ___________.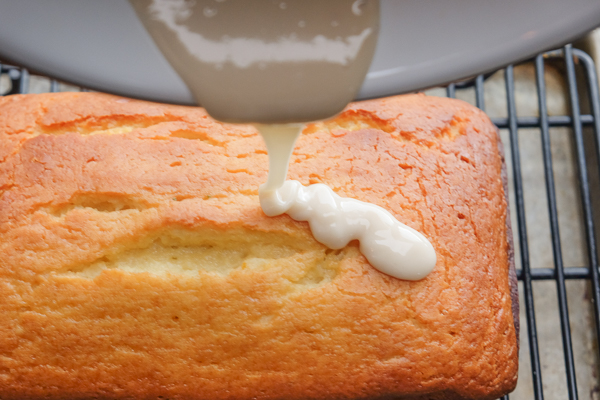 Hello there…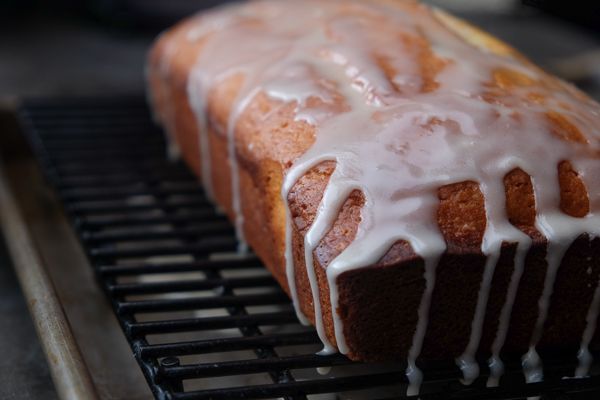 Let me slice you up.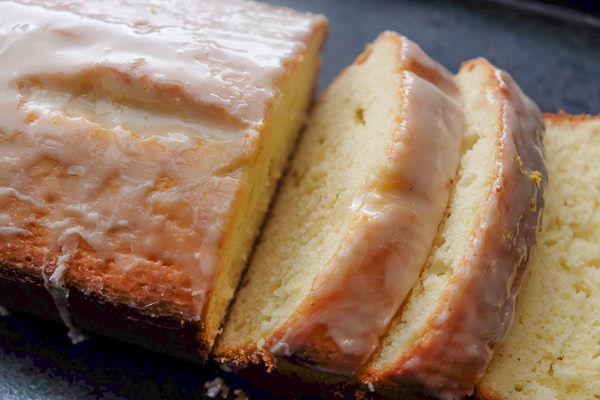 Cooper told me that this tasted like a lemon cake doughnut.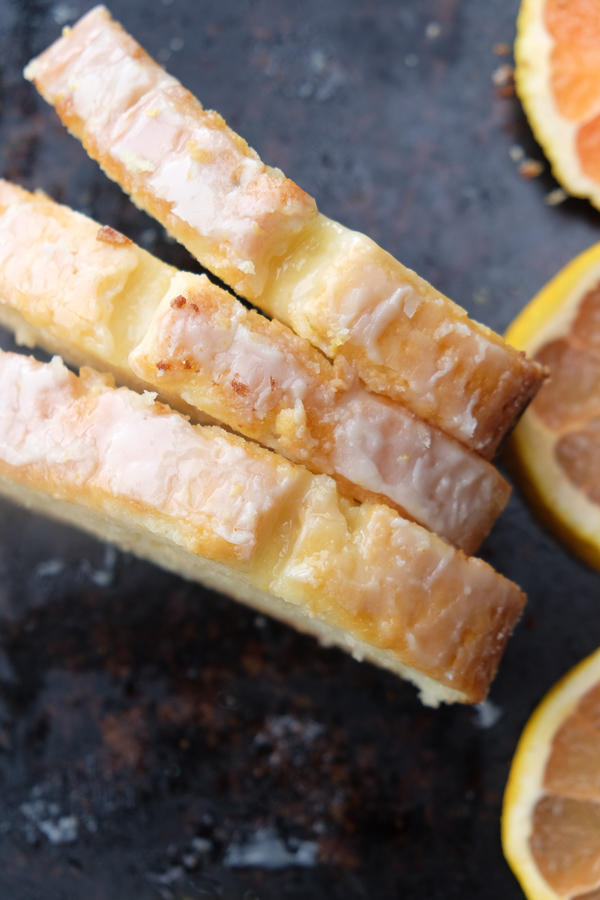 He's not wrong. Well…except that it's grapefruit. I don't think he's ever had grapefruit.
Until now.
For more grapefruit recipes, check out:
Grapefruit Yogurt Cake

makes 1 loaf

recipe adapted from Bon Appetit Magazine

1½ cups all-purpose flour
2 teaspoons baking powder
¾ teaspoon kosher salt, plus more for glaze
1 tablespoon finely grated grapefruit zest
1 cup granulated sugar
2 large eggs, room temperature
⅓ cup vegetable oil
2 teaspoons vanilla extract
¾ cup plus 1 tablespoon plain Greek yogurt
8 tablespoons fresh grapefruit juice, divided
½ cup powdered sugar

Preheat oven to 350°. Line an 8½x4½" loaf pan, preferably metal, with parchment paper, leaving overhang on the long sides, and lightly coat with nonstick spray. Whisk flour, baking powder, and ¾ tsp. salt in a medium bowl.

Using your fingers, work grapefruit zest into granulated sugar in a large bowl until sugar starts to clump and mixture is very fragrant, about 1 minute. Add eggs, oil, and vanilla and beat with an electric mixer on high speed until light and thick, about 4 minutes. Reduce speed to low and mix in half of dry ingredients, then mix in ¾ cup yogurt. Mix in remaining dry ingredients followed by 5 Tbsp. grapefruit juice. Scrape batter into prepared pan and smooth top.

Bake cake until top is golden brown and a tester inserted into the center comes out clean, 50–60 minutes. Transfer pan to a wire rack. Poke holes in top of cake and brush remaining 3 Tbsp. grapefruit juice over top. Let sit 15 minutes, then run a knife around sides to loosen and use parchment paper to lift cake out of pan and onto rack. Remove parchment and let cool completely.

Whisk powdered sugar, remaining 1 Tbsp. yogurt, 1 tsp. water, and a pinch of salt in a medium bowl until smooth and drizzle over cake. Let sit until glaze is set, about 30 minutes.