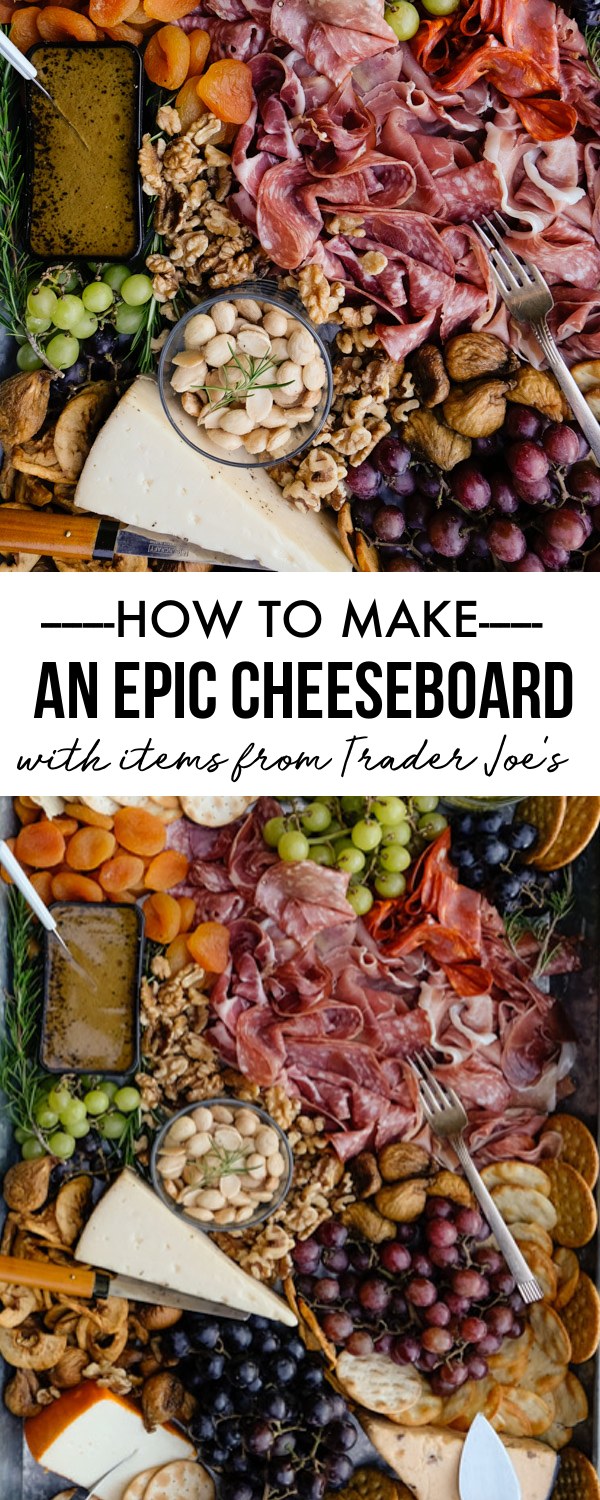 For the past few years, I have cheese board duty whenever my parents have a big get-together at their house.
FACT:
Once you make an epic cheeseboard, you can pretty much count on being the one who brings one to every party you attend.
It's important to make a good cheese board because that's what gets a party started! You need a variety of things…all spread out because we all need a little space when we're hovering around a table, mindlessly eating before someone figures out how much of the good salami we've eaten.
Let me show you:
How to Make an Epic Cheeseboard with Items from Trader Joe's!
First, we start with all my favorites. Here's what I picked up for my last cheeseboard: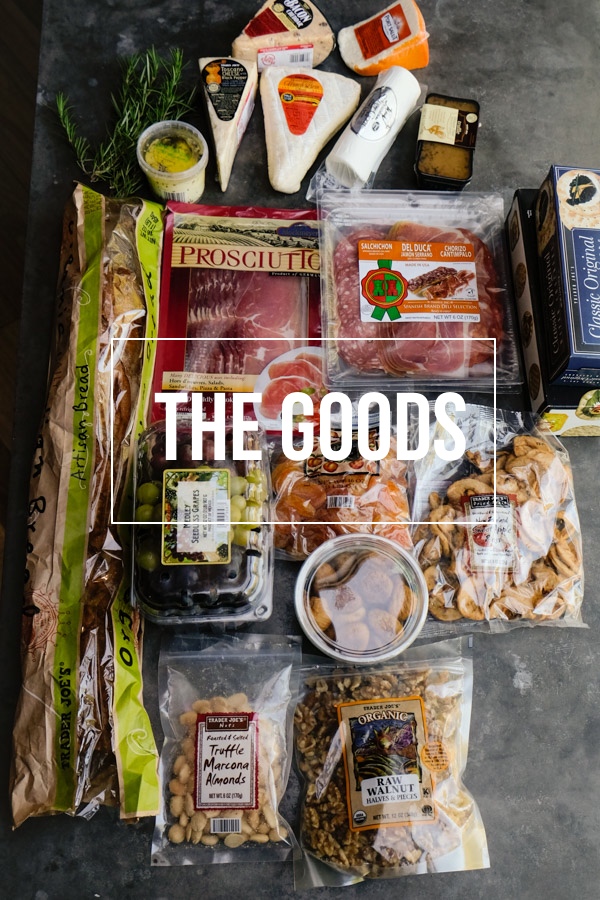 Let's talk about CHEESE:
I always like a brie, a goat cheese log (you can make this and this with it!), port salut (very popular), black pepper cheese (Cooper and my dad LOVE this cheese) and I always try to throw a wild card in there, hence the bacon cheddar. This past time I realized that bacon cheddar is not a good option if you have vegetarians around and you're not there to warn them what's up.
My parent's both like Pâté, so I usually end up buying some for them. I think it adds a little variety to the board. People are always curious about it. It's a conversation starter for sure… it usually starts with the "do you eat the gelatine top?"
I don't and it seems like no one else does. It's a protective barrier. At least that's what I tell people.
Correct me if I'm wrong, internet.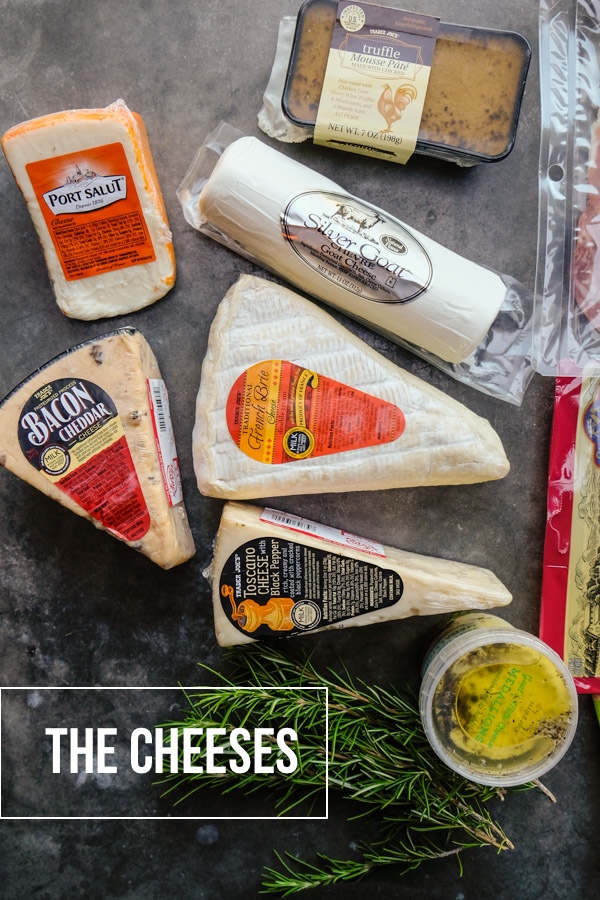 Let's talk about CURED MEATS:
Everybody loves a selection of meats. The dudes at my parent's parties are always hanging around that section the longest. Trader Joe's has some really good varieties. I tend to eat more meat because my stomach can't handle too much cheese (wahhhhhhh poor me/getting old kinda sucks sometimes).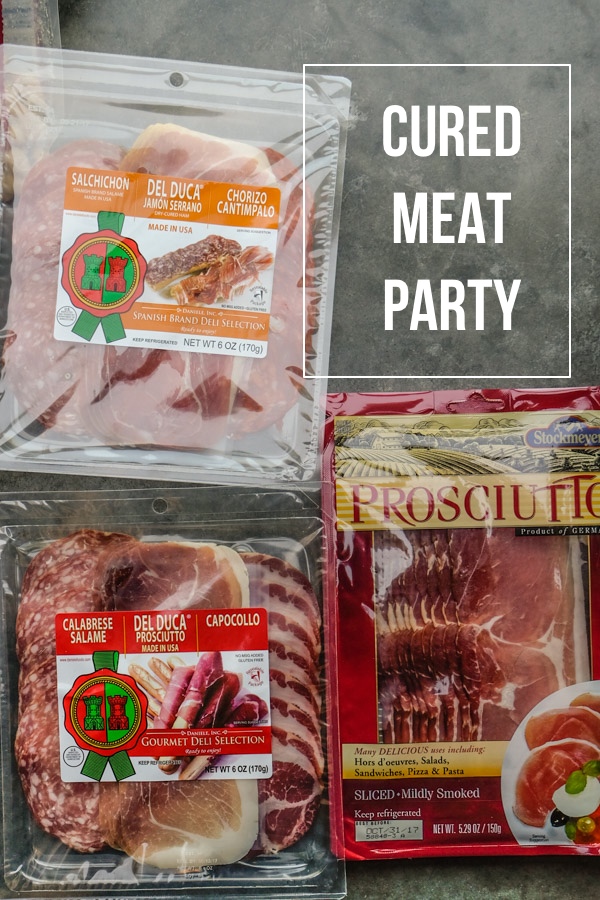 Here's where we bring in the color. FRUITS! ROSEMARY GARNISHES!
I always include them because we need to take breaks from chowing down on meat, cheese & crackers.
Let your guests graze on some fun/colorful things.
Rosemary is one of my favorite garnishes. It holds up to any heat and it adds a pop of green.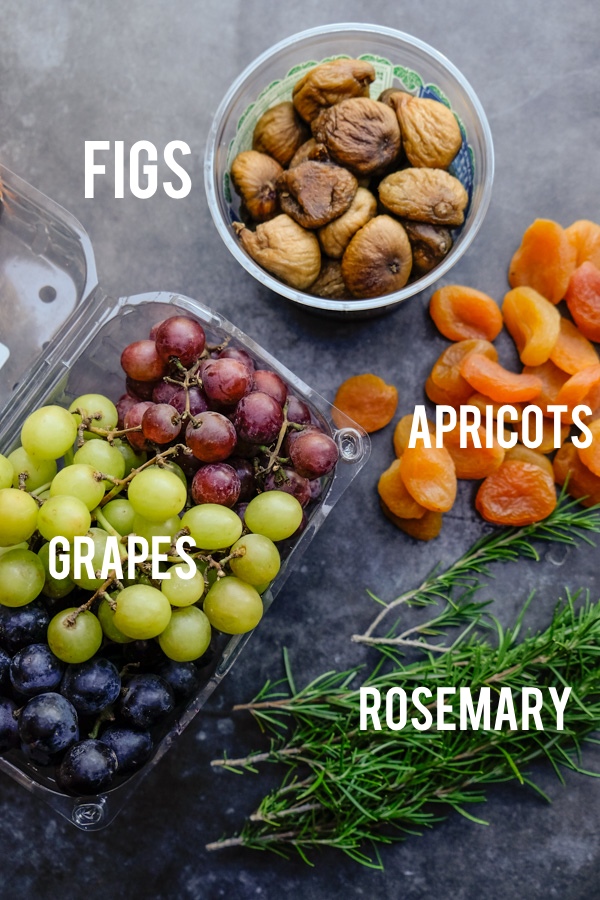 Let's talk about NUTS:
Everybody goes nuts over the Marcona almonds. Sometimes I do the rosemary ones and sometimes I do the truffle ones. Nuts are a great addition for people who are low-carb /gluten free.
Those salt & pepper pistachios are my son's favorite.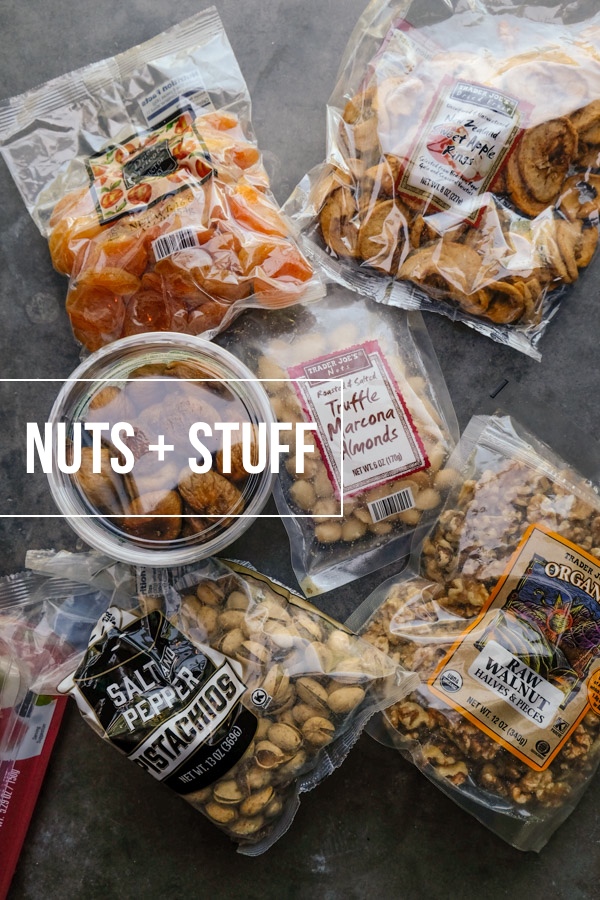 But you know, carbs are key.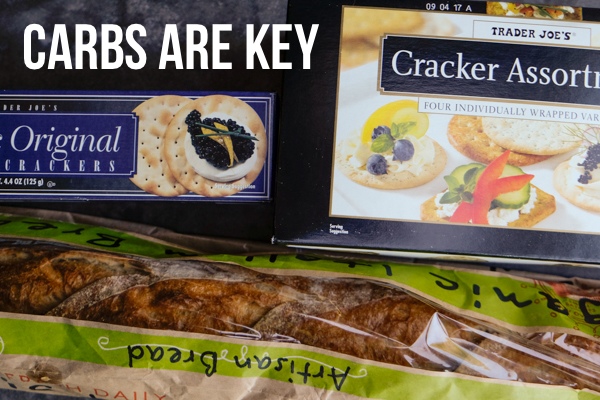 If I put these Pita Bite Crackers out, THEY ARE GONE IN MINUTES.
Mostly because my child is obsessed with them. Don't let him anywhere your cheese plate if you have these on them. Consider yourself warned.
Can't say I blame him…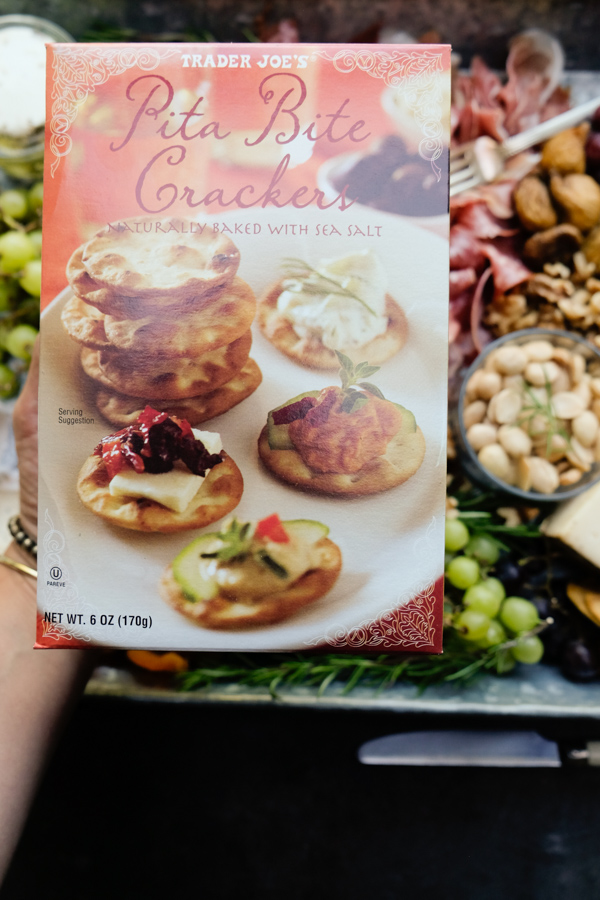 If you're going to make an epic cheeseboard, you need some serving tools.
These are the usual suspects: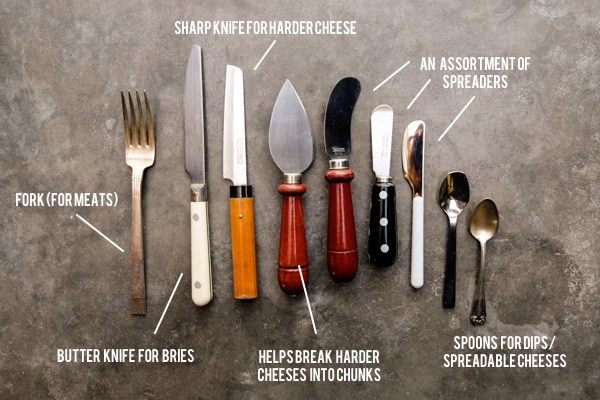 LET'S GET STARTED!
To start, arrange your cheese on the tray. You want to get a sense of how much space it will take up.
This is your foundation/your base.
Also, everyone asks me where I got my cheeseboard.
Confession time: It's actually a boot tray I got from Target.
I've never used it for boots…just cheese boards because IT HOLDS A LOT.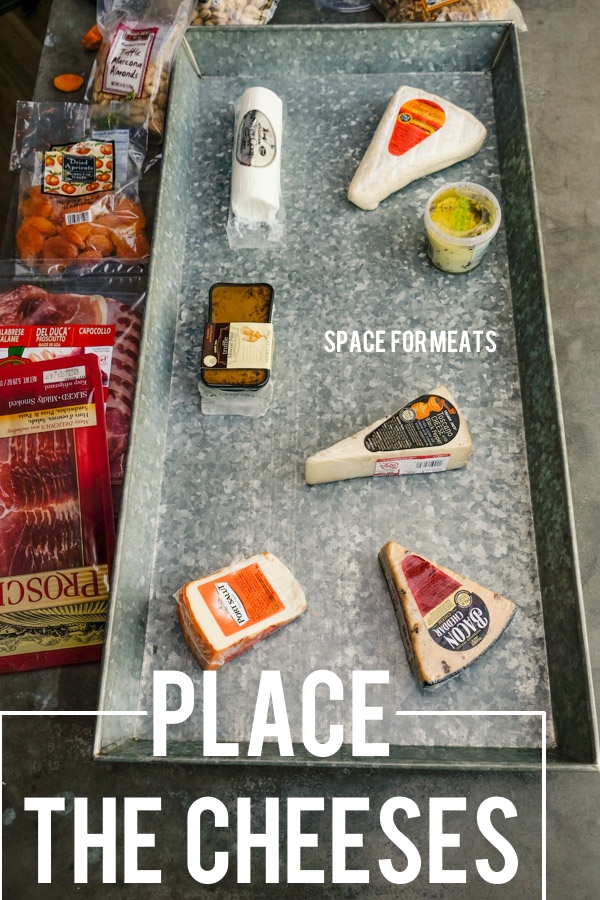 Now, start arranging your cured meats.
I like to fan them out/kinda scrunch the pieces up to break up that "I'VE BEEN LINED UP IN A PACKAGE MY WHOLE LIFE" look.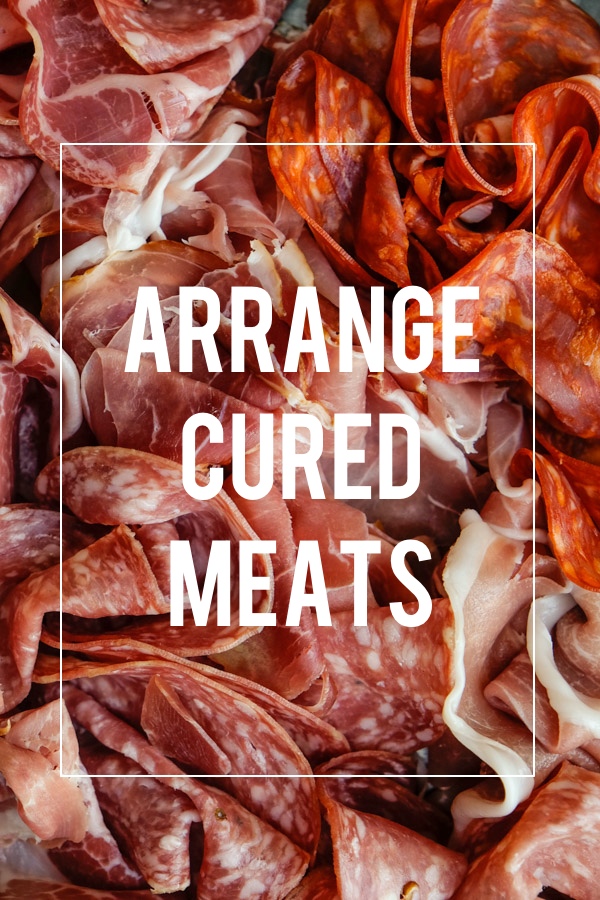 I mean, this doesn't look like it's from Trader Joe's, right?
Your guests will think you picked it all up in a fancy deli.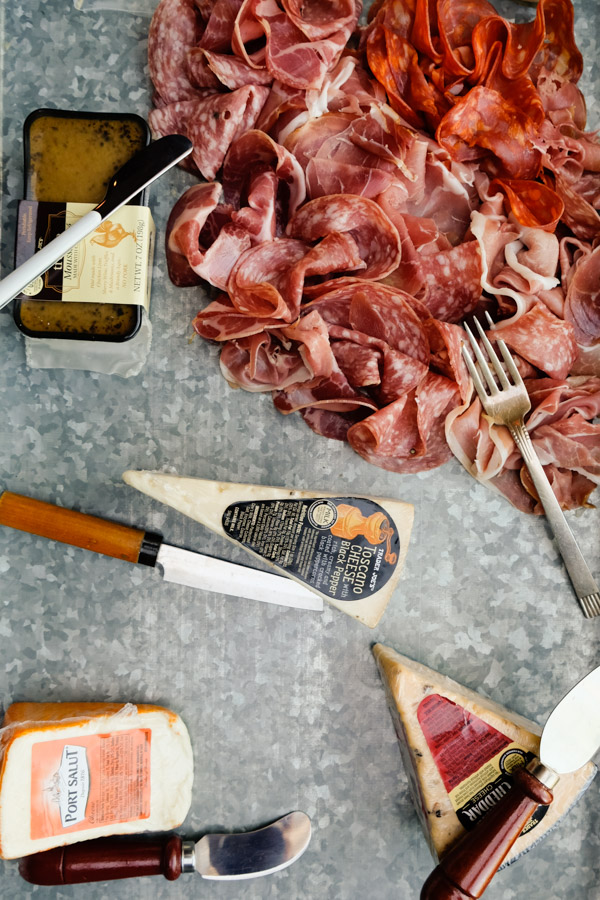 Now we start adding in the fruits for pops of color.
Do I need to tell you to take off the cheese wrappers?
ALSO- you can cut up an index card and label your cheeses if you want.
It's a good idea if you aren't around to tell people which cheese is which.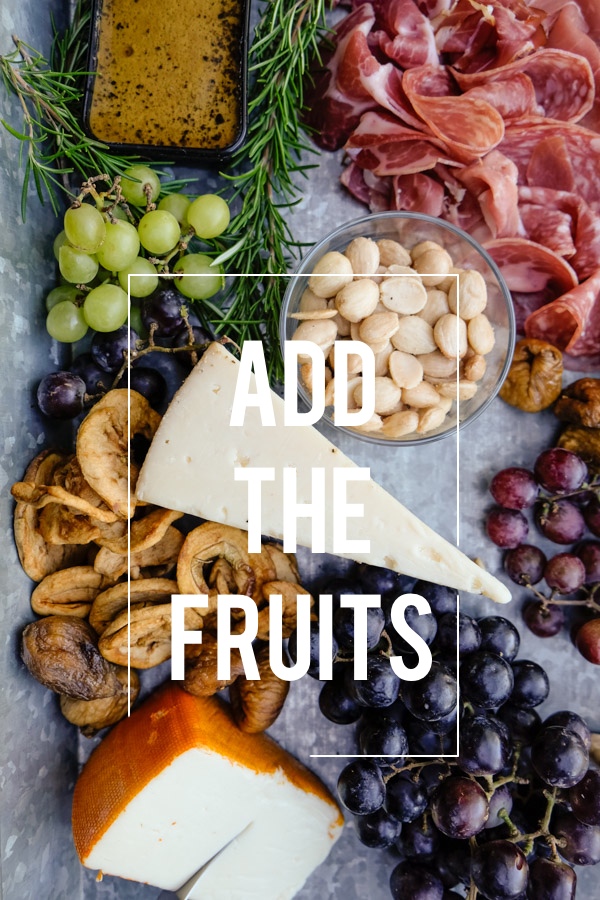 Rosemary garnish. See how pretty that is??
Sometimes it's good to break up the "canvas" with small bowls.
Notice how I put the marcona almonds in a small bowl?
If you're going to add pistachios to the mix, make sure you have a bowl on the side for shells.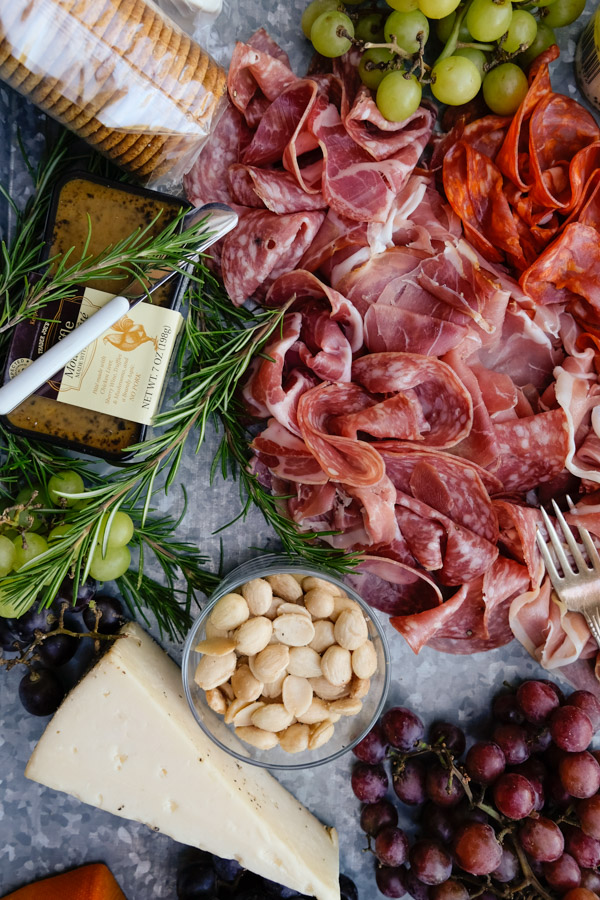 Crackers enter the picture.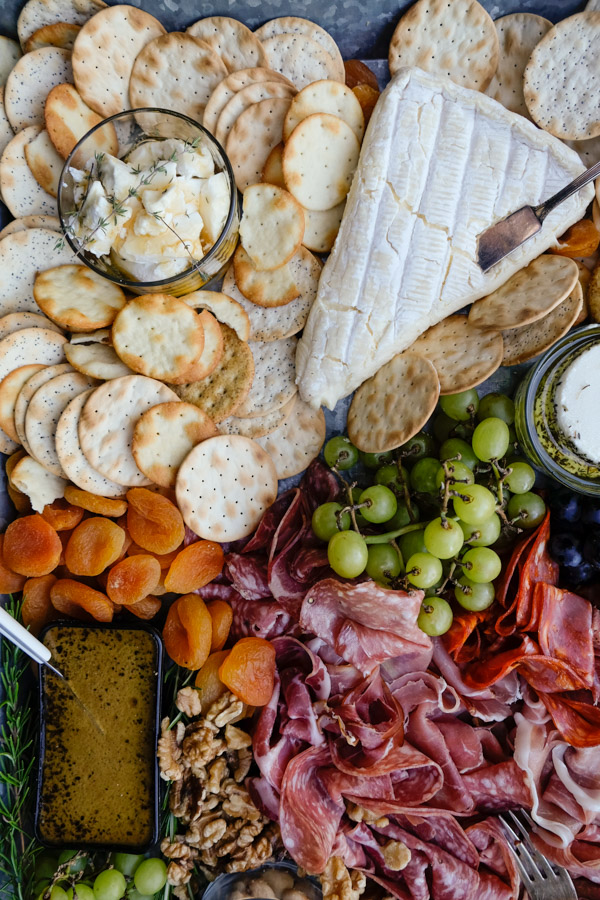 And if you look in the top corner, you'll see what I did with that goat cheese!
Place a hunk of goat cheese in a small bowl. Drizzle with honey and top with fresh thyme.
INSTANT ELEVATION. My husband went CRAZY for this and it made me think OH! I'll just make this for one of our snack dinners on a weeknight. So much information in cheese board selections and favorites!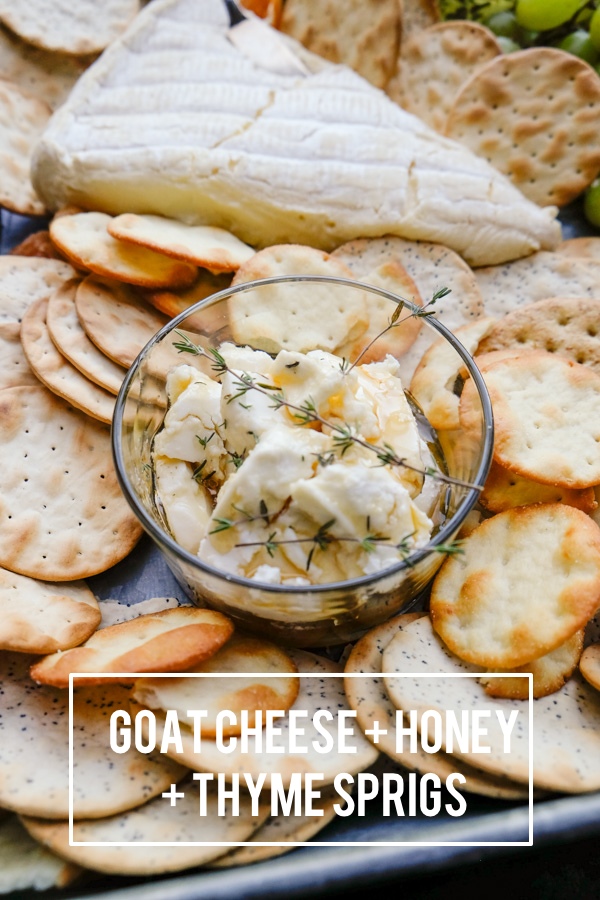 Fill allllllllll the empty spots with stuff. Let's not see the bottom of your board.
Put the appropriate knives/spoons/forks out.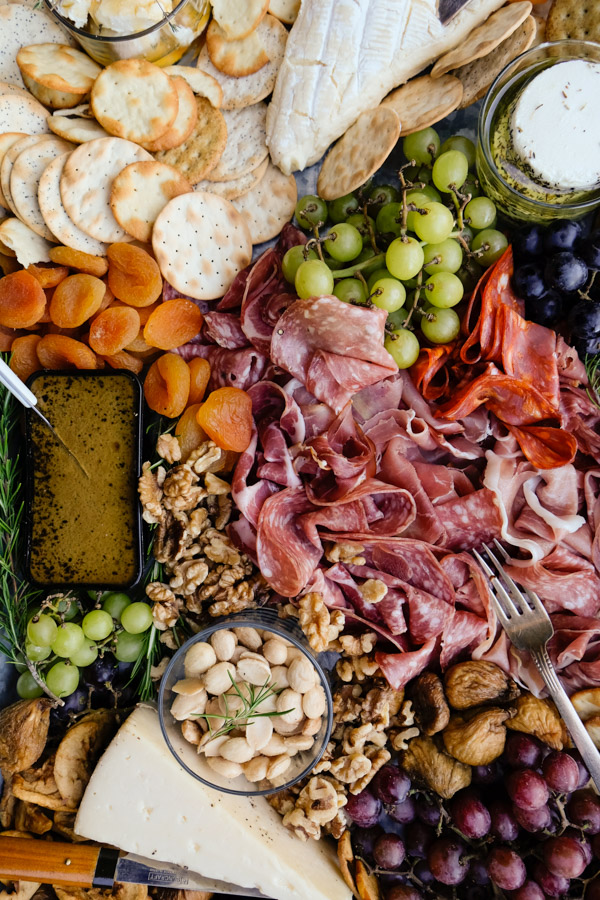 FEAST YOUR EYES ON THIS: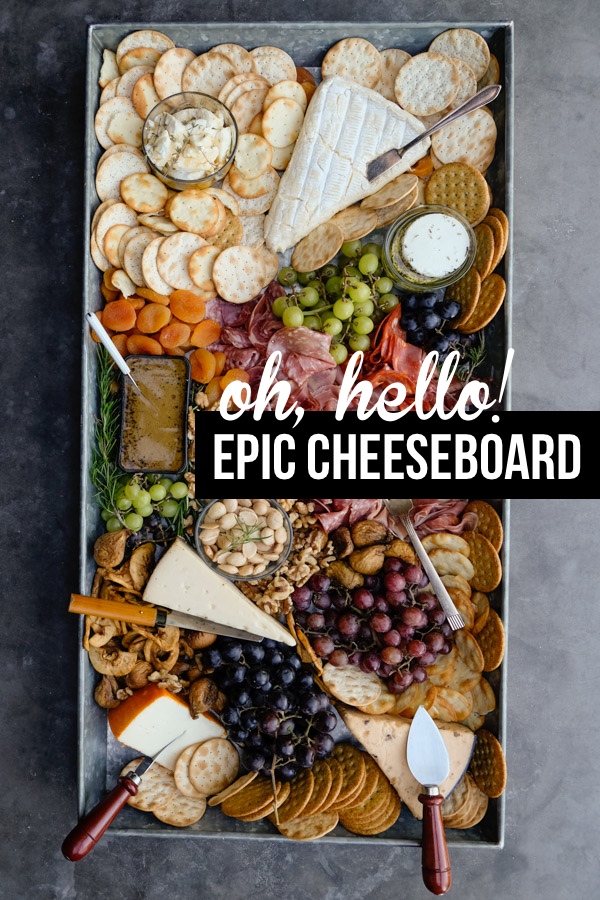 FOOD IS ART. Isn't it???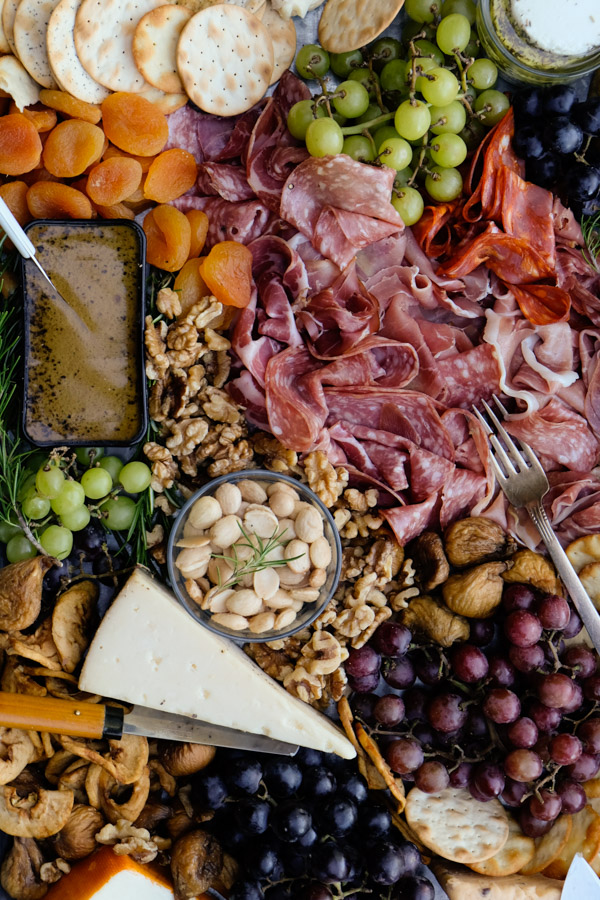 Make sure you bring the soft cheeses up to room temperature before serving.
No one likes to cut into a hard piece of brie!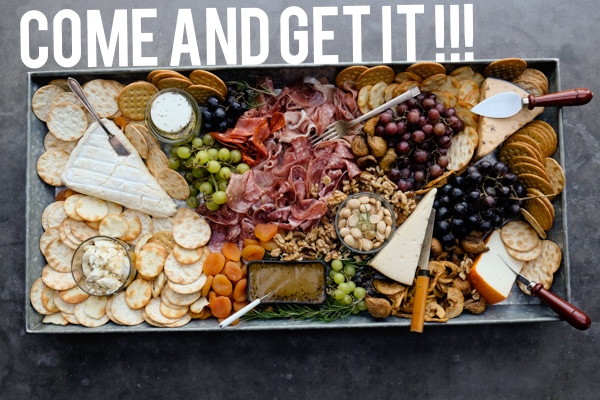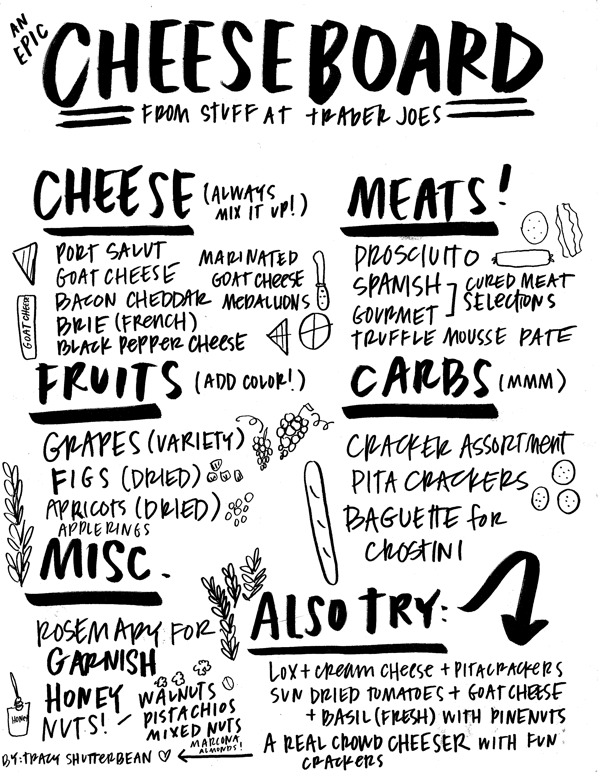 If you want to print this out to take with you to the store, click here to download a pdf!
If you want to go the Italian route, be sure to check out my post on Creating an Antipasti Platter!
I hope this inspires you to make an epic cheese board for your next get-together.
ENJOY!