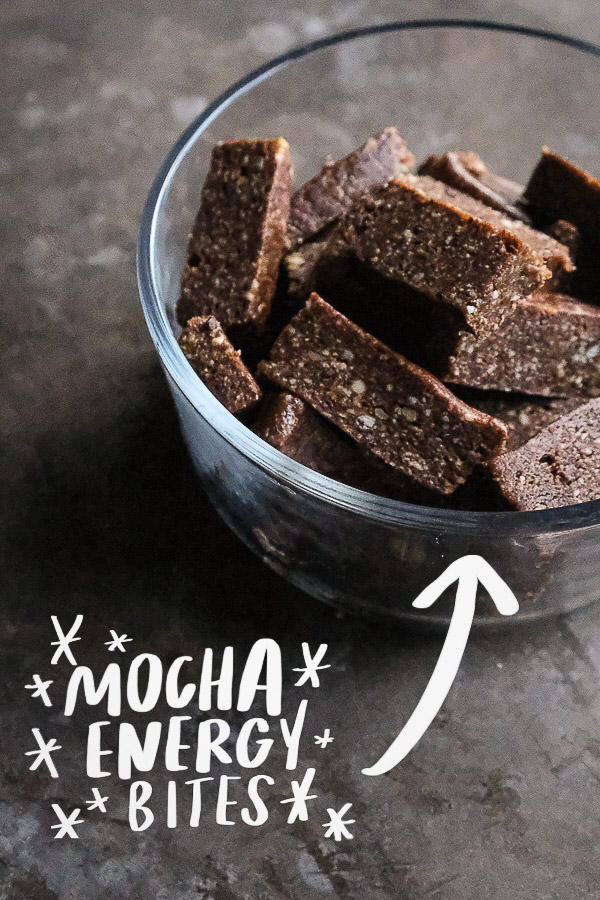 I'm not much of a sweets person, but every now and then I get a craving for something chocolatey around 3PM.  There's a little area in my freezer where I stash rogue cake slices, baggies of cookie chunks and other fun afternoon like treats like these Mocha Energy Bites.
It pays to have squirrel-like tendencies.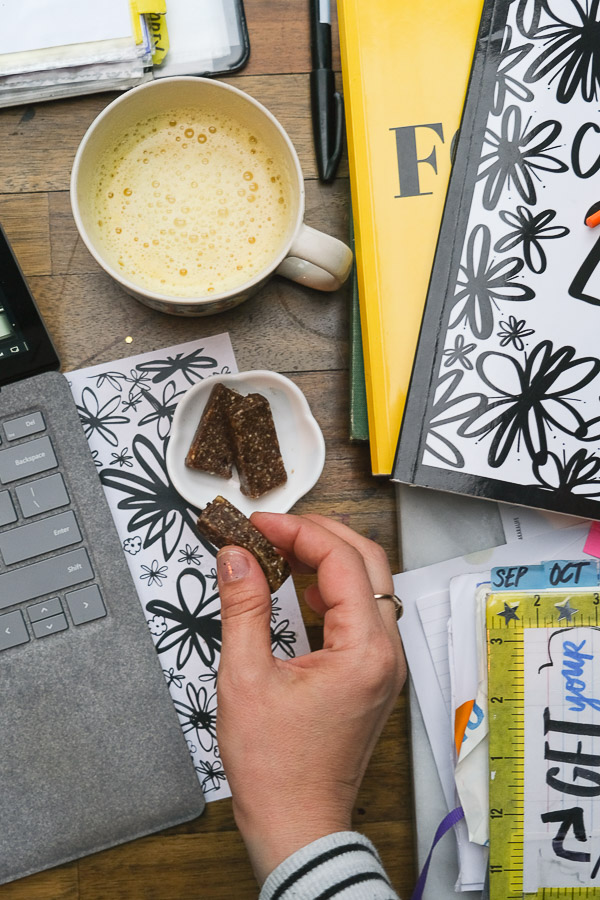 I like eating these Mocha Energy Bites with hot tea in the afternoon.  One bite is usually all I need. Sometimes I go in for two.  They're chewy with bits of chocolate and nuts throughout.  The ground espresso gives it a good depth too!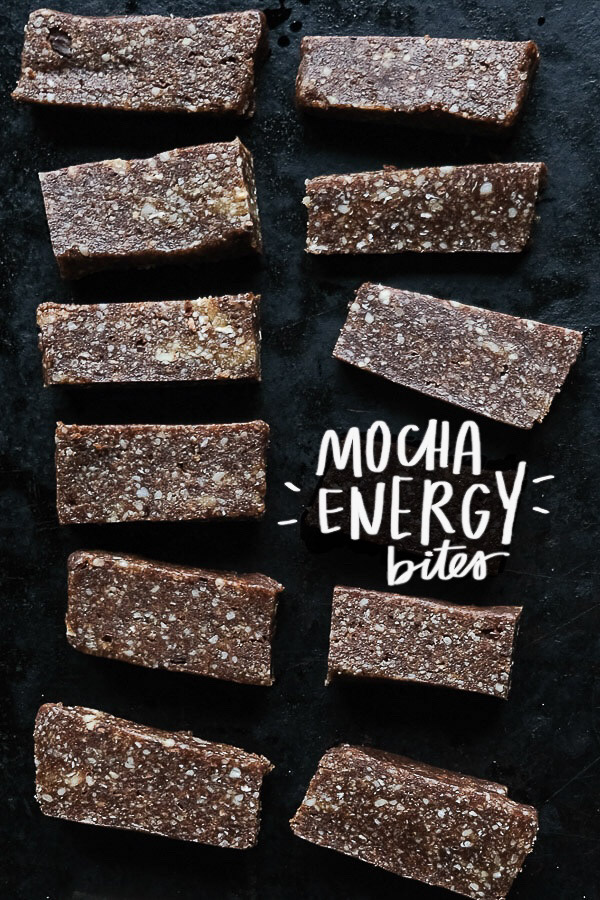 They'll give you a little pep in your step with the hit of caffeine. Look at that! Your afternoon just got kicked up a notch.
There's definitely a good reason why this recipe makes it into my meal prep rotation!
Ingredients are gathered: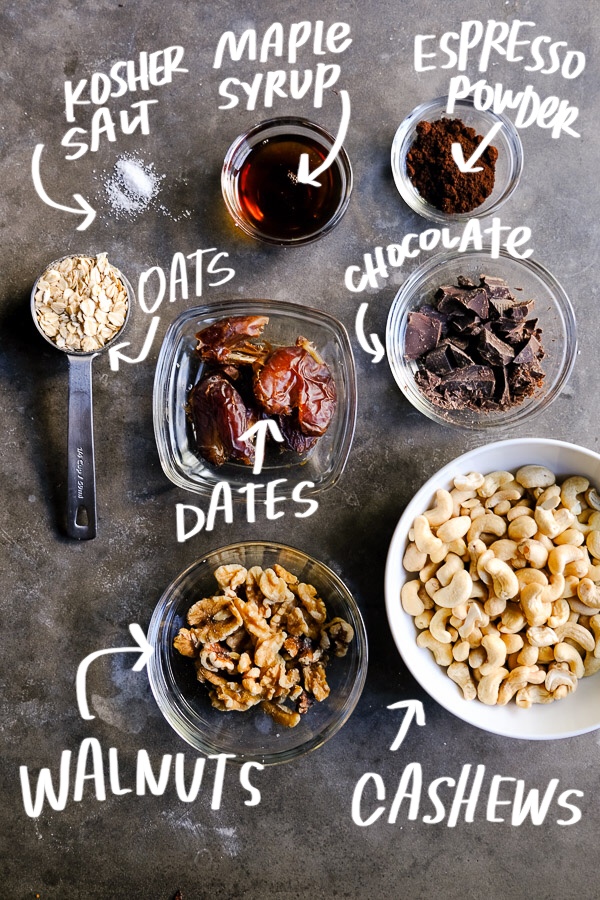 You're going to need a food processor
for this endeavor. It's one of my favorite meal prep tools!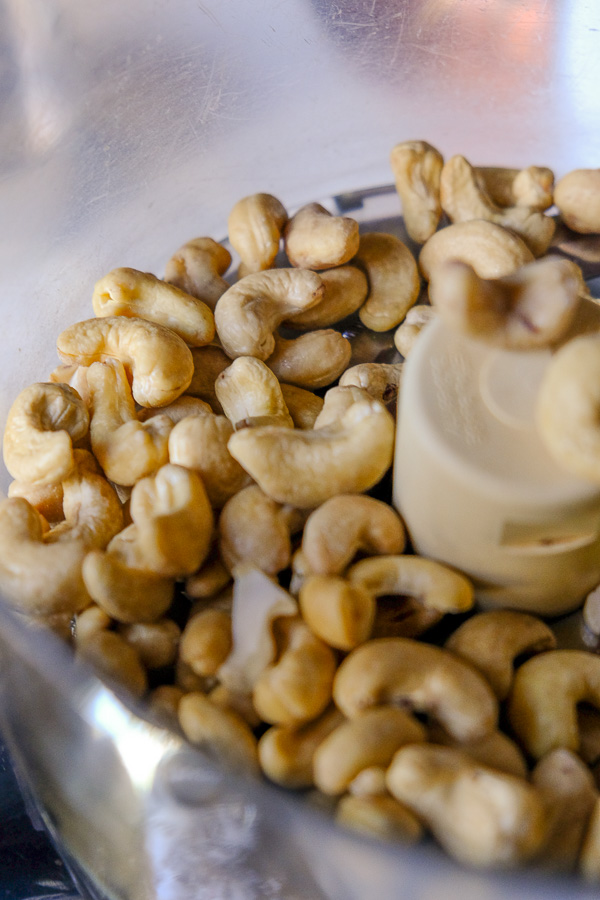 The glue that holds the bars together is a combination of maple syrup and dates!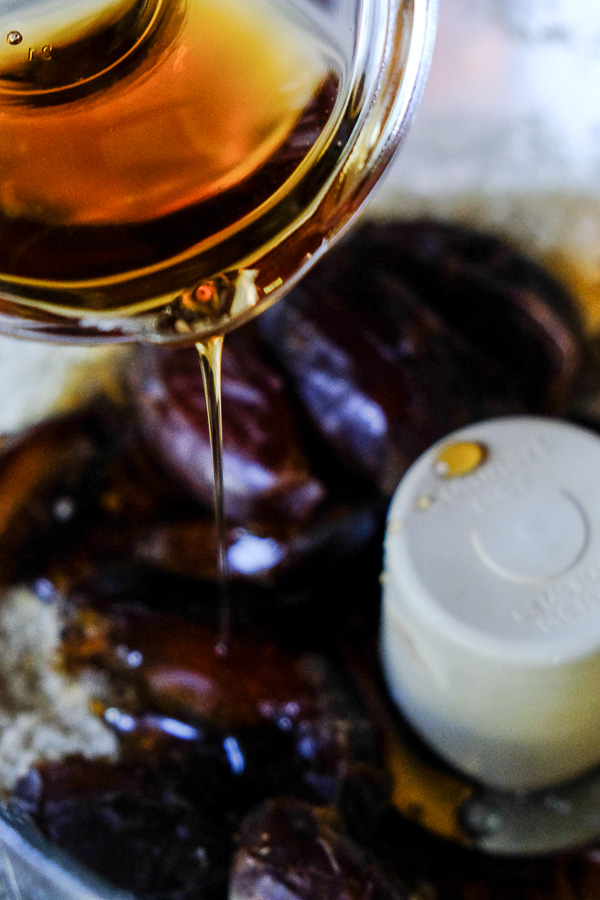 \
Dough!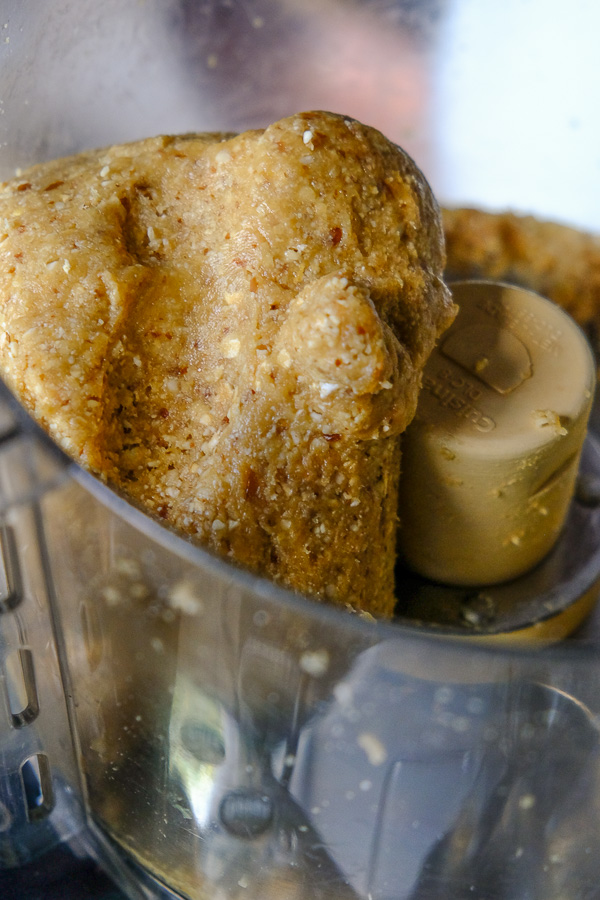 So many good things in there. Totally raw and gluten-free (make sure your oats are GF!).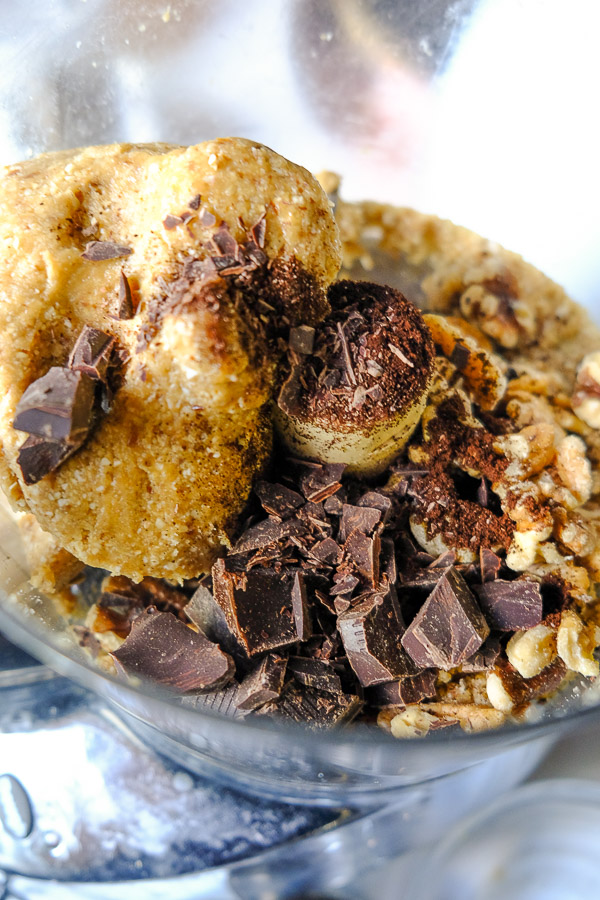 The "dough" gets put in a container wrapped in plastic. I used a bread pan here, but you could use an 8×8 pan.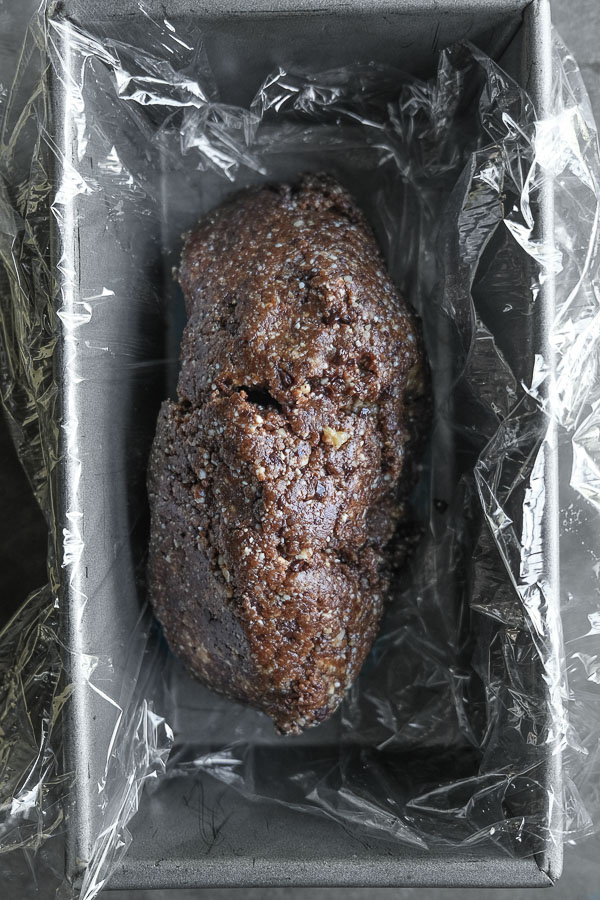 Wrap up the bar after you flatten the top.  Freeze for a bit.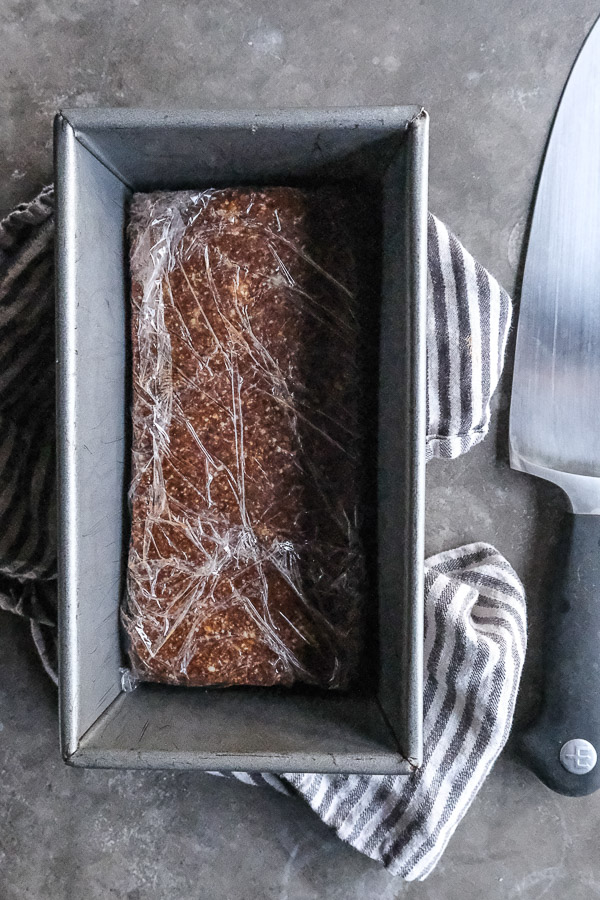 Unwrap and slice up!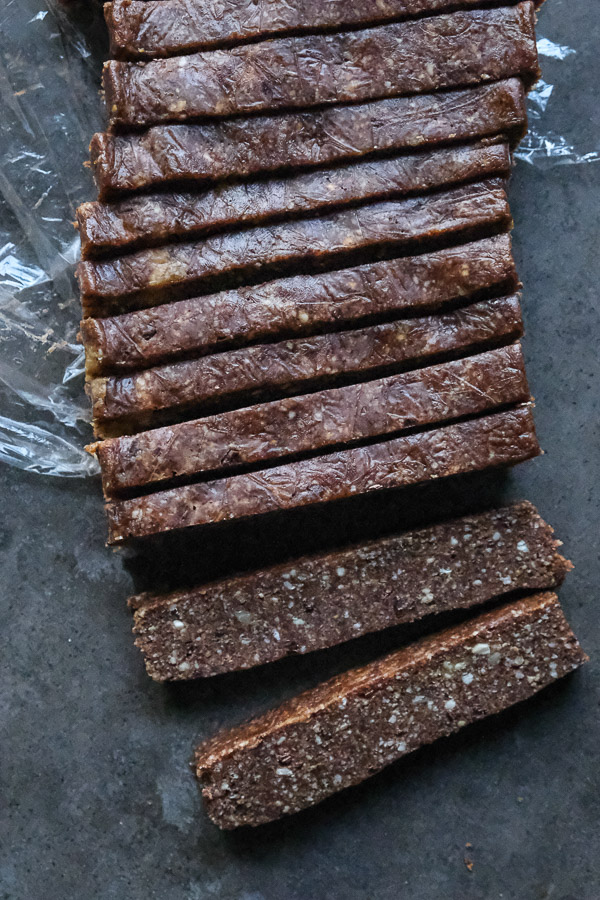 I like to cut small bites for the future.
Future me will definitely be happy these are in the freezer. I bet your future self will be happy too.
For more energy bar recipes try:
Mocha Energy Bites

makes about 36 bites

1  1/2 cup raw cashews

1/4 cup rolled oats

6 Medjool dates, pitted and chopped

2 tablespoons maple syrup

1 tablespoon instant espresso powder

1/2 teaspoon sea salt

1/2 cup chopped walnuts

⅓ cup  chopped bittersweet chocolate

In a food processor, process cashews and oats for 30 seconds, or until chopped. Add dates, maple syrup, espresso powder, and salt; process 30 seconds or until mixture resembles cookie dough. Add walnuts and chocolate, process 20 seconds or until combined.

Line an 8-inch square baking pan with parchment or plastic wrap, extending over two sides of pan. Place oat mixture in pan; top with another piece of parchment or plastic wrap and press evenly into pan. Cover with plastic and freeze for 4 hours. Using parchment, lift out of pan. Cut into 2-inch bars. Store in an air-tight container in the fridge, up to 5 days and freezer up to 2 months.