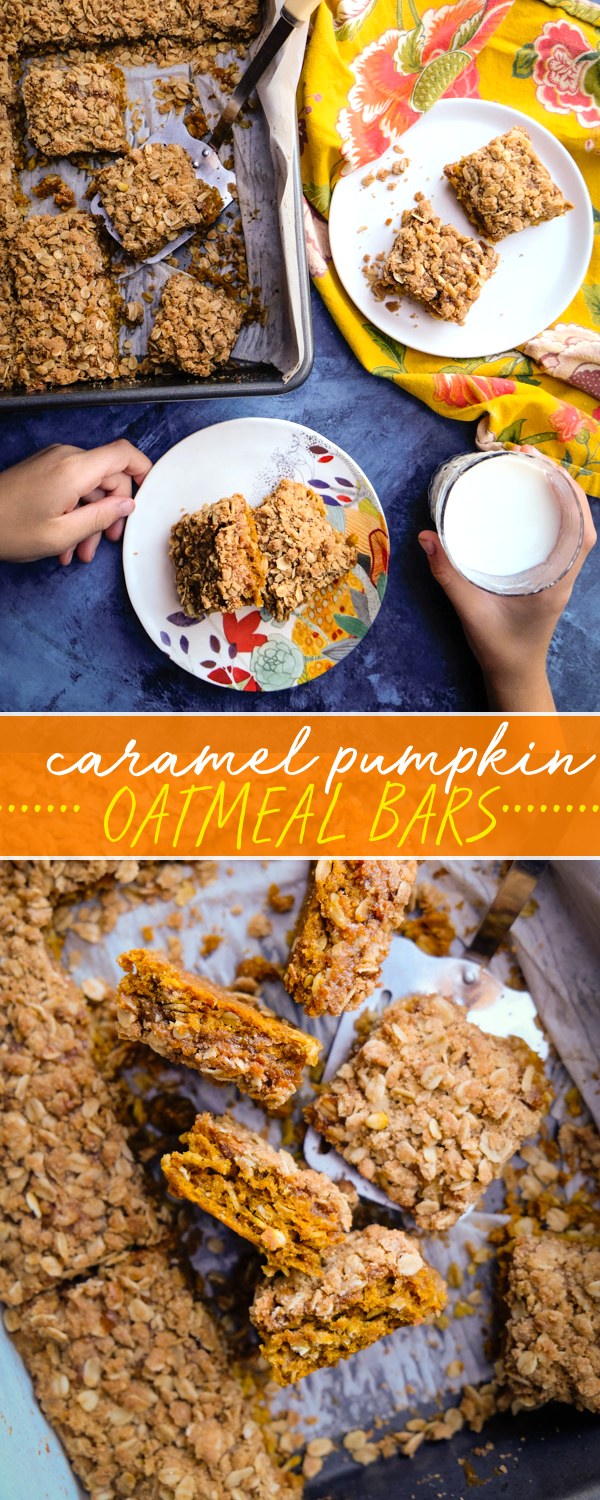 You asked for a pumpkin recipe and here's what I found! I was looking for something that would be good for breakfast and could be served warm after dinner with ice cream. These bars fit the bill.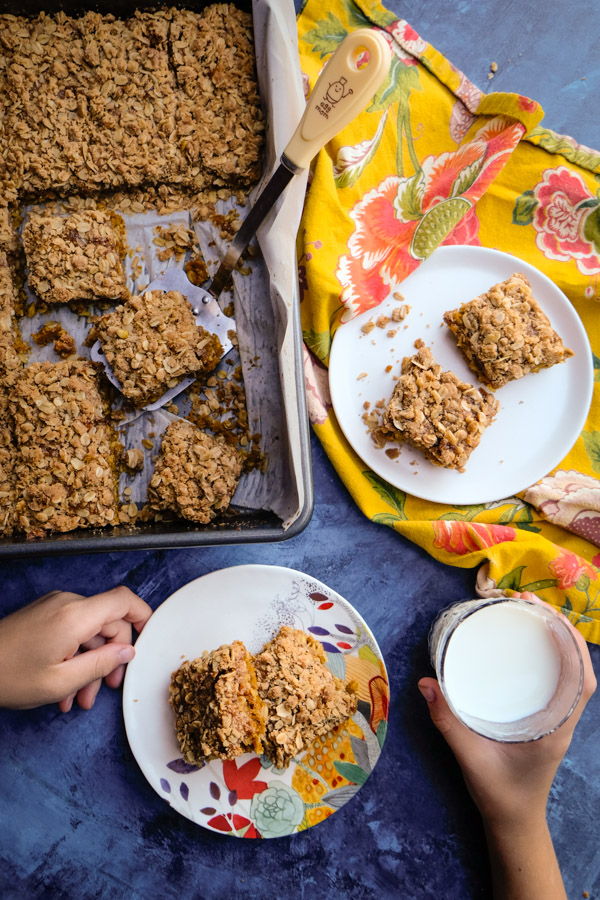 They're kinda chewy with hints of crunch due to the bits of caramelized caramel (is that a thing?). They've got a good bite because of the oatmeal. It's like a coffee cake meets a bar. I can't wait to have one with coffee!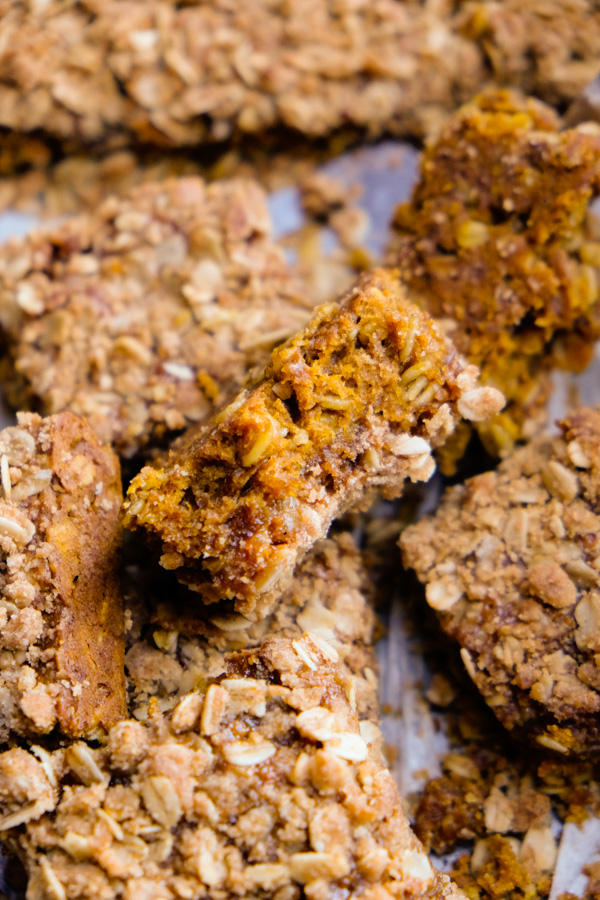 We're starting off pumpkin season with Caramel Pumpkin Oatmeal Bars!
Now…tell me…what's your favorite slow cooker or instant pot recipe for fall. I need some inspiration!
Let's gather our ingredients: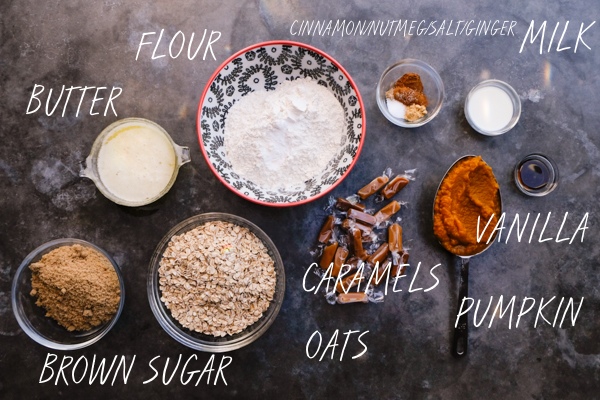 We mix together everything but the pumpkin + vanilla.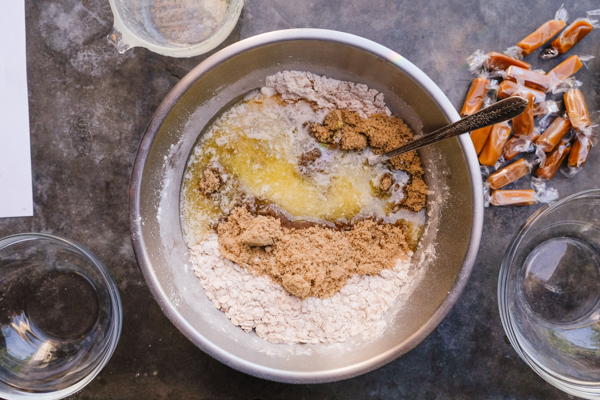 We also melt caramels with milk in the microwave.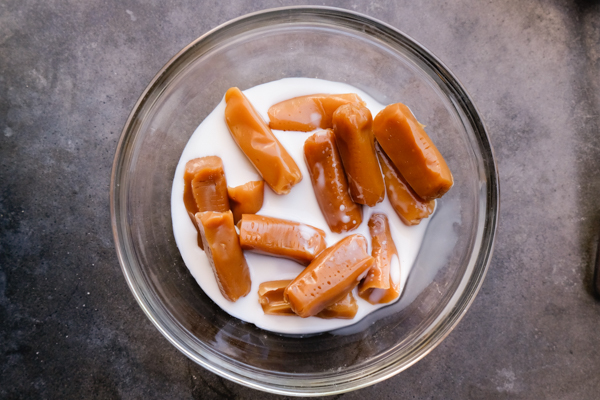 Set aside some of the crumb mixture. This becomes our topping.
Pumpkin + vanilla go into the mixture.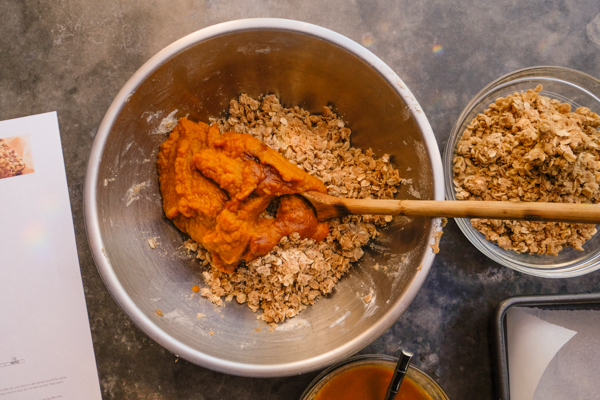 Pumpkin layer down.
Followed by caramel.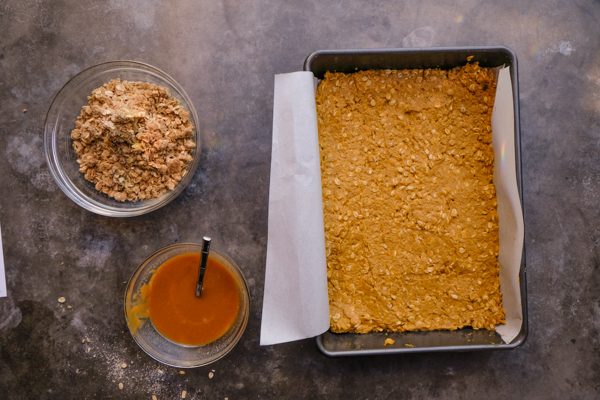 Uh huh.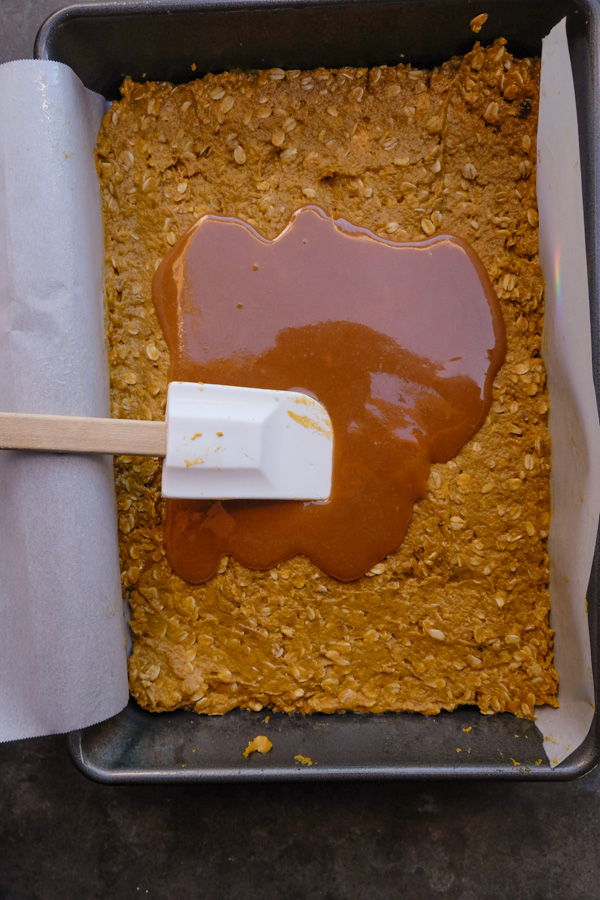 Topping gets topped.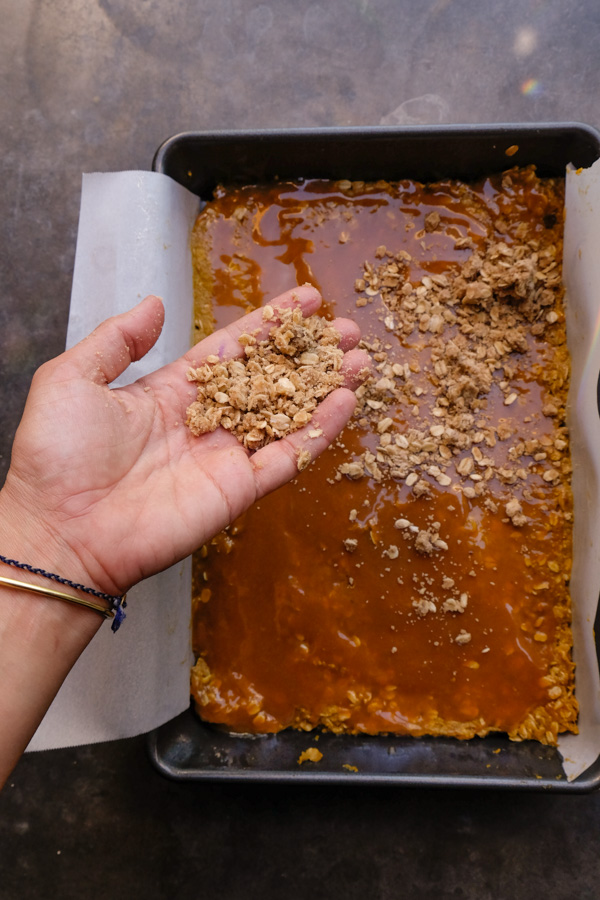 Off to the oven…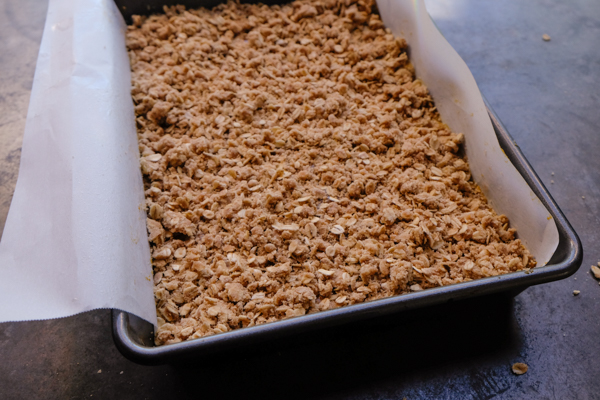 BAKED!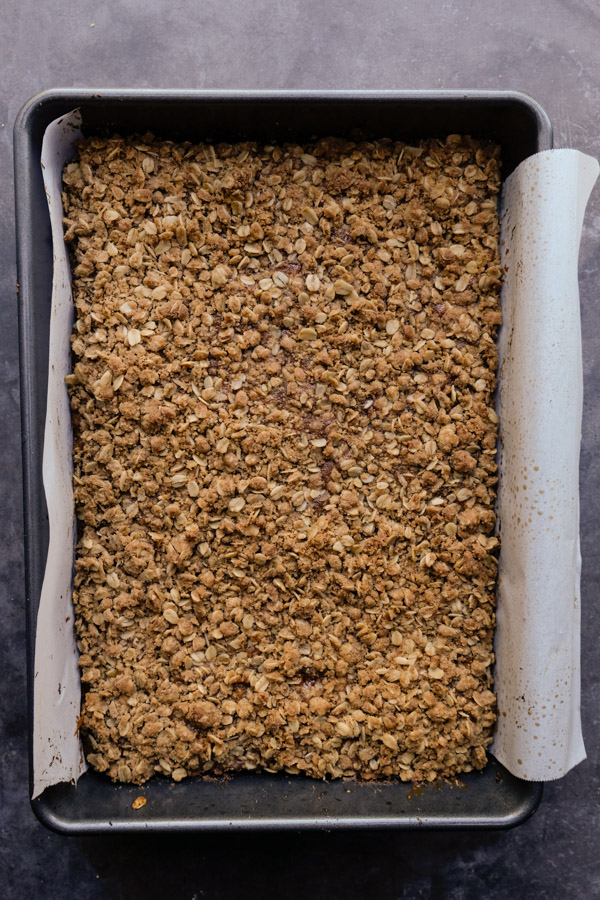 Serve it up!
Take a few samples!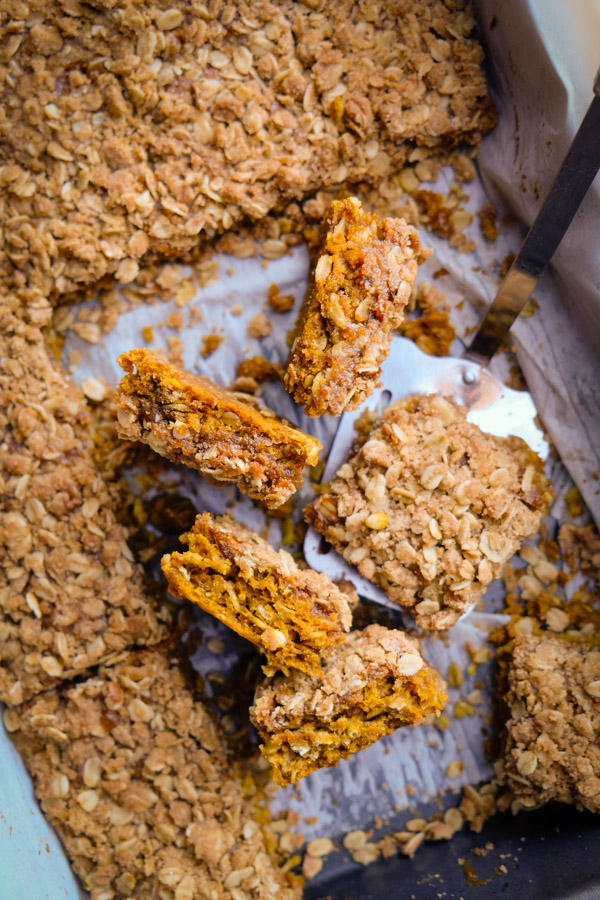 It makes the best afternoon snack.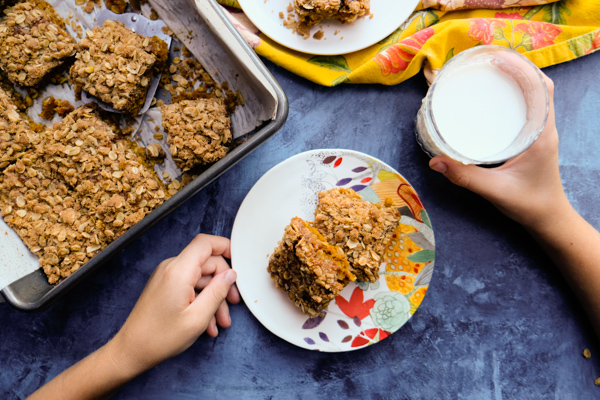 For more pumpkin recipes try:
makes 24

recipe slightly adapted from McCormick

2 cups flour
2 cups old fashioned oats
1 1/2 cups firmly packed light brown sugar
1 teaspoon baking soda
1/2 teaspoon salt
2 teaspoons cinnamon
3/4 teaspoon ground ginger
1 cup (2 stick) butter, melted
1 cup canned pumpkin
1 teaspoon pure vanilla extract
7 ounces (1/2 of 14-ounce package) caramels, unwrapped
2 tablespoons milk

Preheat oven to 350°F. Mix flour, oats, sugar, baking soda, salt and spices in large bowl. Add butter; stir until mixture is well blended and forms coarse crumbs. Reserve 1/2 (about 2 1/4 cups) for the topping. Add pumpkin and vanilla to remaining mixture in bowl; stir until well blended. Press evenly into bottom of greased foil-lined 13×9-inch baking pan. Set aside.

Microwave caramels and milk in medium microwavable bowl on HIGH 2 to 3 minutes or until caramels are completely melted, stirring after every minute. Let stand 1 minute. Pour over pumpkin mixture in pan, spreading to within 1/2-inch of edges. Sprinkle with reserved crumb mixture.

Bake 30 to 35 minutes or until light golden brown. Cool in pan on wire rack. Lift from pan. Cut into bars.