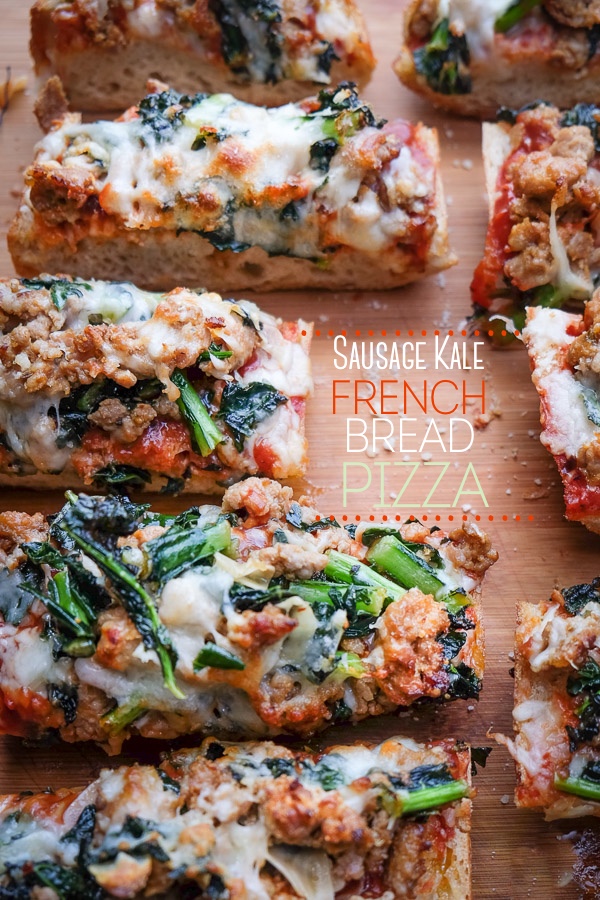 Thank you so much for all of your kind comments about my cat, Pinot.  Your words mean so much to me!  Things have been a little weird around my house. I'm used to having a little buddy that hangs around with me while I'm cooking in the kitchen. I didn't realize how many times a day we checked in with each other until she was gone. It's pretty crazy how animals become so apart of your everyday routine, you know?  I keep looking for her face at the sliding glass door to see if I need to let her in. Going to sleep at night has been a little weird too, since she used to sleep on my pillow and I'd fall asleep to the sound of her purring. The only thing that's helping me right now is keeping busy. I think I've cleaned my kitchen at least 25 times since this weekend.  So, anyways THANK YOU. I really appreciate your love and support.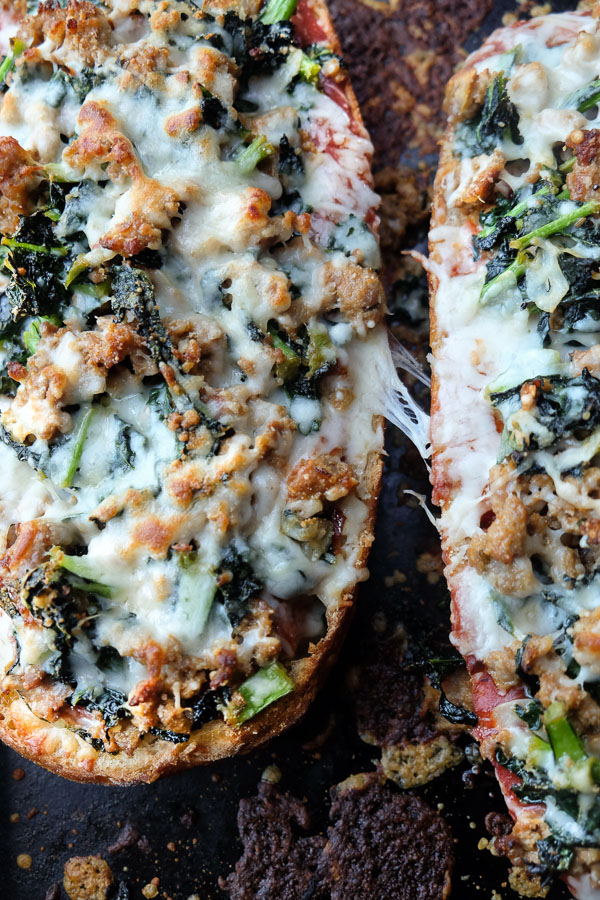 Yesterday I made this Sausage Kale French Bread Pizza situation because I felt like cleaning the kitchen ANOTHER time.  Tuesday was a major errand running day (with Cooper! who had school off! Ahhh!) and instead of making another pit stop to pick up individual french bread rolls (we already went to the Post Office/Oil Change & Trader Joe's), I decided to use a whole batard I picked up at the store. Yeah buddy, we went BIG on this recipe. Who says that french bread pizza needs to be on individual rolls?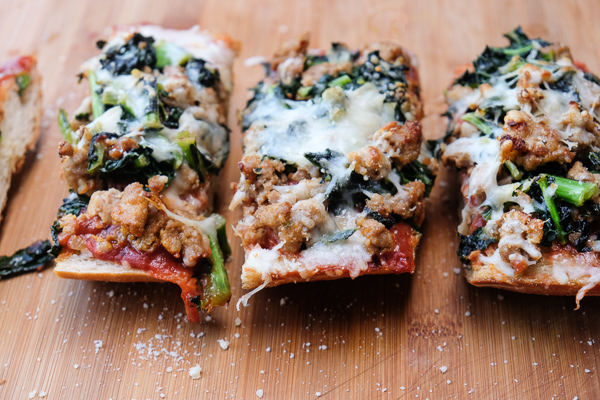 We brown sausage and then sauté kale. We add red pepper flakes on and a ton of garlic to the mixture. We spread marinara all over our batard then top with the sausage kale mixture and a ton of cheese. Then we get this crunchy/crispy/doughy french bread pizza that's ridiculously meaty/hearty yet full of kale!  Next time I am going to freeze one of the halves and just bake off one because then I won't eat it a lllllllllllllllll and then future me will be like, "You're so smart and thoughtful, Tracy from the past."  I will also make a section just for Cooper who picked EVERY SINGLE PIECE OF KALE off of his pieces. Kids, man.
Let's gather our ingredients.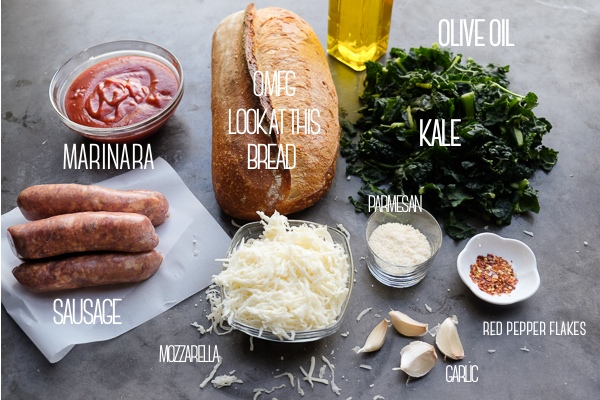 Garlic sliced thin!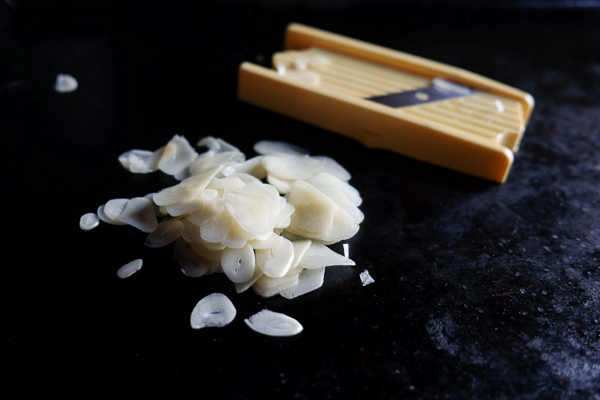 Sausage cooked with olive oil. Bread sliced in half.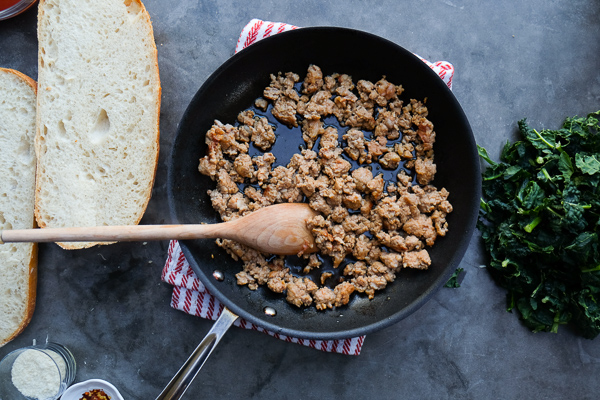 Kale addition.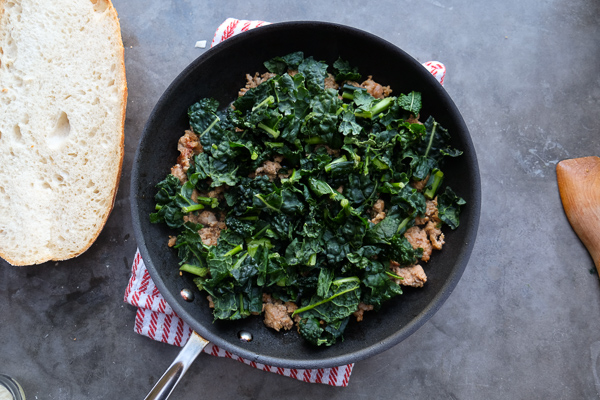 Followed by garlic & red pepper flake addition.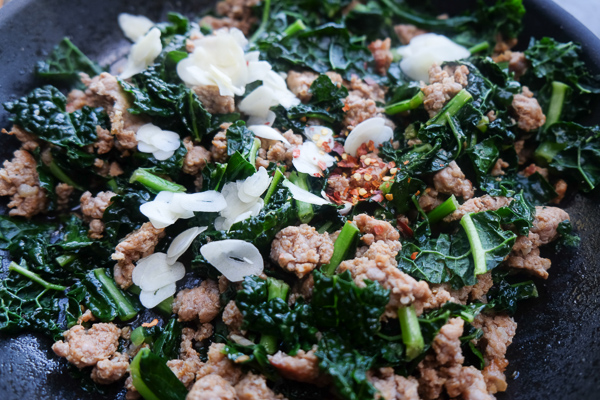 Assembly time!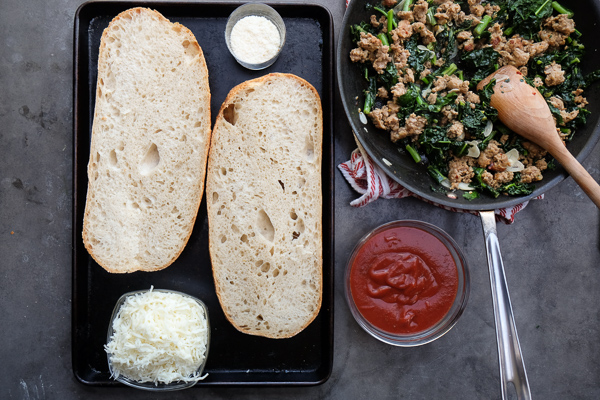 A little sprinkle of cheese.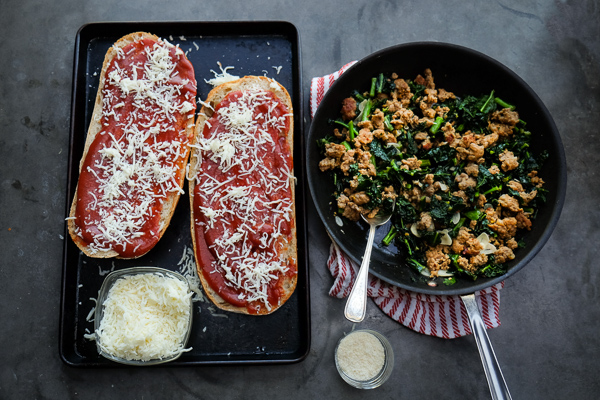 Followed by sausage and CHEEEEEEEESE.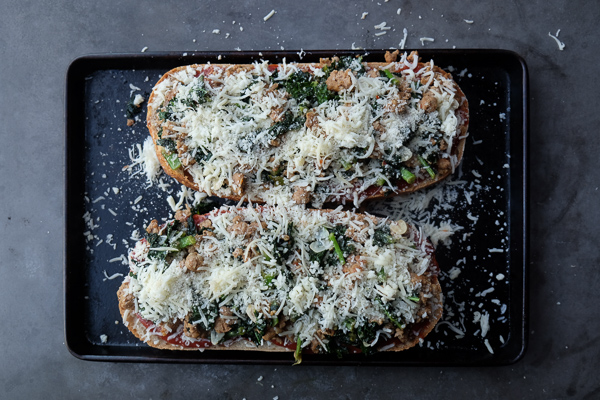 Look at these two lovebirds.
Get a room, you two!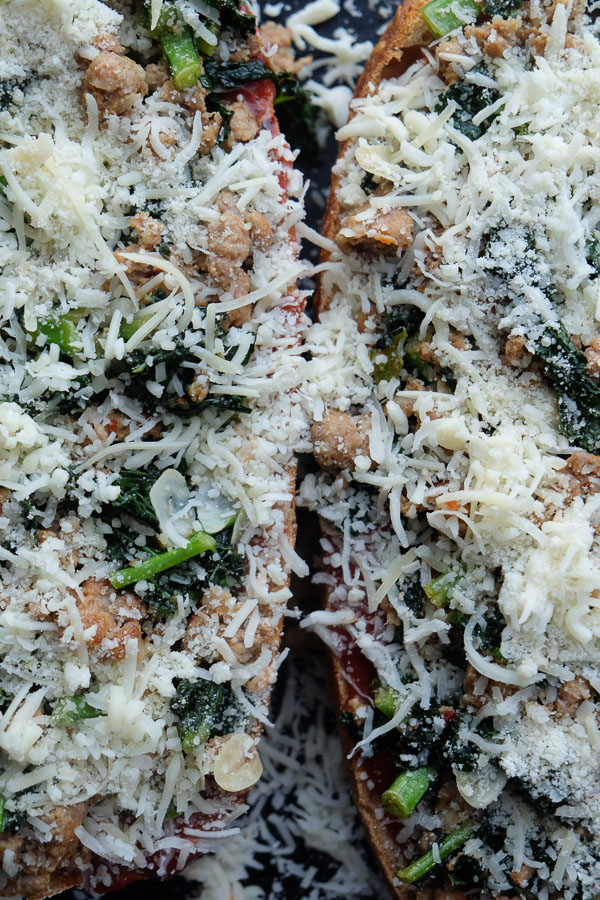 They took a nice trip to the oven. No chaperone was involved.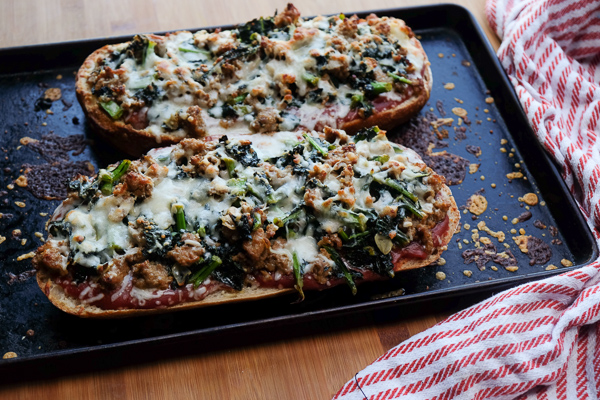 Welp!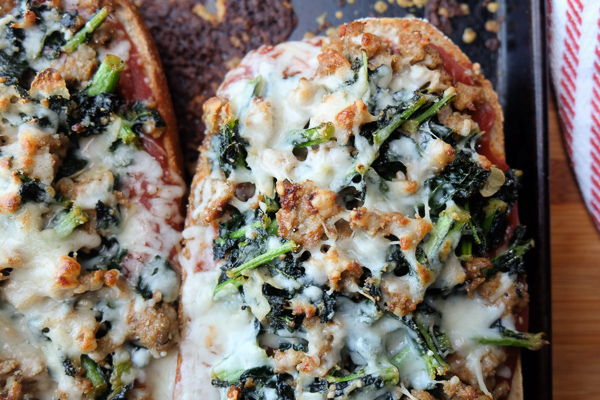 Pretty much my teenage dream.
We slice.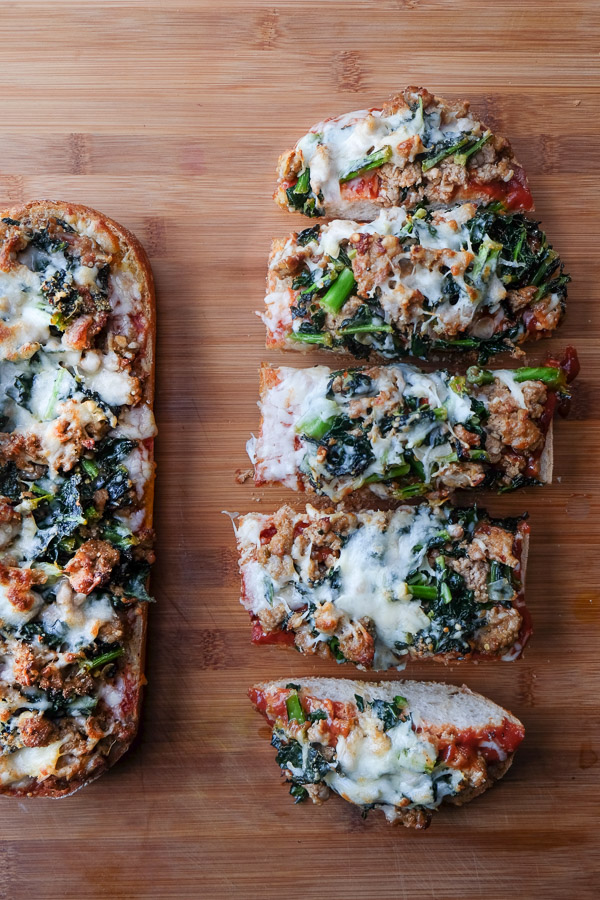 We enjoy. We have no leftovers. Dangit!
For more fun pizza ideas, check out:
And if you also love the combo of kale & sausage, check out:
Sausage Kale French Bread Pizza

serves 4-5

1 large loaf French bread, sliced in half
2 cups marinara sauce
1 tablespoon extra virgin olive oil
1 1lb. Italian sausage, casings removed
5-6 cups chopped Tuscan kale
4 cloves garlic, thinly sliced
1/4 teaspoon red pepper flakes
2 cups shredded mozzarella
3 tablespoons grated Parmesan

Preheat oven to 400F

Heat olive oil in a large skillet over medium-high heat. Cook the sausage, breaking up into smaller pieces with a wooden spoon, until sausage starts to brown, about 4-5 minutes. Add kale and continue to cook until kale has softened, about 4 minutes. Season with salt & pepper and stir in garlic and red pepper flakes. Cook for another 1-2 minutes.

Place french bread halves on baking sheet. Divide marinara sauce evenly between two halves. Sprinkle tops with 1/2 cup mozzarella. Add the sausage kale mixture onto the bread, followed by the remaining cheese. Sprinkle with Parmesan and place in the oven for 10-15 minutes, or until bread is golden and cheese is melted and slightly brown. Transfer bread to a cutting board and cut into thick slices to serve.