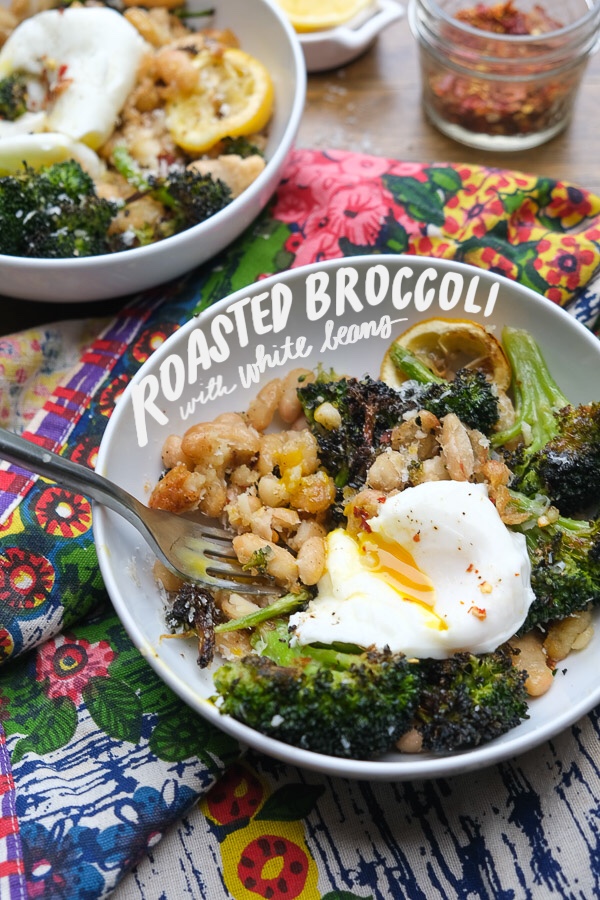 This is one of those recipes built out of necessity. As in, I need something healthy to put an egg on top of for breakfast/lunch/dinner and don't want to do that much work. Also, I'm not eating bread right now (IS LIFE EVEN WORTH LIVING??!) and I'm trying to figure out what to eat for breakfast other than my usual egg + toast situation.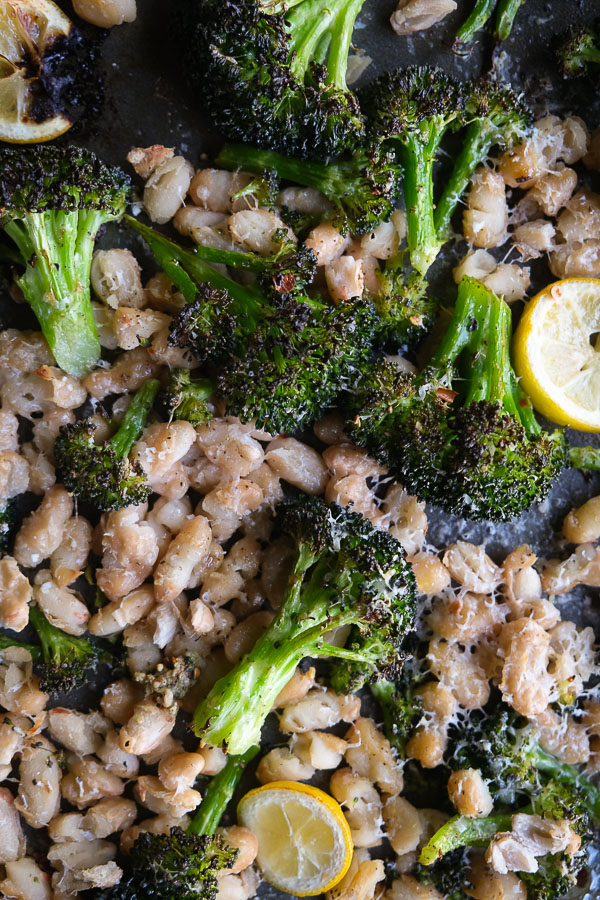 I believe that:
Restriction breeds creativity.
And here we are!
I had this recipe clipped from Bon Appetit hoping to make it one day. The only problem is, soaking beans overnight and cooking them in advance isn't my kind of prep. Although I know I am definitely capable of making beans from scratch, I'm lazy and I'm bound to change my mind about wanting beans the next day.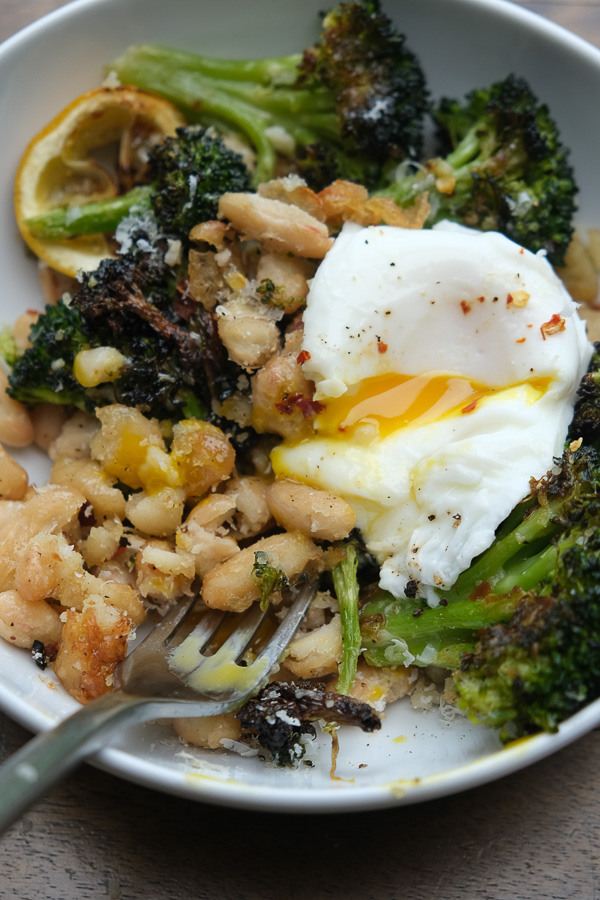 I tried my own take on the recipe with canned beans and I really enjoyed it. When you used canned beans, they can break up on the roasting pan, turning crispy and crunchy in some parts. I find them to be a nice creamy contrast with the roasted broccoli, the hit of lemon juice and a nice bite of Parmesan cheese. I'm sure if I was given the opportunity, I'd eat this entire tray while sitting on the couch watching something on Netflix.
As you can see from the shot above, I decided to put an egg on it, and all was right with the world.
Ingredients are gathered: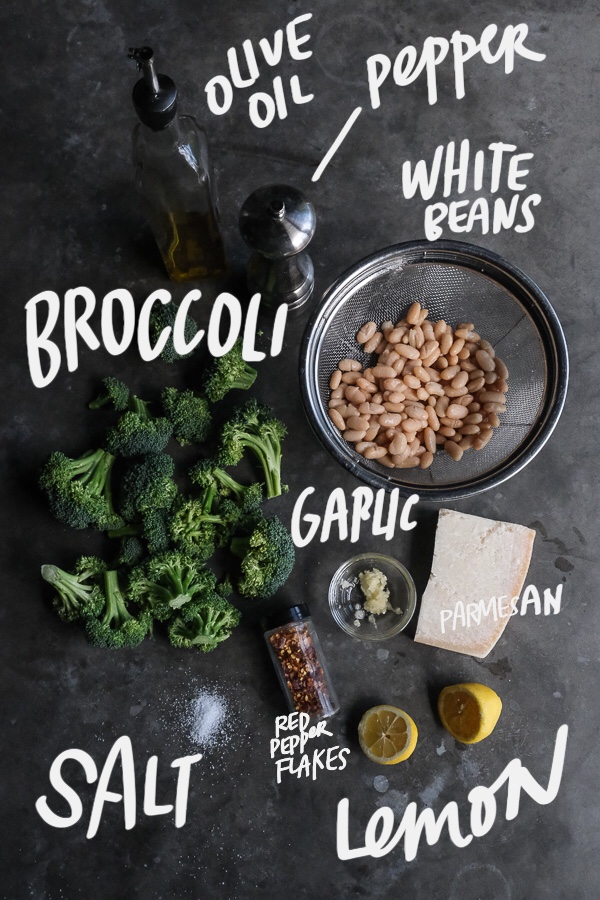 We are going to toss things in this garlic red pepper oil combo.
I think next time I make this, I'll try adding anchovies and pine nuts because I'm sure that's what my grandmother would have done.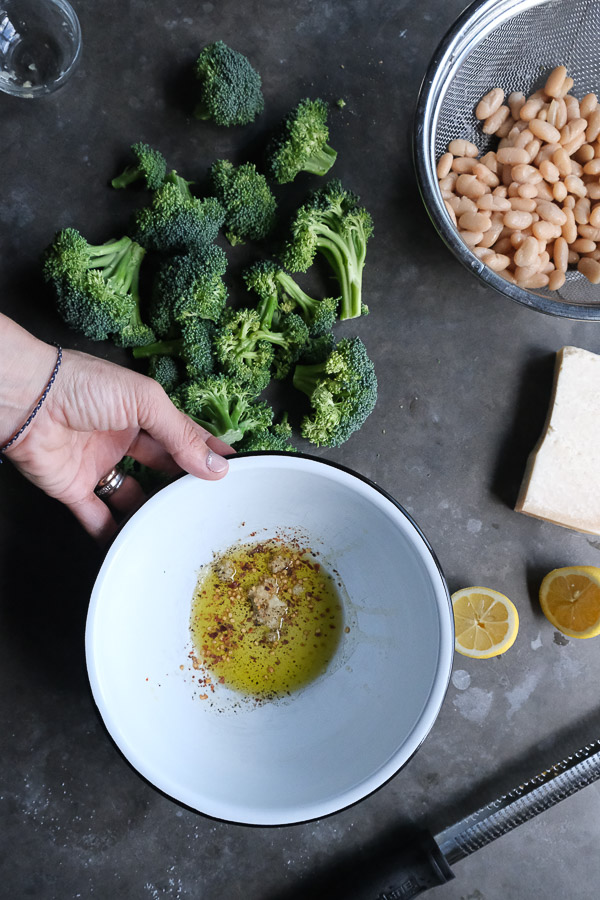 Let's get our cheese ready. It will come in handy later.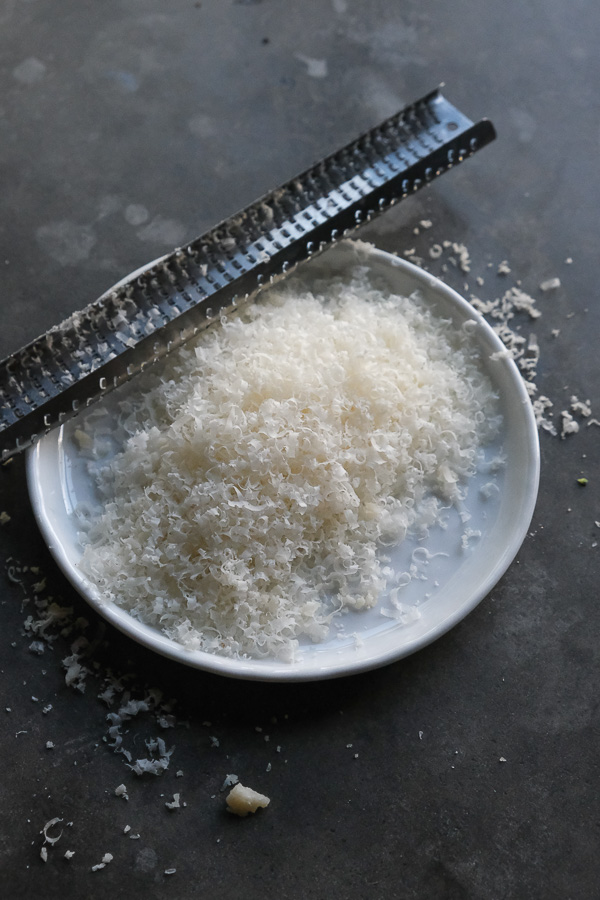 Toss in the oil. Be gentle with the beans.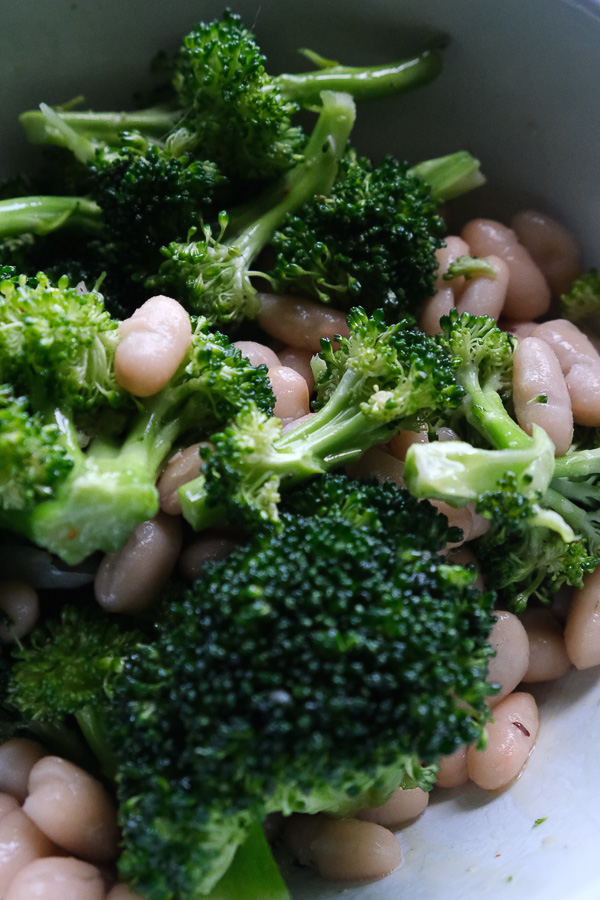 Place broccoli + beans on the baking sheet. I put some lemon slices on there because why not??
ROAST!! Look at the crispy bean bits.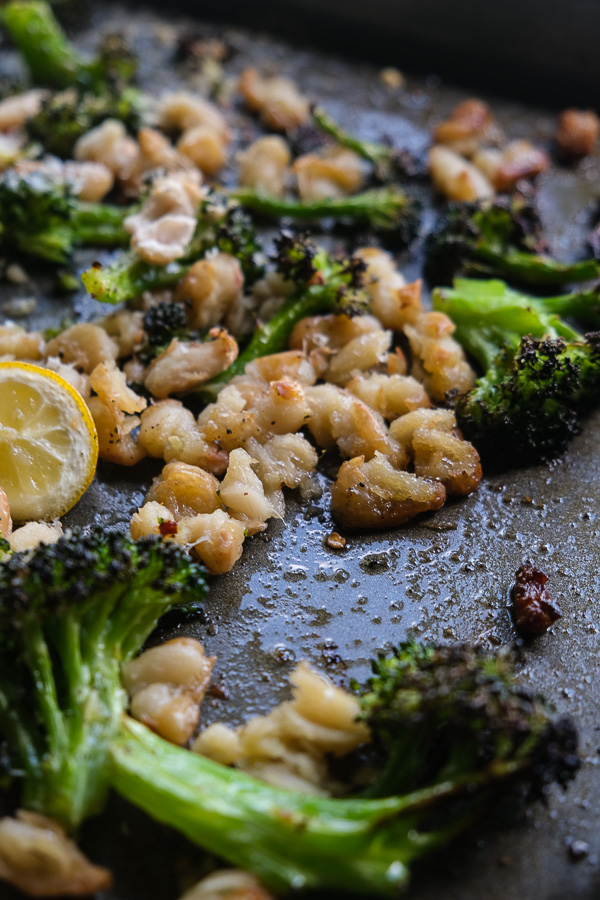 Put a heavy helping of Parmesan cheese on top. Pop it in the broiler.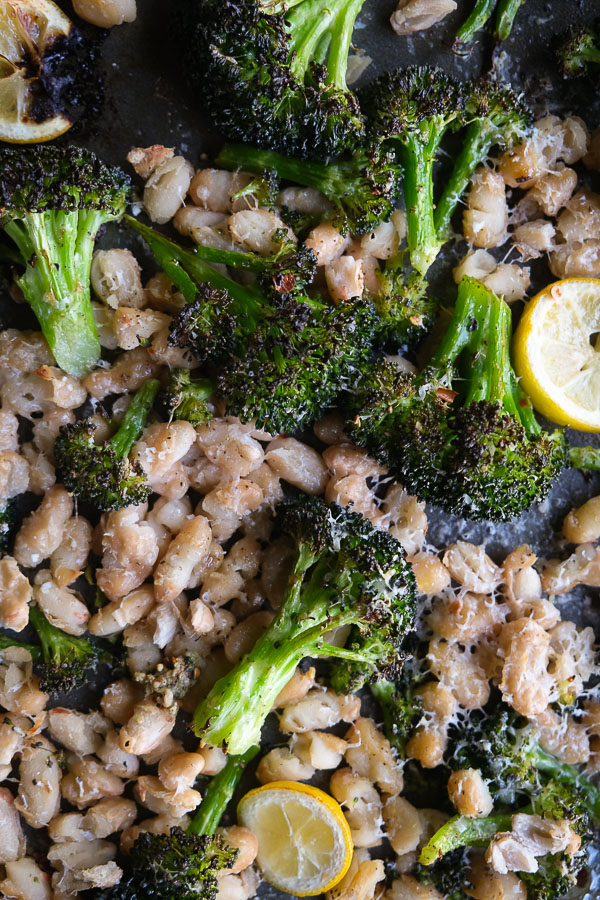 Hit with lemon juice.  The beans and the broccoli absorb it fast, making them both super flavorful.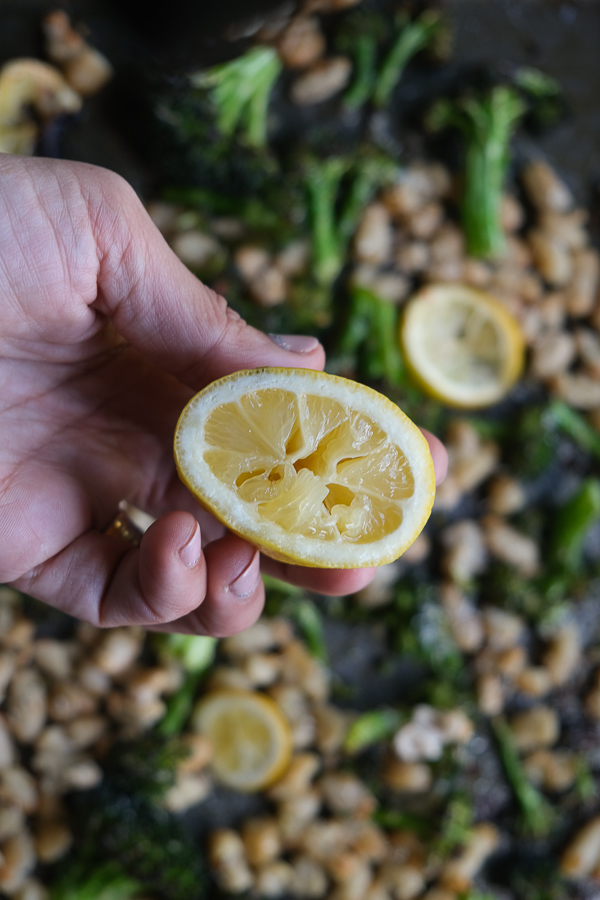 Serve it up!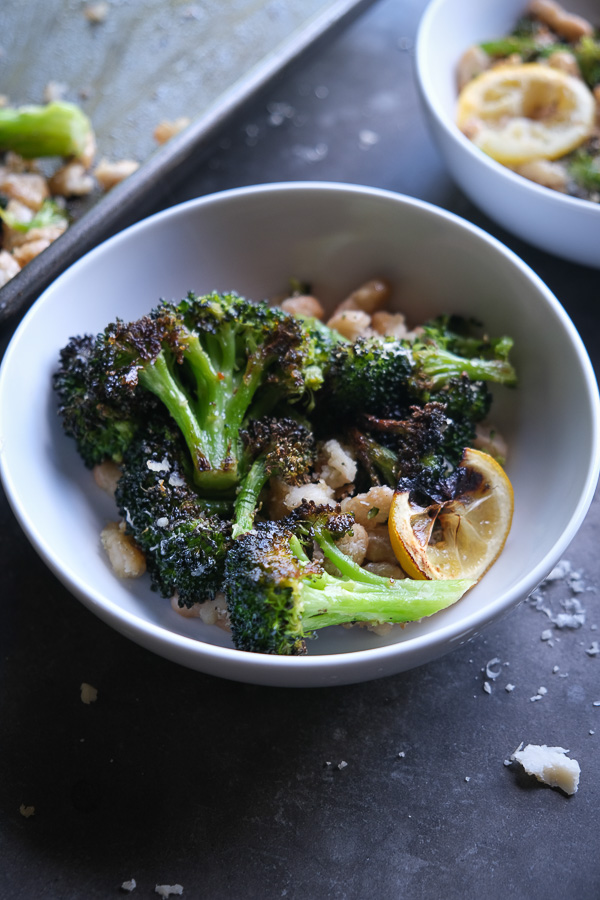 Top with Parmesan, red pepper flakes, salt, and pepper.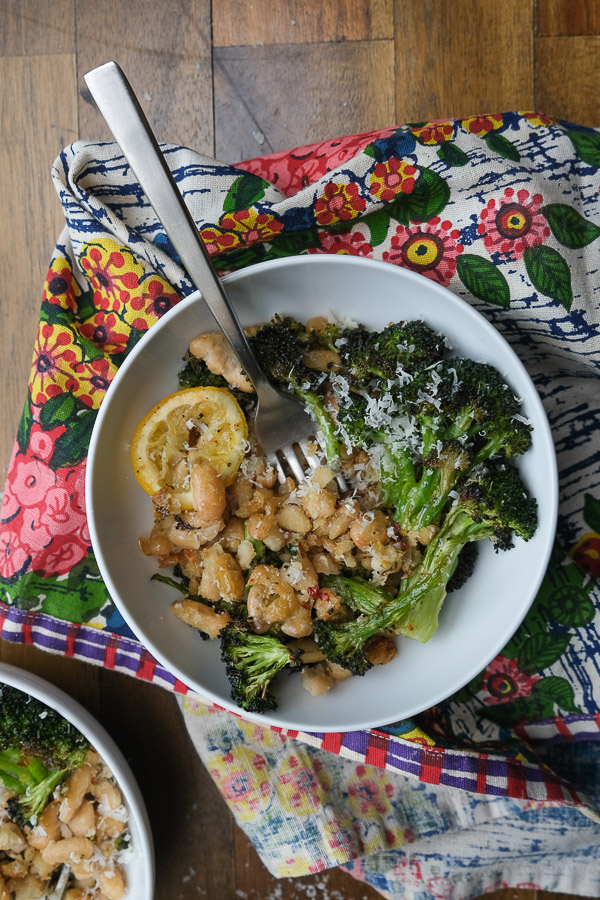 Heck, put an egg on top!!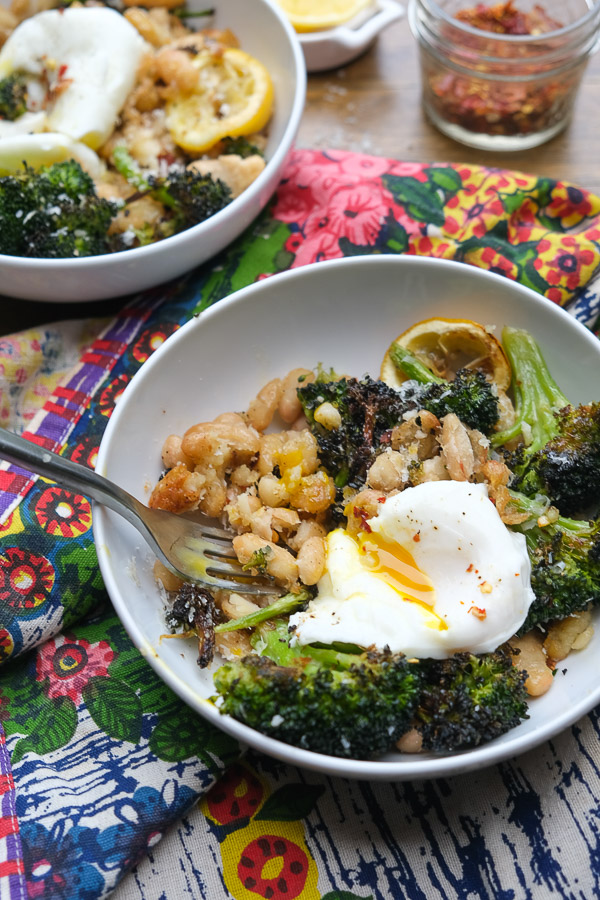 This is my new favorite meal for myself. Hope you find joy in its simplicity too.
Roasted Broccoli and White Beans

serves 2-3

2 tablespoons extra virgin olive oil, plus more for pan
3 cloves garlic, minced
4-5 cups broccoli florets
1 15 oz. can white beans, rinsed and drained
a heavy pinch red pepper flakes
juice of 1 lemon, plus a few slices to roast
kosher salt + fresh cracked pepper
freshly grated Parmesan

Preheat oven to 400F.

Drizzle a baking sheet lightly with olive oil, set aside.

Mix olive oil, garlic and red pepper flakes in a bowl. Toss broccoli in garlic oil mixture to coat, followed by white beans (be careful not break up white beans with heavy handling). Place mixture on prepared baking sheet, nestling a few lemon slices in the mix. Season with salt & fresh cracked pepper and roast in oven, tossing occasionally for about 15-20 minutes. When beans and broccoli begin to char, top with a heavy dose of Parmesan cheese, turn the oven to BROIL and cook for 2 minutes, or until cheese is melted and starting to bubble.

Remove from oven, squeeze fresh lemon on top to taste. Serve with grated Parmesan and a poached egg if you fancy.