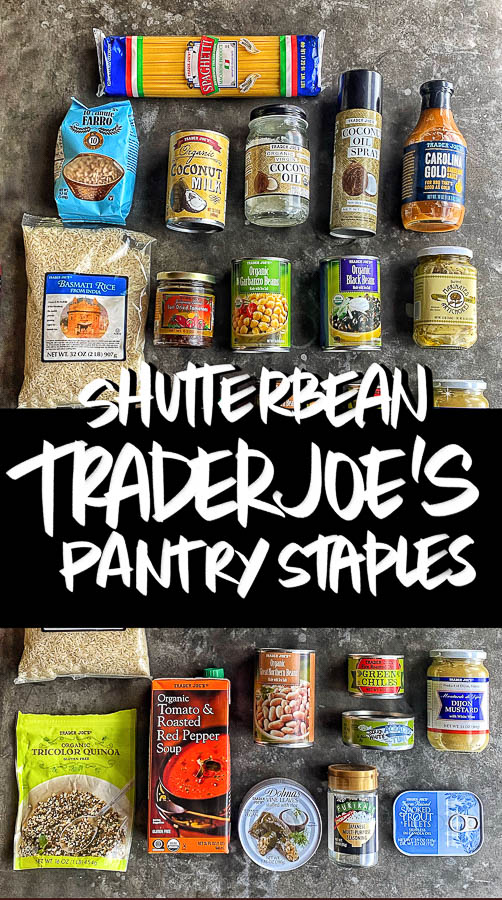 Last week I shared my pantry list, now I'm sharing what makes most of the list- My Trader Joe's Pantry Staples. These are the things I repeat buy. You'll never find my pantry without them! If you don't have Trader Joe's where you live, my apologies. There's no Aldi near me and I also experience weird jealous feelings of not being able to find fun/inexpensive things to add to my life.
I think now more than ever, it's important to think about the things we can keep in the house that will help prep us for the future and spread the budget. Going out to eat with a hungry/growing boy is so expensive and mostly not worth it these days. Through the past few years of pandemic time, we've definitely learned that knowing how to cook from your pantry is a MAJOR life skill.

Let's break down my favorite Trader Joe's Pantry Staples, shall we?
1. Dried Pasta
I always have some kind of pasta in the pantry because it bails me out on those nights when I don't feel like doing much in the kitchen. Spaghetti is the winner because it's easy and everyone likes it. If Trader Joe's had orecchiette, I would always stock up. That's Cooper's favorite pasta shape… Spaghetti and penne for the win!
Recipe Inspiration: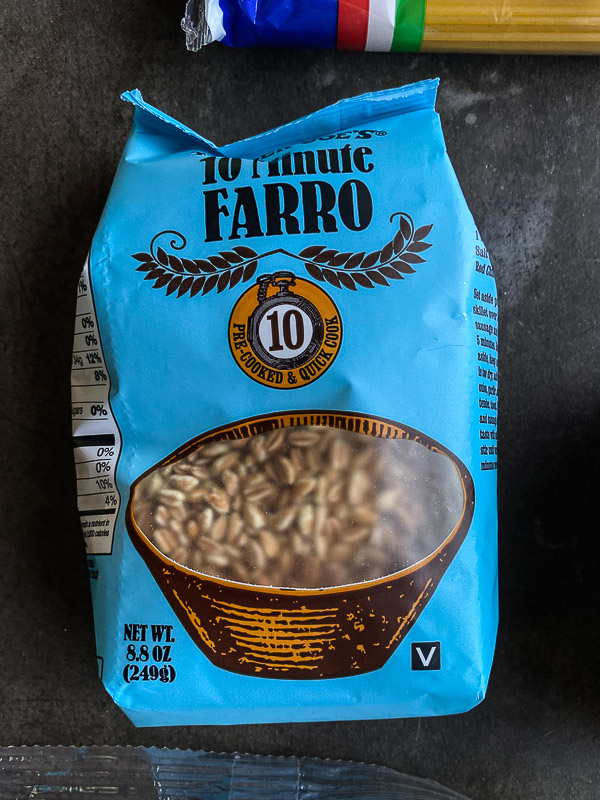 2. 10-Minute Farro
I started loving farro because of this salad. Then I added it to my Reset Button Salad situation and it became an easy favorite. It has a really good bite to it and I like that it only takes 10 minutes to cook. Boil, drain and you're good to go!
Recipe Inspiration: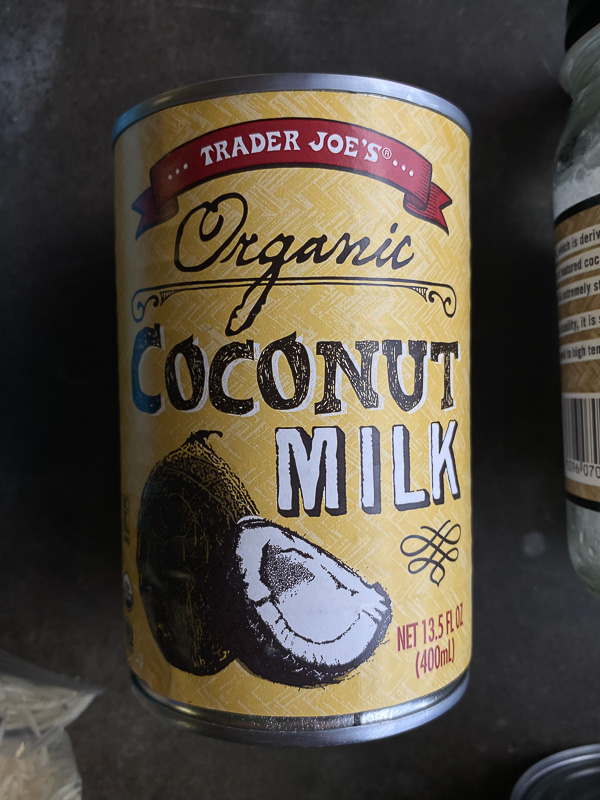 3. Coconut Milk
I do not feel safe unless there's a can of coconut milk in the pantry. You know why? I almost always buy too many carrots and this Coconut Carrot Soup takes away that problem. Also, look at how many recipes I make that involve coconut milk…. Keep a can in your fridge so you can make stuff with coconut cream that rises to the top!
Recipe Inspiration: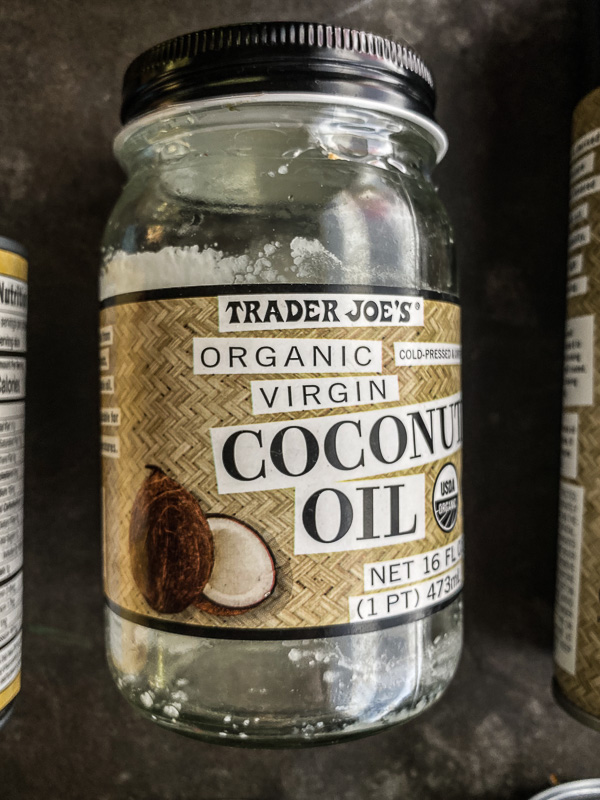 4. Coconut Oil
Popcorn hours at my house are 4PM or after 8PM. Those are the snacking witching hours. I use coconut oil for those popcorn witching hours. Sometimes I will use coconut oil for other things like hair masks and lotion. I've shaved with coconut oil before but it makes my bathtub slippery and that's dangerous. I'm all about sugar scrubs made with coconut oil! They're great gifts.
Recipe Inspiration: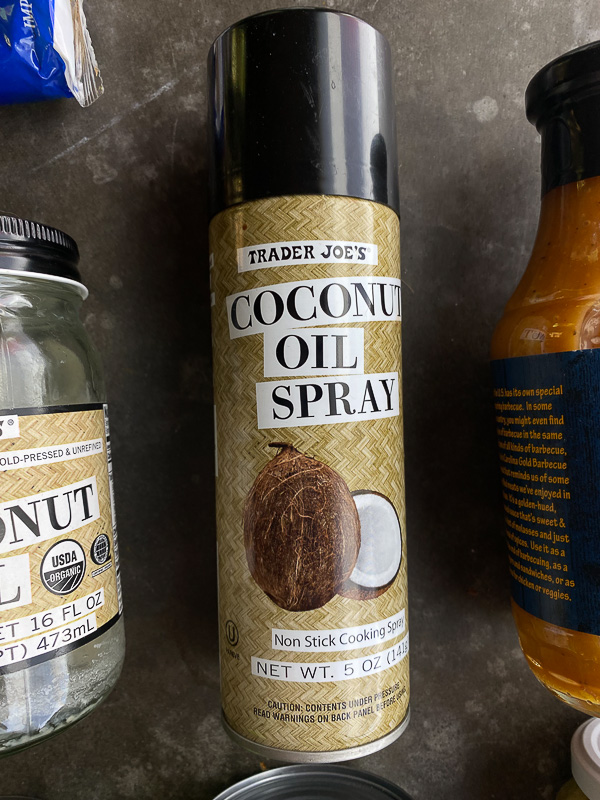 5. Coconut Oil Spray
I don't like when things stick to pans or pots. I like using this coconut oil cooking spray if I am making some type of stir-fry, roasting sweet potatoes or sometimes I spray a loaf or cupcake pan with them in baked goods. Coconut oil spray any place else is $$$$$!
Recipe Inspiration: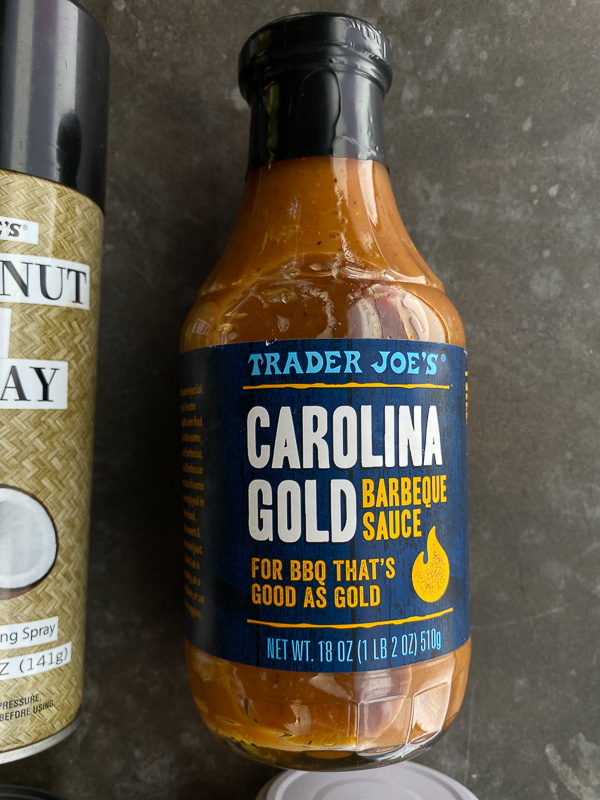 6. Carolina Gold BBQ Sauce
Pulled pork sandwiches and ribs are my family's love language. That's why I always have a jar of bbq sauce in the pantry. This one is a tangy mustard BBQ sauce and we love it! I love dipping my tater tots in it!
Recipe Inspiration: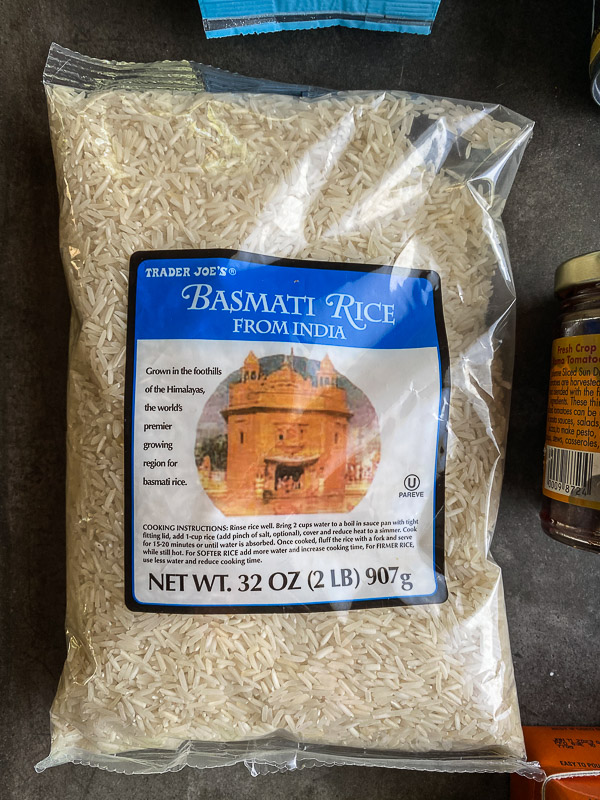 7. Basmati Rice
I love Basmati rice. How about you? Cooper is a fan of Jasmine so I also keep that in the pantry as well. We go through a lot of rice here and it's so much cheaper to buy it at Trader Joe's than at all the other grocery stores here.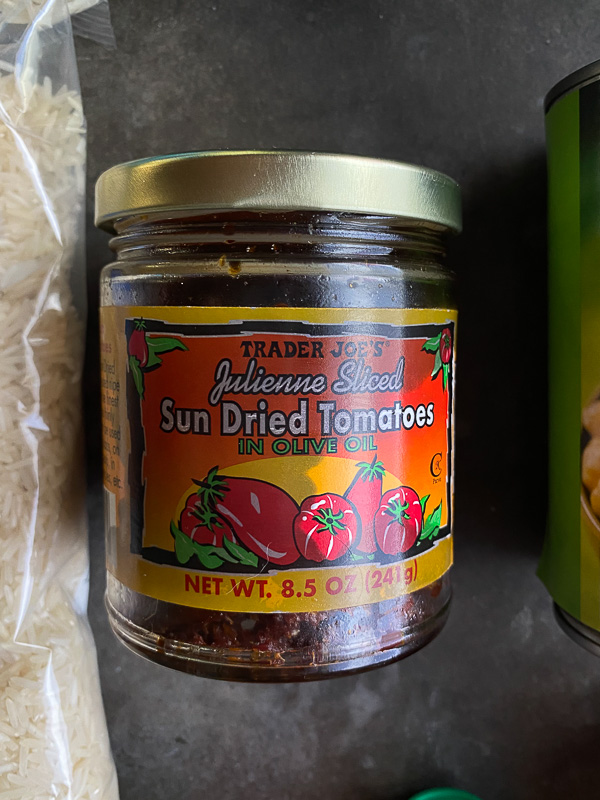 8. Sun-Dried Tomatoes
My pasta salad gets put into the rotation a lot- especially during summer. Sun-dried tomatoes are one of the key ingredients! They really add a hit of flavor to a dish. There's always a jar in the back of my fridge.
Recipe Inspiration: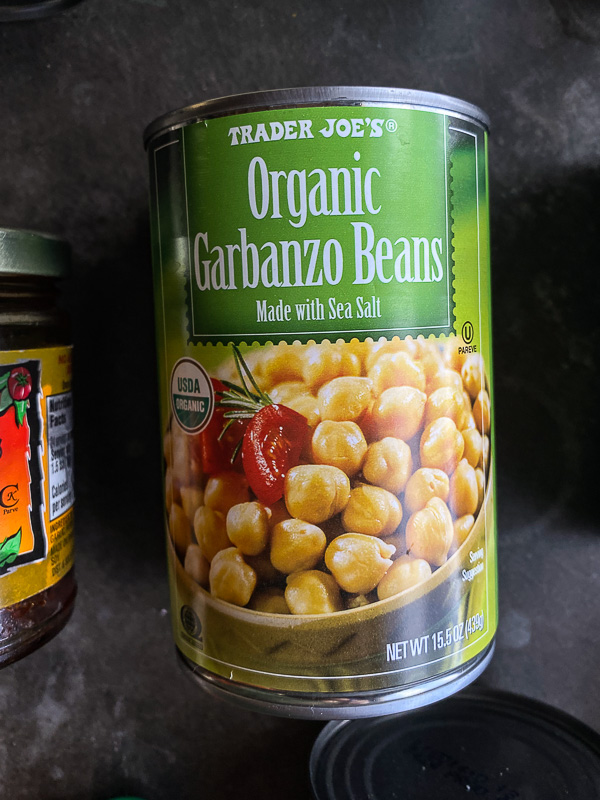 9. Garbanzo Beans
If you see how many recipes I've made that include chickpeas/garbanzo beans, you'll know I'm a big fan. Casey likes to heat up a can (after rinsing) and eat them with butter, salt, and black pepper. Simple living!
Recipe Inspiration: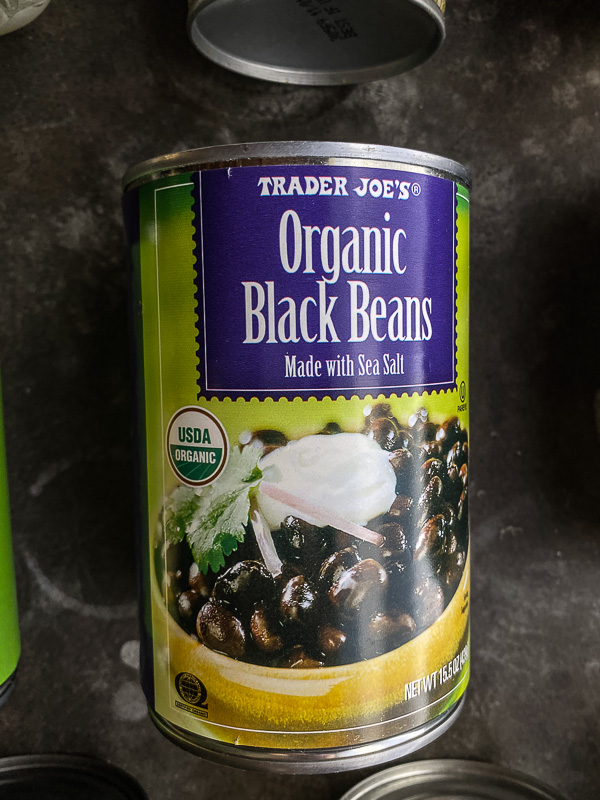 10. Black Beans
If I am trying to stretch some meat out in tacos or nachos, I add extra protein with black beans. They can easily fortify a meal.
Recipe Inspiration: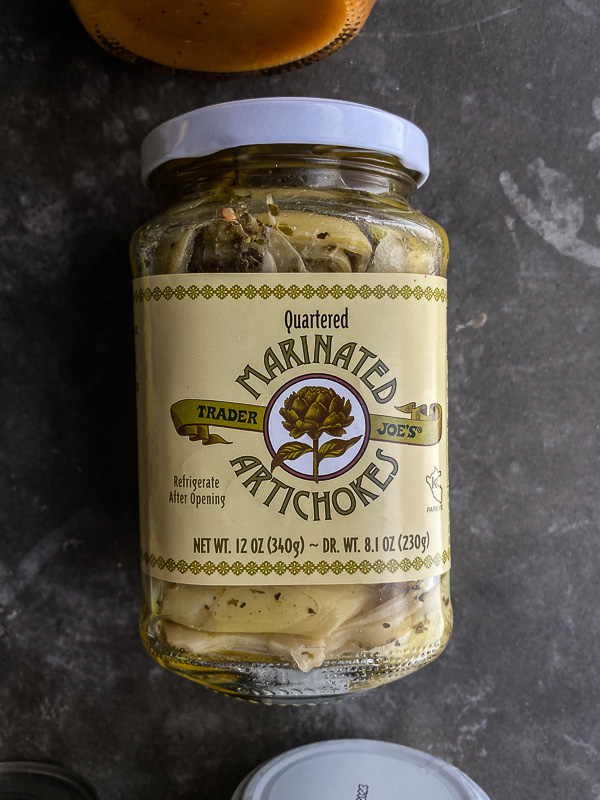 11. Marinated Artichokes
Marinated artichokes are my favorite!! There's always at least one jar in my pantry cuz some of my favorite recipes use them!
Recipe Inspiration: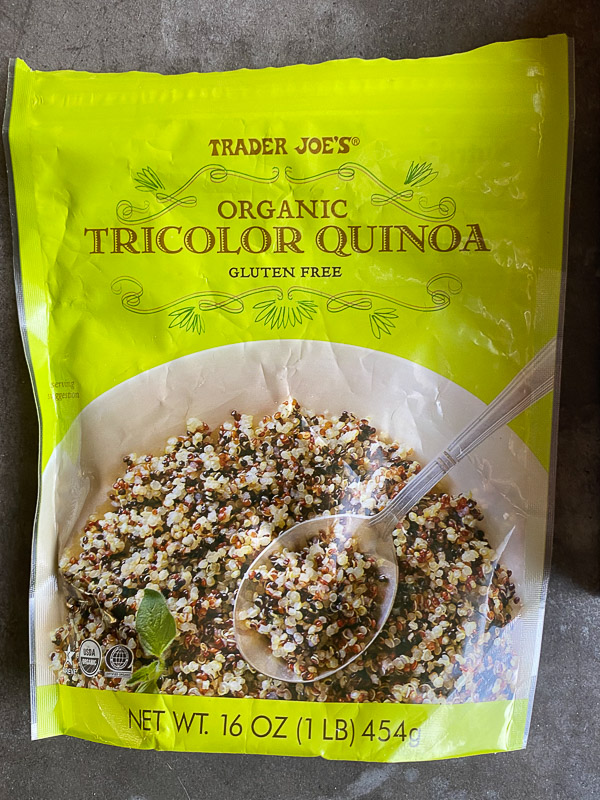 12. Tricolor Quinoa
Quinoa is one of my meal prep staples. I'm always putting it in a salad cuz it makes it a legit meal!
Recipe Inspiration: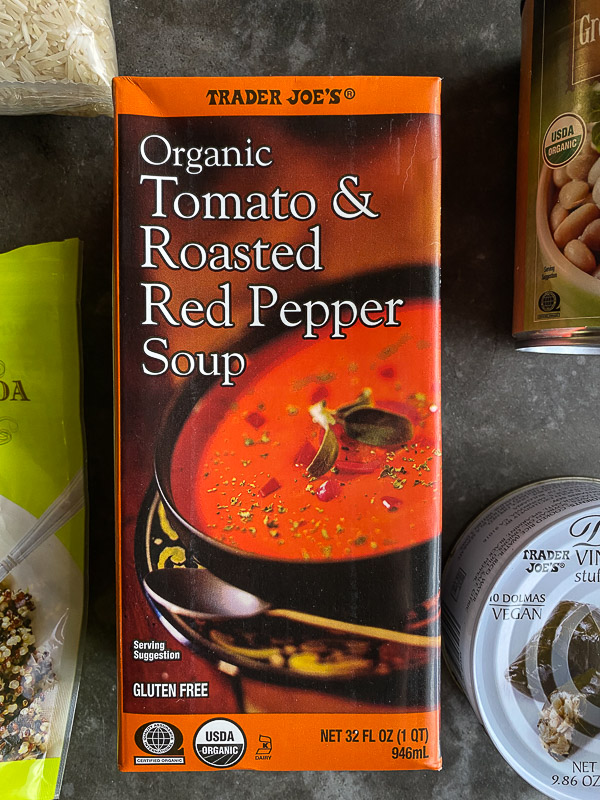 13. Tomato & Roasted Red Pepper Soup
I worked in an office that had a Trader Joe's down the street and I'd get my lunch there often. In the office fridge, I had: Tomato Red Pepper Soup and a bag of shredded cheddar. I had a giant soup mug I brought from home and I'd make cheesy tomato soup in the microwave. Crackers were somewhere in my desk…cuz SNACKING!
Protip: cover mug with a moist paper towel.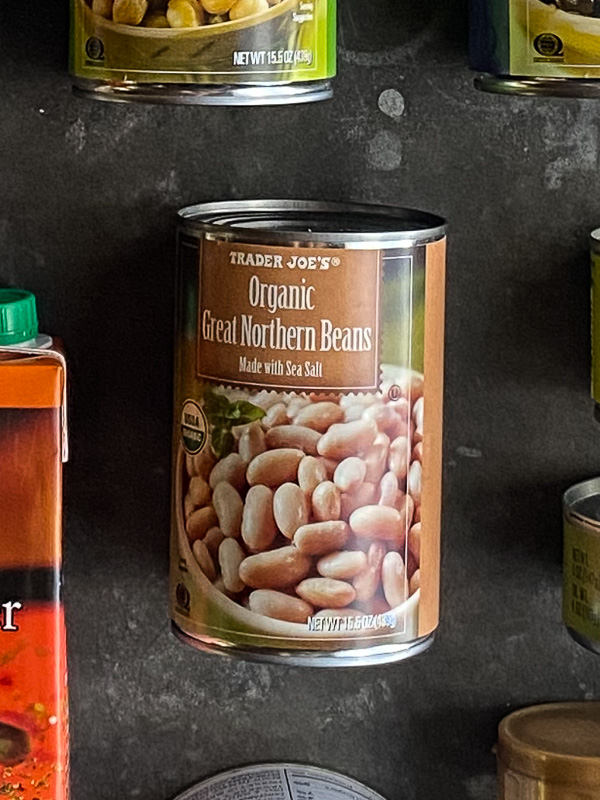 14. White Beans
Some of my most popular recipes include white beans! You know I'm a big fan.
Recipe Inspiration: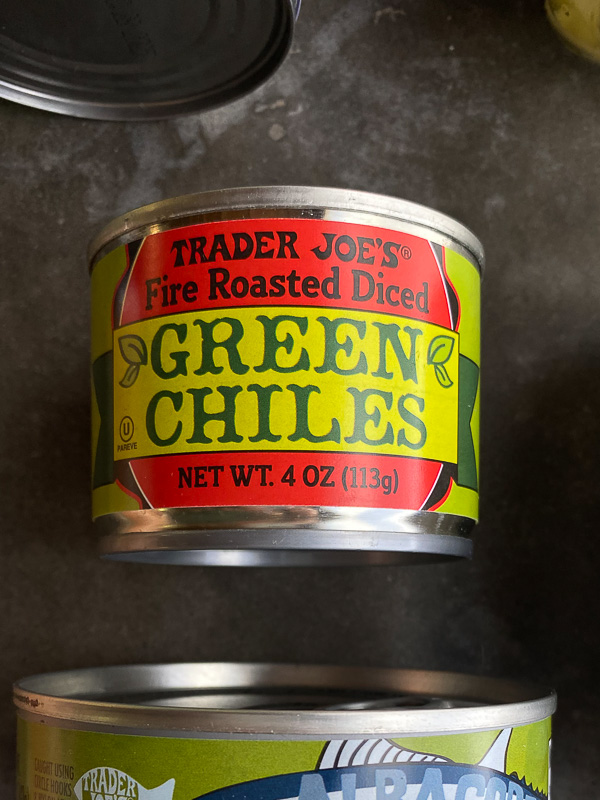 15. Fire Roasted Green Chiles
I have a few cans of these green chiles in my pantry. They make my Turkey White Bean Chili delicious and since that's a meal prep staple, I'm always ready to make it! They're great in eggs too!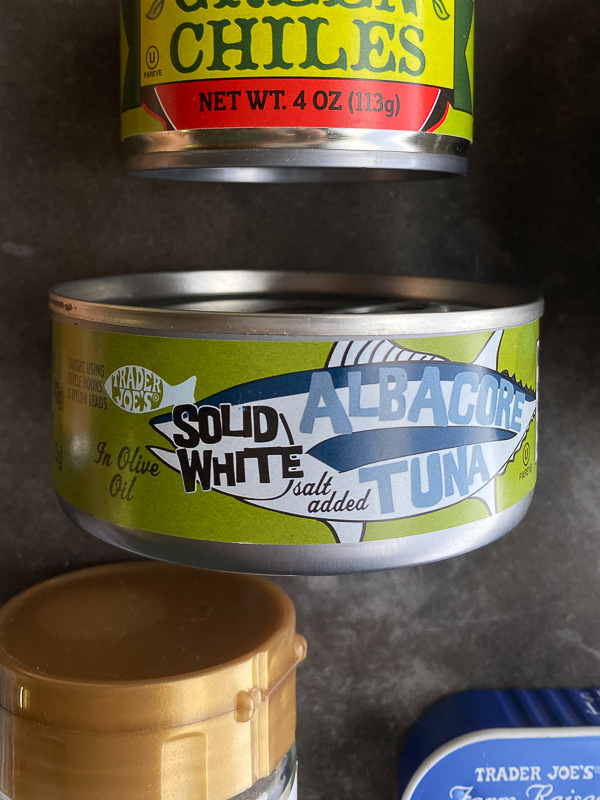 16. Tuna in Olive Oil
Another meal prep staple is my tuna salad. I think the tuna in olive oil has way more flavor. When there are less than two cans in my pantry I MUST RESTOCK.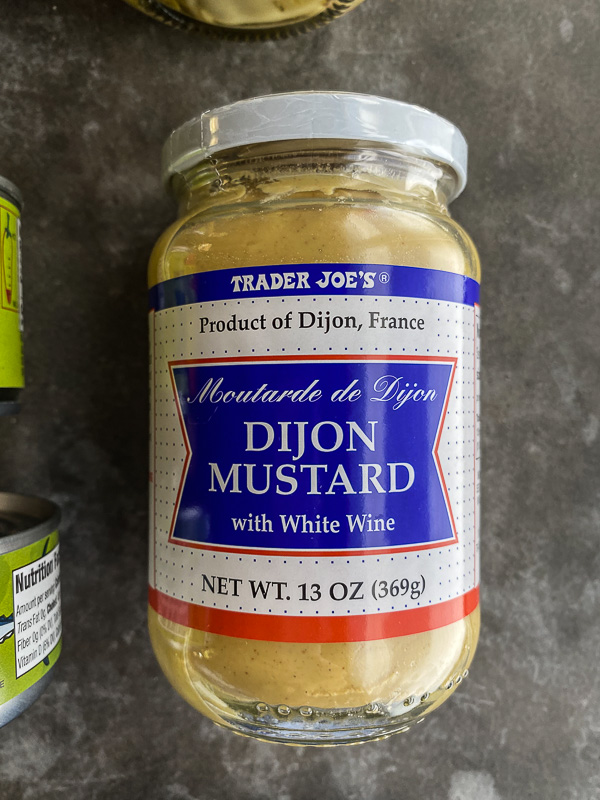 17. Dijon Mustard
This dijon mustard is cheap and delicious. I cannot make some of my favorite salad recipes without it!
Recipe Inspiration: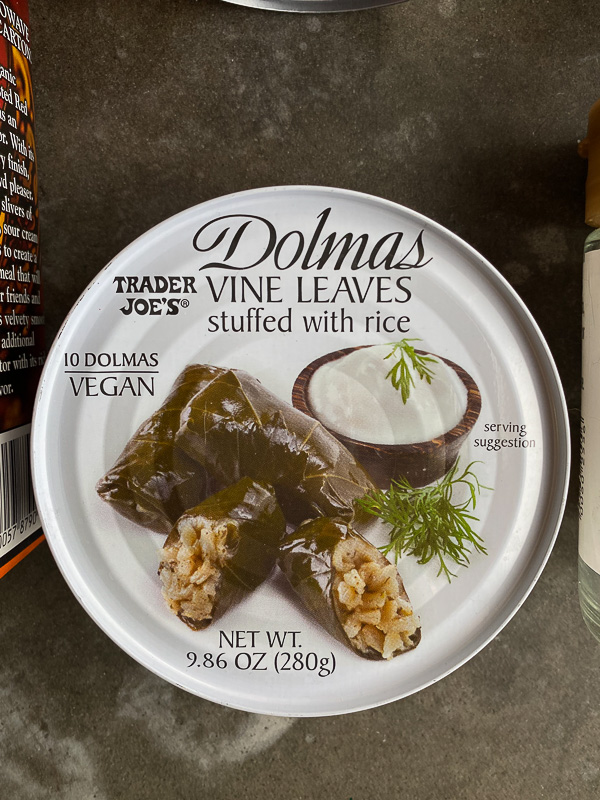 18. Dolmas
I don't know how authentic these are but I love them. They make a great last-minute meal. My trick is to leave a can in the fridge cuz I like them cold! Who doesn't love a good snack dinner?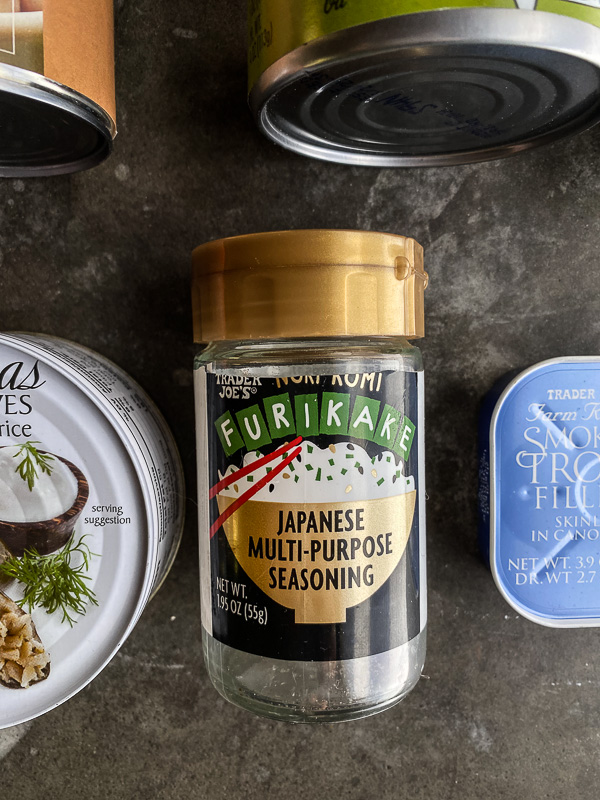 19. Furikake
As you can see in this picture, WE ARE OUT OF FURIKAKE. We go through this stuff fast. Mostly because we love rice and it's so good on rice! I also love it on avocado toast. Better yet? Rice, avocado, furikake and sriracha. Makes a great last-minute meal. Also great in handroll sushi night!
Oh! Also great on popcorn!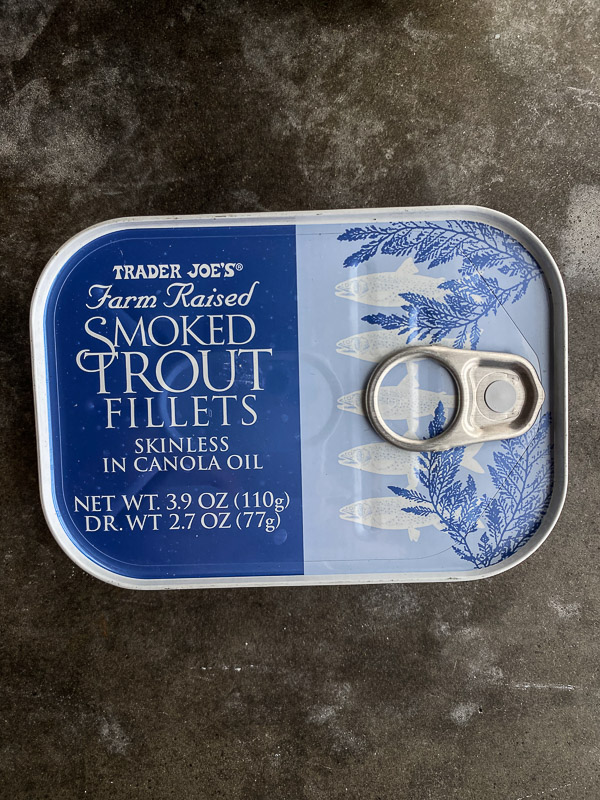 20. Smoked Trout Fillets
My husband loves this canned smoke trout. Pair it with Trader Joe's pita crackers and you're good to go! I add it to salads too. One day I'll make a dip with them…
If you want to make a list of your pantry staples, use my Pantry List template!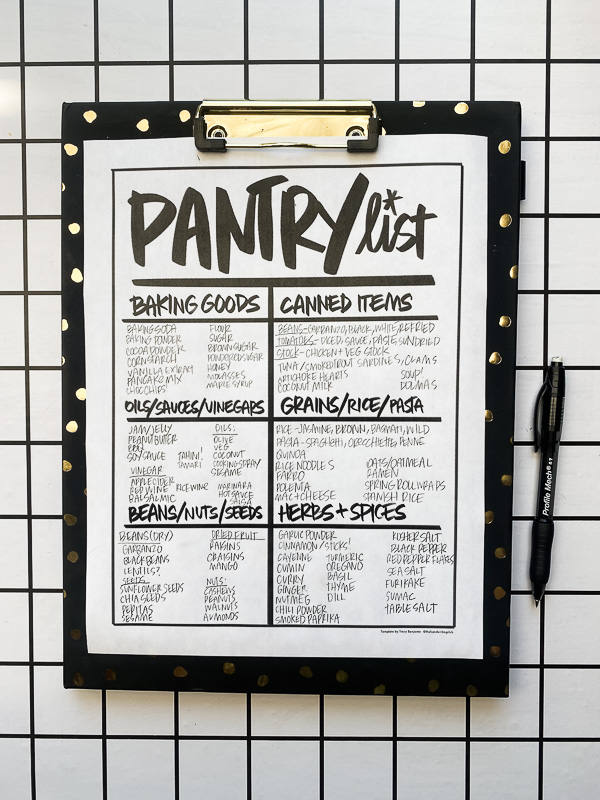 Speaking of pantry staples…I've got some ideas for you!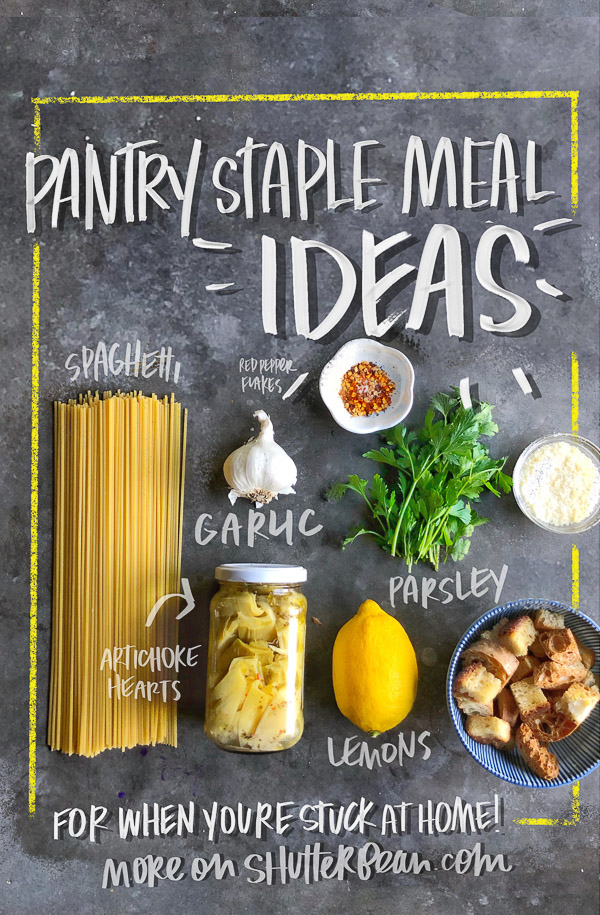 Thanks for reading my Trader Joe's Pantry Staples! I'd love to know what you're into. What are some of your favorites?